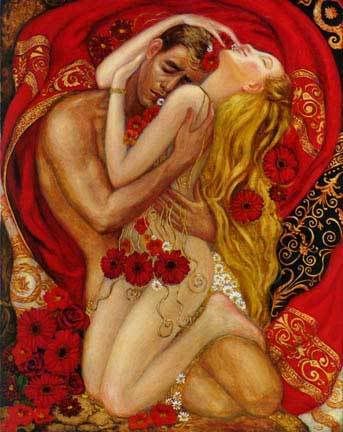 I just restocked some of my Voudou supplies. A close male friend of mine is delighted that I practice a few very good Voudou spells to get what I want in life. He's heard of Wiccans, but Voudou is different. I like the goddesses Oshun (of rivers, lakes, and streams) and Yemaya (of seas and oceans) because I live so close to the Atlantic ocean. I bought candles depicting Yemaya, some Good Luck Lottery bath and floor wash (I swear you can't make this shit up), and a discounted very tall and red love/passion candle. It's in the shape of a man and a woman embracing.
I have plans for that candle.
So, when I was in a Valentine's Day chat for Midnight Fantasies, I thought of that delicious candle when I posted an Italian Passion Spell that called for candle wax molded in the shape of either a dick or a pussy, and then it is lit. That Passion Spell was so popular that I decided to copy it here. I plan to use that Voudou candle with patchouli oil and Fire Of Love oil very soon.
Here's the Hot, Screeching Italian Passion Spell. Don't try this if you want quiet sex. This spell makes your lover hot, bothered, and wanting sexual release. Yah hoo!!!!
Italian Passion Spell
Use this spell to affect someone who desires
you, yet is shy in expressing their feelings.
Start by melting some red candle wax and
molding it in the shape of a phallus if you are
female, or a womb if you are male. Once the
wax has dried, sensuously anoint the candle
with olive oil, as if you were attending your
lover, thinking hard on the intimacy
you desire as you do.
Light the candle.
Now, write your lover's name three times
on a piece of whte paper, and burn it in the
flaming wick, praying that your lover will
come to you. While the paper burns,
recite your lover's name out loud three
times, then blow out the candle. Try
to wait patiently for your lover to respond
to your magic.