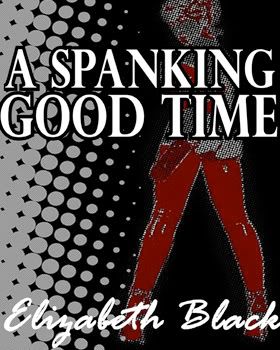 I'm doing the happy dance!!!
My contemporary erotic comedy, "A Spanking Good Time", has been named an eXcessica Publishing "Top 10"!!!! I came in at number 4. Woo hoo!!! I checked the entire Top 10 to see what kinds of books are selling, and it seems that people who buy from eXcessica want hot, steaming, screeching MONKEY SEX!!!! I sure delivered some monkey sex in that story. It has a high heat rating.
So, here are the blurb and excerpt from "A Spanking Good Time". I have another spanking story coming out in my upcoming collection of short stories tentatively entitled "Summer Heat: Steamy Stories For A Hot Afternoon". I'll have about six summer-themed stories in that anthology, and I'm submitting it to eXcessica.
Here is "A Spanking Good Time" - go buy it at eXcessica or Fictionwise!!
Hot Screeching Excerpt - A Spanking Good Time
By Elizabeth Black
Published By Excessica, May 5, 2008
Word Count: 4,365
Type: M/F
Genre: Contemporary Erotic Comedy
Heat Level: Excessica #4
Buy at eXcessica
http://excessica.com/index.php/books/a-spanking-good-time-by-elizabeth-black/
BLURB
Elliot and Alisha have been fuck buddies for about eight months. A twenty-one, Alisha's powerful sex drive exhausts forty-five year old Elliot, but he wouldn't have it any other way. She is his sexual virago, a hot woman with insatiable sexual desire. This lazy Saturday, he gets a call from her at noon, and she has some hot sex play in mind for the afternoon. What is that minx up to this time? More figging? Velvet handcuffs and an ostrich feather to tickle his nuts and drive him crazy? It could be just about anything, knowing her imagination. All that he knew was that he would not be disappointed. When she came to the door dressed in that raccoon coat, he knew to be ready for anything. Alisha's arrival meant bliss in the afternoon!

----------------------------------
EXCERPT
A SPANKING GOOD TIME - EXCERPT
She worked the tight muscles in his ass until he softened like butter around her curious finger. At first she was tentative, careful to not hurt him, when she slipped her finger in slowly, but soon she was in up to her second knuckle. Elliot hoped she never pulled out. He stuck his ass up in the air to better accommodate that exploring finger. My God, she made him hot! He wanted her entire finger – hell, her entire hand! – inside him. Barely able to control his rasping breath, he felt his heart pound in his chest. Blood pulsed in his neck and in his ears. He felt gloriously alive! If she kept twirling that finger inside his asshole, he would come all over the comforter, and he knew that would not make her happy.
"Do you like what Naughty Nurse Nancy is doing to you?'
"Oh, yes! Do more! Stick your finger all the way in!"
"Babe, my finger is already all the way in up to my palm. I also stuck in a second finger. I'm practically tapping your tonsils. Would you like more?'"
"Yes! Whatever you want to do, do it!"
"It's time for Naughty Nurse Nancy to take your temperature!"
She pulled her fingers out slowly. Elliot groaned, both from pleasure and from disappointment that the hot sensation of those two amazing fingers up his ass was over.
"Look what I have. You like?"
Elliot turned around to see Alisha holding what appeared to be an Alien Anal Probe in her hand. About six inches long and an obnoxious shade of purple, the thing had one huge, curved rod with two knobs on either side of the rod. His sphincter instinctively snapped shut and locked, since he knew where she intended to shove that thing.
"Don't look so shocked. You'll enjoy it. Naughty Nurse Nancy would never force anything on you, especially as far as your ass is concerned. Why do you think I warmed you up"
"It looks like it will enter my ass and exit in the next county."
"Don't be scared. I bought the smallest one, for beginners. I'll be gentle. You know that. You are going to love this contraption. It's made for your prostate. You are going to come so hard you'll spurt blood."
"Don't mention blood while making me look at that thing. It looks deadly."
"It's not. It has rave reviews, even from straight men. You trust me, don't you?"
"Of course I do."
"Then let Naughty Nurse Nancy take your temperature. She is always gentle, unless you deserve a spanking."
"And I like spankings."
"You know our safe word. If it gets to be too much, just say "Kabuki"."
"I hope I don't have to say it."
"Trust me. You won't. You'll beg for more. Are you really that nervous? I won't use it if it makes you feel that squeamish."
"I really do want to, but just looking at that thing makes me nervous. I want to try it, though. Just move verrrrrry sloooowwwwwly…"