I was cruising the Interwebs yesterday when I saw that Vir Magazine, a new men's magazine, is looking mighty fine! It isn't ready to launch yet, but it's getting there. I hadn't heard from the owners in awhile, so I wrote to them yesterday. Things are looking great, and I expect to be writing for Vir again soon. I am Vir's sex columnist, and I expect to have out one article per month, as far as I know.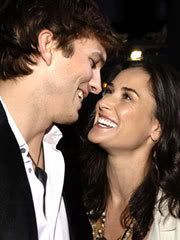 I already have an article up at Vir, and it's so popular that Google picked it up. It's about the lure of those sexy older women - cougars. The most famous cougar at the moment is Demi Moore. She married her younger man, Ashton Kutcher. Other famous cougars include Susan Sarandon (and Tim Robbins) and Naomi Watts (and the late Heath Ledger). The cougar who seemed to have started it all was Anne Bancroft as Mrs. Robinson in "The Graduate". However, cougars aren't viewed in such a negative manner any more. The television show "Medium" even covered cougars, with Rosanna Arquette as a cougar who wrote a best-selling book about how older women can find those hot younger men.
Here is the link to my article about cougars at Vir Magazine - Today's Exciting Older Woman - The Lure Of The Cougar. Head on over, read it, and make comments! There are already five comments over there, including mine.
Being a cougar is all about enjoying your age and not being ashamed of it. Sexy older women have rejected men their own age who have tossed them aside for younger women. Since cougars invade older men's "I will date younger people" territory, that makes the older men feel a bit slow and old. Here's an excerpt from my cougar article at Vir that looks into cougars:
Valerie Gibson's book, "Cougar: A Guide For Older Women Dating Younger Men", lays out the cougar in all her juicy splendor. You know what you are getting with this book because of the luscious tongue licking a pair of bright red female lips on the book's cover. Cougars loathe commitment, and according to Gibson they view their men as "prey".

When most people think of May-December romances, they think of a silver-haired older man with a young, lovely creature hanging on his arm. These men reject women their age for younger women. Older women today have fired back at men their age who overlook them in favor of dating nubile young women. Some older men feel threatened by cougars, since cougars make them feel slow and old. Cougars invade the "I will date younger people" territory that has been held by older men for aeons. Gibson wrote that separated and divorced older men "are a major source of hostility when it comes to older women dating younger men." The cougar merely turns her head away from these older men, and gives them the brush-off that they have been giving to older women for years.
Being a cougar is a fun thing for the women who like it. I personally gravitate to older men, and I have as long as I've been interested in men. Still, I wouldn't turn down a younger man. Some have been interested in me, and I liked the thrill of being viewed as sexy by a man ten years younger than me.
Here are some good things I've noticed about younger men, when I was in the dating scene. I'm married now, but I can still look.
Keep in mind that these observations are coming from a woman who has normally gravitated towards much older men. I guess I like men of all ages.
* Younger guys like the same type of music I like.
* Younger guys are more likely to like the quirky films I like, especially horror movies and cult films. Every time I raved about how much I love those gory Dario Argento Italian horror flicks, it's been a younger guy who raved with me.
* Younger guys lavish attention on sexy older women who are with them.
* Younger guys don't treat their cougar like a child. However, they do like to be spoiled.
* Younger guys tend to not have ex-wife and kids baggage. There's nothing like a bitter, divorced, middle-aged man to put a damper on the sexy fun.
While the sexual "prey" aspect of the cougar is attractive, I think that there is much more to being a cougar than dating younger men. Cougars are not afraid of disagreeing with anyone or stating their opinion without feeling that they have to have approval, especially male approval. They are financially independent, or at the very least they are earning money doing something they love. They enjoy sex, and they like to experiment. They are intelligent, and they enjoy learning more about life. Cougars are in control. Poor self-esteem is not one of their problems. Cougars are comfortable being themselves, no matter what anyone else thinks.
So, head on over to Vir Magazine and read my article. Once Vir is definitely up and running, and I have new articles up, I will post here giving you directions to read and leave comments.