March 23, 2017
Next On Into The Abyss With Elizabeth Black - Horror Writer Tom Deady
Tonight Thurs March 23 at 8 PM EST on Into The Abyss With Elizabeth Black: my guest is horror writer Tom Deady, author of "Haven". Listen in!
http://www.blogtalkradio.com/worldofinknetwork/2017/03/24/into-the-abyss-with-elizabeth-black--tom-deady
Posted on March 23, 2017 at 05:45 PM | Permalink | Comments (2)
March 24, 2011
Come To My New Blog And Web Site!
I have a new blog and web site, and I'm inviting everyone to it. This blog/web site focuses on my erotic writing. I will continue to post sex toys reviews on this blog. So, if you want to keep up with me, visit me at my new digs.
Elizabeth Black - Blog and Web site
See you there!
Lizzie
Posted on March 24, 2011 at 12:28 PM | Permalink | Comments (11) | TrackBack
February 02, 2011
Knuckle-Draggers In The News
Oh, boy! It seems a woman's boss had been harassing her for ages. He finally tipped his hat when he gave her a sex toy for her birthday. That was the last straw, so she's suing. She has good reason to sue because he's created a hostile working environment for her with his sexually suggestive remarks and now with the sex toy. After she threw it in the trash and told him to not do that sort of thing anymore, he quipped "Come on, girl. You don't know how to enjoy your life." First off, she's a woman, not a girl, and this is the usual put-down when harassing a woman - "Dearie, you can't take a joke."
If I were in her position I'd be pissed, too. Hey, I can take a joke with the best of them, but what he did was way out of hand. I bet he'd never treat a male subordinate like that, or - even better - give his male boss a sex toy as a birthday gift. This is a power play, plain and simple.
In a related bit of news, it seems the guys from Top Gear are in hot water again. What else is new? I'll admit right now that I love that show. I watch it all the time with my husband and son, and while those three (especially Clarkson and Hammond) really take things too far, it seems to me that nothing is sacred when it comes to their insults. Must be a British tradition. Anyone remember the TV show Dave Allen At Large from the 1970s? He made fun of Catholics all the time, and just about anyone else. Nothing was sacred. Same applies to Ricky Gervais. Everyone not living under a rock heard about his performance at the Golden Globes. I saw and read clips, and laughed my ass off. We started watching An Idiot Abroad on BBC America, and it highlights British xenophobia when the star takes trips to countries far outside his comfort zone.
Back to Top Gear, Richard Hammond made an extremely offensive and suggestive comment to a female paramedic working on the show. He told her his "willie tasted funny". If I were in her position I would have told him he really needed to stop tasting his willie, and to not say anything like that to me again.
The latest to come out of Top Gear is - again - a comment from Richard Hammond. This time he insulted Mexicans when he said on a recent show "Mexican cars are just going to be lazy, feckless, flatulent, overweight, leaning against a fence asleep looking at a cactus with a blanket with a hole in the middle on as a coat." Yeah, as if the British have anything to brag about when it comes to their cars, teeth, and food. Everyone is up for insults on that show. Jeremy Clarkson brushed off the comment, saying he doubted they'd get any flack for it because the UK Ambassador to Mexico was probably asleep when the show aired. Well, someone must have awakened him because he complained about the "offensive, xenophobic and humiliating" comments. An earlier comment about lorry drivers got a rise out of some people when one of them said this: "This is a hard job, and I'm not just saying this to win favour with lorry drivers. It's a hard job - change gear, change gear, change gear, check your mirrors, murder a prostitute, change gear, change gear, murder. That's a lot of effort in a day." And of course Clarkson is always mocking Americans for being fat, which I find hilarious. Anyone who watches the show remembers the rather zaftig American Stig. The only one I haven't seen say anything like this is Captain Slow. Maybe he either doesn't go for that sort of thing, or he hasn't been caught yet. I wonder if some people might consider it a badge of honor to be insulted by the hosts of this show?
As far as I'm concerned, the show is an equal opportunity offender, just like Dave Allen At Large and Ricky Gervais. Nothing is sacred. The only quibble I have was Hammond's personal suggestive comment to the paramedic. That definitely went too far because it was so up-close-and-personal. You don't do that to someone working for you, as that asshat who sent the sex toy to his female subordinate learned. It's a power play, plain and simple. Sometimes you just have to know when to shut up or - in Asshat's case - someone will shut you up with a lawsuit.
Posted on February 2, 2011 at 10:40 AM | Permalink | Comments (7) | TrackBack
January 11, 2011
Man Candy Tuesday!
We're going to watch "Hawaii Five-0" shortly, so that means it's time for Man Candy Tuesday! "Hawaii Five-0" is my weekly guilty pleasure that I watch for the well-written plots sexy male bodies that cross the screen including Daniel Dae Kim, Alex O'Loughlin, Scott Caan, and especially Mark Dacascos. So how about some other sexy men to make your pupils dilate? Get out that edible underwear ladies and put it to good use!
Here's Boris Kodjoe, of the recently cancelled "Undercovers". This was a fun little show that reminded me of "Mr. and Mrs. Smith", but it just didn't have the oomph to keep it going for several seasons. But it did have Boris Kodjoe, who is sexy as hell. It also had Gugu Mbatha-Raw, who is also quite fetching.
Here's Boris. Isn't he delicious? I'm keeping an eye on the Internet Movie Database in case he appears in something else in the near future.
And here's Gugu. Isn't she gorgeous?
"Undercovers" - two sexy people who were fun to watch.
Gotta have at least one picture of Mark Dacascos.
And two of him with long hair. I love long hair on men!
We're huge fans of "The Mentalist" in no small part because of Tim Kang as Cho. I've seen him smile, and that looks very strange to me. I prefer him with a scowl on his face when he's doing his best "Dragnet" cop impression. Here is a head shot of him looking introspective.
Sarah Masters had to post pictures of Jason Statham in her post about man bellies on the Four Strong Women blog, so I must follow suit.
And I'll end this post with a very intense head shot of one of my favorite sexy actors, Jason Isaacs. Get a load of those gorgeous blue eyes! I just finished watching "Brotherhood", a Showtime series where Isaacs plays yet another thug. He's really something. I read he's an absolute sweetheart in real life. Not a malicious bone in his body. A far cry from Lucius Malfoy.
Enjoy Man Candy Tuesday and come back next week for more sexy flesh.
Posted on January 11, 2011 at 02:25 PM | Permalink | Comments (10) | TrackBack
January 10, 2011
Everything In Its Right Place - Radiohead
We're watching the Showtime series "Brotherhood", starring Jason Isaacs as yet another thug. He's the reason I rented this show. Normally, I wouldn't have had any interest in it at all, but he's in it so I gave it a chance. Very good show! Too bad it lasted only a few seasons.
At the end of the second episode of the first season, "Everything In Its Right Place" by Radiohead played. Love this song. Here it is:
Posted on January 10, 2011 at 08:27 PM | Permalink | Comments (1) | TrackBack
January 03, 2011
Mark Dacascos: Man Candy
When I saw Mark Dacascos as Wo Fat on the last episode of "Hawaii Five-0" I nearly fell off the couch. The man is Teh Pretty! I saw him a few years ago on a forgettable SyFy Channel movie but I couldn't turn off the TV because I had it bad for Dacascos. He's a martial artist and incredibly sexy.
I also just learned he's Chairman on "Iron Chef"! I used to watch that show. Now I have a good excuse to watch it again.
"Hawaii Five-0" already has plenty of Man Candy, but now that it's added Dacascos I'll definitely tune in every week. This show gives me my weekly nutritional allotment of sexy men. I understand fully well why it is the most successful of the new shows. All that skin, all the time!
Here are some pictures of Dacascos so you know what to look forward to tonight.
Have I mentioned I love long hair on men?
Posted on January 3, 2011 at 12:30 PM | Permalink | Comments (6) | TrackBack
December 23, 2010
Geeky Christmas Gifts
Not sure what to get for the geek who has everything? How about one of these delightful presents? There's everything from Star Trek gack to strange sex toys. Yours for the having!
Star Trek Pizza Cutter - for the Trekkie with everything.
Star Trek Bottle Opener - for the Trekkie with everything plus the Star Trek Pizza Cutter but without the Bottle Opener.
Harry Potter - Hermione's Time Turner - sadly, it doesn't actually work so you can't go back in time and fix things you've royally screwed up.
The 11 Doctors Complete Set Of Action Figures - who are your favorite Doctors? I like Eccleston, Tennant, and Pertwee. And this set of action figures rocks!
Tardis wardrobe Go to the link to see a picture. It's beyond tacky but fun. I've also seen a Tardis CD/DVD case but I can't find that one anywhere.
Bottled True Blood Tasty Drink - The Sookie Stackhouse Southern Vampire Series - True Blood (HBO) - would go nicely with the bloody syringe pens I saw at a science fiction convention once, but I can't find them anymore. I also wonder how badly this stuff tastes.
Rex plush toy, from the UK series "Primeval" - there's another one that's remote controlled that flies. Plus, "Primeval" is coming back for another season of fun. I'm looking forward to it.
Then there are the strange sex toys, like the incubus dildo. Very strange-looking thing that looks like a creature from the nightmares of M. C. Escher and H. R. Giger.
Speaking of H. R. Giger, how about the alien lover dildo? This baby also glows in the dark. I own this one and reviewed it. Read my review here.
Not to be outdone, there's the Area 51 Love Doll, complete with three tits.
G. I. Jock Army Kit: I swear I'm not making this up. From the description: "A sexy playful collection of toys and accessories with a military theme. Includes a camouflage jackstrap, a multi-speed vibrating camo egg, a grenade textured jelly sleeve, and a large missile shaped jelly plug that can be used with or without vibrations. Collection includes a large pillow of Powerman Lube. 2 AA batteries."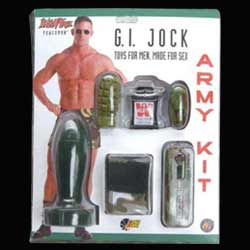 So there you have it. All the geeky stuff you could possibly want to round out your Christmas gifts you didn't get from your friends and family. And who wouldn't want to wow people with a Star Trek pizza cutter and bottle opener? LOL
Posted on December 23, 2010 at 07:20 AM | Permalink | Comments (1) | TrackBack
December 19, 2010
Eggnog Recipes By Famous TV Chefs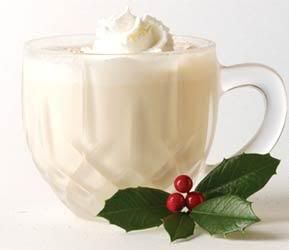 I saw this joke by Prank Call of Cthulhu on FARK and I had to share it with everyone. It's eggnog recipes by famous TV chefs. Perfect for the holiday season! Enjoy!
Famous TV Chef Eggnog Recipes
Bobby Flay eggnog: mix eggs, cream, sugar, and rum, then throw it on the grill and garnish with mango chutney.
Sandra Lee eggnog: Pour one tablespoon of store-bought eggnog into an 8-oz glass. Swish it around to coat the glass, pour out excess. Fill the remainder of the glass with vodka and serve.
Alton Brown eggnog: Build a ridiculously complicated frothing machine out of dry ice, twenty feet of rubber tubing, a colander, and a garden hose nozzle, then follow a twenty-step process and deliver a five minute rant about why an egg separator is a useless "unitasker."
Rachel Ray eggnog: The addition of a little EVOO to a traditional eggnog recipe is YUM-O!!!
Gordon Ramsay eggnog: IS THAT HOW YOU BEAT A F*****G EGG? I CANNOT BELIEVE THIS! WHAT IS WRONG WITH YOU, YOU F*****G DONKEY? GET OUT!!! GET THE F**K OUT OF MY KITCHEN YOU F*****G C**T!!!!
Paula Dean eggnog: Combine eggs, butter, whole cream, butter, sugar, butter, rum, butter, and more butter. Whip. Serve with a side of defibrillator.

Posted on December 19, 2010 at 02:37 PM | Permalink | Comments (3) | TrackBack
December 06, 2010
Time For Some Man Candy!
Well, here I am, after Thanksgiving, still fighting the flu I've been fighting for a couple of week now. My head is stuffed up, my back aches, my nose is running like a spigot, and I'm coughing so much I sound like Sydney Greenstreet when I talk (yeah, my age is showing!). So I need a serious pick-me-up, and I know everyone loves pix of man candy, so today I'll give you a meal of flesh that will rival the turkey dinner you ate on Thanksgiving. I want to talk about television man candy and the men who influenced how I view my male characters in my books.
I'm not surprised the TV show "Hawaii Five-O" has become the big hit of the new season. In my conversations with the women who watch it, I suspect a big reason for its popularity is that it's chock full of gorgeous men. I know plenty of women, like myself, who are still upset over "Moonlight" being cancelled. I watched "Three Rivers", too, and I figured "Hawaii Five-O" would mean three times the charm for Alex O'Loughlin. And it worked. I can bask in the glory that is Alex O'Loughlin, Scott Caan, and Daniel Dae Kim every Monday night from now on. And I do. Has anyone else noticed the sexual chemistry between McGarrett and Dano? Those two bicker and banter like an old married couple. And Dano gets so jealous! My God, he has his eye on McGarrett and won't let him out of his sight!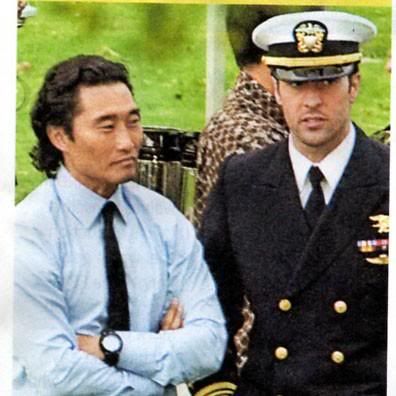 When it comes to my fiction, I usually have a certain actor in mind for my characters. Here are a few examples to give you an idea where my thoughts head when I create the men in my stories.
An Unexpected Guest: The main love interest in this book is Jason, and it's rather hard to tell exactly where he's coming from. I imagined him as tall and slender, muscular without being macho, and his sense of humor is off-putting in a good way. He's my Beta-Male. When I created him, I imagined the way Jason Isaacs (one of my favorite actors) looked in the Harry Potter movies. My Jason certainly doesn't act like Lucius Malfoy, but he has the long blond hair and boyish features. I must admit that it was hard to find a picture of Malfoy where he wasn't scowling. Jason doesn't scowl.
Feral Heat: There are two delicious men in this one; bisexual werewolves named Grant and Sam. Grant is the serious and rather gloomy one. Sam is the more stable of the two. When it came to Grant, I pictured Hugh Jackman, particularly as Wolverine (no surprise there) and in "Australia". As for Sam, I pictured Orlando Bloom as Legolas Greenleaf in the "Lord Of The Rings" movies. Yup, it's that long blond hair/boyish features thing again. I see a trend.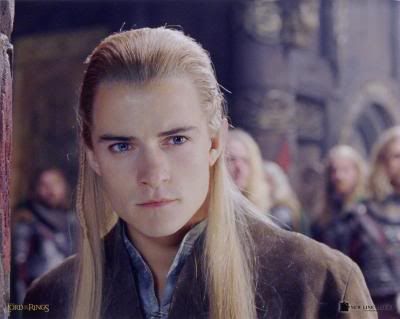 I have two men in mind for my soon-to-be-released book "Indiscretions: Vol. 2 - The Mile High Club and Room Service". This book will be released in 2011, and it's a continuation of my "Indiscretions" series, beginning with Indiscretions: Vol 1 - Caught and Wild Child, which is a cougar series involving Kevin and his hot next door neighbor, Betsy. In Vol. 2, my heroine Caryn hooks up with Jeremy (my button-downed businessman) on a airplane flight in the first story, and later enjoys both Jeremy and her old love Takeshi in her hotel room in the second story. Here are the two men who influenced my look for both men in the book; Jeremy's inspiration on the top and Takeshi's on the bottom.
Jeffrey Dean Morgan (You know him as Sam and Dean's dad on "Supernatural".)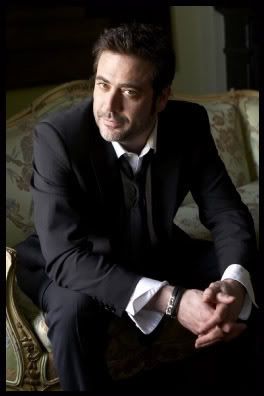 Sean Ching (He's just plain hot.

)
I can't let the ladies feel left out so here are the two actresses who inspired my look for Lina and Charlotte in my f/f/f sexy adventure, Neighbors, which is appears in the "Vamps" lesbian anthology. Both women are dark, with long dark hair, muscular from years of scenic painting on movie and stage sets, and very exotic. I had Angelina Jolie in mind for Charlotte and Charlotte Lewis in mind for Lina. These two women are polar opposites who compliment each other beautifully, with Charlotte being the adventurous and chattering one, and Lina being the quiet but don't-be-fooled one.
Charlotte Lewis
Angelina Jolie (Like you don't know what she looks like.)

So now you know what kinds of men (and women) I had in mind for the characters in my stories. I do tend to like a certain "type", I suppose. Quiet but intense ... or light and cheeky. And I'm a sucker for slight but tall men with long blond hair and boyish features. So what kinds of men do you like in your reading and writing? Do you have a particular type that turns you on more than others?
Posted on December 6, 2010 at 10:27 AM | Permalink | Comments (0) | TrackBack
October 23, 2010
Maroon 5: Hands All Over
I heard this catchy tune on "Medium" on the episode about Alison's skin graft that has a mind of its own. This is also the episode about illegal organ harvesting. The song is "Hands All Over" by Maroon 5.
Posted on October 23, 2010 at 07:47 PM | Permalink | Comments (0) | TrackBack