April 10, 2014
THE Toy For Men - Autoblow 2 - Indiegogo Campaign
* Join the Indiegogo campaign for Autoblow 2 at this Indiegogo link!
Autoblow 2 is more than just a male masturbator. It is the Supreme. It operates hands-free and plugs into your outlet. It's hygienic, feels fantastic, and is made to fit any sized penis, no matter how large or small. It's also incredibly easy to clean - much easier to clean than other masturbators. Autoblow 2 will last over 500 hours, so you'll get quite the workout. Doesn't Autoblow 2 sound wonderful? So what are you waiting for? Here is information about the Autoblow 2 Indiegogo campaign. There's much to be had by contributing. The link to join is above. Details are below.
---
First things first:
1. You can contribute to this campaign anonymously - just check the box that reads "don't display my name on the campaign page" when you make payment.
2. If you contribute an amount that makes you eligible for a product, we will ship it to you in a plain brown box with a warehouse return address. It is completely discreet.
So without any further ado.....
What Does The Autoblow 2 Do And Why Is It Better Than All Other Toys For Men?
The Autoblow 2 is the world's most realistic robotic oral sex simulator for men. Currently, nearly all major brands of toys for men are manually operated, meaning you have to grip them with your hand, and move them up and down. Existing male stroking machines are not robust enough to feel appropriately realistic.
I think that men deserve better. Therefore, I have properly automated male pleasure with this new product in a way that has never been done before. The Autoblow 2 is the fix for everything wrong with the current generation of sex toys for men, especially other stroking type machines.
Here's why the Autoblow 2 is a game changer:
• It doesn't use batteries. The Autoblow 2 plugs into a wall outlet. We chose a motor that was powerful enough to continue stroking, even when it is up against a considerable load. It won't stop mid-stroke like battery powered motors do, for lack of torque. And no, USB can't offer enough power. Yes, its completely safe - it uses a UL listed AC to DC converter adapter.
• It works with 3 sizes of interchangeable sleeves. Size is a big (or small) problem for a lot of guys when it comes to such products. With a battery powered stroker, a big penis would make the machine stop, a small penis wouldn't feel much sensation, and an average sized penis would feel only an average sensation. But through rigorous testing, we came up with 3 sleeve sizes to ensure that no matter what a man's size is, he will receive the same sensation while using the machine. Check the penis graphic below for sizing information.
• Relatively hands-free & feels great. You can either hold it with your hand, or depending on the position of your body (can't get into too much detail here), you don't need to hold it at all. It will stroke up and down, doing all of the work for you. It suffices to say that if you lay on your stomach, the machine can be used without holding it at all. The feeling of having your penis inside of the sleeve while the spring-loaded beads stroke up and down can best be described in 2 words: surprisingly good. We will develop a table-mounted holder for it in the future.
• The motor is industrial strength. The Autoblow 2 won't break like a "toy" would. We left it on for 1000 hours with a simulated load on the motor, and we finally had to turn it off because the person who worked near it didn't want to hear it everyday anymore. The entire product, including the motor, is built to the quality level of a kitchen appliance - not a sex toy. FYI, we wrote the motor is good for at least 500 hours on the box, but later we realized it will work for far longer!
• It is super easy to clean. I won't get into too much detail here but this style of product in the past has been VERY difficult or nearly impossible to properly clean. But since the Autoblow 2 uses a removable sleeve, cleaning is a breeze.
• Real variable speed control. You can control the up/down stroking motion, from slow to fast. Because the product uses a powerful motor, you can actually USE the slow stroking function. On battery powered similar products, the slow stroking function is useless because it will just stop. So fear not, if you so desire, you can stroke it slowly with the Autoblow 2.
This graphic shows you exactly how the product works from the inside, out.
Penis Measurements For Sleeve Sizes
At first, we have produced a sleeve that looks like a mouth on the top. If you support this campaign at a level that entitles you to an Autoblow 2, we will email you to ask whether you want sleeve size A, B, or C. The machine comes with 1 mouth sleeve included. If we meet our stretch goals, we will create a vagina sleeve, too. Keep in mind that 80% of guys fall into the size B range! Your length does not matter, only your girth does.
Here's A Photo Of The Mouth Sleeve
We have spared no expense on this - we have used the highest quality realistic skin material available to make the sleeves. It is compatible with water based lubricants.
Here's a clearer photo of the inner workings of the machine:

For those of you who are more visual, here are some graphics again explaining what I explained above:
What We Need & What You Get
As you can see from the photos - we've already created both the molds and the packaging. I have about 15 final samples, too, which have been used for extensive testing.
But... I need more funding to complete the first production run.
• We are short $45,000 to complete the first order. The development of the product was much more expensive than I planned on. Plus, it took a lot longer than my initial timeline (2.5-3 years!). As a result, we need more money to complete our first production. If we raise more than this, great! We will make extra products to accommodate ALL of the backers! Plus, check out our stretch goals!
• Back us and save $50+ off of the retail price. The retail price online and in stores will be $150. But for our backers here on Indiegogo, $99 will get you one Autoblow 2 AND one re-useable mouth sleeve (shipping included inside the US). Those outside of the US can get the same deal for $124 (shipping included). We will contact you by email and you can tell us if you prefer sleeve size A, B, or C.
• Early bird special! To get this party started, we will do 100 of them at just $79 (including shipping to USA only). If you are a non-USA early bird backer and want this $79 deal, please also select the international shipping for early birds.
• VIP backers can get a CLEAR Autoblow 2! Our molds are made for using ABS plastic only, but we can make a small fraction of our order from another type of plastic which is clear (without damaging the molds). These would normally be used for store demos ONLY. In our first run, we will create 50 of these. 30 will go to stores, and 20 will be given to our VIP backers here. This will probably be the only time we will give the the clear model to end users! $179 gets you one of the 20 (USA shipping included)! Scroll down to see the photo of this VIP backer ONLY clear Autoblow 2! We'll contact you to ask which sleeve size you prefer. (Those outside of the US, please also select the $25 international shipping).
• Those who back us at a $29 level will get a super nice Autoblow 2 t-shirt. We will email you to ask your size. The shirt will be the same blue color as the Autoblow 2 and will prominently feature the Autoblow 2 logo above a photo of the product. Guys, all I can say is that sporting your support for the Autoblow 2 in public will bring you years and years of dates and good luck.
• If we don't reach our goal here, don't worry: you'll still get the perk you paid for. We'll find an additional but less awesome way to fund the completion of the order.
Here is the clear store demo Autoblow 2 that will go to the 20 VIP backers!
Stretch Goals!!
If we raise 120,000:
At first, we only have enough funds to create sleeves that look like a mouth on top. But if we can reach the $120,000 funding level, we will have enough cash to make vagina sleeves! All backers who are eligible to receive an Autoblow 2 ($79 and above) would also receive a extra vagina sleeve! Please note that the vagina sleeves would begin production in the summer, so you would receive your Autoblow 2 vagina sleeve a couple of months after you receive your Autoblow 2 with the mouth sleeve. To be on the safe side, I estimate you would receive the second sleeve in September. I am aware that gay men in particular might not want a vagina sleeve. If its the case that you are gay, and don't want your vagina sleeve, perhaps you can be a pal and pass it along to a friend!
If we raise $200,000:
Raising $200,000 would allow us to quickly create a beautiful storage case capable of storing the Autoblow 2 and a few sleeves. We're thinking zippered, and similar in appearance to a camera storage bag. If we raise this amount, everyone who receives an Autoblow 2 ($79 and above) would receive an extra vagina sleeve & the storage bag! We would begin the design after the campaign finishes, and I estimate this bag would be ready to ship in September.
Your Impact
The Autoblow 2 is a huge step forward for men's pleasure devices. Until now, virtually all male toys either required you to hold something and move your hand up and down or were automated but created as toys, not appliances. As a backer here, you will help us to create the next generation of robotic machines for men that will feel far better and far more realistic than anything that has been made before. We have already started kicking around ideas for the Autoblow 3! Although the next version may be 2 years away, it will surely feature new technology never before used in a male pleasure product. Your support on the Autoblow 2 will help us push this technology to the next level! We are SURE you'll love the Autoblow 2 and we are super thankful to all of you for your support!!
Technical Specifications:
• Weight: Without sleeve installed, 690 grams or 1.5 pounds
• Sleeve Weight: 210g or .46 pounds
• Power Input: 100v-240v
• Power Output: DC 12v, 1.5a
• Adapter Cord Length: 9 feet (300cm)
• Height: 8.6" (22cm)
• Diameter: 3.93" (10cm)
• Stroking length: It will stroke approximately 4" of your penis
Manufacturing Timeline
We plan to finish the manufacturing by the end of May. The products should arrive to our New York warehouse by the end of June. Therefore, we expect to be able to ship out your Autoblow 2 by the end of June, 2014. Just to be on the safe side, we have set the campaign to show July as a shipment date. We will inform you the moment the shipment is on the ship on its way to our US warehouse and will will alert you of any potential delay. We understand the importance of sticking to the timeline we give our backers and we are totally confident it be smooth process!
*IMPORTANT* Your Backing Will Be Totally Anonymous & Discreet!
If you do not wish for your name to show up on the campaign page, simply click this box when you are making your contribution:
Your package will be shipped from our New York warehouse and will be 100% DISCREET. There is no way to know what it is inside of the box!
Who Am I And Why Did I Invent The Autoblow 2?
After finishing law school, I decided to make sex toys instead of working as a lawyer. While spending a lot of time in China, and with the help of a great team of people from around the world, over the last 6 years, I made the Autoblow, Mangasm, and Ladygasm brands. I focus on the production, and my team helps me sell our brands around the world on our ecommerce sites, and on Amazon. The products I make are interesting and functional, but none has been a game changer. Until now, that is!
Over the past 3 years, I've invested about $100,000 to get the Autoblow 2 designed and to make molds, and packaging. It was not easy to find the right group of people who understood how to work with these materials and understood the ergonomic related challenges. After 2 failed prototypes, we finally succeeded in making an excellent product that is automatic, robust, and feels surprisingly realistic.
I believe in this product so much that I've decided to literally put my face and my reputation on it (yes, that's me in the video).
More About The Team Behind The Autoblow 2
Brian Sloan (bsloan at vieci . com)
While a lot of people on Indiegogo show a picture of their office, I can't - I don't really have one. I'm the sole owner of my company, which is a US company called Very Intelligent Ecommerce, Inc. (www.vieci.com). I spend most of my time in China and my people are all over the world. We work together online. We have programmers, Internet marketers, designers, video guys, warehouse people, customer service people, and everyone else you would expect an e-commerce company to have. The only difference is that many of us have never met in real life. There is one guy, Alex, who was with me since the beginning. We met on a freelancing website, and since then I have been to Romania 10 trips to work together, he has been to China 12 times, and once we've been together to work in the US.
Alexandru Berghian
Alex is a self taught programmer and Internet marketing expert extraordinaire. Originally from the Transylvania region of Romania, he bounces between Bucharest and Beijing, helping us stay ahead of the competition. He is a true technical expert in the marketing field and a great project manager. That's him in the photo next to me below, on one of our working trips in China.
Rodrigo Di Marzo
Rodrigo is our rock star packaging and website designer. A Brazilian living in Germany, Rodrigo brought his unique aesthetic to our Autoblow 2 packaging and e-commerce presence (not yet online). He is without a doubt the most skilled freelance designer we've ever hired. He has done stunning design work for large global firms including Haagen-Dazz, Clinique, GlaxoSmithKline, and others.
Tey Villenuava
Tey a native of the Philippines but is based in Beijing. She is responsible for most of the back-end administration of our websites, plus some of our customer service. She also happens to be one of the friendliest people on earth.
Shirley Zhang
Originally hailing from Hebei province in China, Shirley manages all of our email customer service. Have a problem, complaint, or even a compliment? Shirley will respond to you in a friendly and professional manner.
Sam Petrenko
Sam is a certified Magento programmer and the CEO of the company who handles all of our Magento related programming needs. He got us hooked on using Jira to manage our projects and helps ensure that our online growth is always a smooth process.
Other Ways You Can Help
Don't want to be a male pleasure product pioneer and pick up your own Autoblow 2 for $50 less than it will be sold in stores? Ok, at least send this page to your friends! You never know....
Posted on April 10, 2014 at 10:27 AM | Permalink | Comments (4) | TrackBack
November 26, 2012
Autoblow - Blow Jobs Just Got Better!
Finally, the Autoblow Blast will give you the blow job you deserve and have been waiting for!
You deserve better and more powerful orgasms! Treat yourself to the best.
Choosing Pleasure is Easy As Pie
Sometimes life sucks but more often than not it doesn't, and not in the way you think. Many men have a problem of too few blowjobs. How can you get the suckage you want and not have to bend over backwards to get it? Sometimes your partner can't or won't deliver so there has to be a better way. You often use sex toys but too many of them aren't hands-free.
Guess what? You are in luck!
The Autoblow blowjob machine exists to give you exactly what you want and need - phenomenal blowjob experience, all hands-free! Let the Autoblow do the heavy lifting whilst you concentrate on important things like your arousal and orgasm. With your hands free, you may explore your body - or your partner's body. Or both!
Using Your Autoblow
First, slather on some lube and slide your penis though Autoblow's sweet, realistic mouth. You'll feel Autoblow's lush silicone sleeve caress you like nothing ever has before. When you turn on Autoblow, you'll feel two rows of spring-loaded beads sliding up and down and around your penis, just like a blow job giving to you by a living partner. You even control the speed of the motions using the simple-to-operate hand-held controller. Autoblow is better than a real person, though. It doesn't get tired. It doesn't get a jaw cramp. It doesn't want to cuddle. It has no gag reflex. Very importantly, it has no teeth! You don't need to announce you're coming to Autoblow so it can prepare for your ejaculation.
Autoblow comes in three sizes, Blast, Max, and Pico.
Autoblow Blast - For Average-Sized Men
When Autoblow Blast was introduced to the world in January, 2009, the collective sigh of "Wow!" could be heard across the four corners of the earth. Now, the name Autoblow has become synonymous with automated sexual bliss. Autoblow is very easy to use. All you need do is insert batteries, slather on the lube, and insert your penis into the realistic, soft rotobic mouth. Let Autoblow do all the work for you. It does the heavy lifting while you concentrate on your arousal and orgasm. Two rows of spring-loaded beads wrap around the silicone sleeve, all existing to give you the utmost pleasure. Those beads glide gently up and down your shaft, making your knees turn into jelly it feels so good. Have your orgasms where you want, when you want. Your sexual world is under your control! Best of all, your motorized blowjob speed is controlled by you, by using the speed dial on the hand-held controller.
Autoblow Blast fits about 95% of men with penises ranging from 4 to 6 inches in diameter, and 5 to 8 inches in length. For a truly mind-blowing experience (pun intended), use a Mangasm tool and lube with Autoblow and watch your orgasm shoot through your roof!
Autoblow Max
Are you hung like a bull? Then Autoblow Max is the masturbator for you! Autoblow Max is designed for the hefty man - one who is 7 - 9 inches long and 6.5 - 7 inches in girth. Autoblow Max works exactly like Autoblow Blast, but there's more room for your massive one. All you need do is insert the batteries, lube up, and insert that monster into the eager mouth. Enjoy the feel of spring-loaded silicone beads wrapped around a silicone sleeve as they roll along your cock, up and down, until you're begging for release. When Vesuvius is ready to blow, pull out or explode directly into Autoblow Max.
You may use Autoblow Max with or without the sucking feature. Treat it like a Fleshlight - fuck that inner sleeve until you see stars. You don't need the sucking sensation to get off but if you prefer it, turn it on.
Want to try something that will really get your pulse racing? Combine the Autoblow Max with a Mangasm. You'll come so hard you'll put holes in the ceiling!
Autoblow Pico
Big and average guys shouldn't have all the fun. Due to demand from our customers, we have created the Autoblow Pico - the only male masturbator in the world designed for smaller men. The Autoblow Pico is ideal for men who are 5 inches long and 4 inches in girth. Did you know that 20% of men have penises that size and smaller? The problem is most sex toys are made for average-sized or Long Dong Silver men. Many of Autoblow's customers rightly complained it wasn't fair that they were left out, so with the help of several of customers who agreed to be test subjects, the Autoblow Pico was born!
Autoblow Pico is a retooled version of the Autoblow Blast. The top lips/anus portion has been removed. Larger beads were added so you can penetrate deeper into the device and feel that luscious stroking action. Now smaller men may pleasure themselves when they want, how they want - completely hands free! Let Autoblow Pico do the work for you.. While you're at it, don't overlook the sexy combination of Autoblow with Mangasm for universe expanding orgasms!
Autoblow - Blow Jobs Just Got Better!
You're just dying for an Autoblow, aren't you? What are you waiting for? Buy yours today. You'll wonder why you waited so long for the blow job of a lifetime!
Posted on November 26, 2012 at 11:54 AM | Permalink | Comments (1) | TrackBack
Mangasm - The Ultimate Prostate Massager
Take your orgasm to the stratosphere with Mangasm prostate stimulators!
There's something special about prostate stimulation, and you'll find it at the Mangasm shop page. Orgasms from prostate stimulation are much more powerful than orgasms you get from simply jerking off. Mangasm prostate stimulators will give you a unique experience, completely different for every man, but they have one thing in common: you're views of male pleasure will change immensely, for the better. Our two popular models are the Buzz and the Rush, but there is a Mangasm model to suit your every need.
Mangasm Alpha
The Mangasm Alpha is the perfect prostate massager for the novice. It works very well for all men. The Mangasm Alpha's curves place a moderate amount of pressure on your prostate, resulting in the most exciting massage ever. Unlike other prostate massagers, the Mangasm Alpha is made from our own patented material, Pleasure Grip. This material makes Mangasm easy to insert but flexible enough to move with each of your muscle contractions, making it very comfortable to use. You'll increase your sexual pleasure with Mangasm.
The Mangasm Alpha has a very flexible perineum tab which places slight pressure on your prostate from the outside, increasing your sensuous feelings to the point of bursting! The ring at the base enables you to easily remove the massager.
Mangasm Buzz
A little vibration goes a long way to ensuring your sexual pleasure. Mangasm Buzz is made from high quality silicone. It features a fabulous five speed bullet vibrator in the base. The shape of the Mangasm Buzz is a bit different from the shapes of our other Mangasm models in that it offers one of our most knee-knocking male G-spot stimulation. Combine the curved tip with the multiple ripples on the Mangasm Buzz's surface and you have one hell of a phenomenal sex toy.
The shape of the Mangasm Buzz isn't the only thing to buzz about. The real satisfaction comes from the 5 mode removeable bullet built into the model's base. This delightful anal sex toy has a built-in arousal machine. Just turn on the vibrations and get ready for one hell of a ride! The 5 vibration modes stimulate the entire area around you prostate, leading to intense pleasure and stupefying orgasms. You'll stimulate all your pleasure sensors at once. Get ready for the ride of a lifetime. When you have a Mangasm Buzz orgasm the sex toy won't be the only thing buzzing!
Mangasm Rush
Are you the adventurous type? Do you have experience with anal sex toys, and you want something with a bit of heft to it? Then you'll like the Mangasm Rush. You'll get a real rush from this anal toy. The Mangasm Rush has a thicker head that can flex a complete 90 degrees in any direction. You'll experience untold arousal like never before! This incredible anal device is made of our own patented material called Pleasure Grip. This material is rigid enough for insertion but flexible enough to adjust to the natural contours of your body. Since Mangasm Rush has a thicker head than most prostate massagers, beginners may want to ease themselves into using this one. This particular massager is designed for the man with experience in anal toys and he wants the next step up.
Mangasm Rush has two flex points - one in the middle and one at the bottom. These flex points give maximum pressure to your prostate gland so you may enjoy the most incredible sensations. The perineum massager on the outside places pressure on your prostate from the outside. Combing those two sensations and you'll have some cracking orgasms.
Mangasm Edge
Do you want to come so hard your eyes pop out of your skull? Then you need Mangasm Edge. This device has extremely powerful vibrations, so powerful some men have had intense orgasms without even touching their penises! That's how impressive this anal toy is. It's meant to induce extreme, knee-knocking orgasms. It will even surprise the most experienced anal sex aficionados. Mangasm Edge is made of harder material than the other Mangasm devices, so the perineum extension places heavier pressure on the outside of your prostate than the others. Combine this intense outer pressure with those fab vibrations and you have a sex toy that will make you come so hard, some customers have reported loss of vision during their orgasms! Are you game for the most intense prostate stimulator known to man? You won't be disappointed with Mangasm Edge.
Mangasm Spark
Do you enjoy that full feeling you get when you use certain anal toys? If so, you'll love Mangasm Spark. The Mangasm Spark is not your average prostate toy. It's longer and thicker than our other Mangasm anal toys. It also vibrates. This anal toy gives its lucky users that full feeling you enjoy whilst focusing pressure on your perineum. That's the outer surface of your prostate, for those who aren't up to snuff on these things. Mangasm Spark has seven raised nodules on a small 1.5 square inch surface. These nodules are especially designed to apply direct pressure to your taint (perineum). You'll have a very intense male G-spot orgasm from the combination of the interior and exterior stimulation from this incredible anal toy. Since the vibrator is located directly beneath your perineum, you'll experience maximum pleasure - and then some!
Mangasm Spark is made of slick, soft, and very flexible material so that it moves with you. It inserts easy as pie. This delightful anal toy is perfect for every man whether he is new to anal stimulation or an old hand at it.
Mangasm Flux
The Mangasm Flux may look like plain old anal beads, but don't be fooled! Unlike other Mangasm devices, Mangasm Flux doesn't put much pressure on your prostate. The top two balls rest gently on your prostate, giving it a gentle massage. Made of silicone, Mangasm Flux is easily the most hygienic and the most comfortable of all anal sex toy materials. Mangasm customers enjoy the graduated size of the three balls. The smallest ball is at the end and the biggest -and thickest - is at the base next to the retrieval ring. Insertion is always comfortable and exciting. Are you looking for a less intense male G-spot orgasm but you still want the amazing benefits of prostate massage, you can't go wrong with Mangasm Flux.
Mangasm Electro
Mangasm Electro is the world's very first electonic prostate stimulator. If you're a man who likes to keep up with the best, you must use one! If you are looking for the next, higher level of prostate massage, Mangasm Electro is the anal toy for you! Whilst you'll enjoy stupefying orgasms with other Mangasm anal toys, electronic stimulation will send your orgasms into the stratosphere! Mangasm Electro uses 2 AAA batteries. A small microprocessor unit delivers several different patterns of stimulation directly to your prostate and your perineum for the most jaw-dropping sensations ever.
The handy instruction manual provides details about all the modes plus tips on how to use e-stim to have the most amazing orgasms of your life. Add a Fleshlight to your sex play with Mangasm Electro and you'll enjoy the most astounding orgasms. Sexual pleasure has never been so good!
Mangasm Voyager
Are you a man looking for an extremely intense male G-spot orgasm? Do you like larger-than-average anal toys? Then you need Mangasm Voyager, the largest and most aggressive Mangasm model. Behold its massive girth! It's about 30% thicker than Mangasm Edge but it's still bullet-shaped, making it easier for you to slide it in and enjoy an intense-beyond-belief orgasm. The perineum tab is even larger than other Mangasm models, placing direct pressure even more effectively on the outside of your prostate.This anal toy is perfect for men who enjoy that "full" sensation. It's also ideal for men who like a challenge. Your semen production is incredibly increased when you use the Mangasm Voyager. Feel the burn. Enjoy the eye-popping appeal of Mangasm Voyager.
Mangasm - The Ultimate Prostate Massager
So there you have it. Aren't they mouth-watering? You want one inside you. I know you do. Heck, you want more than one! Mix and match for the best anal experience ever. Enjoy Mangasm in its many forms. Buy them today.

Posted on November 26, 2012 at 11:48 AM | Permalink | Comments (6) | TrackBack
November 04, 2011
Review: Mangasm Web Site - Mangasm, Autoblow, and Fleshlight
The Mangasm web site is an easy-to-navigate site that spells out all the details about these wonderful sex toys fast and easy. The site itself is eye-catching and very pleasant to look at. Text is easy to read and I don't strain my eyes at all. The pictures also provide both information and a nice look to the site.
You get your choice of several Mangasm prostate or male G-spot sex toys, including Alpha, Buzz, Rush, Edge, Spark, Flux, Electro and Voyager. More detail below:
Alpha - Mangasm's most popular basic prostate massager.
Buzz - A silicone vibrating prostate massager.
Rush - A prostate massager with a thicker head that can flex a full 90 degrees in any direction.
Edge - A prostate massager that vibrates with such power that men using it have been known to come without even touching their penises!
Spark - A prostate and perineum massager. It's longer and thicker and vibrates.
Flux - Silicone anal beads with something extra.
Electro - A vibrating prostate and perineum massager for the truly adventurous man.
Voyager - A larger and more aggressive version of Mangasm Edge.
All of these sex toys are reasonably priced and of very high quality. You'll have the orgasms you've dreamed of when you use Mangasm products. Why have an orgasm when you can have a Mangasm?
Use Mangasm products in conjunction with Autoblow and Fleshlight male masturbators. You'll come so hard you'll see stars!
This web site also includes pages about Autoblow and Fleshlight products. Autoblow is the state-of-the-art and amazing male masturbator that simulates the best blow job you've ever experienced! Go all day and night with the Autoblow. It won't complain it's tired or has a mouth cramp. No gag reflex! Slam in as hard and as deep as you please. You get your choice of Blast (average), Max (for larger men), and Pico (for smaller men). These high class and effective male masturbators are reasonably priced and of high quality.
Fleshlight has long been known as a wonderful line of male masturbators. You get your choice of many fine Fleshlight products on this web site. You get your choice of the following products: Pink Lady (the original), Stamina Training Unit (to help you last longer), Pink Lady Vibro (a Pink Lady that vibrates), Pink Mouth Vortex, Pink Lady Super Ribbed, Anal Vibro Touch, Ice Mouth Crystal (see yourself slam into it!), Jenna Haze Lotus (modeled after porn star Jenna Haze), and Stoya Forbidden (modeled after porn star Stoya). All are reasonably priced and of the high quality you expect from Fleshlight products. Enjoy one of the best brands of male masturbators on the market today when you buy Fleshlight products.
In addition to these products there is also a section for realistic vaginas. You choose between three of the best: Mangasm DSRV (very realistic and weighs nearly 7 pounds. DSRV stands for Doggy Style Realistic Vagina), Mangasm Pussy Paradise (very popular pussy and ass), and Mangasm Easy Pussy (modeled after a very small woman. So tight! Includes anal entry.).
Topping off the site are a section for ID Glide lubricant (which you'll need to use these sex toys) and an entire section full of the best Mangasm pocket pussies out there. Included are Pocket Rocket (with 47 raised pleasure nodules), Easy Relief, and the Quickie (with award-winning design). All are reasonably priced.
The Mangasm web site is a joy to navigate and its descriptions and short and easy to comprehend. The buy buttons are easily visible so your shopping experience will be a good one. Prices are reasonable and you can tell by the photos what top-notch products you're buying. You won't bust your budget buying these sex toys. Explanations and descriptions are easy to read and understand. The black and red color pattern also works and it's very manly. You're bound to have a fantastic shopping experience at the Mangasm web site.
Go to Mangasm to buy the best prostate massagers, male masturbators, lubricants, realistic vaginas, and pocket pussies.
Posted on November 4, 2011 at 12:06 PM | Permalink | Comments (2) | TrackBack
November 02, 2011
Review: Autoblow Web Site - Autoblow, Mangasm, Fleshlight
The Autoblow is cited as the world's first realistic blow job machine.
The instructions are easy. They are:
1. Insert your penis
2. Turn it on
3. Enjoy your blowjob
4. Have an orgasm
5. Repeat!
It really is as simple as that. The Autoblow has a mechanical sucking feature that cannot be surpassed by other, lower quality male masturbators. Spring-loaded beads wrapped around the silicone sleeve inside the Autoblow give you the feeling of a blowjob given to you by a pro who wants you to get off. You get the hot orgasm you crave without having to dish out money for fancy dinners. No PMS! No headaches! No husbands walking in unannounced! No discomfort being cramped in the back seat of a car! You lie back, slide into the Autoblow, and let the Autoblow do all the heavy lifting.
There are three different versions that fit cocks of all sizes, from the smallest to the most gigantic. The Autoblow Pico is for the little guys. The Autoblow Blast is for the average guy and the Autoblow Max is for the guy with a little something extra. The Autoblow is also wonderful when combined with other sex toys such as the Mangasm and even a Fleshlight.
The price of the Autoblow is $99.95, which is very reasonable compared to similar devices. You get a lot for your money. An electric (takes batteries) male masturbator that will bring you to your knees, the Autoblow may be used by men who are between 4 and 6 inches in diameter and between 5 and 8 inches in length. You'll be harder than ever and your orgasms will be very powerful.
The Autoblow web site also includes pages for the Mangasm prostate massagers and pocket pussies and Fleshlight products. The Mangasm products are top notch and reasonably priced. You get a choice of many different types of prostate massagers as well as the Mangasm Pocket Rocket, Easy Relief, DSRV, and Quickie. When it comes to feeling, size, and price, you can't beat Mangasm - except when you beat off! You get a nice selection of Fleshlights including the training Fleshlight (train yourself to last longer), Pink Lady Vibro, Lady Super Ribbed, Original, and Jenna Haze Lotus. Choose between Pussy, Ass, Mouth, Girls (molded based on porn stars), and Pure (Fleshlight's unique masturbator for the discerning customer).
Use Autoblow, Mangasm, and Fleshlight together and you'll have the most mind-blowing orgasms!
The web site has a very professional look and it's easy to navigate. I was able to find the "Contact" section easily, which is important on shopping web sites like this one. Each product is explained in easy to understand language without getting too technical. Prices are very reasonable, too. There is even a section for ID Glide lubricant since you'll need a good lube to use these products, and ID Glide is one of the best.
The Autoblow web site is an easy-to-navigate web site that sells high quality men's sex toys for reasonable prices. Head to Autoblow today and stock up on some of the best men's sex toys money can buy.
Posted on November 2, 2011 at 09:36 AM | Permalink | Comments (3) | TrackBack
March 24, 2011
Come To My New Blog And Web Site!
I have a new blog and web site, and I'm inviting everyone to it. This blog/web site focuses on my erotic writing. I will continue to post sex toys reviews on this blog. So, if you want to keep up with me, visit me at my new digs.
Elizabeth Black - Blog and Web site
See you there!
Lizzie
Posted on March 24, 2011 at 12:28 PM | Permalink | Comments (11) | TrackBack
February 08, 2011
Pleasurists #116 - And I'm Editor's Pick Again!!
The Countess' Note: OMG I won "Editor's Pick"!!! This is the second time I made "Editor's Pick". I was hoping I would win this time. Yeah, she loves and hates the review at the same time. So do I. It's very over-the-top. Here's my review so you may laugh and cringe at the same time:
The Countess: Babeland Review - Pirates Pleasure Ring
Yarrr!!!
Forbidden Fruit by Bountiful
Welcome to Pleasurists, a round-up of the adult product and sex toy reviews that came out in the last seven days. For updates and information follow our RSS Feed and Twitter.
Did you miss Pleasurists #115? Read it all here. Do you have a review for Pleasurists #117? Be sure to read the submission guidelines and then use the submission form and submit it before Sunday February 13th @ 11:59pm Pacific.
Want to win some swag? All you've got to do is enter.
Editor's Pick
Ye have two choices between scribbles – the purple Maltese cross or the black skull n' bandana. Buy one of each and turn on the saucy maids and/'r cockswains with your Cap'n At Full Mast! She'll never turn ye away from her binnacle ever again, matey. And he'll let you into his Poop Deck with yer mighty multi-barreled pistol! Here's th' best news o'all – this scabbard guard vibrates like a schooner hit by yer cannons!!!

Note: I both love and hate this review at the same time. I adore unique reviews like this and find the pirate speak amusing and awesome, plus there's a pirate cat picture.
Editor
Scarlet Lotus
On to the reviews…
Vibrators
Dildos
Anal Toys
Toys for Cocks
Lube, Massage Oil, Bath Stuff, & etc.
BDSM/Fetish
Adult Books/Games
Adult DVDs & Porn
Sex Furniture & Position Aids
Miscellaneous
Posted on February 8, 2011 at 12:05 PM | Permalink | Comments (0) | TrackBack
February 04, 2011
Babeland Review: Pirates Pleasure Ring
Avast ye maties! Do yerself a favor and slap on th' Pirates Pleasure Ring, a wonderfully stretchy and kitschy sex toy that fits around yer Jolly Roger! Fer the landlubbers out thar who ain't familiar with ye pirates of lore, this cracking cock ring was inspired by the porn DVD series "Pirates" and "Pirates 2: Stagnetti's Revenge", two of the most popular pirate porn DVDs out thar. The movies star porn legends such as Jesse Jane, Sasha Grey, and Evan Stone. Ye've never seen scallywags and picaroons such as these in many a moon!
Ye have two choices between scribbles - the purple Maltese cross or the black skull n' bandana. Buy one of each and turn on the saucy maids and/'r cockswains with your Cap'n At Full Mast! She'll never turn ye away from her binnacle ever again, matey. And he'll let you into his Poop Deck with yer mighty multi-barreled pistol! Here's th' best news o'all - this scabbard guard vibrates like a schooner hit by yer cannons!!!
Ye now can buzz yer way to a massive ARRR-gasm with this kick'n cock ring. Narey a better nor more valuable ring has been found even in Davy Jones' Locker. It stretches to fit any size Pirate cutlass. The mini vibe is shaped like a skull embossed on shiny gold. Add this cock ring to yer own treasures and seduce the saucy maids n' cockswains with yer massive flintlock! The ring is stretchy n' comfortable to wear. It doesn't even pinch yer nads. And it looks like a million Pieces of Eight! Board her ship or notch his rullock with confidence when you use this incredible cock ring.
So you want t' talk like a scurvy pirate? Try this web site which is a tad like a Pirate Babelfish. Just plug in yer ramblings and the computer program translates yer speech into Buccaneer! So now all your sex toys reviews can be translated int' Pirate-speak. Yarrr!
----
Read me other Babeland Sex Toys Reviews here on me blog, and don't forget me Sex Toys Reviews Category. Now jump that plank and buy yerself some treasures!
Posted on February 4, 2011 at 01:20 PM | Permalink | Comments (2) | TrackBack
May 29, 2010
Adult Sex Toys Review - Lelo Tor
My husband has erectile problems so I thought that he might get some enjoyment from using a cock ring. I requested the Lelo Tor for review to see first, if he liked the feel of it, and second, if it helped us in any way in the sex department.
Lelo Tor gets its name from Norse mythology's god of thunder (Thor). I also know that "tor" means "high hill", not that that means anything in particular; it's just interesting trivia.
First, the feel of it. Lelo Tor is a very stretchy vibrating cock ring that fit well over his cock. He could have worn it by pulling his balls and cock through but he didn't want to do that. This vibrating cock ring is of a much more sophisticated and streamlined design than any other cock ring I've ever seen. Lelo Tor is designed to both please a man and his female partner since this cock ring has a bumper for her pleasure.
The stretchy phthalates-free material enables Lelo Tor to fit well over a penis or penis and balls. One warning though - make sure you shave your genitals before putting on this cock ring. Lelo Tor has a bad habit of catching hair and yanking on it, which is both painful and distracting. My husband found the vibrations to be distracting, but I doubt most men would find them to be that way. My husband is just different. There are six separate vibration patterns that you can choose with the click of the button on the cock ring. A blessing is that the vibrations are nearly silent. Our bed is right next to our bedroom window, which is open now because of the heat of spring. It wouldn't do for our neighbors to hear incessant buzzing coming from our bedroom in the dead of night.
Wear the Lelo Tor with the bumper underneath to vibrate against your balls or wear it with the bumper on top when having intercourse so she can enjoy the vibrations as well. Lelo Tor is designed like most cock rings to hold blood in the penis so that it gets harder and thicker. This classy looking cock ring is stretchy enough to fit even the most massive of men.
Lelo Tor, like all Lelo sex toys, is rechargeable so you don't have to mess with pesky batteries or cords. a two hour charge will get you nearly two hours of sheer sexual bliss. Sign up with 646-230 for getting incredible online ccna braindump courses and pass4sure 70-293 prep guides. We also provide best 000-087 dumps & testking SY0-201 with guaranteed success. Best of all is that rechargeable Lelo Tor is the equivalent of 10,000 disposable cock rings, so you're saving yourself quite a bit of money.
If you are looking for a classy vibrating cock ring that is a step above your average cock ring, invest in a Lelo Tor. You won't be sorry.
This sex toy review sponsored by Adult Sex Toys: over 8,000 sex toys and adult toys to choose from.
Posted on May 29, 2010 at 09:22 AM | Permalink | Comments (1) | TrackBack
February 15, 2010
Tiger Woods Condoms And Presidential Condoms For National Condom Week
This week is National Condom Week, so make sure you have a hefty supply of rubbers for your sexual escapades. You know the usual type: sampler packs, female condoms, extra thin, extra large, ribbed, colored, flavored, latex free ... but have you seen these condoms?
Yup, there are already Tiger Woods condoms so you can make sure your little swimmers don't make a Hole In One.
While Valentine's Day just passed, why not buy a few of these Valentine's Day condoms anyway, just for kicks?
Luck of the Irish to you! Pick up a few St. Patrick's Day condoms to go with your pints of Guinness on March 17.
Then there are Gay Pride condoms.
This one is especially funny.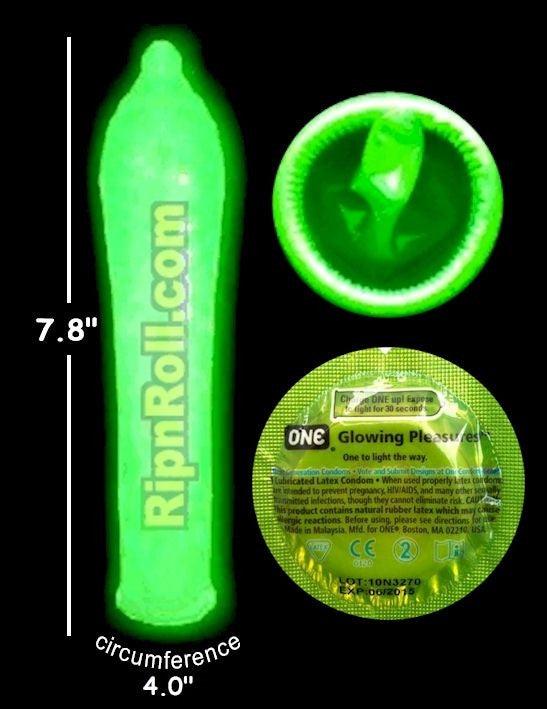 Look to my post about the glow-in-the-dark vibrator and g-spot finger toys that go very well with these glow-in-the-dark condoms.
These political condoms are wrong on so many levels, but they definitely go with the Barack Obama dildo and condoms, the Hillary Clinton nutcracker and Bill Clinton corkscrew, and the Sarah Palin sex doll. While the Palin and H. Clinton items have been rightly denounced for being incredibly sexist and disrespectful, it seems the men have suffered their fair share of ridicule with dildos and corkscrews. The presidential condoms include images of Hillary and Bill Clinton, John McCain, George W. Bush, Obama, and Reagan.
Like the covers on Lords Of Acid CDs? Then you'll love these condoms.
There are even Church of the SubGenius condoms! All hail Bob!
So there you have it. There are all kinds of novelty condoms out there for you to choose from. Or just buy ordinary condoms with ribs or smooth. Condoms help prevent the spread of sexually-transmitted diseases and they are effective against pregnancy. Enjoy National Condom Week!
Posted on February 15, 2010 at 03:58 PM | Permalink | Comments (0) | TrackBack