March 24, 2011
Come To My New Blog And Web Site!
I have a new blog and web site, and I'm inviting everyone to it. This blog/web site focuses on my erotic writing. I will continue to post sex toys reviews on this blog. So, if you want to keep up with me, visit me at my new digs.
Elizabeth Black - Blog and Web site
See you there!
Lizzie
Posted on March 24, 2011 at 12:28 PM | Permalink | Comments (11) | TrackBack
November 19, 2008
Chocolate Sex Spread Pulled From Shelves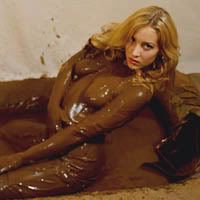 I freaked when I first saw this article, since one of my favorite sex toys of ours is the
Kama Sutra Chocolate Lover's Paintbox
, which has a place of honor in our refrigerator. Apparently, another chocolate body spread has been pulled from shelves at Ann Summers stores because it contains an industrial chemical harmful to humans. According to an article on the subject, the chemical melamine caused a "massive scare in China after four babies died and 54,000 children under two fell ill from drinking milk products adulterated with it."
I'm happy to report that my chocolate body paint is not affected. The chocolate sex spreads pulled from the stores are "Chocolate Flavored Willy Spread" (love the name) and a pack that contains a chocolate flavored "body pen". Both products are made from a company called Le Bang, from China.
So, I'm off the hook. That
Kama Sutra Chocolate Lover's Paintbox
tastes delish, too. We have milk chocolate, dark chocolate, and white chocolate. I reviewed the product for VibeReview.
Read my review here
.
Posted on November 19, 2008 at 07:22 AM | Permalink | Comments (1)