March 24, 2011
Come To My New Blog And Web Site!
I have a new blog and web site, and I'm inviting everyone to it. This blog/web site focuses on my erotic writing. I will continue to post sex toys reviews on this blog. So, if you want to keep up with me, visit me at my new digs.
Elizabeth Black - Blog and Web site
See you there!
Lizzie
Posted on March 24, 2011 at 12:28 PM | Permalink | Comments (11) | TrackBack
May 17, 2010
Adult Sex Toys Porn Review - Pirates
I had heard about Pirates for quite some time and I was eager to review it. See, I'm fussy about porn. Most of it does absolutely nothing for me. I'm not attracted to either the men or the women in most porn, which is no mean feat because I'm bi. The endless fucking by people who look bored doesn't turn me on at all. I do like some classic porn, which I have reviewed here, but for the most part it's hard for me to find porn that pleases me. It's even harder for me to find porn that turns me on.
That is, until I finally saw Pirates. Now this is a fun movie! Made in 2005, it has it all - a plot, actors who can act, humor, gorgeous people, amazing sets and special effects (the budget for this movie was a million, and that's pretty cool considering it's porn), beautiful costumes, and candles... lots of candles.
Here's an amusing trivia tidbit about the movie from the Internet Movie Database: "Some scenes were filmed aboard the HMS Bounty, at The Pier in St. Petersburg, Florida. The city of St. Petersburg, which owns The Pier, did not realize that the film was porn; the producers represented the film as a PG-13-level comedy for television." Ha! The HMS Bounty will never live this one down!
Pirates won and was nominated for a slew of awards, including the AVN award for top selling title of the year, AVN best actor, best actress, best all-girl sex scene - video, best director, best supporting actor, best music, and much more. In all, Pirates won thirteen awards and was nominated for ten awards. Pretty spiffy.
I could see the influence of "Pirates of the Caribbean: The Curse Of The Black Pearl" in this movie since quite a few of the men tried to pull off the Capt. Jack Sparrow look. These days, no self respecting pirate leaves his crow's nest without eyeliner.
The plot was loads of fun. If all the sex scenes were taken out, this movie would still make a nice stand-alone pirate flick, but of course the sex scenes only add to the enjoyment. Here's the plot summary from the Internet Movie Database, which gave Pirates a 7.5 out of 10 rating. Not bad for a porn flick.
Swash and unbuckle. In 1763, the Caribbean is awash in pirates. The worst is Stagnetti, backed by his bloodthirsty first mate, Serena. He wants the Scepter of Inca, which gives its owner great powers. To remove it from remote Calaveras Island, he needs the Dagger of Ataljuapa as well as the aid of a descendant of the family to whom the Scepter was entrusted. So, he kidnaps Manuel Valenzuela, honeymooning with the lovely Isabella. On Stagnetti's trail are pirate hunters, Captain Edward Reynolds and Jules, his commander. Edward's a bit clueless, but he does rescue Isabella. Once Stagnetti has the Dagger, the stage is set for the clash of good and evil.
I found as I watched this delightful movie that I was attracted to lots of people, in particular Jesse Jane as Jules and Evan Stone as Capt. Edward Reynolds. Other notables are Carmen Luvana, Tegan, Tommy Gunn, and Devon. Reynolds' fucking and acting came across as very hot and natural. Jesse Jane was just incredibly hot to watch. True, the actors are buff and all have been under the plastic surgeon's knife (note: every boob in this movie is fake) but I liked the hardbodies very much. This is a movie I could jerk off to.
I'm going to find more movies made by this production company, Digital Playground. There are two sequels to Pirates and I would happily jerk off to both while enjoying a good movie. The director, Joone, has quite a bit of talent. The high production values did not get past me. I found other movies by Digital Playground that I would love to see and review so that you too may enjoy them. Pirates was a blast to watch - more than once, mind you - and I highly recommend it to anyone who wants a fun and sexy porn movie to round out your evening. This movie is ideal for couples as well. Sit back, pop some popcorn, and enjoy


This sex toy review sponsored by Adult Sex Toys: over 8,000 sex toys and adult toys to choose from.
Posted on May 17, 2010 at 11:01 AM | Permalink | Comments (3) | TrackBack
May 11, 2010
Babeland Review - Tristan Taormino's Rough Sex DVD
It's good to see a woman in such a powerful position in an industry that is viewed (rightly) as primarily by men for men. Tristan Taormino's books, porn, and articles have always interested me for their insight and hotness. So when I had a chance to review her porn movie Tristan Taormino's Rough Sex I jumped at the chance.
This movie is four vignettes of fantasy rough sex between consensual partners. I liked how each segment starts out with interviews of the participants describing what turns them on and their own taboo sexual fantasies. My sexual fantasies can be somewhat rough so this movie fit right in with what I imagined for myself. I didn't find Tristan Taormino's Rough Sex to be particularly taboo but some viewers might find the aggressiveness and blunt sexuality to be a bit much for them. Still, I highly recommend Rough Sex especially if you are new to it and interested in trying it out for yourself.
Popular sex fantasies are approached, such as stranded on a road and "rescued" by a hottie, home invasion, strangulation fantasies, rape fantasies, and the like. The actors are attractive and personable, especially considering you meet them and hear them talk prior to each vignette about their fantasies. These people become real to the viewer rather than faceless bodies with sex parts like in many porn movies. It was fun to hear their opinions and then watch them fuck - and enjoy rough sex.
I was able to explore my own fantasies of rough sex, which was why I wanted this DVD in the first place. I have a thing about not letting anyone touch my neck so due to this movie I just might allow someone to choke me - but very gently. I also have dominance and humiliation fantasies where I'm in charge and lording it over my captive male. While I'll likely never actually explore that fantasy with a live person I can still fantasize about it when alone with my sex toy of the evening.
I liked Tristan Taormino's Rough Sex very much because of the taboo subject, the personable actors, and the high production values I expect from Vivid. I highly recommend this movie to anyone interested in experimenting with rough sex.
Stop by Babeland and stock up on sex toys.
Posted on May 11, 2010 at 09:54 AM | Permalink | Comments (1) | TrackBack
March 17, 2010
Classic Porn Review: Behind The Green Door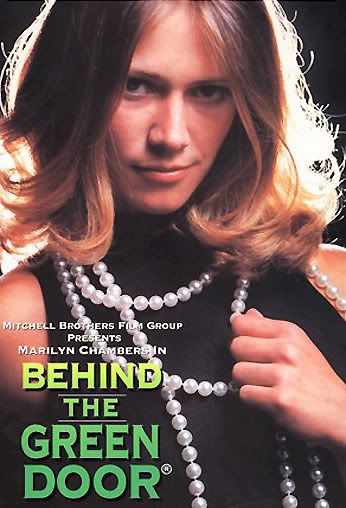 Behind The Green Door is one of the classic porn films that I have not seen - until now. I've seen many of the classics including "Deep Throat" and "Debbie Does Dallas" but Behind The Green Door somehow made it past my radar.
The star of Behind The Green Door is Marilyn Chambers, who also was known as the Ivory Snow Girl. Her wholesome image on the Ivory Snow box (shown below) definitely squicked out the company when the porn movie came out at about the same time the ad campaign started.
Once Behind The Green Door was released, Ivory pulled the soap boxes from stores because Chambers' face was on them. The cognitive dissonance between Chambers being sucked and groped by a group of women preparing her for the first man to enter the scene and the sweet innocence of her image on the Ivory Snow boxes was a little too much for the company to take. Chambers said in an interview that she is convinced the only reason became Behind The Green Door became so infamous and made so much money was because she appeared on the Ivory Snow box. The movie was released the same week the Ivory Snow box hit the shelves. Chambers was right in saying you can't buy that kind of publicity. The juxtaposition was too enticing to resist.
Classic porn movies had plots, or at the very least had some sort of purpose and story line. The story of Behind The Green Door was of a kidnapping of a young woman (Chambers) to prep her for her ultimate sexual experience in a private club for men and women that existed behind a green door, hence the title of the movie. The first thing that struck me about the movie was how quiet it was. There was no cheesy boom-chica-boom-boom soundtrack. The only sound I heard was the sucking and soft moans coming from the people on the stage and the people watching in the audience. Chambers herself seemed to be a bit detached from it all, and in that interview she admitted she was high on pot for most of the filming. Drug use is a big problem in porn, as is drinking. Chambers eventually joined AA and cleaned up her act, but she didn't have the drug and alcohol problems that killed many classic porn stars. She said smoking pot was the only way she could get through filming. That was a very telling thing for her to say. Apparently, it was her first porn movie and she was only eighteen.
When she auditioned for Behind The Green Door she didn't know it was a porn film and when asked she initially didn't want to film nude. When the Mitchell brothers explained the story behind the movie she became intrigued and signed on. She regretted that modern porn has no story. The reason could be that in the earlier, more talkative porn movies people would fast-forward to the sex scenes and get off on them. So, modern porn is all sex, no plot, no story, and not much talking.
Behind The Green Door starts out with Chambers being kidnapped and spirited off to a private, elite sex club where she is prepped by women for her first appearance in front of the audience. I read that Chuck Traynor (Chambers' husband, Linda Lovelace's ex, and their producer) liked voyeurism so it's only natural that watching a young woman be ravaged by groups of people would be the subject of one of his films. Chambers is brought out in front of the audience and a group of about a half dozen women stroke and suck on her, working slowly to sexually arouse her so that she's ready for penetration by the man who enters the scene quite a long time into the movie (boxer Johnny Keyes). This may be the first inter-racial scene in porn since Keyes is black and Chambers is white. There is no music until Keyes enters and then a jazz soundtrack starts. Otherwise, all I heard were the sounds of people stroking and sucking. It's actually quite hypnotic to watch. The crowd looks on but no one does anything until later.
Then, after Chambers has her climax (which looked fake to me - her orgasm must have lasted all but ten seconds), it's her turn to do the servicing. She jerks off two men sitting in sex swings and sucks off another man in front of her. By now the audience members are quietly feeling up each other and themselves, and there is some group sex. No one approaches the stage. Chambers' role is to be viewed as she is being ravished.
The famous seven minute come shot looked like an LSD trip. It's done in slow motion with jizz spurting from a cock to fall all about Chambers. Not much of it lands on her face. The background colours looked like a Peter Max print, keeping in mind this movie came out in 1972. It was totally tripped out psychedelic and also hypnotic to watch.
What I liked about the movie was that everyone looked real. There wasn't the polished, silicone, waxed slickness of modern porn. There were fat and thin people, hairy and bald, young, old, and middle-aged. Chambers herself is on the small side, slim with small breasts. She has a girl-next-door look about her that is very appealing and obviously that quality was important to Behind The Green Door. There was also plenty of pubic hair - something you don't see in modern porn. Since I grew up with the classics, I prefer seeing a bush of pubic hair to the waxed and shaved look. It looks more natural to me.
This was also my first time trying Video On Demand (VOD) and it was very enjoyable. I liked watching the movie on my computer. The controls were easy to use and the movie watching experience was easy and enjoyable. If you've never tried VOD before I highly recommend it. Store your movies on their own separate drive so you have plenty of disc space to hold them. Behind The Green Door was only one movie available on VOD. I found "Debbie Does Dallas" and "The Autobiography Of A Flea", two more classics I'm looking forward to seeing in the near future. There are lots of different kinds of movies available that you can access at the click of a finger. It's that easy.
It's been a real treat for me to review classic porn. I'll likely review some more in the near future.
Posted on March 17, 2010 at 12:46 PM | Permalink | Comments (2) | TrackBack
April 02, 2008
Sex Toys Site Review - Sex Toys Sex Movies
The first thing I saw that impressed me about the Sex Toys Sex Movies web site was the disclaimer page. I'm so used to viewing sex sites that I forget that you have to be over 18 to look at them. The disclaimer page has several links into the web site, so if you want to see sex toys, you go to the first link (that also has an image of the web page). If you want movies, you go to the second link. There are also links for DVD rentals and Video On Demand. The site is not only easy to navigate, you are directed easily to where you want to go.
The Sex Toys area is full of great looking graphics and it's easy to navigate. You know what you are getting because of the clear pictures and easy to read descriptions. This site carries everything from name brand sex toys to luscious lubricants. Not only are the categories listed to the left so that you may browse easily; there is even a sidebar listing brand names available. So, if I wanted a Doc Johnson vibrating cock ring, I don't have to run a search to find it. Plus, there are ten pages worth of Doc Johnson toys alone, so I would be in Doc Johnson heaven on the Sex Toys Sex Movies web site.
There is a sex toy for everyone on the Sex Toys Sex Movies web site, including anal toys, dildos and dongs, glass dildos, love kits, lubes, masturbators, penis pumps, rings and annals beads, and vibrators. There are lots of toys to choose from as well. There are ten pages of anal toys alone! That includes butt plugs, water toys, anal beads, and prostate massagers. On each page for each toy the company that makes it is listed so you know which name brand you are looking at.
The Sex Toys Sex Movies toy section carries some of my personal favorites, including the Hitachi Magic Wand, the Fukuoku Power Pack, Kama Sutra Massage Oils, and the Rock Chick g-spot vibe.
In addition to the great prices, the site lets you know how long of a wait you have. For instance, there is a short wait for some of the Fukuoku products. Checkout looks easy and inviting.
Apparel has its own category. You can choose dresses, hot pants, jewelry like nipple rings, lingerie, and even swimwear. There is even a unisex category for those who like to gender bend. Prices are very reasonable and there are many sizes to choose from. There are mesh halters, lovely bras and G-string panties, and even Hustler hoodies. If you are into a little role-playing, why not buy the Gangster Girl Costume or – for the winter season – Santa's Little Helper outfit. You can even buy a red velvet holiday hat to complete the costume. Never before has an elf looked so sexy!
There is a great selection of DVDs for the discerning shopper. The category list helps you narrow down exactly what kind of DVD you'd like, whether it is fetish, Asian Girls, or even Blu-Ray. A sidebar list of DVD studios is included, and some of the studios listed are Wicked Pictures, Club Jenna, and Penthouse. As is the case with the sex toys, the studio is listed along with each DVD so you know what you are buying. You can watch amateur videos as well as videos starring well-known porn stars such as Tera Patrick and Jenna Jameson. There are even the spoofs of known television shows and movies, such as Sasha Grey's Anatomy, obviously a take-off on the American television show, "Grey's Anatomy". The DVD is even done in a medical and mental health-theme, like the TV show. If you are in more of a classic mood, you can buy some of the Classic DVDs such as "Ginger Lynn's Bedtime Tales".
Not only does the DVD site let you know the availability of each DVD, it also lists several suggested videos to go with your selection. So, if you are in the mood for a particular theme, Sex Toys Sex Movies helps you find what you need.
Adult DVD rentals are a reasonable $21.95 per month. So you can try before you buy! There are no late fees, and packaging is fast and discreet. The DVD rental store runs much the way other rental stores run. You pay a monthly fee, and your movies arrive in the mail. Once you have watched them and are satisfied, you return them by mail in an envelope provided by Sex Toys Sex Movies. Then, the next movies on your queue are mailed to you. You can watch the same movies you can buy on the site, so you are never disappointed.
There is also a Video On Demand section. It is reasonably priced per minute, so if you prefer to watch movies in this format rather than renting DVDs, you are set. The same movies are available via Video On Demand as are available for rent. You can even view a sample to test it out. You are bound to be very satisfied.
All in all, Sex Toys Sex Movies is a great site. It's easy to navigate and perfect for beginners who need a little hand-holding to get through a sex toys and sex movies web site.
Posted on April 2, 2008 at 09:40 AM | Permalink | Comments (0)