August 10, 2010
Sex Toy Review: Ultra Harness With 8 Inch Vibrating Cock
I wanted to try a harness since my husband is impotent. We've experimented with massage and mutual masturbation - or more likely him masturbating me - and it's been enjoyable but I miss the feeling of something stuffed deep inside me. Since my husband's penis doesn't work, that left a harness. We tried the Ultra Harness With 8 Inch Vibrating Cock. I wanted something big and thick and this cock was it. Plus it vibrates! I saw plenty of harnesses with dildos but I wanted a vibrator. This cock is even flexible so it's not rigid when it is inside me. It moves with my movements. I have nothing against a rigid sex toy, being a fan of glass toys, and so I enjoyed this wonderful cock. The material is nice and soft and it feels quite realistic.
The harness was easy to use considering we're noobs. It stayed in place and didn't slip or slide around. The cock fit inside me easily with help from a hand here and there. And those vibrations! Wow! They were to die for! I love the intense and steady vibrations best since I like constant motion inside me and against my clit. We tried missionary and me on top. Both positions worked very well. We also lay next to each other, groins together, on our backs and although it took a bit of work to get the position right it was wonderful once we accomplished it.
This Ultra Harness With 8 Inch Vibrating Cock is a fab harness that I highly recommend for any couple regardless of your sexual orientation. It's great for couples experiencing erectile dysfunction, too, because it enables them to enjoy sex play that they otherwise wouldn't experience. We're both happy with this sex toy.

Posted on August 10, 2010 at 01:13 PM | Permalink | Comments (1) | TrackBack
March 22, 2009
Sex Toy Review: Power Probe Butt Plug
The Power Probe butt plug is a very versatile sex toy. As soon as I saw it, I knew I was going to love it. It's made of my favourite material - jelly. I love soft and supple jelly sex toys because they give and the are so very soft. The The Power Probe butt plug is a pretty purple. It also comes in blue, but I like purple.
I like to play with my sex toys whilst I write, so since I had plenty of sex toys articles to work on, I decided to make my work time much more enjoyable. After slathering on some lubricant, the The Power Probe butt plug slid right in. Slowly and ever so delicately, I let my rectum adjust to its size. It's a thick little thing, but it didn't hurt at all. I clenched on it, and it felt incredibly good. So here I saw on my couch, editing my sex toys articles and reading about bondage toys, and I could feel my arousal starting up, yet I hadn't even turned on the vibrations yet!
I turned on the vibrations, and they jammed away inside of me. I rocked back and forth as I sat on the couch, and I felt oh so good. My work time went by
very
quickly. I liked the varied speeds and intensities of the vibrations, but the one I preferred the most was the steady vibration at the highest speed.
The thing I liked best about the The Power Probe butt plug is that I think outside the box. This is a thick little vibrator that is curved at the tip, so when I got my period, I got curious as to how it would feel inside my vagina. So, I wore it today whilst watching "The Prestige", starring Hugh Jackman. If you read my recent post about the
LELO Liv
, you know I have a mad crush on Hugh Jackman. In keeping with the spirit of that post, here is a pic of Hugh Jackman in "The Prestige".
And here is a shot of Hugh Jackman just looking as sexy as all get-out.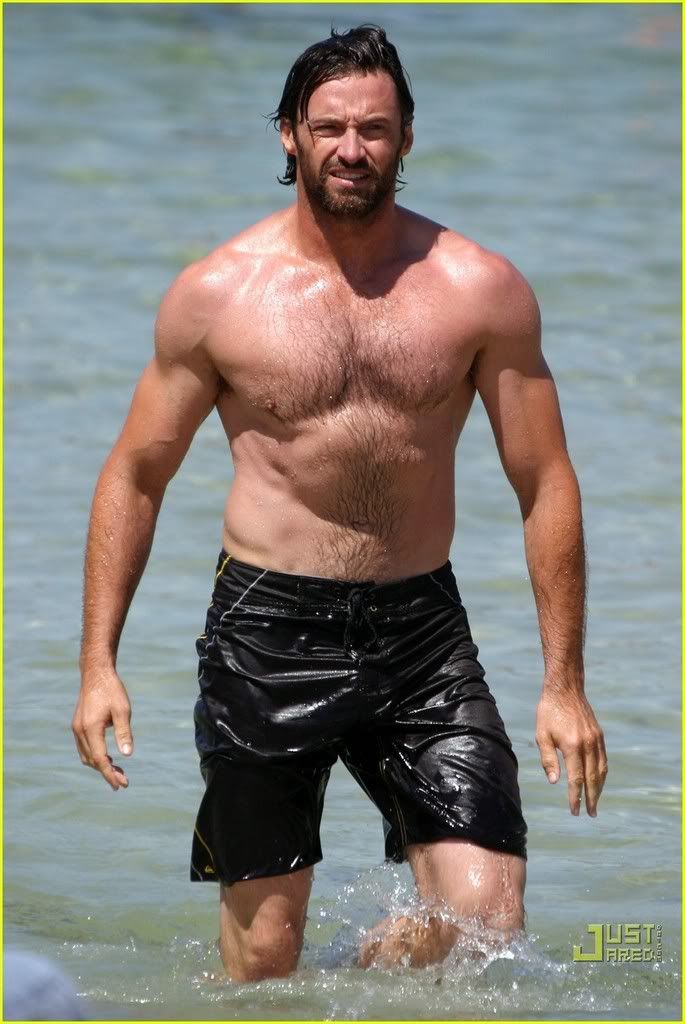 So, whilst watching "The Prestige", I wore the The Power Probe butt plug up my pussy, and it didn't hurt because the The Power Probe butt plug is short and thick. The vibrations sure helped the cramps! I rocked back and forth, the whole time enjoying the movie, wondering when the next ball was going to drop with these magicians competing with each other over their acts and the same woman. Watching Hugh Jackman whilst wearing the The Power Probe butt plug also made the movie much more enjoyable. I rocked and rocked, feeling the vibrations do their work as the walls of my vagina relaxed and contracted, since I have my period right now. The vibrations work wonders, and they feel incredibly good. I set them to the highest and most steady speed, and they did their magic. I melted into the couch, feeling wave after wave of bliss as I relaxed and watched Hugh Jackman work his magic on the screen. And on me.
I like the The Power Probe butt plug very much, and I will use it in so many different ways. We provide guaranteed pass
646-578
exam with online
ccnp certification
training and
pass4sure 70-294
. You can also get best quality
650-393
dumps along with
testking 70-662
for your guaranteed success. Whilst it is made to be used as a butt plug, I like to use it in my pussy, too. It works well both ways, but it is a wonderful butt plug. Soft and pliant, and it purrs like you wouldn't believe. And of course I have another excuse to post sexy pictures of Hugh Jackman.

Posted on March 22, 2009 at 03:55 PM | Permalink | Comments (3) | TrackBack
June 04, 2008
XXX - Sex Toys - Strap Ons
There's nothing like using a hands-free sex toy that can help improve your sex life. Strap ons are very popular with both men and women. There are strap on butterflies and strap on dildos. Strap ons in general are loads of fun to use, and they free up your hands to do other things.
I like to use a strap on butterfly while watching TV or goofing off on the Internet. I have heard of women using strap on vibrators while wandering around the deli at the supermarket or while working at their desks. Strap ons are often silent, so your boss would have no idea that you're getting off while typing out progress reports.
Using strap ons can help you learn more about what sexually excites you, and exactly what kind of touch you like. Many women don't like direct clitoral stimulation, but they like strap ons because they control the speed and intensity of the sex toy. So, those women can enjoy clitoral stimulation as long as it isn't too intense. Using strap ons also help you to have more intense orgasms, either alone or with a partner.
Another type of strap on is the strap on dildo. Both men and women like to use strap on dildos. Men like them because the dildo, when hollow, acts as a penis sleeve, giving them extra length and girth. They can last much longer when using a strap on, and the woman enjoys the pleasure of a longer sex session.
Lesbians often use strap ons because it feels good to have something thrusting inside you. You don't have to be straight to enjoy that sensation. Gay men like to use strap ons for anal sex because of the lasting power of the dildo. You can go for hours using a strap on. The only thing that would stop you is sheer exhaustion.
While some strap ons use dildos, others are made for use with vibrators. You can mix and match your dildos and vibrators. First, try a vaginal dildo. Then a G-spot dildo. Then a vibrator. Use a slender dildo that is flared at the end for anal sex. Straps ons are very versatile, depending on what kind of sex you want to have at the moment.
So, choose the kind of strap on you want to use. Do you like strap ons for masturbating? Then try a strap on butterfly or hummingbird. Would you like anal sex? Then use a strap on with an anal dildo. Can't decide what you want? Then mix and match your dildos and vibrators to suit your changing moods, whether you want vaginal sex or a G-spot stimulation. Try out strap ons today!
Posted on June 4, 2008 at 02:15 PM | Permalink | Comments (0)
June 03, 2008
XXX - Sex Toys - Nipple Clamps
I love nipple clamps because my nipples are huge and very sensitive. My breasts and nipples are two of my most sensitive erogenous zones, and I love it when my nipples are the center of attention. I own nipple jewelry, but I haven't had my nipples pierced. I just can't bring myself to do that, mainly because I fear the pain. As I said, my nipples are very sensitive. I think that if women would play more with their nipples, their sex play would be more fun. That goes for men, too. Women aren't the only creatures with sensitive nipples.
Vibrating nipples clamps are so much fun to use! Adjust the torque so that the nipple clamps aren't too tight, and you're off to some high erotic sensations! Attach nipple clamps to your nipples while you have intercourse or anal sex, and your entire body will tingle.
If you have sweet nipples the size of pencil erasers, would you like to show them off? Wear nipple clamps and chains to attach them at topless beaches, pool parties, fetish balls, or in the privacy of your home. Call attention to your nipples with nipple clamps.
Using nipple clamps is easy. Nipple clamps have pressure controls so you may set the pressure of the clamps on your nipples. Test the pressure by applying the nipple clamps to the thin flesh between your thumb and index finger. Once you have the pressure set, it's time to fasten the nipple clamps to your nipples.
When you are sexually aroused, your nipples become hard, so using nipple clamps will make your already sensitive nipples even more sensitive. You'll constrict blood flow to your nipples when you wear nipple clamps, and that makes your nipples feel much more sensitive. It's best to leave nipple clamps on for ten to fifteen minutes at a time. Remember that your nipples will hurt a little when you remove the nipple clamps, so don't leave them on too long. Your nipples will hurt because blood will quickly flow back into the nipple after the nipple clamps are removed, thereby making your nipples more sensitive. That painful sensation from the nipple clamps can be incredibly arousing, and having your partner suck on your nipples once the nipple clamps are removed feels very stimulating.
Get some sensuous mileage out of your nipples with a set of nipple clamps. Your sex play will be even more fun! Use nipple clamps as jewelry, or buy a set of vibrating nipple clamps to enhance your sex play. Even better, buy a set of nipple clamps for someone you love. Both of you can wear nipple clamps and increase your sexual arousal and sensitivity.
Posted on June 3, 2008 at 01:55 PM | Permalink | Comments (0)
June 01, 2008
XXX - Sex Toys - Bondage Gear
Bondage Gear
While I wouldn't say that I am vanilla, I don't really get into bondage. However, I'm curious about it. I've experimented with sensation play, and I think I would enjoy a little tie me up/tie me down. If I ever decide to dive into bondage, I know where to get my bondage gear.
BDSM is an acronym for Bondage and Discipline, Dominant and Submissive, and Sado-Masochism. If you've ever used bondage gear to tie up your lover, or flogged that person, bossed that person around, or other similar things, you've engaged in bondage play. If you've ever used flavoured body paint, ice cubes on the nipples, feather ticklers on the skin while blindfolded, or given an erotic massage, you've engaged in a form of bondage known as sensation play. I've done sensation play and it's lots of fun. It's not nearly as sexually and psychologically charged as full-blown bondage play, but it's loads of fun. Bondage play involves the "submissive" agreeing to submit to the "dominant" partner within a set of rules, including the use of a safe word for the submissive to say if the bondage play gets to be a little too intense.
If this sounds like something you'd like, you need bondage gear. There are all kinds of bondage gear that would appeal to any bondage enthusiast. If you like to inhibit your sight, you would need bondage gear such as a bondage hood, a blindfold, or a mask. Letting your other senses take over when one important one such as sight is limited can be very sexy.
Restricting speech is another form of bondage play that can be sexually stimulating for all parties involved. Bondage gear such as ball gags and bit gags are just the sex toys you need to quiet the submissive. If you like fantasy horseplay, try bondage gear such as a bit gag. Tame your wild filly with a bit gag and a collar and lead.
To restrain movement, you need bondage gear such as restraints, bondage rope, Japanese bondage rope, and bondage tape. Don't use regular gaff tape or rope you buy from the local hardware store. Rope frays and gaff tape sticks to everything. Gaff tape also hurts when you remove it. Buy bondage gear especially made for restraining your horny partner.
Do you want to let everyone know that your partner is sexy but unavailable to everyone but you? Then put that person in a chastity belt. Chastity belts are bondage gear made to restrict erections and they let everyone know that your partner is taken. Look, but don't touch!
If you enjoy fetish fairs and parties, you may enjoy bondage gear such as collars, leads, and leather body harnesses. Go out in style in the best bondage gear made of high quality leather!
Make your most sensitive erogenous zones even more sensitive with bondage gear such as cock rings and nipple clamps. Both restrict blood flow to the penis and nipples, respectively, and once the bondage gear is removed, blood rushing in makes the penis and nipples much more sensitive. You'll enjoy more arousing and sensitive sex with bondage gear such as that.
Is spanking your forte? Then try classic bondage gear such as flogger whips, crops (for more horseplay), paddles, and whips. A good swat in just the right place feels very arousing under the right circumstances. Use bondage gear to act out your teacher/student and nurse/patient fantasies. Bondage gear such as medical fetish toys (enemas and speculums) add more oomph to nurse/patient fantasy scenarios.
If you have arthritis or are a bit overweight and sex play gets to be a bit uncomfortable and cumbersome, try bondage gear such as a sex swing. You can feel nearly weightless as you try different sexual positions using a sex swing. Bondage gear can take you to new heights of arousal if you just use your imagination.
As you can see, there are all sorts of bondage gear available to satisfy all of your fantasies. Try blindfolding one day and hogtying the next. Use a flogger whip lightly on the buttocks or lead your lover around at a party with a collar and lead. The sky's the limit. Let your imagination run wild with high quality bondage gear.
Posted on June 1, 2008 at 11:40 AM | Permalink | Comments (0)