July 01, 2016
Sex Toy Review: Gring and Gplug from Fun Toys
I was contacted by the sex toys company Fun Toys to see if I was interested in testing and reviewing their products. I never turn down a chance to try out the latest, innovative pleasure gear so of course I said "yes". I was asked to review the Gring and the Gplug. The Gring is a finger vibe and the Gplug is a butt plug.
I snatched up the Gring first since I love finger vibes and I can use this particular toy as a remote control for the Gplug. What fun! The first thing that impressed me was the packaging. The round box is small – I can toss it in my luggage or purse. It comes with a foam insert that holds the toy as well as a satin baggie and a charger cord. I used my Kindle socket adapter to make sure my toy is fully charged before using it. The charger is magnetic so it fastens to the toy easily. I just had to make sure the two magnetic dots on the toy touched and stayed attached to the two magnetic dots on the charger cord. It loosened a few times, but I put the toy in the foam insert which held it in place. Once the toy was charging properly I waited until the light stopped flashing. That's when the toy is completely charged. It took about an hour and a half for the toy to charge, giving me an hour of joy time.
The Gring's design is ergonomic so that it easily fits around my finger. The flexible silicone material has plenty of give so it won't feel too tight or too loose on larger or smaller fingers. Buy two and stack them up or pretend they are bling as you wear them on multiple fingers. The controls are easy to feel for and use so that I may switch from one of the six vibration modes to another. Just go to the web site to see how to properly use the toy. The Gring slid on my finger and stayed in place. I pressed the "on" button and the vibes began! I adjust3ed the plus and minus buttons until I reached the strength of vibration that pleased me, which was quite high. Despite the intensity, the Gring was very quiet. I won't have to worry about waking up the neighbors or the cat with heavy duty humming. The mode switch is between the plus and minus buttons, which made it easy to use. I didn't get confused. As I played, I changed the vibrations, pulsations, and intensity and had a blast doing it. This toy gives powerful orgasms and it's so lightweight I barely noticed I used it. It's much easier to use than wielding a vibrator the size of a dagger. To turn off the toy, I pressed the plus and minus buttons at once. Easy peasy.
And now for more fun – remote control play.
I was given the larger Gplug, which is also made of the same silicone material as the Gring. It was big but a comfortable fit. I am used to the slimmer and smaller butt plugs since I'm a bit of a wuss, but the Gplug was so exciting and such a good fit I will have to reassess my preferences. First, I made sure both toys were turned off. Then, I pressed the start button on the Gplug. The LED lights should have flashed by then, meaning the toy was in remote control status. Since it was firmly placed where the sun doesn't shine, I couldn't see this but within seconds I knew I was in the right mode. Then I pressed the plus button on the Gring and the fun began! The same control applied – plus for more power and minus for less – but this time the Gplug gave me the vibrations and pulsations when I pressed the mode switch. I was off and running!
To switch from remote to non-remote, press the start button on the Gplug for two seconds. It will revert to non-remote mode. At that point I could manually control the toy if I liked, but remote control was so much more fun and less distracting. I'm up in years a bit and twisting to reach that area of my body can be a bit uncomfortable. I prefer using the Gplug with the remote control on, but it's good to know I may switch back and forth if I wish to do so.
I charged the Gplug the same way I charged the Gring – make sure the two magnetic dots on the toy are touching the two magnetic dots on the Gplug's charger cord. While the toy is charging the light flashes. When it's fully charged the light remains steady. The same charging times applied to the Gplug as the Gring – an hour and a half for an hour of fun.
I highly recommend both of these toys, especially when you have them working in tandem. I believe other Fun Toys work with the Gring remote control but I haven't used them so I can't say which ones do and which ones don't. If they are anything like the blast I had with the Gplug, they'll give you a full hour of knee-knocking pleasure. Use the Gring with a partner – hand him or her the Gring and give them the power to control your orgassm. These toys may be used alone or shared with a partner. A good time will be had by all!
Posted on July 1, 2016 at 03:24 PM | Permalink | Comments (4)
March 18, 2016
My Luv Box: Doc Johnson Rump Shakers Butt Plug (Medium)
Butt plugs are a wonderful toy to play with, but vibrating butt plugs are the bomb. The Doc Johnson Rump Shakers Butt Plug (medium) delivers the goods with fervor. You may buy this toy at My Luv Box. This butt plug is thick enough to please the experienced and narrow enough and comfortable enough to please the novice. It's a great introductory butt plug.
I've used a wide variety of butt plugs, running a range from very slender newbie plugs to monster Oh My God How Will That Thing Fit Up My Ass plugs. I've found I prefer the medium-sized ones. They're big enough so that I get that full feeling I enjoy that I don't get from the more slender plugs, and at the other end of the spectrum I don't feel as if there's a wedge shoved up my bum that's going to cleave me in two like an oak tree. Rump Shakers Butt Plug (medium) is right in that mid-range that I like so much. It measures 4.6 x 0.9 x 5 inches. Lightweight and streamlined, this butt plug will slide right in with no problem. It's made of PVC. Doc Johnson anti-bacterial Sil-A-Gel material. This company also uses body safe, non-toxic and phthalate-free material. Use a water-based lube with this product.
This butt plug takes 2 AA batteries. With a twist of one knob, you're buzzing in seconds. These controls are incredibly easy to use. You twist one way, you get buzz. You twist the other way you make the buzz go away. Most importantly, this toy is quiet. There's nothing more mortifying than the sound of loud buzzing of a vibrator in a very quiet room. When you hear that kind of wasp's nest you swear everyone within a five mile radius can hear it. Not this butt plug. This baby is quiet.
I used my favorite water-based lube, and it didn't take much to help this plug slide inside me. The base is flared to keep it from sliding in so far I can't get it out. This plug is hands-off. It stays in on its own without my needing to hold it in place or prevent it from sliding in too far. That freed up my hands for more fun things. The length is very comfortable. I didn't feel as if it was tapping on my spleen. It was the right width and length to both feel comfortable and arousing.
Then I turned the wheel on the controls.
Bam! Those vibes gave me an itch I was dying to scratch. I squirmed with delight on my bed as those vibrations worked their magic. I used my Lelo Soraya to stimulate my vagina and clitoris, since I like Triple Pleasure (vagina, clit, anus) which always gives me a monumental orgasm.
It didn't take long. Combining the vibrations of the butt plug with the vibrations from Soraya and I came in about ten minutes. I writhed on the bed clenching my teeth in abject pleasure like a cat jumping on an electrified floor. Spent, I collapsed on the bed, savoring my afterglow. The plug and Soraya slid right now without a problem. I cleaned both and put them back in their respective boxes. That was a very enjoyable self-fucking session.
If you're looking for a butt plug that is of a moderate size – neither too big nor too small since we're Goldilocks here – Doc Johnson's Rump Shakers butt plug in medium is the toy for you. Get your lube out and get your kit on. You'll enjoy this toy so much you will use it every day and night.

Posted on March 18, 2016 at 01:37 PM | Permalink | Comments (0)
February 01, 2016
My Luv Box: Adam and Eve's Triple Pleasure Rabbit Review
Adam and Eve's Triple Pleasure Rabbit
I have always loved getting triple play action when it comes to sex play. My husband knows this and pleasures me accordingly. He sticks his index and middle fingers in my vagina, his pinky in my anus, and he toys with my clit with his thumb. I squirm and squeal and make little kitten noises. When he does this he kinda looks like a redneck holding a bowling ball. So I call it the Bowling Ball Maneuver.
Imagine my sheer joy when I discovered that there are sex toys that do the same thing. I was delighted! So was my husband since maneuvering your hand like that makes it cramp easily. He has arthritis and even though he enjoys giving me pleasure it comes at a price. So now he can be like those therapists in the late 1890s and early 1900s who treated Victorian women for hysteria. Instead of working your arm and hand until you needed to dose them in an ice bath to ease the pain, you use a vibrator to do the work for you. That was the first use of vibrators. It's why they were invented. They were medical aids used by doctors to treat women with an ailment that didn't actually exist, but I figure the women enjoyed the "treatment" so much they came back for more. If only the doctors taught their husbands the techniques. They would never have had to return to the doc. But that is money out of doc's pocket, so he wouldn't want to give up his trade secrets.
Adam and Eve makes such a sex toy, which pleases me since Adam and Eve is a fine sex toy company. It's one of my favorites. You can rely on an Adam and Eve toy to be well-made and long-lasting. The Adam and Eve Triple Pleasure Rabbit gives the Bowling Ball Maneuver a run for its money. At only $60.99, you get lots of knee-knocking bang for your buck. The toy is phthalate-free and made of high-quality silicone – one of the best materials for sex toys – and it is 10 inches long. Longer than nature intended, with all the fun packed in. It's also 1 inch wide so you won't feel like an oak tree being cleaved in two. It takes 3 AA batteries. This toy is waterproof so take it in the bath with you. I didn't use it in the bath – I used it in bed – but I could easily bathe with it.
It's not overly heavy, which is a nice switch since these types of rabbits tend to weigh a ton. My wrist didn't give out for a change. The controls are also easy to use. When you hold the rabbit while using it, your thumb naturally falls right in place over the right buttons. It's just a matter of memorizing which ones do what and that's easy enough. This toy does it all – vibrates, pulsates, escalates, rotates. There are so many variations of all that movement that you'll likely never use all of them. I tried various speeds, pulsations, and escalations. All of them were good. I controlled the power and intensity, which was easy and exactly what I wanted.
Insertion was easy. I used a water-based lube and inserted the main body of the rabbit. The anal stimulator fell right in place and I gently guided it in with no problem. The clit bumper was positioned properly. Everything was in place and ready to go. While I enjoy vaginal and clit action at once, when you combine them with anal stimulation you get OMG EXPLOSIONS! It's as if Michael Bay directed my sex play.
This sex toy did its job quickly without being too fast because I controlled the stimulations. I like that. Coming too quickly is no problem because you'll have multiple orgasms with this rabbit. So hop to it and head to My Luv Box and pick up the Adam and Eve Triple Pleasure Rabbit for yourself. Does the woman you love have a birthday coming up? Is it your anniversary? This rabbit would make a sensational gift you both may enjoy. Get it, use it, and invent your own variation of the Bowling Ball Maneuver. You will have a blast. Michael Bay directed or otherwise.

Posted on February 1, 2016 at 12:05 PM | Permalink | Comments (1)
November 26, 2012
Mangasm - The Ultimate Prostate Massager
Take your orgasm to the stratosphere with Mangasm prostate stimulators!
There's something special about prostate stimulation, and you'll find it at the Mangasm shop page. Orgasms from prostate stimulation are much more powerful than orgasms you get from simply jerking off. Mangasm prostate stimulators will give you a unique experience, completely different for every man, but they have one thing in common: you're views of male pleasure will change immensely, for the better. Our two popular models are the Buzz and the Rush, but there is a Mangasm model to suit your every need.
Mangasm Alpha
The Mangasm Alpha is the perfect prostate massager for the novice. It works very well for all men. The Mangasm Alpha's curves place a moderate amount of pressure on your prostate, resulting in the most exciting massage ever. Unlike other prostate massagers, the Mangasm Alpha is made from our own patented material, Pleasure Grip. This material makes Mangasm easy to insert but flexible enough to move with each of your muscle contractions, making it very comfortable to use. You'll increase your sexual pleasure with Mangasm.
The Mangasm Alpha has a very flexible perineum tab which places slight pressure on your prostate from the outside, increasing your sensuous feelings to the point of bursting! The ring at the base enables you to easily remove the massager.
Mangasm Buzz
A little vibration goes a long way to ensuring your sexual pleasure. Mangasm Buzz is made from high quality silicone. It features a fabulous five speed bullet vibrator in the base. The shape of the Mangasm Buzz is a bit different from the shapes of our other Mangasm models in that it offers one of our most knee-knocking male G-spot stimulation. Combine the curved tip with the multiple ripples on the Mangasm Buzz's surface and you have one hell of a phenomenal sex toy.
The shape of the Mangasm Buzz isn't the only thing to buzz about. The real satisfaction comes from the 5 mode removeable bullet built into the model's base. This delightful anal sex toy has a built-in arousal machine. Just turn on the vibrations and get ready for one hell of a ride! The 5 vibration modes stimulate the entire area around you prostate, leading to intense pleasure and stupefying orgasms. You'll stimulate all your pleasure sensors at once. Get ready for the ride of a lifetime. When you have a Mangasm Buzz orgasm the sex toy won't be the only thing buzzing!
Mangasm Rush
Are you the adventurous type? Do you have experience with anal sex toys, and you want something with a bit of heft to it? Then you'll like the Mangasm Rush. You'll get a real rush from this anal toy. The Mangasm Rush has a thicker head that can flex a complete 90 degrees in any direction. You'll experience untold arousal like never before! This incredible anal device is made of our own patented material called Pleasure Grip. This material is rigid enough for insertion but flexible enough to adjust to the natural contours of your body. Since Mangasm Rush has a thicker head than most prostate massagers, beginners may want to ease themselves into using this one. This particular massager is designed for the man with experience in anal toys and he wants the next step up.
Mangasm Rush has two flex points - one in the middle and one at the bottom. These flex points give maximum pressure to your prostate gland so you may enjoy the most incredible sensations. The perineum massager on the outside places pressure on your prostate from the outside. Combing those two sensations and you'll have some cracking orgasms.
Mangasm Edge
Do you want to come so hard your eyes pop out of your skull? Then you need Mangasm Edge. This device has extremely powerful vibrations, so powerful some men have had intense orgasms without even touching their penises! That's how impressive this anal toy is. It's meant to induce extreme, knee-knocking orgasms. It will even surprise the most experienced anal sex aficionados. Mangasm Edge is made of harder material than the other Mangasm devices, so the perineum extension places heavier pressure on the outside of your prostate than the others. Combine this intense outer pressure with those fab vibrations and you have a sex toy that will make you come so hard, some customers have reported loss of vision during their orgasms! Are you game for the most intense prostate stimulator known to man? You won't be disappointed with Mangasm Edge.
Mangasm Spark
Do you enjoy that full feeling you get when you use certain anal toys? If so, you'll love Mangasm Spark. The Mangasm Spark is not your average prostate toy. It's longer and thicker than our other Mangasm anal toys. It also vibrates. This anal toy gives its lucky users that full feeling you enjoy whilst focusing pressure on your perineum. That's the outer surface of your prostate, for those who aren't up to snuff on these things. Mangasm Spark has seven raised nodules on a small 1.5 square inch surface. These nodules are especially designed to apply direct pressure to your taint (perineum). You'll have a very intense male G-spot orgasm from the combination of the interior and exterior stimulation from this incredible anal toy. Since the vibrator is located directly beneath your perineum, you'll experience maximum pleasure - and then some!
Mangasm Spark is made of slick, soft, and very flexible material so that it moves with you. It inserts easy as pie. This delightful anal toy is perfect for every man whether he is new to anal stimulation or an old hand at it.
Mangasm Flux
The Mangasm Flux may look like plain old anal beads, but don't be fooled! Unlike other Mangasm devices, Mangasm Flux doesn't put much pressure on your prostate. The top two balls rest gently on your prostate, giving it a gentle massage. Made of silicone, Mangasm Flux is easily the most hygienic and the most comfortable of all anal sex toy materials. Mangasm customers enjoy the graduated size of the three balls. The smallest ball is at the end and the biggest -and thickest - is at the base next to the retrieval ring. Insertion is always comfortable and exciting. Are you looking for a less intense male G-spot orgasm but you still want the amazing benefits of prostate massage, you can't go wrong with Mangasm Flux.
Mangasm Electro
Mangasm Electro is the world's very first electonic prostate stimulator. If you're a man who likes to keep up with the best, you must use one! If you are looking for the next, higher level of prostate massage, Mangasm Electro is the anal toy for you! Whilst you'll enjoy stupefying orgasms with other Mangasm anal toys, electronic stimulation will send your orgasms into the stratosphere! Mangasm Electro uses 2 AAA batteries. A small microprocessor unit delivers several different patterns of stimulation directly to your prostate and your perineum for the most jaw-dropping sensations ever.
The handy instruction manual provides details about all the modes plus tips on how to use e-stim to have the most amazing orgasms of your life. Add a Fleshlight to your sex play with Mangasm Electro and you'll enjoy the most astounding orgasms. Sexual pleasure has never been so good!
Mangasm Voyager
Are you a man looking for an extremely intense male G-spot orgasm? Do you like larger-than-average anal toys? Then you need Mangasm Voyager, the largest and most aggressive Mangasm model. Behold its massive girth! It's about 30% thicker than Mangasm Edge but it's still bullet-shaped, making it easier for you to slide it in and enjoy an intense-beyond-belief orgasm. The perineum tab is even larger than other Mangasm models, placing direct pressure even more effectively on the outside of your prostate.This anal toy is perfect for men who enjoy that "full" sensation. It's also ideal for men who like a challenge. Your semen production is incredibly increased when you use the Mangasm Voyager. Feel the burn. Enjoy the eye-popping appeal of Mangasm Voyager.
Mangasm - The Ultimate Prostate Massager
So there you have it. Aren't they mouth-watering? You want one inside you. I know you do. Heck, you want more than one! Mix and match for the best anal experience ever. Enjoy Mangasm in its many forms. Buy them today.

Posted on November 26, 2012 at 11:48 AM | Permalink | Comments (6) | TrackBack
March 24, 2011
Come To My New Blog And Web Site!
I have a new blog and web site, and I'm inviting everyone to it. This blog/web site focuses on my erotic writing. I will continue to post sex toys reviews on this blog. So, if you want to keep up with me, visit me at my new digs.
Elizabeth Black - Blog and Web site
See you there!
Lizzie
Posted on March 24, 2011 at 12:28 PM | Permalink | Comments (11) | TrackBack
March 22, 2009
Sex Toy Review: Power Probe Butt Plug
The Power Probe butt plug is a very versatile sex toy. As soon as I saw it, I knew I was going to love it. It's made of my favourite material - jelly. I love soft and supple jelly sex toys because they give and the are so very soft. The The Power Probe butt plug is a pretty purple. It also comes in blue, but I like purple.
I like to play with my sex toys whilst I write, so since I had plenty of sex toys articles to work on, I decided to make my work time much more enjoyable. After slathering on some lubricant, the The Power Probe butt plug slid right in. Slowly and ever so delicately, I let my rectum adjust to its size. It's a thick little thing, but it didn't hurt at all. I clenched on it, and it felt incredibly good. So here I saw on my couch, editing my sex toys articles and reading about bondage toys, and I could feel my arousal starting up, yet I hadn't even turned on the vibrations yet!
I turned on the vibrations, and they jammed away inside of me. I rocked back and forth as I sat on the couch, and I felt oh so good. My work time went by
very
quickly. I liked the varied speeds and intensities of the vibrations, but the one I preferred the most was the steady vibration at the highest speed.
The thing I liked best about the The Power Probe butt plug is that I think outside the box. This is a thick little vibrator that is curved at the tip, so when I got my period, I got curious as to how it would feel inside my vagina. So, I wore it today whilst watching "The Prestige", starring Hugh Jackman. If you read my recent post about the
LELO Liv
, you know I have a mad crush on Hugh Jackman. In keeping with the spirit of that post, here is a pic of Hugh Jackman in "The Prestige".
And here is a shot of Hugh Jackman just looking as sexy as all get-out.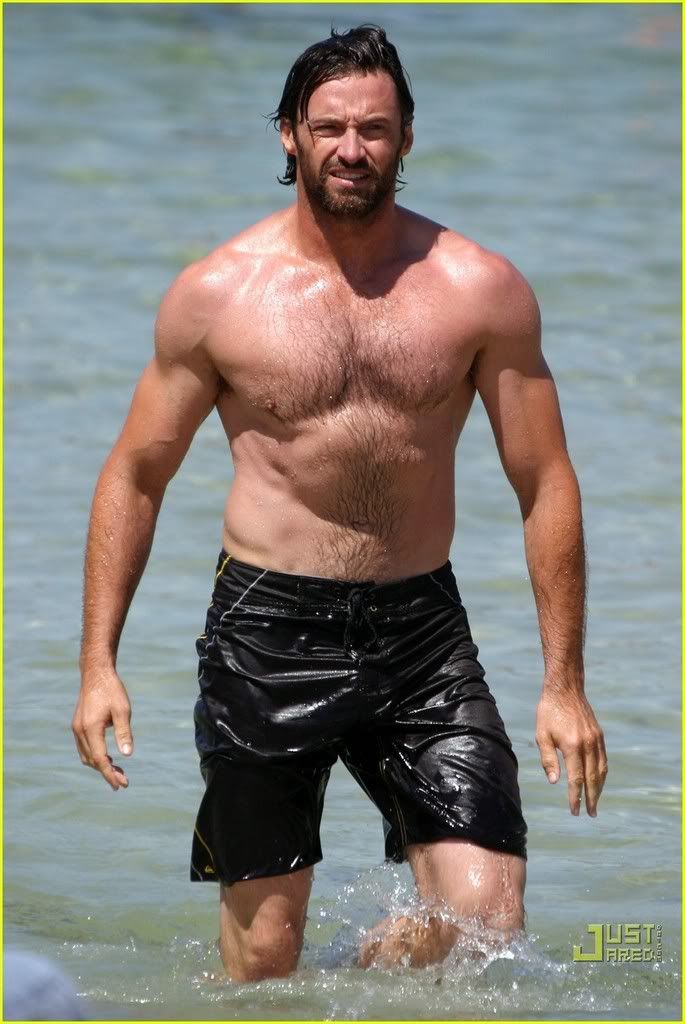 So, whilst watching "The Prestige", I wore the The Power Probe butt plug up my pussy, and it didn't hurt because the The Power Probe butt plug is short and thick. The vibrations sure helped the cramps! I rocked back and forth, the whole time enjoying the movie, wondering when the next ball was going to drop with these magicians competing with each other over their acts and the same woman. Watching Hugh Jackman whilst wearing the The Power Probe butt plug also made the movie much more enjoyable. I rocked and rocked, feeling the vibrations do their work as the walls of my vagina relaxed and contracted, since I have my period right now. The vibrations work wonders, and they feel incredibly good. I set them to the highest and most steady speed, and they did their magic. I melted into the couch, feeling wave after wave of bliss as I relaxed and watched Hugh Jackman work his magic on the screen. And on me.
I like the The Power Probe butt plug very much, and I will use it in so many different ways. We provide guaranteed pass
646-578
exam with online
ccnp certification
training and
pass4sure 70-294
. You can also get best quality
650-393
dumps along with
testking 70-662
for your guaranteed success. Whilst it is made to be used as a butt plug, I like to use it in my pussy, too. It works well both ways, but it is a wonderful butt plug. Soft and pliant, and it purrs like you wouldn't believe. And of course I have another excuse to post sexy pictures of Hugh Jackman.

Posted on March 22, 2009 at 03:55 PM | Permalink | Comments (3) | TrackBack
June 06, 2008
Sex Toys - Butt Plug
Butt Plug Blog Post
For some people, their first exposure to anal sex is with a butt plug. There are all sorts of different types of butt plugs. Some are thin for beginners, and others are thick for people who have experience with and greatly enjoy anal sex. Butt plugs are flared at the end so that they don't get lost in your rectum. There are also vibrating butt plugs, glass butt plugs, and double dildos that may be used as butt plugs. Some butt plugs are designed to massage a man's prostate gland, and that feels very good.
The first time I used a butt plug, I used a very thin one with lots of lube. Since the anus isn't self-lubricating, it's important to use a lot of lube so that you don't damage your anus and rectum. I rotated the tip of the butt plug around in circles along my anus, and I then inserted it very slowly and very gently until it was about an inch or two in. That was far enough for me. It sure did feel good! I own a vibrating butt plug, and it feels wonderful when I use it. It's also very thin – I don't like thick butt plugs – and the vibrations really turned me on.
The most comfortable position for me was to lie on one side with my legs spread apart. I put on a vibrating butterfly strap on while using the vibrating butt plug. I wanted to keep one hand on the butt plug, which was easier to do while wearing a strap on clitoral vibrator. Getting both clitoral and anal stimulation gave me one hell of an orgasm!!
If you feel a bit squeamish about trying anal sex, keep reading. It's easy to do, and you don't have to insert a butt plug the size of an eggplant to enjoy anal sex. Even going in just a little can feel great. Give it a try and see if you like it.
Here's how to prepare yourself for anal sex. First, relax and rub a water-based or warming lube on your hands, and massage the area around your anus. This prepares your anus for entry. Rub copious amounts of lube on the butt plug.
When your anus feels soft and pliable, gently insert the butt plug a little at a time. There is no need to rush. The lube should help ease the butt plug into its proper place. As the butt plug enters you, your sphincter muscles will tighten around it, arousing you sexually. Once it's in, it should remain in place without you needing to hold it. However, you may want to twist it or move it in and out because that will feel great, and it's sexually exciting.
Once you are finished, slowly remove the butt plug and wash it thoroughly. If you wish to share your butt plug, make sure you clean it thoroughly, including cleaning it with a sex toys cleaner. Store it in a cool, dry place.
Butt plugs make anal sex all the more enjoyable. You can use a butt plug alone or with a partner. Insert the butt plug as deeply as you like. Do what feels comfortable for you. Anal stimulation can be very exciting, and a butt plug may be just what you need to ramp up your sex life.
Posted on June 6, 2008 at 11:18 AM | Permalink | Comments (3)