March 24, 2011
Come To My New Blog And Web Site!
I have a new blog and web site, and I'm inviting everyone to it. This blog/web site focuses on my erotic writing. I will continue to post sex toys reviews on this blog. So, if you want to keep up with me, visit me at my new digs.
Elizabeth Black - Blog and Web site
See you there!
Lizzie
Posted on March 24, 2011 at 12:28 PM | Permalink | Comments (11) | TrackBack
November 12, 2009
To Come Or Not To Come...
I wrote an article about faking orgasms for Sex Is Magazine recently, and I'm working on another one about men who fake the big "O" for Alternet. Here's the link to a Nuts4chic article I wrote about faking it. That got me to thinking about my own orgasms, as in lately - the past couple of months - I've had some trouble coming. Normally, I can come at the drop of a hat; so I don't know why I've had such a hard time of it lately. Could it be a matter of age? Am I slowing down as I approach the big Five Oh?
For instance, this morning. I used one of my favorite vibrators, my Lelo Liv, and I got all hot and bothered like I expected I would. Since I am on the first day of my period, the vibe slid right in. I clamped down on it and the vibrations felt intensely good, but try as I might, I couldn't come to save my life. In my mind, I wanted an orgasm, but my body said "Nope, not today honey".
So, should I be troubled by my lack of fireworks? I get turned on, hot, and wet enough, but I don't explode into candy the way I used to. Maybe it's because I'm having my period, but I'm not totally convinced that's the cause. I often masturbate when I bleed because a rocking orgasm helps to alleviate my cramps, making it easier for me to sleep. Today, I took aspirin after a long bout of masturbating didn't result in anything that would relax those horrid cramps.
I'm not really all that concerned that I'm losing my sex drive. That's not what's going on. My sex drive is as through-the-roof as it's always been. I just don't come ten out of ten times the way I'm accustomed to coming. So, does that mean I'm ramping down to normal? Ha ha! I told my husband about my problems coming, and he doesn't have any answers, but he told me to not worry about it. Sometimes my body just isn't in the mood, and that's okay. I just wish I could have come this morning and gotten rid of those cramps. I'm charging up my Lelo Liv for some fun play tonight. I noticed that when I don't come in the morning, I do come at night, so it's not a total loss.
If you've ever had trouble coming, how did you deal with it? Did it worry you, especially if you've noticed a trend of the fireworks not going off? I'll just go with the flow, so to speak (pun intended) and take it easy for the next few days, since I'm having my period. An orgasm will only be icing on the cake at this point.
Posted on November 12, 2009 at 02:00 PM | Permalink | Comments (2) | TrackBack
October 09, 2009
Going Down, Anyone? Giving A Proper Blow Job
Here is another reprint of one of my Nuts4chic articles. In order to tone down the article, I left out the part about giving a woman a "pearl necklace", because it was probably a bit too over the top, and I realized at the last minute that women don't get "pearl necklaces" from giving head. If anyone reading has no clue what I'm talking about and wants to know what a pearl necklace is, just ask me and I'll post the def in comments.
-----
As the old saying goes "candy is dandy and liquor is quicker, but sex won't rot your teeth."
Thanks to one of my erotic romance colleagues, Jade, this week I talk about how to go down on a guy that will have him begging for more.
First, have fun! You know how to use Altoids mints when giving a BJ, per one of my previous articles, but so much more fun is to be had! As Jade said, if you don't want to give 100%, don't do it. Don't pound up and down on him as if you are a piston engine. Vary your technique, and listen to him for your cues.
Don't limit yourself to your mouth. Jade reminds us that we can use our lips, mouth, hands, and even our breasts. Above all, be gentle. Don't leave teeth marks on him. He's sensitive, and when it hurts it's no fun. My husband likes to brag that, in the early days of our relationship, I broke him. Twice. I was a little rough on him, and it complained by steering clear of me for awhile. He told one of his co-workers about what I had done, and every time I saw that guy, he gave me the warmest, most welcoming grin. I bet he fantasized about me more than a few times. I love having that kind of power over men.
Here are a few time-honored BJ techniques. Alternate them in as many ways as you and your man like. Don't neglect his balls while you play with his dick. Roll his balls between your fingers for a five-alarm scorching BJ.
THE TONGUE TWISTER: Flick your tongue back and forth as you go up and down. The more he moans, the faster you flick.
THE HUMMER: Jade mentioned this one. When he is in your mouth as far as you can get him without choking, hum a song. Preferably one in the lower register because the feeling is more intense. He will love the vibrating sensation. Hum something suitable for a BJ, like Wagner's "Ride of the Valkyries". You can play "Guess This Song", but it's doubtful he'll be alert enough to pay attention to what you hum.
TEA-BAGGING: This is lying on your back while he lowers his package into your mouth. Gently suck on his balls and use your lubed-up hands on him. This action is called "tea-bagging" because what the two of you are doing looks like a teabag dipping into a tea cup.
THE TIP-TAPPER: Suck only on his head while your lubed hands and fingers work his shaft. The head is a man's most sensitive part and he will groan under your expert technique.
Posted on October 9, 2009 at 03:04 PM | Permalink | Comments (5) | TrackBack
October 05, 2009
Want To Get Kinky? How About Cuckoldry?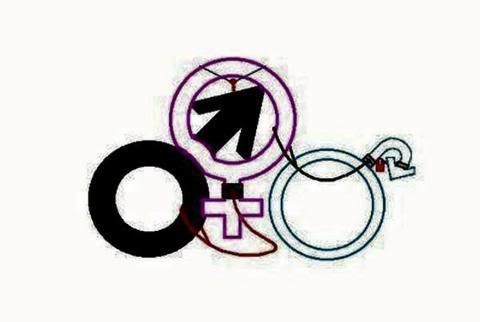 So you're looking to put a little oomph in your sex life? How about trying cuckoldry, which is a kinky bondage practice of having a man wear a chastity belt while he watches his woman have sex with another man. He gets off on the humiliation, and she enjoys two men competing for her attention.
If you think your sex life is a little too vanilla, then cuckoldry is definitely something that could add some spice to your sex life, especially if you are into multiple partners.
This article originally appeared at Nuts4chic. Here it in its entirety:
How daring are you? Is your man willing to wear a chastity belt, just to please you, while you have sex with another man right in front of him?
That's called cuckoldry, and it's a very kinky BDSM practice. BDSM stands for Bondage and Discipline, Dominance and Submission, and Sadomasochism.
Ewww!!!!, you say! Bondage is icky! Well, it floats some people's boats, but not others. Do you like to be tied down with silk scarves while your honey slides an ice cube across your bare skin? If so, you like sensation play, which is a form of BDSM. While cuckoldry might be a bit much for lots of people, it just might appeal to you to some extent, especially if you like introducing new partners into your sex play. Polyamorous couples and swingers sometimes like this form of BDSM.
Some cuckolding FemDom scenarios involve the man being restrained in a chastity belt while he watches his woman having sex with another man. The humiliation of being unable to satisfy her especially while another man is able to do so is sexually arousing to him. While he is aroused, he is not permitted to come. There is an untold competition between the two men; mostly being that the man having sex with the woman is viewed as superior physically and sexually to the man being cuckolded. The chastity of the cuckold is important to the cuckolding FemDom scenario.
The Dominant woman is referred to as the "hotwife". She enjoys that sensation of being filled by another man, especially if her Sub is unable to please her because he is shackled and belted. She gravitates towards an Alpha Male "bull" or "stud" who is physically and sexually more potent than the cuckolded Sub, according to the rules of cuckoldry play.
Humiliation speech is very important to the cuckolding FemDom scenario because everyone involved gets off on the heightened sex play and terminology. The Dom woman refers to her cuckolded Sub as a "loser", "pathetic little boy", and other epithets that downgrade his sexuality, but he is not turned off by the put-downs. Not at all. She gets off on the power she has over him, while he is aroused by his humiliation.
The chastity belt is a very important sex implement used in cuckoldry. The chastity belt holds the penis, allowing it to become erect but forbidding any manual stimulation. The purpose of wearing the chastity belt is so that the man may be aroused but not permitted to come to orgasm. Humiliation is what matters. In cuckoldry, pleasing the Dom woman sexually is of utmost importance.
While cuckoldry is not for everyone, for those who enjoy it, there are many quality leather chastity belts to choose from. If you want to add a little edginess to your sex life, try cuckoldry.
Posted on October 5, 2009 at 01:32 PM | Permalink | Comments (2) | TrackBack
September 17, 2009
Foot Fetishes
Confession time – I have flat feet. My doctor prescribed arch supports to do the job my feet won't do. So, I am now a sucker for a good foot massage. I have a Hitachi Magic Wand that does wonders for my poor feet. I also love using massage oil on my feet, and having my husband give them a good, hard rub.
Some people are so enamored of feet that they have developed a foot fetish. I've read foot fetish fiction, and it's a bit over the top for my taste, but I liked it. Grown men licking, sucking, and kissing a nubile young woman's toes strangely turned me on. My husband has sucked on my toes, and that reduces me to giggles.
Lots of people have a thing for feet. I've read about men who couldn't keep their foot fetishes to themselves. A New York man was indicted for "grabbing the shoes of several female subway riders in Manhattan and Queens, then kissing and licking their feet." The man, who was twenty-three years old, grabbed the ankles of more than seventy women.
That's just plain sick.
Now, if you want to give in to your own foot fetish, you'll have to give a great foot massage. Wash the feet first. Use a quality massage oil, like Kama Sutra's Healing Blend, which is one of my personal favorites. Press your fingers into the arch, ball, and heel in circular motions. Rub between the toes, and pull on each toe to stretch it out. Rub your thumbs in a downward motion on the top of the feet. Repeat in any combination. Once the massage is finished, put cotton socks on the feet.
Related to foot fetishes are shoe fetishes. People with severe foot fetishes would love weird shoes. Foot binding was popular in Japan many decades ago. The idea was that the small foot – called a "lotus" – was very sexy in women. So what if obtaining the lotus meant that her feet were permanently deformed and that she couldn't walk? The foot fetish is what mattered. Those lotus feet were deemed very sexy.
I've seen some Japanese shoes that were so high that the wearer walked on the tips of her toes. Some Japanese platform shoes could be close to a foot high. There is something sexy and perverse about a shoe that looks excruciatingly painful to wear. If you want to see some of these shoes, go to this web site:
http://fashion.3yen.com/2007-01-04/latest-japan-shoe-fashion/
I walk around in my bare feet now, and I love a good foot rub. I don't understand the guy on the subway with the foot fetish, but I understand why some people get off on licking a woman's toes. Getting my toes licked makes me shiver up and down my spine. I like that. Foot high platforms? No way!
Posted on September 17, 2009 at 08:11 AM | Permalink | Comments (4) | TrackBack
August 06, 2009
What Are Some Of The Sexiest Jobs?
Cowboys, Firefighters, and Nurses.Oh, My! The Sexiest Jobs
by Elizabeth Black
[This article originally appeared in the British pop culture e-zine Nuts4chic.]
Blue jeans fit snug over his hips, and the wide-brimmed hat has seen its share of hot summer days. What you would give to run your hands across that broad chest. You've seen him in movies. Maybe you've seen him in person. Blessed with a chiseled chin and rugged features, his hard blue eyes reveal a straightforward nature.
His muscular arms and legs show a lifetime of hard work, rustling cattle and taming horses. Blue jeans fit snug over his hips, and the wide-brimmed hat has seen its share of hot summer days. What you would give to run your hands across that broad, hairy chest.
You just had a cowboy sex fantasy. It shouldn't surprise you that cowboys have been rated as having one of the sexiest jobs out there. Moody and aloof on the outside but like molten lava on the inside, many women have fantasized about doing the Reverse Cowgirl with one of these delicious guys. It's no accident that cowboy stories are very popular in the erotic romance genre.
A 2007 survey from CareerBuilder.com listed sexy jobs. Here are my comments on a few of them.
Athlete – Top tier athletes with buff bodies and even buffer bank accounts can be very sexy. Even sleek figure skaters are sexy in an elegant way. It's no accident that the captain of the college football team always dates the head cheerleader.
Firefighter – These men and women put their lives on the line to save us from fires. The danger inherent in the job is also as sexy as the buff men and women who do it. Hot, dirty, sweaty men hoisting fire hoses can turn on any woman. Just get him home, throw him in a shower, and give him a deep tissue massage to unkink those tight muscles. And then let the fun begin!
Flight Attendant – Everyone has heard of the fantasy of the sexy flight attendants. Some German airlines recently decided to add nude flights to their itinerary. The first nude flight will be a day-trip on July 5. There are only 50 seats on the flight. Lucky passengers may disrobe once they are on the plane. The pilot and the flight attendants will stay fully clothed.
Nurse – My husband is a nurse, specifically a Certified Nursing Assistant. He has lots of girlfriends. Okay, so he works at a nursing home and his youngest "girlfriend" is in her 80s. Still, that gentle touch and the scrubs make this a sexy job. Plenty of porn videos have featured the likes of Naughty Nurse Nancy for decades.
Cocktail Waitress – Brits may not know about the American restaurant, Hooters. You have to be babelicious to work as a waitress at Hooters. The outfits the women wear show off their breasts, hence the name of the place. I hear the tips are great.
I can't let this article close without mentioning one last sexy job – sex writer. When I tell people I am a sex writer, I get the most amusing and curious comments. Being a sex writer is both sexy and a world of fun.
Posted on August 6, 2009 at 03:45 PM | Permalink | Comments (0) | TrackBack
April 28, 2009
Does Your Pet Watch You While You Have Sex?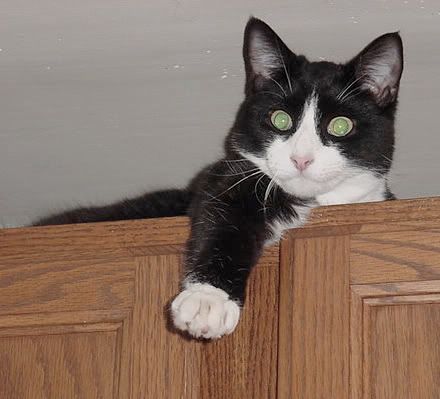 This is a reprint of an article I wrote for Nuts4chic. The cat pictured above is my cat, Lucky.
-----
Does Your Pet Watch You While You Have Sex?
by Elizabeth Black
Two nights ago, one of my cats chewed through the cord of my favorite vibrator. I am not pleased!
I was in bed, unable to sleep, and my husband was snoring next to me. What I needed was my Rabbit Pearl vibrator to play with and then I could finally fall asleep.
I reached into the little drawer on my headboard to get the vibrator, but it wasn't there. That was when I saw the chewed wire. I reached up onto the headboard, and there was the vibrator, now in two pieces thanks to Lucky, The Cat Who Can Do No Wrong.
Until Now!
I showed the vibrator to my husband the next day, and he said he can fix it for me. I hope he does that soon since my vibrator is my friend. This incident made me think about other incidents involving pets giving their opinion of your sex life. Don't you just hate the scrutiny?
I had one cat named Koala who liked to watch me in the act. Smartest cat I have ever seen, and very opinionated. So my husband and I would be going at it in bed, and I'm lying there with my legs around his hips, eyes closed, really getting into it, and I open my eyes.
Staring at me from a spot directly over my head from his spot on the headboard is Koala, his head bobbing up and down as he watches us have sex. It is not easy to concentrate on having an orgasm when a cat is staring you down while you go at it.
Pets that get involved in your sex life aren't always amusing. I read an article about a London woman who learned the hard way. Her boyfriend's African grey parrot squawked "I love you, Gary" while she sat on the couch with him.
There was one big problem. Her boyfriend's name was Chris.
That was the moment Chris found out his girlfriend had been cheating on him with a bloke named Gary. She had moaned Gary's name so often while shagging him that the bird picked up on the cue, and announced his name for all to hear. The bird even mimicked her voice. Sadly, Chris had to let the bird go because hearing it call for his girlfriend's lover in her voice was very painful, especially after they broke up.
I've heard of people who get their pets involved in "child" custody disputes, and I've written about those kinds of incidents n my column before, but having pets watch you while you do The Nasty is a bit more disconcerting.
Still, I think it's a great ice breaker when you discover your cat scrutinizing your sex play as if it's about to hold up a card giving you a rating of 9 (or 6, if the cat is a Russian Blue).
Posted on April 28, 2009 at 09:34 AM | Permalink | Comments (8) | TrackBack
April 20, 2009
Nuts4chic: The Hello Kitty Vibrator
This is another reprint of one of my Nuts4chic articles. Enjoy! If you want to buy the Hello Kitty vibrator, look to Amazon for the Hello Kitty massager or check eBay.
-----
The Gift For The Woman With Everything – The Hello Kitty Vibrator!
by Elizabeth Black
This week, I will talk about the perfect gift for the woman who has everything, but I will warn you – this little gem strikes fear in the hearts of some people.
It's the Hello Kitty vibrator!! She's back after a long absence.
The evil little mouthless one has made her way into your bedroom again! I got the news when one of my sex toys shop colleagues e-mailed me to tell me she carried the little beast.
Hello Kitty has been around forever. I had the purse and notepaper when I was a kid, which was back when dinosaurs roamed the earth. She was aimed towards little girls. My friends and I loved Hello Kitty, although she was getting to be like McDonalds – she was everywhere. You couldn't turn a corner without seeing Hello Kitty mechanical receptionists, a Hello Kitty crop circle, Hello Kitty wedding dresses, Hello Kitty corsets, Hello Kitty everything.
So when did she become sexualized?
The Hello Kitty vibrator is marketed in Japan as a shoulder massage device, but it was inevitable that she has found her way into sex toys store. Vibrators throughout history have been marketed as muscle massagers, but starting in about the 1920s, they were being used as sex toys.
I freaked out the first time I heard of the Hello Kitty vibrator. How did a line aimed at little girls end up attached to a device meant to tickle your genitals? Apparently, over the years, Hello Kitty has turned into a bit of a sexual fetish. Amanda Marcotte at the blog Pandagon remembers the Usenet group alt.sex.hello-kitty, and so do I. (http://pandagon.blogsome.com) She pointed out a hilarious portion of the group's FAQ:
3c) How does Hello Kitty give head?
Alas, Hello Kitty sometimes wishes she had a mouth so she could perform fellatio. However, since she is able to generate powerful suction with her vaginal muscles, she has yet to leave a partner unsatisfied. Hello Kitty is also able to extend and move her labia so that they can "lick "like a pair of tongues."
3d) How does Hello Kitty eat?
Hello Kitty does not need to eat. Hello Kitty lives on sunshine, fresh air, and lots and lots of hot cum shot up into her pussy.
According to the FAQ, Hello Kitty has "gymnastic genital control" and she can ejaculate when she comes. If you play with that vibrator, you too can be an amazing fuck bunny in bed.
There are rumors on the Internet that there are Hello Kitty condoms, but that is a myth. I'm afraid you'll have to find the festive holiday condoms I talked about in my previous article if you intend to use the Hello Kitty vibrator with a partner.
Posted on April 20, 2009 at 02:48 PM | Permalink | Comments (2) | TrackBack
April 17, 2009
Meeting Quality Blokes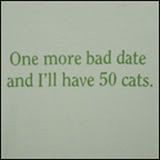 [Originally appeared at Nuts4chic.]
Want To Meet A Quality Bloke? Don't Stalk Him At The Grocer!
By Elizabeth Black
I usually giggle at the swill that passes for "advice" for women to find good blokes, but I ran across an article that was so full of FAIL that I had to tell my readers about it. The "advice" in this article was to help women find ways to meet great, eligible, fine guys. There were about two dozen suggestions as to how women can find men who don't live in their parents basements playing World Of Warcraft for endless hours while surviving for days on bags of crisps.
I was overcome by the desperation behind most of those suggestions. Here are a few, and what I thought of them.
The first bad thing about this article – it needs a proofreader. "Extra-curricular" was misspelled.
Here was one suggestion: Ask 10 of your friends to set you up - Do you really want all of your friends to know how hard up you are? Blind dates are part of the Ninth Circle of Hell, in case you haven't heard. Another suggestion – Date Online – is also worthy of Dante's Inferno.
This next one really threw me. I couldn't believe anyone could be so desperate or think so low of herself:
2. Go To Events Where Beautiful Women Are Present - How much fun it must be to be Sloppy Seconds! And what makes the writer think that the women reading this stupid swill are ugly? How insulting!
This one really freaked me out:
3. Chat Up A Bloke In The Pasta Section Of The Grocery, And Give Him Your Grandmother's Recipe For Tomato Sauce – If some creepy guy stalked me at the grocery store and tried to give me a recipe, I'd call the cops. Besides, my grandmother was from Czechoslovakia. You don't want her recipe for tomato sauce.
The bit about finding extra-curricular activities that interest you was a great suggestion. I met my husband as a science-fiction convention. I was a speaker on a Star Trek panel. Okay, I'm a geek. Love me anyway. He sat in the first row, holding up a copy of Harry Harrison's "The Stainless Steel Rat". I loved that book. It was instant interest, but I was already interested in science fiction, fantasy, and especially horror. I wasn't even looking for anyone. I also met lots of new friends at that convention. One of them is my best friend to this day.
Some of the suggestions weren't bad. Be positive. Don't gossip. Get rid of old habits. Find new interests. Those are things you could do whether or not you're looking for a man. I found my man when I wasn't even looking for him. If you really want to meet great blokes, engage your own interests that you can share with lots of people. Then, the right guy – or guys; why stop at one? – may come your way.
Posted on April 17, 2009 at 04:45 PM | Permalink | Comments (4) | TrackBack
April 13, 2009
Nuts4chic: Spray-On Condoms
This article is a repost of an article originally posted at Nuts4chic.
-----
Bored With Ordinary Condoms? Get Spray-Ons!
by Elizabeth Black
They're made in Germany. I hadn't seen anything like this since I got wind of spray-on pantyhose from Japan. It seems the Germans are as innovative as the Japanese.
The inventor wanted to help blokes smaller and larger than the average penis size of just over five inches. He described his spray-on condom machine as being something like a car wash. The bloke puts his presumably erect penis in a chamber and presses a button. His penis is then covered by jets of liquid latex. It dries in about twenty-five seconds. To remove it, he just rolls it off and tosses it the way he would a regular condom.
One problem I see is that the couple would have to interrupt their sex play to use the spray-on condom machine. Twenty-five seconds is a long time to wait. Things could go limp before the latex dries. There is also no well at the tip of the condom to allow for stretching so that it doesn't tear. Plus, liquid latex is a mess. You don't want the machine to clog up or not layer the bloke's penis properly. Then, there is hair. Ripping off dried liquid latex when you have hair caught under it is as painful as getting a Brazillian wax. Not something your average man would want to experience.
If a spray-on condom doesn't float your boat, there are always novelty condoms. My favorite condoms had pictures of Bob with his pipe, the iconic image from the Church of the Subgenius. There are even Christmas-themed condoms. I found a set of four, with images of a candy cane, a reindeer, a sprig of holly, and a snowman. They were adorable!! Others included a Santa head, a wreath, and an elf head. The Santa head and elf head were on lollipop sticks. So cute! Guess who is getting Santa condoms this Christmas? Heh heh.
Now comes the big question – why do some blokes refuse to wear condoms? I dated a bloke in college who wouldn't wear a condom because he said it numbed his sensations, so I took my own precautions. I saw one other guy who refused to use a condom. He was just as much of a throwback as the other bloke. If a man refuses to wear a condom and he gets a woman pregnant, he has no right to complain.
If wearing a condom really upsets you that much, try to have fun with one of these goofy condoms.
Posted on April 13, 2009 at 08:50 PM | Permalink | Comments (1) | TrackBack