March 24, 2011
Come To My New Blog And Web Site!
I have a new blog and web site, and I'm inviting everyone to it. This blog/web site focuses on my erotic writing. I will continue to post sex toys reviews on this blog. So, if you want to keep up with me, visit me at my new digs.
Elizabeth Black - Blog and Web site
See you there!
Lizzie
Posted on March 24, 2011 at 12:28 PM | Permalink | Comments (11) | TrackBack
November 20, 2003
Googlerace is Rigged!
Update: My mistake. I saw this at Leslie's blog, House of Plum, not at Elayne's. I even got the link right. I accidently wrote Elayne's name because I still had "Googlerace is RIGGed" running through my head. By brain truncated too much info at once. I fixed the link below.
-----
Since it looked like brainless fun, I typed in keywords to Googlerace to see how the top Presidential candidates, including Bush, would rank. Moseley Braun and Kucinich are not in Googlerace, but Sharpton is. [via House of Plum and Michele.]
Googlerace certainly does rank.
Monkey - Sharpton, not Bush. (Eeek! Racist overtones!)
Brat - Sharpton, not Bush.
Spoiled - Sharpton, not Bush.
Cowboy - Sharpton, not Bush.
Smirk - Lieberman, not Bush.
Asshat, Jerkwad, Dumbass, Buttmunch, Megalomaniac, Loser, Shit-For-Brains, Spineless, White (white???) .... SHARPTON!
Who at Googlerace has it in for Sharpton???
Studmuffin - Sharpton (It's official. We are all in the Matrix.)
Really scary one: President - Lieberman, not Bush.
Lieberman also won "pantywaist." Heh.
Googlerace must be rigged.
Update:
Usurper - Bush.
Chimp - Bush.
There. Now that's more like it.
Posted on November 20, 2003 at 12:42 PM | Permalink | Comments (2)
November 09, 2003
Go In That Kitchen An' Make Me A San'wich!!
Gee. We just missed it. [via Mother Shock.] I feel such a loss. National Men Make Dinner Day is not an issue for me because my s. o. is a gourmet cook. He likes to cook, and I don't mean these kinds of things on the No-No list for NMMDD:
chewing gum
cotton candy
take-out pizza
pogos
left-overs from last night
sandwiches from office vending machine
neighbors left-overs from last night
anything bar-b-qued
Cripe, that's the kind of stuff I cook. I know when dinner's ready because the smoke alarms go off.
(Question: What's a Pogo? I thought it was a comic strip.)
Posted on November 9, 2003 at 05:52 PM | Permalink | Comments (1)
Saving Ryan's Privates
This satirical beaut from Patriotboy would be funnier if there really weren't some men who think this way. [via Cowboy Kahlil]



The minds of women in our society have been poisoned by feminism. It all started with these pro abortion people talking about women owning their own bodies. It's like they believe that men don't have a right to fondle them.

Organizations like NOW have taught women to hate men. They've taught them to yell "rape" when they really mean "yes." They've taught them to laugh at us when they see our little soldiers--there is nothing wrong about a normal sized little soldier; they aren't supposed to be as big as women think they are supposed to be. They don't think I can hear them but they're wrong. I know they're not really talking about vienna sausages and limp noodles. Especially, Mrs. Christian. She says she's exchanging recipes, but her sister always calls me Captain Vermicelli.
Posted on November 9, 2003 at 03:48 PM | Permalink | Comments (1)
October 14, 2003
Cue Up Creedence Clearwater Revival!!!!
The perfect caption for this picture. Start singing.
[via Daily Kos and about a million other blogs.]
Bad Moon Rising
I see the bad moon arising.
I see trouble on the way.
I see earthquakes and lightning.
I see bad times today.
[Chorus:]
Don't go around tonight,
Well, it's bound to take your life,
There's a bad moon on the rise.
I hear hurricanes ablowing.
I know the end is coming soon.
I fear rivers over flowing.
I hear the voice of rage and ruin.
[Chorus]
All right!
Hope you got your things together.
Hope you are quite prepared to die.
Looks like we're in for nasty weather.
One eye is taken for an eye.
[Chorus]
[Chorus]
Update: A little Trish Trivia for you: "Bad Moon Rising" was the theme song at my wedding. We forgot to choose a song so the band played it as a gag. How prophetic.
Posted on October 14, 2003 at 12:17 PM | Permalink | Comments (3)
September 19, 2003
Arrrrr!!! Happy Talk Like A Pirate Day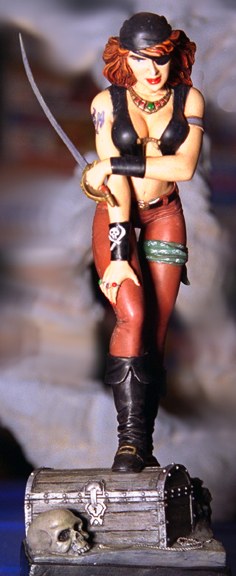 Yeah, I know it's not a real holiday (any holiday that probably started at the bottom of a keg of Bud can't be taken seriously), but don't fret. There are plenty of bizarre holidays out there. I got the idea to look after reading what Elayne Riggs had to say about National Comic Book Day, which is September 25.
Bet you didn't know that September is National Courtesy Month. That's easy to remember to observe since National Beheading Day is September 3rd. You have an early reminder of the price you'd pay for failing to be courteous. September 3rd is also Uncle Sam's birthday. I share my birthday with Michael Caine. Sure beats sharing it with National Beheading Day.
Octoberfest begins in Germany on September 20 and goes through October 5. The same day is also National Punch Day. I don't know if that refers to drinking or "my fist meets your face." Since it's Octoberfest partying we're talking about, it could be a little of both.
Some Other Stuff Of Interest:
Speaking of National Beheading Day, Exclamation Mark links to something very appropriate: The Severed Head Gallery. Includes some real severed heads. Definitely not for the squeamish. It also includes the same graphic of Medusa painted by Caravaggio that Venomous Kate used to use on her blog. Next to it is the poem, Medusa, by Shelley.
Also via Exclamation Mark, I've learned that Absinthe is making a comeback. I had my first taste of the strong licorice-flavored green liqueur about two years ago in Newport, Rhode Island. We stayed for Halloween weekend. A liquor store around the corner from our bed and breakfast sold the stuff. I served it the proper way -- mixed it with water, poured it over the sugar cube on the strainer into a glass. It has quite a kick. This is not something you guzzle, believe me. True absinthe contains wormwood and other exotic herbs, and it isn't sold in this country with them. I know it's sold overseas that way. I vaguely remember something about Russia having it.
The Skeptics Annotated Bible is pure fun. [via Mysterium]. Check out the insults to women in Genesis. Nothing I didn't already know, but it's nice to have it in a one-stop shop. And check out these passages from Numbers:

The Law of Jealousies. If a man suspects his wife of being unfaithful, he reports it to the priest. The priest then makes her drink some "bitter water." If she is guilty, the water makes her thigh rot and her belly swell. If innocent, no harm done -- the woman is free and will "conceive seed." In any case, "the man shall be guiltless from iniquity, and this woman shall bear her iniquity." 5:11-31

Under God's direction, Moses' army defeats the Midianites. They kill all the adult males, but take the women and children captive. When Moses learns that they left some live, he angrily says: "Have you saved all the women alive? Kill every male among the little ones, and kill every woman that hath known man by lying with him. But all the women children, that have not known a man by lying with him, keep alive for yourselves." So they went back and did as Moses (and presumably God) instructed, killing everyone except for the virgins. In this way they got 32,000 virgins -- Wow! [Even God gets some of the booty -- including the virgins. (31:28-29)] 31:1-54

And some people wonder why women and children continue to be treated like garbage to this day.
There are always the supportive passages about marriage in 1 Corinthians, New Testament:

Paul wishes that men and woman abstain from sex, but tells them to "come together" to avoid being tempted by Satan. 7:5

196. Finally, after discouraging marriage for eight verses, Paul concedes that "it is better to marry than to burn." 7:9

197. Paul advises those that are "loosed from a wife" not to get married again. 7:27

Did I mention I was being facetious?
Posted on September 19, 2003 at 03:02 PM | Permalink | Comments (0)
September 16, 2003
Yer Wife's A Scurvy Bilge Rat!
Before Dave Barry inspired thousands of grateful readers to give telemarketers a taste of their own medicine, he introduced the world to Talk Like A Pirate Day. "Talk Like A Pirate Day" was founded by John Baur and Mark Summers. It has its own web site. It is held on September 19 - which not coincidentally is Summer's ex-wife's birthday. That is three days away, so don't forget to answer the phone saying "ahoy, matey!"
If you're British, make sure you say "yarr." Why, I don't know. Just make sure you say it.
Being an equal-opportunity insult monger, since I called the wife a scurvy bilge rat, here's one for the guys:
Yer Husband's A Greasy Chum Bucket That Hasn't Been Cleaned In Months!
Posted on September 16, 2003 at 09:45 AM | Permalink | Comments (0)
September 15, 2003
Choice Comical Quotes About Bush
These were sent to me by a friend. Sorry, I don't have a URL, but I'm sure many of you have read some of them before. My only question is why no quips from Jon Stewart? We live for "The Daily Show" around here. And speaking of choice political satire, check out Mark Fiore's latest.
"Finally, a candidate who can explain the Bush administration's positions on civil liberties in the original German."
-- Bill Maher, on Schwarzenegger running for Governor.

"President Bush is supporting Arnold. But a lot of Republicans are not because he is actually quite liberal. Karl Rowe says if his father wasn't a Nazi, he wouldn't have any credibility with conservatives at all."
--Bill Maher

"President Bush is on a 35-day vacation, and before he left he had his annual physical, and it turns out his cholesterol now is lower than his approval rating."
--David Letterman

"Apparently Arnold was inspired by President Bush, who proved you can be a successful politician in this country even if English is your second language."
--Conan O'Brien

"They're saying Arnold will get 95% of the vote. At least according to his brother, Jeb Schwarzenegger."
--Craig Kilborn

"Well, we're all excited because President Bush has started his 35-day vacation. He's down there in Crawford, Texas; and on the first day of his vacation he went fishing. He didn't find any fish. But he believes they're there and that his intelligence is accurate."
--David Letterman

Some good news for the economy. President Bush went on a month-long vacation."
--Jay Leno

"The White House released a videotape of President Bush meeting with his cabinet, and today Iraqi officials say they believe the tape is authentic."
--Jay Leno

"The United States is putting together a Constitution now for Iraq. Why don't we just give them ours? It's served us well for 200 years, and we don't appear to be using it anymore. So what the hell?"
-- Jay Leno

"The White House says that the vacation in Texas will give President Bush the chance to unwind. My question is, when does the guy wind?"
--David Letterman

"[President Bush] used his press conference to come out very strongly against gay marriage. And then on a personal note, he apologized if he had done anything to lead Tony Blair on."
--Bill Maher

"President Bush has refused to declassify portions of the congressional 9/11 reports about the Saudis because he says it will help the enemy. Not Al Qaeda, the Democrats."
-- Jay Leno

"President Bush has been silent on Schwarzenegger. Of course, he can't pronounce Schwarzenegger."
-- David Letterman

"Here's how bad California looks to the rest of the country. People in Florida are laughing at us."
-- Jay Leno

"President Bush held his first full press conference in over five months this week. He announced that the war on terrorism is continuing, much, much more work needs to be done on the economy, and Saddam Hussein has not yet been captured. And then he said, 'I'm going on vacation for a month.'"
--Jay Leno
Posted on September 15, 2003 at 09:19 PM | Permalink | Comments (0)