March 24, 2011
Come To My New Blog And Web Site!
I have a new blog and web site, and I'm inviting everyone to it. This blog/web site focuses on my erotic writing. I will continue to post sex toys reviews on this blog. So, if you want to keep up with me, visit me at my new digs.
Elizabeth Black - Blog and Web site
See you there!
Lizzie
Posted on March 24, 2011 at 12:28 PM | Permalink | Comments (11) | TrackBack
December 18, 2008
Nuts4chic: Sex And Pets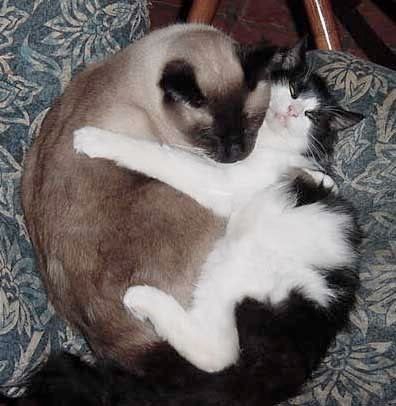 This article first appeared at Nuts4chic. Link below.
Does Your Pet Watch You While You Have Sex?
by Elizabeth Black
Two nights ago, one of my cats chewed through the cord of my favorite vibrator. I am not pleased!
I was in bed, unable to sleep, and my husband was snoring next to me. What I needed was my Rabbit Pearl vibrator to play with and then I could finally fall asleep.
I reached into the little drawer on my headboard to get the vibrator, but it wasn't there. That was when I saw the chewed wire. I reached up onto the headboard, and there was the vibrator, now in two pieces thanks to Lucky, The Cat Who Can Do No Wrong.
Until Now!
I showed the vibrator to my husband the next day, and he said he can fix it for me. I hope he does that soon since my vibrator is my friend. This incident made me think about other incidents involving pets giving their opinion of your sex life. Don't you just hate the scrutiny?
I had one cat named Koala (the Siamese pictured above, with black and white Oreo) who liked to watch me in the act. Smartest cat I have ever seen, and very opinionated. So my husband and I would be going at it in bed, and I'm lying there with my legs around his hips, eyes closed, really getting into it, and I open my eyes.
Staring at me from a spot directly over my head from his spot on the headboard is Koala, his head bobbing up and down as he watches us have sex. It is not easy to concentrate on having an orgasm when a cat is staring you down while you go at it.
Pets that get involved in your sex life aren't always amusing. I read an article about a London woman who learned the hard way. Her boyfriend's African grey parrot squawked "I love you, Gary" while she sat on the couch with him.
There was one big problem. Her boyfriend's name was Chris.
That was the moment Chris found out his girlfriend had been cheating on him with a bloke named Gary. She had moaned Gary's name so often while shagging him that the bird picked up on the cue, and announced his name for all to hear. The bird even mimicked her voice. Sadly, Chris had to let the bird go because hearing it call for his girlfriend's lover in her voice was very painful, especially after they broke up.
I've heard of people who get their pets involved in "child" custody disputes, and I've written about those kinds of incidents n my column before, but having pets watch you while you do The Nasty is a bit more disconcerting.
Still, I think it's a great ice breaker when you discover your cat scrutinizing your sex play as if it's about to hold up a card giving you a rating of 9 (or 6, if the cat is a Russian Blue).
Posted on December 18, 2008 at 01:11 PM | Permalink | Comments (1)
September 19, 2008
Simon's Cat: Cat Man Do
This is a riot. It describes our cat Lucky so well.
Posted on September 19, 2008 at 09:51 AM | Permalink | Comments (0)
July 21, 2006
Friday Cat Blogging
It nap time at the Countess's manor house. The cat in the front is Beowulf. The one behind him is Domino. The one on the dresser is their mommy, Oreo. Don't they look nice and relaxed? Don't you wish you were a spoiled lap cat?
Posted on July 21, 2006 at 10:25 AM | Permalink | Comments (0)
July 14, 2006
Friday Cat Blogging
I haven't done Friday Cat Blogging in a long time. Lucky wasn't around, so Beowulf got all the attention this time. He's resting in one of his favorite chairs.
Posted on July 14, 2006 at 12:51 PM | Permalink | Comments (4)
June 30, 2006
Friday Cat Blogging
Cute Cat Alert!!!
You MUST see these adorable cat videos. The first one will blow your mind.
Just check out the main site, and click on the images to the left. These are a riot.
Posted on June 30, 2006 at 08:23 AM | Permalink | Comments (2)
March 03, 2006
Friday Cat Blogging
I haven't done Friday Cat Blogging in awhile, so I thought to remedy that today. First, some cat news:
Hundreds of German cat-owners have dumped their pets at shelters since the country recorded the first case of a cat dying of bird flu in the European Union, the German animal welfare society said on Thursday."
More on the German cat that came down with bird flu and died. This strain can be deadly to humans.
North Antrim is experiencing sightings of a big cat again. It might be a puma.
The Iberian linx, the world's most endangered cat, is becoming more endangered as dams and roads are being built that encroach on the cat's natural habitat.
-----
And finally, here are Scully and her mommy, Oreo, on my rocking chair. Scully is the one with the "Village of the Damned" glowing eyeballs.
Posted on March 3, 2006 at 10:30 AM | Permalink | Comments (2)
January 06, 2006
Friday Cat Blogging. Warning! Cute Kitten Alert
Cute kitten alert!
Here is my first Friday Cat Blogging of the new year. This is an old picture of Lucky and Beowulf when Lucky was a little kitten. Lucky has grown up to be a squirrel. He can't sit still. He's always playing with his toys, including dropping his favorite toy at my feet or at The Count's feet so we will play with him.
Sprite, one of our other cats, gets mad at Lucky all the time. It doesn't help that Lucky will sneak up on her, jump on her, and bite her on the head. He's not trying to mate with her. He just wants to play. She hisses at him, and runs off.
Lucky is quite a funny little kitty.
Posted on January 6, 2006 at 08:38 AM | Permalink | Comments (1)
December 02, 2005
Friday Cat Blogging
Don't Beowulf and Domino look comfortable? They love to stretch out on our bed. Beowulf is the one in the front - the fuzzy one. Domino is right behind him. Beowulf usually sleeps on my side of the bed, and Domino usually sleeps on The Count's side of the bed. They hang out there all day, and look out the window to watch the birds.
Posted on December 2, 2005 at 08:10 AM | Permalink | Comments (4)
November 19, 2005
Belated Friday Cat Blogging
I was too lazy to do Friday Cat Blogging yesterday, so I did it today. Here is Lucky playing with his favorite toy. He already ripped the ball off of the leather rope once, and I had to superglue it back on. He's eaten all the felt on the ball. When we're sitting around, he'll drag that toy over to us, and pester us until we play with him. He was pestering us for the past half hour, so The Count got up and played with him. I took photos until I caught him grabbing the toy in mid-air. That didn't take long.
Posted on November 19, 2005 at 02:49 PM | Permalink | Comments (12)