April 17, 2010
Recipe: English Toffee
Assemble the ingredients:
1/2 cup (200 g) unsalted butter (one stick)
1/2 cup (100 g) sugar
1 teaspoon (5 ml) vanilla extract
1/8 teaspoon salt
1 small block of Baker's Chocolate (about 5 or 6 oz./170 g)
Select a small saucepan. Make sure the saucepan is large enough to contain about double the volume of the butter and sugar. As the mixture cooks, it will bubble and increase in volume - using too small of a pan may result in overflows. USE A CANDY THERMOMETER. Let the heat rise gradually, stirring all the time. Allow the water to boil off, but keep stirring. When the mixture reaches 300 degrees F it should have a creamy texture. You'll notice the difference. Remove it from the heat. Pour in the vanilla extract and stir well to mix.
Immediately use a spatula to scrape the mixture onto parchment paper, and spread it out with the spatula until it is about 1/4 inch thick. Use a grater, and finely grate the block of chocolate over the mixture until the mixture is well-covered. Use all of the chocolate. When you are finished, place the toffee in the freezer so that it sets. When it is cooled and set, remove from the freezer. Place a clean towel over the toffee, and crack it into bite-sized pieces with a hammer. Store in a baggie in the refrigerator.
Enjoy!
Posted on April 17, 2010 at 10:38 AM | Permalink | Comments (0) | TrackBack
May 30, 2009
Kinky Food Talk - What Flavor Pocky Are You?
I started a discussion on a kinky sex forum about your favorite geeky foods, and Pocky has come up in several of the comments. I've heard lots of good things about Pocky but I've never tried it. Although this quiz found I'm Green Tea Pocky, I'd probably try chocolate.
You Are Green Tea Pocky
Your attitude: natural and zen
You are peaceful yet full of life. You've spent time pondering the meaning of life.
You are considered deep, thoughtful, and wise.
You're halfway to tantric bliss!
Posted on May 30, 2009 at 06:01 PM | Permalink | Comments (2) | TrackBack
May 20, 2009
Two Girls, One Cup... I Mean, Sub
Have you sen Quiznos' homo-erotic commercials with the the vapid dude having sex with the oven? Well, here is Playboy's answer to that commercial. I think Quiznos is the same company that had the singing rats (er... chinchillas) plugging their subs, so I'm not surprised they went the sex route. The title "Two Girls, One Sub", is obviously a riff on "Two Girls, One Cup". If you don't know what that is, Google it. Har!
Here's the Playboy ad, starring Kari Nautique and Playboy Playmate Hiromi Oshima. It's very hot and very silly.
Posted on May 20, 2009 at 03:31 PM | Permalink | Comments (0) | TrackBack
November 19, 2008
Chocolate Sex Spread Pulled From Shelves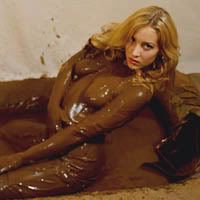 I freaked when I first saw this article, since one of my favorite sex toys of ours is the
Kama Sutra Chocolate Lover's Paintbox
, which has a place of honor in our refrigerator. Apparently, another chocolate body spread has been pulled from shelves at Ann Summers stores because it contains an industrial chemical harmful to humans. According to an article on the subject, the chemical melamine caused a "massive scare in China after four babies died and 54,000 children under two fell ill from drinking milk products adulterated with it."
I'm happy to report that my chocolate body paint is not affected. The chocolate sex spreads pulled from the stores are "Chocolate Flavored Willy Spread" (love the name) and a pack that contains a chocolate flavored "body pen". Both products are made from a company called Le Bang, from China.
So, I'm off the hook. That
Kama Sutra Chocolate Lover's Paintbox
tastes delish, too. We have milk chocolate, dark chocolate, and white chocolate. I reviewed the product for VibeReview.
Read my review here
.
Posted on November 19, 2008 at 07:22 AM | Permalink | Comments (1)
November 08, 2008
Need A Junk Food Fix... Caramel Corn!
I'm almost in a baking mood. Just want to watch some silliness on TV first, specifically "Ghost Adventures". This show is such a train wreck, but it gives me great ideas for paranormal erotic romance stories with ghosts as the paranormal creature.
Here is my recipe for caramel corn. We are out of snack food, and I prefer to make my own rather than buy an inferior product. I have store brand popcorn rather than the gourmet popcorn I usually use, but this popcorn will do just fine.
Caramel Corn
1 1/2 cup Brown Sugar
1/2 cup butter
1/4 cup Corn Syrup
1/4 cup Molasses
1/2 teaspoon Salt
1 teaspoon Maple Syrup
1/3 teaspoon Cream of Tartar
1/2 teaspoon Baking Soda
4 Quarts Popped Corn
1 1/2 cup Mixed Nuts or Spanish Peanuts
Directions
In saucepan, combine brown sugar, butter, corn syrup, molasses, and salt.
Boil for 6 minutes, stirring constantly.
Add flavorings, cream of tartar, and baking soda.
Stir in nuts and cover the nuts completely with the mixture.
Stir in popcorn a bit at a time and coat completely. Make sure to mix the nuts well with the popcorn. Bake in 200 degree oven for one hour. Don't eat it all at one time!!
Posted on November 8, 2008 at 12:24 PM | Permalink | Comments (0)
November 06, 2008
Chocolate Dick-Shaped Muffins! Yum!
I like the
Penis Cupcake Pan
I got from Babeland so much that I used it today to make more muffins. A couple of days ago, I used it to make chocolate muffins. Today, I used it to make more banana nut muffins because we ran out. Good thing I did that this morning, since the bananas were over-ripe.
I already posted the recipe for the banana nut muffins. Here's the recipe for the chocolate muffins.
2 c. flour
3/4 c. cocoa powder
1 c. sugar
1 tbsp. baking powder
1 lg. egg
1 c. milk
1/2 c. butter
1 1/2 c. mini chocolate chips (optional)
Preheat oven to 400. In large bowl combine flour, sugar, cocoa and baking powder. In medium bowl whisk egg, milk and melted spread. Pour liquid ingredients into dry. Add chocolate chips, stirring until mixed. Grease the muffin tins with shortening. Spoon batter evenly into the muffin tins. Bake for 40 to 45 minutes. Let cool on a rack, and then eat and enjoy!
Here is a picture of my vintage 1950s amberina cake plate with banana nut and chocolate penis-shaped muffins on it. They look so festive and delicious!
Posted on November 6, 2008 at 02:25 PM | Permalink | Comments (0)
November 01, 2008
Babeland - Penis Cupcake Pan
I review sex toys for Babeland, and when I saw that the store carried
Penis Cupcake Pan
, I had to have it. I love to bake, so I decided I was going to have some fun with this pan. Oh, the possibilities! Banana nut dicks. Pumpkin dicks. Spice dicks. Yummy!
I was so excited about this pan that I told all my writer/reader friends about it on Yahoo groups. I know I sold one or two of the pans just from my raving about it.
I was very impressed when the pan arrived. It's very sturdy, and the penis-shaped muffin molds are the perfect size for a muffin to go with your morning coffee. I checked the price out of curiosity, and it's comparable to ordinary muffin pans. I couldn't decide between pumpkin muffins or banana nut muffins, but I was in a banana mood, so I went with banana nut.
These muffins are delicious! And so kinky looking. I thought they would look perfect on my vintage 1950s amberina cake plate. Aren't they yummy?
You can buy the penis cupcake pan at Babeland
, and make your own dick-shaped delights. Here's the recipe I used to make banana nut muffins. Those muffins are perfect for the fall. Spread on a little soft butter, and you have a perfect complement to your morning cup of Guatemala Antigua.
Banana Nut Muffins
2 c. flour
2 tsp. baking powder
1 tsp. baking soda
3/4 tsp. salt
1/2 c. vegetable oil
1 c. white sugar
2 lg. eggs, well beaten
1 1/2 c. mashed ripe bananas (3 bananas)
1 c. chopped walnuts
1 tsp. vanilla
Sift together flour, baking powder, baking soda and salt. Mix well. Cream together oil, sugar, eggs. Add mashed bananas to creamed mixture. Add vanilla. Mix flour and banana mixture together. Stir in walnuts. Pour into greased penis tins. Spread the batter around with a spatula, and/or gently slam the pan onto the counter to move the batter around. Bake at 350 degrees for about 45 minutes.
Eat and enjoy!
Posted on November 1, 2008 at 10:14 AM | Permalink | Comments (4)
October 22, 2008
I Found A Great Herb Site
I'm into Red Zinger iced tea lately. I was drinking regular iced tea made from black tea bags, but I want to cut down on my caffeine during the day. I drink A LOT during the day. I learned to use Red Zinger tea with a little sugar about fifteen years ago from a woman I knew who drank it. I normally don't like Red Zinger. I drank it hot, and I didn't care for it. However, on ice it's delicious! I use Splenda when I make a glass for myself. I normally don't like sugar substitutes, but Splenda tastes good with Red Zinger.
I am also now out of Red Zinger, but I have another tea made of hibiscus leaves and rose hips, which are the two main ingredients in Red Zinger tea. The boxes don't have many tea bags in them, though, so I thought that buying the herbs individually in bulk might be cheaper. I normally buy my herbs at a Wiccan shop in Salem, Massachusetts, but without a car I have to take the train. I really don't feel like schlepping all the way to Salem to pick up some herbs. Being lazy, I figured why not try to find herbs online? This shop in Salem doesn't have an online shop, so I searched until I found what I wanted.
I found this site:
It carries every herb I've ever wanted, and they're CHEAP!! The handling fee is about the same as what I'd pay to take the train to Salem, so I'm not losing any money.
Here are herbs I want to buy that this site carries:
Hoodia (I need to investigate before I use this to lose weight.)
Hibiscus leaves
Rose hips
Licorice root
Star Anise
Damiana
Spearmint leaves
Raspberry leaf
Lemongrass
Bergamot leaves (I was thrilled to see this. I can now make my own Earl Grey tea!)
Rose petals
Black tea
And then there are the cooking herbs I can buy for us. This site even has rubbed sage, my favorite type of sage.
I'm so going shopping once my paycheck comes in next month.
Posted on October 22, 2008 at 08:22 PM | Permalink | Comments (0)
December 27, 2007
Honey As Healer
According to FoxNews, "More than 4,000 years after Egyptians began applying honey to wounds, Derma Sciences Inc., a New Jersey company that makes medicated and other advanced wound care products, began selling the first honey-based dressing this fall after it was approved by the U.S. Food and Drug Administration."
I'd like to see this to see if it is for real. I use Bag Balm on cuts and chapped lips, and it works just fine. If it's good enough for cows and horses, its good enough for me.
Honey is great to cook with. It helps digestion, and tastes great. We had ham for Christmas dinner, and I made a nice marinade for the ham that I also used for basting. Here are the ingredients.
One cup orange juice
One cup packed brown sugar
One cup honey
Several crushed garlic cloves
Splash of hickory smoke flavoring
The ham was dee-lish!! We're having ham leftovers tonight.
Posted on December 27, 2007 at 03:07 PM | Permalink | Comments (0)
February 28, 2007
The Royal Spawn Is Going To Be Upset
He loves Reese's Peanut Butter Cups. We call them "Reesie Cups".
He's not going to be happy with the possible recall of Reese's Cups due to the salmonella scare. He loves the little bite-sized cups. I do, too. I won't turn away a Reesie Cup.
Posted on February 28, 2007 at 02:35 PM | Permalink | Comments (1)