March 24, 2011
Come To My New Blog And Web Site!
I have a new blog and web site, and I'm inviting everyone to it. This blog/web site focuses on my erotic writing. I will continue to post sex toys reviews on this blog. So, if you want to keep up with me, visit me at my new digs.
Elizabeth Black - Blog and Web site
See you there!
Lizzie
Posted on March 24, 2011 at 12:28 PM | Permalink | Comments (11) | TrackBack
December 23, 2010
Geeky Christmas Gifts
Not sure what to get for the geek who has everything? How about one of these delightful presents? There's everything from Star Trek gack to strange sex toys. Yours for the having!
Star Trek Pizza Cutter - for the Trekkie with everything.
Star Trek Bottle Opener - for the Trekkie with everything plus the Star Trek Pizza Cutter but without the Bottle Opener.
Harry Potter - Hermione's Time Turner - sadly, it doesn't actually work so you can't go back in time and fix things you've royally screwed up.
The 11 Doctors Complete Set Of Action Figures - who are your favorite Doctors? I like Eccleston, Tennant, and Pertwee. And this set of action figures rocks!
Tardis wardrobe Go to the link to see a picture. It's beyond tacky but fun. I've also seen a Tardis CD/DVD case but I can't find that one anywhere.
Bottled True Blood Tasty Drink - The Sookie Stackhouse Southern Vampire Series - True Blood (HBO) - would go nicely with the bloody syringe pens I saw at a science fiction convention once, but I can't find them anymore. I also wonder how badly this stuff tastes.
Rex plush toy, from the UK series "Primeval" - there's another one that's remote controlled that flies. Plus, "Primeval" is coming back for another season of fun. I'm looking forward to it.
Then there are the strange sex toys, like the incubus dildo. Very strange-looking thing that looks like a creature from the nightmares of M. C. Escher and H. R. Giger.
Speaking of H. R. Giger, how about the alien lover dildo? This baby also glows in the dark. I own this one and reviewed it. Read my review here.
Not to be outdone, there's the Area 51 Love Doll, complete with three tits.
G. I. Jock Army Kit: I swear I'm not making this up. From the description: "A sexy playful collection of toys and accessories with a military theme. Includes a camouflage jackstrap, a multi-speed vibrating camo egg, a grenade textured jelly sleeve, and a large missile shaped jelly plug that can be used with or without vibrations. Collection includes a large pillow of Powerman Lube. 2 AA batteries."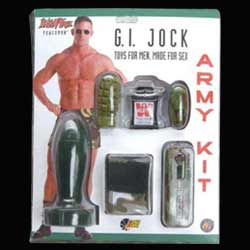 So there you have it. All the geeky stuff you could possibly want to round out your Christmas gifts you didn't get from your friends and family. And who wouldn't want to wow people with a Star Trek pizza cutter and bottle opener? LOL
Posted on December 23, 2010 at 07:20 AM | Permalink | Comments (1) | TrackBack
December 19, 2010
Eggnog Recipes By Famous TV Chefs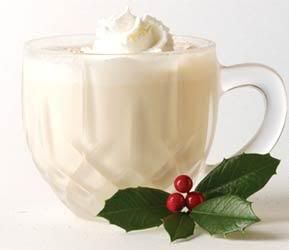 I saw this joke by Prank Call of Cthulhu on FARK and I had to share it with everyone. It's eggnog recipes by famous TV chefs. Perfect for the holiday season! Enjoy!
Famous TV Chef Eggnog Recipes
Bobby Flay eggnog: mix eggs, cream, sugar, and rum, then throw it on the grill and garnish with mango chutney.
Sandra Lee eggnog: Pour one tablespoon of store-bought eggnog into an 8-oz glass. Swish it around to coat the glass, pour out excess. Fill the remainder of the glass with vodka and serve.
Alton Brown eggnog: Build a ridiculously complicated frothing machine out of dry ice, twenty feet of rubber tubing, a colander, and a garden hose nozzle, then follow a twenty-step process and deliver a five minute rant about why an egg separator is a useless "unitasker."
Rachel Ray eggnog: The addition of a little EVOO to a traditional eggnog recipe is YUM-O!!!
Gordon Ramsay eggnog: IS THAT HOW YOU BEAT A F*****G EGG? I CANNOT BELIEVE THIS! WHAT IS WRONG WITH YOU, YOU F*****G DONKEY? GET OUT!!! GET THE F**K OUT OF MY KITCHEN YOU F*****G C**T!!!!
Paula Dean eggnog: Combine eggs, butter, whole cream, butter, sugar, butter, rum, butter, and more butter. Whip. Serve with a side of defibrillator.

Posted on December 19, 2010 at 02:37 PM | Permalink | Comments (3) | TrackBack
September 30, 2010
New Erotic Story: Lust And Red Velvet
I wrote 1,325 words in LUST AND RED VELVET today. The red velvet refers to red velvet cake. This is a magical baking story with a twist of love.
Here's a sample of my work in progress:
Maeve reached into her Ziploc bag and grabbed a handful of Coccinella Erosrosa, or the "Red Love Beetle" that she had collected from her garden late the night before, when they rested after a long day of mating. According to folklore local to Norwich, on the northeast coast of Massachusetts next to the Atlantic, this beetle, which emerged from the ground after a long sleep only every twenty years, could inflame the heat of passion in any man or woman. This year, they awakened with a vengeance. Their mating cry was so deafening that they drowned out any other sounds in the vicinity. They did what they emerged from the ground to do – sing their mating call, pair up with other beetles, create their young, and then drop to the ground, dead from the over-exertion of their passions. The young would spend the summer maturing, and then burrow into the earth, not to emerge for another twenty years.

A mere sprinkling of dried and toasted Coccinella Erosrosa could arouse even the most impotent of men, but Maeve did not want to take any chances. She measured out a heaping tablespoon of the beetles, which she had dried and toasted in her oven early this morning, and dropped them into the mortar her mother had given her on her wedding day.
This is going to be a very sensuous story. I'll keep providing updates as I write it.

Posted on September 30, 2010 at 02:39 PM | Permalink | Comments (0) | TrackBack
Malasadas A La Hawaii Five-0
My husband and I are hooked on Hawaii Five-0. I like Alex O'Laughlin and especially Daniel Dae Kim who is absolutely gorgeous. This episode included Dano coming in with a bag of malasadas which are Portuguese donuts. My husband grew up in Hawaii and he used to eat these delights by the bagful. He went to Leonard's Bakery to get them so here is Chef Leonard Rego's recipe for malasadas".
Ingredients
2 teaspoon dry active yeast
1/4 cup warm water
1 tablespoon sugar plus 1/3 cup sugar
2/3 cup milk
1 teaspoon vanilla extract
4 eggs, well beaten
1/2 cup unsalted butter, melted
4 cups all-purpose flour
1/2 teaspoon salt
2 teaspoons freshly grated nutmeg
Vegetable oil, for frying
Cinnamon-sugar for coating (about 1/4 cup sugar mixed with cinnamon to taste)
Directions
In a medium bowl, combine the yeast with 1/4 cup lukewarm water and 1 tablespoon of sugar. Mix until the yeast dissolves then set aside for 5 minutes. Stir in the milk, vanilla, eggs, and butter and reserve.
In a large bowl, mix the flour with 11/3 cup sugar, salt, and nutmeg. Make a well in the center of the dry ingredients. Pour the yeast and milk mixture into the well. Mix the wet ingredients into the dry, forming a soft, smooth dough. Cover the dough with a clean towel and set aside to rise in a warm place until dough doubles in size, about 1 hour.
Punch the dough down, then with oiled fingers, pinch off pieces about the size golf balls. Place the dough balls on greased baking sheets. Cover the malasadas with a clean towel and set aside to rise in a warm place for about 15 minutes.
In a heavy, high-sided pot, heat a bout 2 inches of oil over medium-high until the oil reaches 325 degrees F. Working in small batches, fry the malasadas until they are uniformly golden brown, 7 to 10 minutes per batch. Drain the malasadas on a plate lined with paper towels just until they are cool enough to handle then roll them in cinnamon sugar and serve.

Posted on September 30, 2010 at 12:42 PM | Permalink | Comments (0) | TrackBack
September 21, 2010
Madeleine Recipe
I now own a madeleine pan! A new friend of mine, his wife, and daughter knew I was trying to find one and lo and behold! They stumbled upon one near their home and bought it for me! I am so touched. These people adopted me as their new daughter and it sure feels good. I put away the dildo writing for the weekend and made these delicious butter cookies. I made chocolate-dipped orange madeleines with the madeleine pan. Next up: chocolate-dipped almond madeleines and traditional madeleines per Julia Child's recipe. Here's the recipe for chocolate-dipped orange madeleines.
Chocolate-Dipped Orange Madeleines
1/2 cup (1 stick) butter
1 cup all-purpose flour
1/2 tspn baking powder
A pinch of salt
3 large eggs
3/4 cup granulated sugar
2 tsp vanilla essence
1 tbsp freshly squeezed orange juice
1 tbsp grated orange zest
2 bars (1.5 ounces each) Godiva Dark Chocolate - coarsely chopped
Madeleine Pans (you can buy one online here)
Instructions
Heat butter in small heavy saucepan over medium heat just until very light golden brown and fragrant, about 5 minutes. Remove from heat and cool to room temperature.
Mix together the flour, baking powder and salt. Beat eggs and sugar in a large bowl with a hand blender until tripled in volume. Lower speed to medium and beat in the vanilla, orange juice and orange zest. Fold in flour mixture a little (1/3rd) at a time. Finally fold in the cooled butter. Cover and refrigerate for 30 minutes or until slightly firm.
Preheat oven to 375?F. Apply butter or non-stick cooking spray to two 12-mold madeleine pans and dust them with flour. Drop a generous spoonful or two of batter into center of each prepared mold, leaving the batter mounded in the center. Bake for 12 to 15 minutes or until edges are golden brown and centers spring back when lightly touched.
Remove the pans from oven and tap them sharply against a countertop to release the madeleines, then leave them to cool on wire racks.
Place chocolate in small microwave-safe cup. Microwave on medium (50% power) for 1 minute or a little more, stirring every 30 seconds, until chocolate has almost melted. Whisk a little to make it smooth. Do NOT overheat.
Dip each madeleine into melted chocolate, coating bottom third part of the cookie. Shake off excess chocolate and place on a baking sheet lined with wax paper. Repeat for all the cookies and leave at room temperature for 1 hour or until chocolate is set.
Posted on September 21, 2010 at 12:03 PM | Permalink | Comments (0) | TrackBack
July 09, 2010
Lick It. Suck It. Eat It.
I see you there, your mind in the gutter.

I don't think it's an accident that gluttony is a Deadly Sin. So it lust, which I think is closely related to gluttony. My two favorite vices! I have a thing for unusual food, although a Double Down will never cross my lips. I mean, there's food and there's sludge. I do have my limits. Ha! Did you know that you can get a Twinkie Log at the Iowa State Fair? That sounds good. It's a frozen Twinkie on a stick, dipped in white chocolate and rolled in cashews. Yum! There's also an artery-buster called the Bacon Explosion (also known as "The Fatty") that my husband made for us once. It's sausage wrapped in bacon arranged like a basket weave, and all of it slathered in BBQ sauce. Then you smoke it. I think you can bake it but ideally it must be smoked. It tastes to me like breakfast food.
My point in describing all this food in nauseating detail is that in reading about them I realized that food plays a very important part in my fiction. Although I have never used cucumbers as dildos I do see the eroticism in food. Eating is a very erotic act and it can be very sexy to write about enjoying a savory meal in an erotic story. Here is an excerpt from my short lesbian story "Lost In Her Mouth" from my anthology "Tales Of Lust And Longing".
What would it be like to get lost in Amelia's mouth? The cherry popsicle she sucked turned her swollen lips bright red as if they'd become flush with blood. The way she wrapped her long pink tongue around the melting ice made me cream my panties. In this sweltering July heat, I was melting for Amelia.

Wearing her long, dark brown hair in a pile on top of her head because of the heat, she slid her tongue against that cherry popsicle the way I wanted her to suck on me. With a look of desire, she gazed at my face with her deep-set hazel eyes, no doubt feeling me out to see just how far she could go with her little game. Little did she know that I intended on making sure she followed through with every unspoken lusty promise.
I also have another culinary delight in another lesbian short story, "Neighbors" published in the "Vamps" anthology by Torquere Press.
Dinner was at a locally-owned seafood and steak joint. Annie ordered a sensible Caesar salad and a lean rib-eye steak. Baked potato on the side. Sour cream and chives. Hold the butter. Diet cola. Predictable and steadfast Annie always ate the same thing whenever she ate out.

Charlotte and Lina, however, turned the meal into a bacchanal. Both of them gorged on hors d'oevres. Steamed mussels soaked in their juices. Raw oysters glistened, slick and swollen. The mollusks looked like bowls full of aroused women flashing their tiny pussies at Annie, whispering promises from their puckered lips.

The women asked Annie if she wanted to order some shrimp or some calimari or a slice of pie. Apparently the lemon meringue pie was, to use Charlotte's description, "lethal." She declined. However, that didn't stop them from plying her with a clam here, a mussel there, several slices of lobster, including one claw.

Charlotte picked up a sliver of lobster, and slid it slowly into Annie's mouth. She inserted her index and middle fingers with the meat, careful not to stab Annie with her long nails. Is this how Charlotte would treat her pussy? Soft and gentle, probing every inch of tender flesh. Fingers moving slowly. In and out. Annie wrapped her tongue around Charlotte's finger, and sucked the butter from her skin. Salt tickled her tongue and coated the walls of her mouth. Lina brushed a finger against Annie's cheek, catching a drop of butter before it dribbled down her chin. She lapped the prize from her finger like a kitten nuzzling its mother's milk.
My work in progress "Don't Call Me 'Baby'" has a few sexy eating scenes. I find the act of eating and enjoying food with every one of your senses a very sensuous act that affects all around me when I really get into eating. What do you think? Have you ever read fiction that turned the mere act of chowing down into a baccanal?

Posted on July 9, 2010 at 12:28 PM | Permalink | Comments (0) | TrackBack
July 01, 2010
Recipe: Creme Brulee
My son is coming up today to spend the summer with us, and I'm going to make one of his favorite desserts, creme brulee. Gotta put away all the dildos before he arrives. LOL!

Alton Brown is God. This creme brulee recipe is one of his, and it's fabulous.
1 quart heavy cream
1 vanilla bean, split and scraped
1 cup vanilla sugar, divided
6 large egg yolks
2 quarts hot water
Preheat the oven to 325 degrees F.
Place the cream, vanilla bean and its pulp into a medium saucepan set over medium-high heat and bring to a boil. Remove from the heat, cover and allow to sit for 15 minutes. Remove the vanilla bean and reserve for another use.
In a medium bowl, whisk together 1/2 cup sugar and the egg yolks until well blended and it just starts to lighten in color. Add the cream a little at a time, stirring continually. Pour the liquid into 6 (7 to 8-ounce) ramekins. Place the ramekins into a large cake pan or roasting pan. Pour enough hot water into the pan to come halfway up the sides of the ramekins. Bake just until the creme brulee is set, but still trembling in the center, approximately 40 to 45 minutes. Remove the ramekins from the roasting pan and refrigerate for at least 2 hours and up to 3 days.
Remove the creme brulee from the refrigerator for at least 30 minutes prior to browning the sugar on top. Divide the remaining 1/2 cup vanilla sugar equally among the 6 dishes and spread evenly on top. Using a torch, melt the sugar and form a crispy top. Allow the creme brulee to sit for at least 5 minutes before serving.

Posted on July 1, 2010 at 12:40 PM | Permalink | Comments (0) | TrackBack
May 21, 2010
I Bet Nick Cage Won't Eat A Preying Mantis
So actor/rabblerouser Nicholas Cage will only eat animals that have, in his opinion, "dignified" sex. He won't eat pork because he doesn't like the way pigs do The Nasty. Instead, he munches on chicken and fish. I don't know whether he's serious or if he's pulling reporter's legs but I thought it would be fun to write about animals sex lives anyway.
I can't speak for chickens, but ever see how fish get it on? The female lays her eggs and then the male shoots his sperm into the water, fertilizing the eggs. So when it's spawning season water is chock full of clouds of sperm. I suppose that could be considered dignified.
I bet Nick Cage won't eat a preying mantis. Females eat males after they copulate but only if they are hungry. We had preying mantids in our leafy canopy at our old house in Maryland. I remember the female and the smaller male. One day, I noticed that the male was missing his head! Holy shit, they must have copulated and she ate him! It was the creepiest thing to see since the male wasn't dead yet. It wandered around the canopy missing its head. Took the sucker five days to die. I hope I never see a preying mantis ever again.
I bet Nick Cage won't eat dog, considering that there is now a sex toy for dogs called Hotdoll. The picture below doesn't look particularly dignified to me.
Here are some strange animal sex habits. I doubt any of these critters will end up on Nick Cage's dinner plate.
Honey bees: The male's genitals pop off and get caught inside the Queen when mating. The snapped off penis acts as a plug, preventing other males from copulating with Her Highness. I guess this means Nick Cage won't put honey in his tea, unless he finds losing the Crown Jewels to be dignified.
Bonobos: Bonobos use sex for EVERYTHING! They "use sex as greetings, a mean of solving disputes, making up for fights, and as a favors in exchange for food. They tongue kiss, engage in oral sex, mutual masturbations, have face-to-face genital sex and even have a strange "penis fencing" ritual!"
Red-Sided Garter Snake: One female emerges from hibernation. She releases a pheromone that drives male red-sided garter snakes into an erotic frenzy. Then... ORGY!!! Bonus points - male red-sided garter snakes have two penises. I hear snake tastes like chicken so maybe eating snake isn't much of a stretch for Nick Cage.
Dolphins: Male dolphins have retractable penises. And they're prehensile. They even swivel! I hope Nick Cage eats dolphin-safe tuna.
Anyway, there are many more bizarre examples of animal sex at that link so head on over and get an education. Some of these animals do things that sound like something you see in a science fiction movie.
Posted on May 21, 2010 at 10:41 AM | Permalink | Comments (0) | TrackBack
May 04, 2010
Celery Is An Aphrodisiac?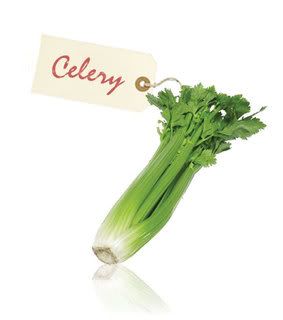 Celery as an aphrodisiac is new to me. I can't stand celery. I do like it in soups, but only if it's wrapped in cheesecloth and removed once cooked. When it's cooked in soup and not removed, it's gooey and gross. I like the taste, but not the vegetable.
Apparently, celery is an aphrodisiac, according to this article. The article stated that "a cluster of celery stems was traditionally hung above the bed of newlyweds on the first marital night. The plant was believed to act as a powerful erotic stimulant."
Learn something new every day.
It named different foods, many of which I expected to see, such as chocolate and ginseng. Some essential oils that enhance an erotic mood were also mentioned. Those oils include bergamot, rose, and sandlewood. Sandlewood has long been known as an oil of love and lust. Bergamot is in one of my favorite teas, Earl Grey. Does that make Earl Grey tea an aphrodisiac?
I never was one to get into sandlewood because that was a '70s pot-smoking scent for me. Voudou practitioners like it because it arouses lust. So, I bought some sandlewood oil from a voudou shop, and lo and behold! I've been getting more backrubs and French kisses lately.
I used to drink powdered ginseng root tea when I was a kid. It was strange, but I liked it. I was not a horny teenager, either. I just liked trying newfangled things that weren't the kind of thing you'd normally see in my conservative Catholic neighborhood. My parents never knew what to make of me.
As far as I'm concerned, a good shellfish dinner and a great mood are the best aphrodisiacs. You have to watch the alcohol. While it does reduce inhibitions, when you overimbibe, you may lessen your sex drive because alcohol deadens it. Stick to good food and tasty, delectible snacks. Cheese is mentioned as an aphrodisiac, and I can appreciate a great cheese. Pate served with good cheese in my mind is very sexy. A duck pate with truffles served with a heady Gorgonzola cheese sounds like Heaven to me! It's not just the taste - it's the smell. I love the smell of cheeses like Gorgonzola and Stilton. Serve them with a good port (not too much though), or a few glasses of iced Earl Grey tea, and I'm ready for some hot sexy action!
How about you? What food and drink turn you on in bed? Strawberries and cream? Cheese and pate? Do tell!
Posted on May 4, 2010 at 10:21 AM | Permalink | Comments (0) | TrackBack