March 23, 2017
Next On Into The Abyss With Elizabeth Black - Horror Writer Tom Deady
Tonight Thurs March 23 at 8 PM EST on Into The Abyss With Elizabeth Black: my guest is horror writer Tom Deady, author of "Haven". Listen in!
http://www.blogtalkradio.com/worldofinknetwork/2017/03/24/into-the-abyss-with-elizabeth-black--tom-deady
Posted on March 23, 2017 at 05:45 PM | Permalink | Comments (2)
March 24, 2016
Virtual Reality (VR) Porn - An Introduction To VR At PornHub
Virtual Reality (VR) is the dream of the future from far in our past. You've seen it nearly 30 years ago in Star Trek: The Next Generation when the Enterprise crew enjoyed their hours off in the holodeck. Arnold Schwarzenegger starred in the hit movie Total Recall, which was about a man who longed for a VR vacation on Mars only to be drawn into an unfortunate series of events that took him to the red planet for real – or did it?
VR has long been popular in games. Characters in the hit game The Sims can blow a lot of bucks buying a VR system where they can imagine riding a horse and petting the same as if that animal stood right in front of them. Second Life may be viewed to some extent as Virtual Reality in that it creates a make-believe community. Entering a make-believe world is very appealing to many people, and games have explored avenues to make those worlds as real as possible for decades. So, because of games and movies, VR is nothing new.
It's also not new in fiction. Ray Bradbury explored VR in his short story The Veldt, which appears in his anthology The Illustrated Man. In 2015, I wrote a short erotic romance story called Longing. This story appears in the charity anthology Coming Together: Among The Stars. It's takes place in the future. My main character's husband suffers from dementia, and she has uploaded his personality onto a "cloud" similar to the database by the same name that exists today. She did this so she could remember him as she loved him in light of his steadily increasing debilitation. He barely remembers her now due to his disease. When she wants to reminisce about their past, she puts on the headpiece and takes an i. v. of drugs that enhances her experience. There is no need for earphones since the device taps directly into the brain. The problem is a problem common to some forms of artificial intelligence – what if she soon prefers her fantasy husband to her real one? Although she uploaded from his memory, her own memories, fantasies and wishes are also part of the A. I. Is her fantasy husband a better man than her real husband has ever been? Her fantasy calls her by nicknames and does things for her her real husband never did but she wished he did. Where does the fantasy VR end and reality begin?
Porn has now discovered VR. Porn has long been known to be a technological trend-setter. Rumors abound that it was porn that paved the way for the use of VHS over Betamax. The same applies to BluRay over DVD HD. Porn chose the format and those formats became popular in the general population. Since porn has developed a love for VR, could it become more popular in the mainstream in addition to its existing popularity in games and movies? Robert Weiss, senior vice president of Clinical Development at Elements Behavioural Health said, "Do you remember the 1980s, when people got off on old-fashioned phone sex? In the 1990s we got BBS systems, email, AOL, and text chat rooms. In the 2000s we got webcams and texting/sexting, etc. Future robotic tech advances to the point where people are sexual with and even fall in love with robots is not so far off, so at some point we may not even need real people."
Intrigued? Get your head gear now and head over to the Virtual Reality page at PornHub. You have about two dozen VR porn videos to choose from, including m/f strap on, cock sucking, f/m/f blow job, f/f strap on, and female masturbation while you watch. Each video is approximately six minutes long – plenty of time to get off. Visual cues are a fun and effective way to enjoy your porn. The women are slim and attractive. Blonde, brunette, you enjoy the woman you want. And there are a number to choose from. They are there to please you, oh futuristic man (or woman) wearing that headpiece.
You'll need the proper equipment if you want to play with VR porn. First, you need a high quality headpiece and headphones. You'd might as well go top-of-the-line and buy Oculus Rift headgear, even though it costs several hundred dollars. The cost is worth it for the full and enjoyable VR experience. Other headsets that cost considerably less money are Samsung Gear VT and Google Cardboard. Cardboard costs a minimum of $15.00 so if you are unsure, it's not a bad start. But once you give VR a try, you'll want to get that Oculus Rift.
VR in porn is so realistic you may want to get up out of your seat and wander about the room that exists in your headset. In most of the movies, you are seated in a chair and the action happens around you. You see your arms, torso and legs as if you're looking at them in the first person point of view. Swing your head 180 degrees in either direction and you will see what is around you in the VR room. You may even look overhead to see a ceiling. Don't look too far in any direction, though, because you'll see black. The vision goes only as far as 180 degrees. 360 degree VR porn does exist. You just have to look for it.
As you relax with curiosity in your chair, a woman or man approaches you in various stages of undress and when that person straddles your legs, you may reach out to brush your hands against their bodies only to feel air. In one article I read, a woman looking around the VR room wanted to get up, go to the bar she saw, and pour herself a drink. That's how real it looks. It's so real some people even experience motion sickness. If you don't like those hand-held camera movies like The Blair Witch Project or Cloverfield because they give you a scorching case of vertigo, take some Dramamine before you play with VR porn. Leonor LaPlaza, relations manager of Virtual Real Porn said, "Watching an adult film in VR makes you to feel like you are inside the film. You can move your head to look whatever you want, and with our stereoscopic 3D technology, you can feel how the actors come close to your face, whispering in your ears like they were really there."
You may even gender bend. If you're a woman, choose a movie with a man as the central focus so you may "experience" what it's like for a man when a woman goes down on him. Or when she shoves her breasts in his face for him to suck. The same applies to men. He may vicariously discover what it feels like to have breasts pinched and squeezed. Or to be entered by an erect cock. Sascha Segan wrote about VR porn, "I have abs. There's also a naked woman writhing on me, but honestly, I'm equally surprised I have abs." It's a crazy experience to switch genders when playing with VR porn. Try it. You'll probably like it. You might even become aroused at the mere idea of pretending to be the opposite sex and getting some of that sexy action.
VR is not out to replace human physical contact. It only provides an additional experience to enjoy, especially if you like video porn. Sascha Segan wrote, "A few days ago, Las Vegas brothel Sheri's Ranch sent out a sort of anti-VR porn press release, reminding folks that sex is better when it's interactive and involves real human connection. They're right, of course. But I don't think VR porn is competing with actual sex; it's competing with "ordinary" video porn, and the difference is huge." While VR porn is hot and different, it has disadvantages. First, you need to spend money on the proper equipment. Second, it's a bit more trouble to set up than watching plain old video or online porn. It's harder to hide your porn habit using VR equipment than it would be to just press a button on a computer keyboard when the kids come into your office unannounced while you're enjoying The Best Of Three Way Gang Bang. Then there is the motion sickness some people experience. It may also be viewed as a novel experience that you take on just to say you did it. On the other hand, VR is a fun and not-so-new way to engage your own fantasies, whether or not they are porn. Porn is only the latest genre to discover the joys and excitement of VR.
Head over to the Virtual Reality page at PornHub and enjoy VR whether it's your first time or your hundredth time. Check out the video below for more information about VR at PornHub. It's a fun way to get your rocks off. Immerse yourself in your surroundings and lose yourself in the wave of the future.
Posted on March 24, 2016 at 12:56 PM | Permalink | Comments (1)
February 19, 2016
Review: Tube8 and Tube8 Live
Tube8 is a porn site with much to offer. It's actually two sites packed into one. Tube8 Live also a part of this web site. The company logo of the 8 ball is perfect since you want to shoot your ball into a corner pocket. No matter your kink or fetish, you'll find what you need on this web site. When you first go to the site you'll find the day's featured porn videos. When I visited, I saw videos of a fantasy glory hole, a Hawaiian woman masturbating with a dildo, a f/m/f three way, a f/f/f three way – several three ways, in fact – interracial, and lots of straight fucking. You won't be disappointed since the variety is very broad.
The newest videos are below the featured videos. It's best to level up and buy a membership so you don't have to deal with the videos buffering and you may take advantage of all the goodies Tube8 has to offer.
Video quality is high. Many of the videos are in HD and are labeled that way. They also include a time on the lower right corner to let you know how long the video lasts. There are no shadows to see through or out-of-focus shots. The men and women are well-lit and good-looking. The women wear sexy, pretty lingerie that doesn't stay on long. Makeup isn't overdone. Everyone looks real and natural. Sets are clean and sparse so you focus on the actors. The music is soft and perfect for the background. It's not the laughable bow-chicka-bow-bow music so common in porn movies of the past.
I watched Moms Teach Sex and it was sexy, cute, and naturally acted. I loved the storyline with the guy hiding in the closet to stay out of his woman's way but he was spying on the woman in the bed. He was sexy, cute, and very funny. A winning combination. The women were very attractive and thrilled to be there. Another winning combination. The acting wasn't at all stilted and they looked like they were enjoying themselves.
The categories are so varied you won't know where to begin. Pick any category and you'll be pleased at what you find. Categories run the range from Amateur to Tranny. I looked at my favorites: Big Tits, Brunette, Couple, Lesbian, MILF, and Redhead. Big Tits, for example, had scads videos of nubile young and gorgeous women to watch, and they were of all body types, ages, and races. Natural and silicone love bags, all for the grabbing. A list of popular categories runs across the top of the page: amateur, anal, Asian, blowjob, ebony, erotic, fetish, hardcore, HD, Indian, Latina, lesbian, mature, strip, and teen.
When you click on a category, click on any topic on the right. This is Tube8 Live. You'll find what you need in that topic on the page. The list to the left lists the types of videos. They are divided by girls and guys so the ladies and gay men may also enjoy themselves. Popular categories under girls are Anal Sex, Blonde, Co-Eds, Feet Fetish, Housewives, Latina, Medium Tits, Petite Body, Shaved Pussy, Small Tits, Smoking, White Girls, and the number one on the site – Toys. While there aren't as many visits or selections under guys, what is there is top notch. Choose between uncut, non-nude, muscle, frat boys, gay, big cock, bears, all guys cams, athletic, and more.
You won't run out of material to watch. There are a whopping 4,400 pages of videos to go through. You'll be a shriveled up old carcass before you get through them all. There are also thousands of tags listed in alphabetic order. You can go by a woman's name or by category, country, nationality, and much more.
Let's say you enjoy the videos and they really get you off. But you want more. You want actual contact, whether physical or web-based. You can get both at Tube8. To get to Tube8 Live, click on the "category" tag on the main page. On the new page, you'll see Tube8 Live in a column to the right. Head to Tube8 Live to watch real-time videos of women strutting their stuff and undressing and sexing themselves up just for your benefit. Additional pages reveal more detailed categories. There is a search feature at the top so you may find what you want quickly and without fuss.
If you click on Meet & Fuck, you get exactly that. Of course, you need an account to do this. So what are you waiting for? Get your account now!
This site is easy to navigate and you will easily find whatever your heart desires, no matter what it is or how obscure you think your kink may be. Tube8 is part of the Pornhub Network, which promotes very high quality porn sites. It so arousing and satisfying you'll want to stay day and night.

Posted on February 19, 2016 at 01:41 PM | Permalink | Comments (0)
March 24, 2011
Come To My New Blog And Web Site!
I have a new blog and web site, and I'm inviting everyone to it. This blog/web site focuses on my erotic writing. I will continue to post sex toys reviews on this blog. So, if you want to keep up with me, visit me at my new digs.
Elizabeth Black - Blog and Web site
See you there!
Lizzie
Posted on March 24, 2011 at 12:28 PM | Permalink | Comments (11) | TrackBack
February 15, 2011
Man Candy Tuesday #6 - Theme: Pirates!
It's that time again - Man Candy Tuesday! In honor of the hot men who appear every Monday on "Hawaii Five-0", I've dedicated Tuesdays to the most mouth-watering man candy out there. Enjoy!
This week's theme is pirates! I wrote two sex toys reviews with a pirate theme because the toys were promos from the porn movies "Pirates" and "Pirates 2: Stagnetti's Revenge". Check out the reviews below:
Babeland Review: Slimline Pirates Rocket Vibrator
Babeland Review: Pirates Pleasure Ring
Below are some sexy pirates for your enjoyment, including female pirates!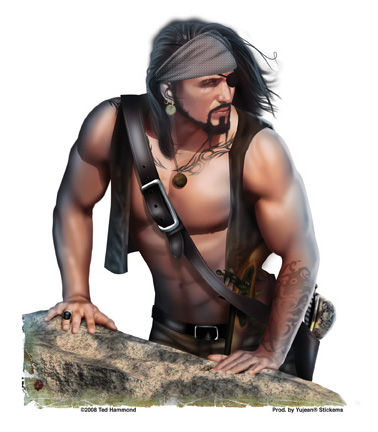 I just watched Tyrone Power in "The Black Swan", a pirate movie. I watched it as research for a pirate-themed erotic romance I'm going to write.
And of course, every woman's favorite sexy pirate...
Posted on February 15, 2011 at 10:30 AM | Permalink | Comments (4) | TrackBack
February 10, 2011
Great Mom Movies
Just came across this list of great movies about moms. How many have you seen? I'm listing movies that may appeal to kids. Many of these movies would appeal to boys, too.
--------------
Not Without My Daughter (Sally Field rescues her kid)
Changeling (Angelina Jolie fights to find her real son)
Mask (Cher is biker single mom defending her son)
Forest Gump (mother is beloved and father is absent)
Taken From Me: The Tiffany Rubin Story (mother rescues son kidnapped by father and taken to South Korea; based on a true story)
Alien and sequel Aliens (ultimate strong woman, boys love movies)
Crouching Tiger, Hidden Dragon (strong women)
Fargo (hysterically funny Coen Brothers)
Erin Brockovich (mother isn't the point but good movie, strong mother)
Lara Croft: Tomb Raider (a strong woman doesn't need man, boys love movie)
Kindergarten Cop (Arnold Schwartzenegger cute movie, kids like; mother is secondary character but the bad guy is the father)
Norma Rae (strong woman, organizes labor union)
All About My Mother (Spanish film, deep shit, kid dies, older teen only)
The Terminator movies, Terminator 2 (mother is hero and boys love the movie)
Mrs. Miniver (black and white, kids might not really be into it)
Mildred Pierce (black/white Joan Crawford classic)
Terms Of Endearment (imperfect mom movie)
Chocolat (maybe, shows mother's efforts, but good movie)
The Ring (Japanese original - mother rescues child. Horror movie. Older children only.)
Dark Water (Japanese original - mother rescues child. Mother dies in end. Horror movie. Older children only.)
Autobiography of Miss Jane Pittman (history lesson too)
The Girl with the Dragon Tattoo and 2 sequels (warning very explicit sex and violence; mother is victim and daughter is hero, sex trafficking theme, bi-sexualism, subtitled)
---
I'll even name one good dad movie: "The Host". (Korean. Dad saves child but child dies in end. Monster movie. Kids, especially boys, will love it.)

Posted on February 10, 2011 at 05:31 AM | Permalink | Comments (2) | TrackBack
January 11, 2011
Man Candy Tuesday!
We're going to watch "Hawaii Five-0" shortly, so that means it's time for Man Candy Tuesday! "Hawaii Five-0" is my weekly guilty pleasure that I watch for the well-written plots sexy male bodies that cross the screen including Daniel Dae Kim, Alex O'Loughlin, Scott Caan, and especially Mark Dacascos. So how about some other sexy men to make your pupils dilate? Get out that edible underwear ladies and put it to good use!
Here's Boris Kodjoe, of the recently cancelled "Undercovers". This was a fun little show that reminded me of "Mr. and Mrs. Smith", but it just didn't have the oomph to keep it going for several seasons. But it did have Boris Kodjoe, who is sexy as hell. It also had Gugu Mbatha-Raw, who is also quite fetching.
Here's Boris. Isn't he delicious? I'm keeping an eye on the Internet Movie Database in case he appears in something else in the near future.
And here's Gugu. Isn't she gorgeous?
"Undercovers" - two sexy people who were fun to watch.
Gotta have at least one picture of Mark Dacascos.
And two of him with long hair. I love long hair on men!
We're huge fans of "The Mentalist" in no small part because of Tim Kang as Cho. I've seen him smile, and that looks very strange to me. I prefer him with a scowl on his face when he's doing his best "Dragnet" cop impression. Here is a head shot of him looking introspective.
Sarah Masters had to post pictures of Jason Statham in her post about man bellies on the Four Strong Women blog, so I must follow suit.
And I'll end this post with a very intense head shot of one of my favorite sexy actors, Jason Isaacs. Get a load of those gorgeous blue eyes! I just finished watching "Brotherhood", a Showtime series where Isaacs plays yet another thug. He's really something. I read he's an absolute sweetheart in real life. Not a malicious bone in his body. A far cry from Lucius Malfoy.
Enjoy Man Candy Tuesday and come back next week for more sexy flesh.
Posted on January 11, 2011 at 02:25 PM | Permalink | Comments (10) | TrackBack
December 23, 2010
Geeky Christmas Gifts
Not sure what to get for the geek who has everything? How about one of these delightful presents? There's everything from Star Trek gack to strange sex toys. Yours for the having!
Star Trek Pizza Cutter - for the Trekkie with everything.
Star Trek Bottle Opener - for the Trekkie with everything plus the Star Trek Pizza Cutter but without the Bottle Opener.
Harry Potter - Hermione's Time Turner - sadly, it doesn't actually work so you can't go back in time and fix things you've royally screwed up.
The 11 Doctors Complete Set Of Action Figures - who are your favorite Doctors? I like Eccleston, Tennant, and Pertwee. And this set of action figures rocks!
Tardis wardrobe Go to the link to see a picture. It's beyond tacky but fun. I've also seen a Tardis CD/DVD case but I can't find that one anywhere.
Bottled True Blood Tasty Drink - The Sookie Stackhouse Southern Vampire Series - True Blood (HBO) - would go nicely with the bloody syringe pens I saw at a science fiction convention once, but I can't find them anymore. I also wonder how badly this stuff tastes.
Rex plush toy, from the UK series "Primeval" - there's another one that's remote controlled that flies. Plus, "Primeval" is coming back for another season of fun. I'm looking forward to it.
Then there are the strange sex toys, like the incubus dildo. Very strange-looking thing that looks like a creature from the nightmares of M. C. Escher and H. R. Giger.
Speaking of H. R. Giger, how about the alien lover dildo? This baby also glows in the dark. I own this one and reviewed it. Read my review here.
Not to be outdone, there's the Area 51 Love Doll, complete with three tits.
G. I. Jock Army Kit: I swear I'm not making this up. From the description: "A sexy playful collection of toys and accessories with a military theme. Includes a camouflage jackstrap, a multi-speed vibrating camo egg, a grenade textured jelly sleeve, and a large missile shaped jelly plug that can be used with or without vibrations. Collection includes a large pillow of Powerman Lube. 2 AA batteries."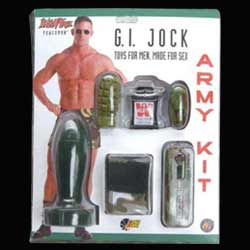 So there you have it. All the geeky stuff you could possibly want to round out your Christmas gifts you didn't get from your friends and family. And who wouldn't want to wow people with a Star Trek pizza cutter and bottle opener? LOL
Posted on December 23, 2010 at 07:20 AM | Permalink | Comments (1) | TrackBack
Alien Lover Dildo - Review
I love having a six-inch silicone dildo called the Alien Lover, which is perfect to use while watching really bad movies on the Sci Fi Channel. I've seen "Dark Breed", "The Arrival", and "Infected", all of which are awful alien movies. Isabella Rossellini stars in the last one, which is a step down for her. Then again, it also stars Judd Nelson, and that's a step up for him. So watching really bad alien movies while playing with the Alien Lover dildo is a perfect combination.
The Alien Lover looks like it was designed by H. R. Giger, the Swiss artist who designed the alien and set for the movie "Alien". This dildo has ribs that look like gills on each side of the shaft. It also has four nubs in the shape of a face that just so happen to rub just the right way on my clit. Curious, I pulled out the Alien Lover, turned it around, and reinserted it. I loved the way it felt as the nubs on the "face" rubbed the back of my vagina. It felt best if I kept it close to the edge and pulled it out a little bit. My inner lips are very sensitive, and the Alien Lover satisfied me in all sorts of positions. Made of silicone, this dildo is very flexible while being tough and sturdy at the same time. It can take a beating, although I promise to be gentle with it.
Here is the best part of all - it glows in the dark!!!!
I love glow in the dark stuff! I have an alien head candle around here somewhere that glows in the dark. I used to wear glow in the dark nail polish until I wore it once to a movie theater, and you could see my fingers moving when I ate the popcorn. That was amusing.
I used some lube on the dildo to make sure it went in smoothly. It sure feels good! If you hold it up to the light and then insert it, but no one is inside your pussy to see your Alien Lover, does it still glow in the dark?
I clenched around it and I felt it give but it was solid at the same time. My two favorite materials are silicone and jelly, so my Alien Lover felt just right. I especially liked pulling it forward so that it rubbed against my G-spot. That felt like Heaven.
The Alien Lover is flared at the base, so it can be used for anal sex, but I prefer it for vaginal use. I like to use more slender dildos and vibrators for anal sex, and the Alien Lover struck me as a bit too thick for my personal taste. I bet it would make an anal sex lover very happy though!
So my husband now has competition. I have an Alien Lover. Ha! At least I know this Alien Lover won't impregnate me with hundreds of maggoty alien spawn like I see in these really awful movies. This Alien Lover treats me very well. Plus there's the added benefit that I won't lose it in the dark.
Posted on December 23, 2010 at 07:14 AM | Permalink | Comments (0) | TrackBack
December 10, 2010
Bah! Humbug!
I hate Christmas, with all the good cheer, mawkish and overly sentimental holiday movies, the Lifetime channel, the higher electric bill from putting up all the lights, having to spend time with dysfunctional family members, and fruitcake. The same fruitcake that has been circulating for the past twenty years. It's a doorstop, not a fruitcake.
Okay, I lie. I like some of those movies, mostly "A Charlie Brown Christmas" and "A Christmas Story". I might even break down, make some spiked egg nog, and watch Santa Claus Conquers The Martians. It has Santa, martians, and Pia Zadora. What's not to love? And of course there's Dead End, which is about a cranky, dysfunctional family taking the scenic route to Grandmas for Christmas dinner. Hey, it stars Ray Wise, so you know it's gonna be good. Even the Tomato Meter gave it a good rating. We watch this one every year as our traditional Christmas movie.
I like decorating the house, although I've been so sick this fall I still have yet to remove the Halloween decorations. And now that we have a free fake tree, no more fricking pine needles!!! I even liked the house in the south covered with so many Christmas light the birds were fooled into thinking we had Thirty Days Of Light.
This brings me to one of my favorite memories when I was a kid in the 1960s. Thanksgiving and Christmas dinners were always amusing. One year at my aunt's, my cousin and I were playing on the floor in the living room while the men watched football. My uncle had just bought a brand new, state of the art remote controlled Zenith. This was the 1960s so such a TV was a sign you made it in the world, at least in my family's circle. My uncle showed off his new TV, turning channels and turning the thing on and off with the remote. Wow, you didn't need to get off the couch to change the channel! The first generation of couch potatoes were born. I wore a charm bracelet that we figured out pretty quick was turning off the TV - right during the kick off! I couldn't have timed it better. Turned out the frequency of my charm bracelet matched the frequency of the brand new remote controlled Zenith my uncle had recently bought, and whenever I shook the bracelet hard enough, the TV would turn off. So my cousin and I kept waiting for the most important moment in the game and I'd shake my charm bracelet. The men were getting very mad and I thought my uncle was going to toss a brick through the TV. He pounded on its side and got very frustrated. Finally, my aunt figured out what we were doing and she took my charm bracelet - after we gave the men a demonstration. Everyone was impressed. Everyone wanted to kill me.
I include a version of that true story in my erotic Christmas short story "Tinsel Temptations'. This story is based on my fondest childhood Christmas and Thanksgiving memories when I was a kid in the 1960s. I didn't live in a "Mad Men" world in that era, since I grew up in a working class neighborhood. "Tinsel Temptations" takes my own holiday memories and adds some very hot sex to them. John Jones and his "not really his cousin" Jessica are 21 and 19 respectively, yet they are still stuck at the kid's table for Christmas dinner. Remember the kid's table? If you want a laugh out loud, sexy read, check out my Christmas story, "Tinsel Temptations".
And now it's time for "Santa Claus Conquers The Martians". We have the MST3K version. Good times!
Title: Tinsel Temptations
Release Date: 08 October 2010
ISBN: 978-1-935757-00-9
Author: Elizabeth Black
Format: E-Book
Length: 3,445 words 21 pp (PDF)
Genre: Holiday Romance
Category: Holiday, Humor, Nostalgic, Erotic
Price: $2.99
BUY IT NOW:
Tinsel Temptations - AllRomanceEBooks
Tinsel Temptations - Bookstrand
Tinsel Temptations - Amazon Kindle
NEWLY RELEASED! INDISCRETIONS VOL. 1 - View The Trailer
TINSEL TEMPTATIONS - BLURB:
It was another Christmas for John Jones, with his parents, family and friends. The highlight of such gatherings was always the visit of his 'I'm-not-really-your-cousin' Jessica and their bedroom frolics while the family were otherwise occupied. This year, Jessica bought something new—the girls! Over the last year Jessica had filled out—and out. Her new shape had John mesmerized, and decorating the tree took on a whole 'nuther meaning when the holidays bring their Tinsel Temptations.
Posted on December 10, 2010 at 12:50 PM | Permalink | Comments (2) | TrackBack