« Babeland Review - Best Women's Erotica 2010 | Main | e[lust] 22 »
January 14, 2011
New Today: Indiscretions Vol. 2 - The Mile High Club and Room Service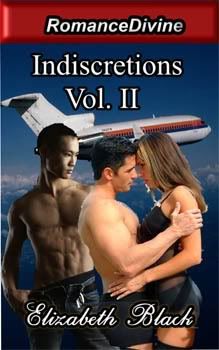 I'm a featured author at my publisher, Romance Divine. Check out selections of my books, buy, and read.
Romance Divine is the featured publisher at Rainbow EBooks from January 14 - 16, 2011. Click on the link on the main page to take you to the Romance Divine section. My books "Feral Heat", "Fountain Of Youth", and my new release "Indiscretions Vol. 2" are featured.
http://www.rainbowebooks.com/store/
Head on over there during Romance Divine's featured days that weekend and get 20% off my new release INDISCRETIONS VOL. 2 - The Mile High Club and Room Service. And get 20% off my other Romance Divine titles as well.
Release Date: 14 January 2011
ISBN: 978-1-935757-12-2
Author: Elizabeth Black
Format: E-Book
Genre: Erotica
Category: Erotic, Male Male, Gay, Hetero, Multiple Partner, Threesome, Ménage, Short Stories
Length: 7,627 words 41 pp (PDF)
Price: $3.99
Romance Divine: http://www.romancedivine.com/index.php?p=product&id=173
Amazon Kindle: http://www.amazon.com/dp/B004IWQXQ6
Bookstrand: http://www.bookstrand.com/indiscretions-vol-ii
Rainbow EBooks: http://tinyurl.com/6dkzco3
AllRomanceEBooks: http://tinyurl.com/4unhuyn
Elizabeth Black continues her ribald Indiscretions series with Indiscretions: Vol. II. These two short stories follow the amorous adventures of Caryn as she wings her way across country to a writer's convention. In THE MILE HIGH CLUB, Caryn has a high altitude fling with the sexy Jeremy. Their encounter isn't without comic complications, but a very good time is had by all. The action continues in ROOM SERVICE, when Caryn and Jeremy meet a mutual friend and the sexual action is three-times hotter!
EXCERPT - THE MILE HIGH CLUB
"May I take this seat?"

She was startled out of her reverie by the most delicious man she had ever seen. Dark brown hair fell in the brightest blue eyes she had ever seen. The smile he gave her showed off deep dimples in each cheek. His dark grey suit and silk tie shouted money. The body encased in that suit had broad shoulders and what she strongly suspected were six-pack abs from workouts at a private gym. He was serious man-candy! His gaze moved from her face to her tits – exactly why she bought them in the first place.

"Of course. Would you like to share some champagne?"

He sat down. "I'd love some champagne."

"Lovely, my name is Caryn. I'm on my way to California."

"I'm Jeremy. I'm heading to California, too. Business or pleasure?"

Oh, it'll be my business to pleasure you! "A little of both. Convention near San Diego."

"Same here. Are you staying at the Hotel Del Coronado?"

"Yes! That's where the convention is being held. Are you staying there, too?"

"I sure am. Talk about a small world," He looked her up and down, taking in her heart-shaped face and brand new tits in one swoop. He moved his arm to rest one hand on a shapely leg, just below her skirt's hem. "You're very sexy." His fingers pressed into the soft skin above her knee.

She moved her legs apart to give him greater access to her pussy, which was just starting to warm up. She wanted to feel his fingers against her clit, all the way up here in First Class 35,000 feet above the ground. Does that mean I'm part of the Mile High Club? And all this time she thought that was an urban legend. "You're very sexy, too. I love the dimples."
EXCERPT - ROOM SERVICE
"Takeshi!" She was so happy to see him she couldn't help but give him a bear hug, nearly lifting him off his feet. A lingering buss on the cheek hid the lust she felt for him. Although he did not express his passion towards her with the same fervor, she knew he was as aroused by her mere presence as she, judging by his quick intake of breath. Takeshi was an honorable and subtle man who exuded class. She turned to Jeremy. "Do you two know each other?"

"Yes," Jeremy said. "We met last year." Am I mistaken or do I see the hint-of-past-lover whimsy in their eyes? "It's good to see you again, Takeshi."

"Such a small world," Takeshi said. "I have a gift for you, Caryn." He held out a hardback book. "My first book, published this year by Harper Collins. I autographed it for you."

"Congratulations!" Caryn squealed as she took the book. "So you finally did it!"

"I knew you would get published," Jeremy said. "It was just a matter of time."

She wanted to spend more alone time with these two scrumptious men. Would they be up for a threesome? Both of them were clearly into her, she gazed at the two men – and into each other? "Let me put the book in my room. Please come in. I have wine if you'd like some."

"I never turn down free wine. Count me in!" The three of them entered Caryn's room which in her mind still smelled like sex. Sweat and a lingering scent of strawberry lube, a heady combination. She wondered if Takeshi would notice. He must have noticed something was up since she and Jeremy had left her room the moment Takeshi approached her. She poured wine into three plastic glasses and handed them out. If she was going to enjoy more dalliances she welcomed the relaxing mood a glass of wine would give her.
Posted on January 14, 2011 at 11:06 AM | Permalink
TrackBack
TrackBack URL for this entry:
https://www.typepad.com/services/trackback/6a00d834528c2e69e20148c79c2e8c970c
Listed below are links to weblogs that reference New Today: Indiscretions Vol. 2 - The Mile High Club and Room Service:
Comments