« Man Candy Tuesday #2 | Main | Woman In Poland Gives Birth To Twins By Two Different Fathers »
January 25, 2011
Man Candy Tuesday #3
It's that time again - Man Candy Tuesday! In honor of the hot men who appear every Monday on "Hawaii Five-0", I've dedicated Tuesdays to the most mouth-watering man candy out there. Enjoy!
What would Man Candy Tuesday be without a picture of Alex O'Loughlin? I discovered him first on "Moonlight", and now I enjoy him every week on "Hawaii Five-0". Yummy!
There you go! Enjoy Man Candy Tuesday! Now that you've had your fill of man candy for the day, check out my latest book, INDISCRETIONS VOL. 2: THE MILE HIGH CLUB and ROOM SERVICE. Details below.
Release Date: 14 January 2011
ISBN: 978-1-935757-12-2
Author: Elizabeth Black
Format: E-Book
Genre: Erotica
Category: Erotic, Male Male, Gay, Hetero, Multiple Partner, Threesome, Ménage, Short Stories
Length: 7,627 words 41 pp (PDF)
Price: $3.99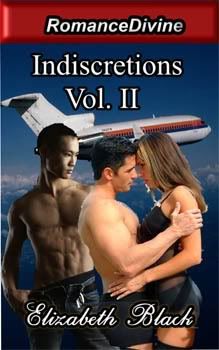 Romance Divine: http://www.romancedivine.com/index.php?p=product&id=173
Amazon Kindle: http://www.amazon.com/dp/B004IWQXQ6
Bookstrand: http://www.bookstrand.com/indiscretions-vol-ii
Rainbow EBooks: http://tinyurl.com/6dkzco3
AllRomanceEBooks: http://tinyurl.com/4unhuyn
Blurb
Elizabeth Black continues her ribald Indiscretions series with Indiscretions: Vol. II. These two short stories follow the amorous adventures of Caryn as she wings her way across country to a writer's convention. In THE MILE HIGH CLUB, Caryn has a high altitude fling with the sexy Jeremy. Their encounter isn't without comic complications, but a very good time is had by all. The action continues in ROOM SERVICE, when Caryn and Jeremy meet a mutual friend and the sexual action is three-times hotter!

Posted on January 25, 2011 at 09:38 AM | Permalink
TrackBack
TrackBack URL for this entry:
https://www.typepad.com/services/trackback/6a00d834528c2e69e20148c7f64e6f970c
Listed below are links to weblogs that reference Man Candy Tuesday #3:
Comments
Yummmm!
Posted by: rbgord at Jan 26, 2011 11:03:14 AM
Beautiful images, are perfect, but I think the guy with the hat should have received more light.
Posted by: Sex Shop at Dec 5, 2011 7:43:13 AM
Post a comment