« Do As I Demand Or The Kids Die! | Main | Richard Warshak Responds To Critics - And The Countess Responds To Him »
December 02, 2010
Indiscretions Vol. 1 - Info, Excerpt, And Win A Free Book!
I wrote today about affairs and especially cybersex at Three Wicked Writers blog. Head on over and leave a comment and you stand a chance of winning a FREE BOOK! Anne Rainey says "winner's choice of my backlist--today as part of our month long giveaway! So, be sure to leave a comment!"
So head over, read some very bizarre true stories about affairs, comment, and possibly win a book. I also include cover art, buy links, and a blurb for my cougar, affair, humor novella "Indiscretions: Vol. 1". So much good reading today!
Three Wicked Writers - Cyber Playmates By Elizabeth Black
More about "Indiscretions Vol. 1".
Title: Indiscretions Vol. I
ISBN: 978-1-935757-01-6
Author: Elizabeth Black
Format: E-Book
Length: 7,467 words 36 pp (PDF)
Genre: Erotica
Category: Erotic, Cougar, Romance, Humor
Price: $3.99
Buy it:
Amazon Kindle: http://www.amazon.com/dp/B004BLK46E
AllRomanceebooks:
http://www.allromanceebooks.com/product-indiscretionsvoli-481647-144.html
Bookstrand: http://www.bookstrand.com/indiscretions-vol-i
Trailer For INDISCRETIONS VOL. 1
http://tinyurl.com/2vktcrx
Blurb:
From the Romance Divine Mistress of Mayhem, Elizabeth Black, come two ribald tales of neighborly lust. Kevin was enamored with his older neighbor, sexy Cougar Betsy, and their clandestine trysts were bawdy bouts of passion. The lovers are surprised by the arrival of Betsy's husband and Kevin's rooftop escape is blocked by an angry avian aggressor. It's man versus seagull in CAUGHT. In WILD CHILD a ginger root becomes the terrible tuber as the lovers get to the bottom of a new kind of love.
Now, an excerpt from "Wild Child", in "Indiscretions: Vol. 1":
The plug slowly slid into his rectum. He clenched his muscles around it, waiting for the heat he wanted so badly. Figging was new to both of them, although they had read about it months ago on the Internet. As Betsy said, if they read it on the Internet, it must be true.
The raccoon coat slid to the floor. The outfit was new. He had never seen it before. She wore a crimson corset that left her breasts bare and ready for his eager lips. Crotchless panties filled out the costume. Her glistening pussy enfolded remote controlled vibrators. When did she buy that? I didn't get it for her. Wouldn't it be a hoot if Dean bought it? Or a fuck buddy I don't know about?
She placed a small box on the bedroom dresser, and turned a knob. The butterfly hummed against her clit. She was ready for some action.
At the sight of her red public hairs playing "boo" with him, his dick got hard again. With his dick going up and down, hard and semi-soft, he had an aching case of blue balls. Only Betsy could relieve his distress.
She tore at his t-shirt. He pulled it over his head, and tossed it on the floor. The jeans came off next. With one hand, he twirled the Jocko around over his head, and tossed it across the room. Naked and standing at attention, he lay on the bed, ready for her to ravish his body.
"Are all these toys for me?"
"You bet. Use whatever you want."
She grabbed the bottle of warming lube, and held up one of the ginger plugs.
"Let's play proctologist."
"You make it sound so clinical." He turned over on his back.
He felt lube drip down the crack of his ass. At least she had the decency to warm it up in her palms before letting it drip on her skin. Her breath blew on him, warming the lube as she rubbed it into his ass and around his anus. That warmth was a good feeling, and he wanted more of it. He scooted up the mattress a bit so that his asshole would be more accessible to her. She rubbed the plug along the edge of his anus, teasing his tender skin but not inserting the plug.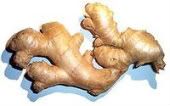 If you want to know more about what Betsy and Kevin are doing (and even want to try it yourself), it's called "figging" and it's a popular bondage practice. I tried it and wrote about it for the late pop culture e-zine nuts4chic a few years back. Below is a link to the article in my archive and a brief excerpt.
I sit here, on my comfy couch, tingling all over to tell you about figging for my second article in my series called "Do It, Lizzie! Do It!"

I had heard about figging a few months ago, when I stumbled upon a web site that described it. Figging is a practice popular with the S&M crowd. It is inserting a piece of fresh, cut ginger into the rectum. The burning sensation is supposed to enhance sexual pleasure. I read stories of people trying figging, and then getting spanked.

I had to try this for myself, and tell all my readers how much fun it was.
Posted on December 2, 2010 at 12:42 PM | Permalink
TrackBack
TrackBack URL for this entry:
https://www.typepad.com/services/trackback/6a00d834528c2e69e20147e051c2d2970b
Listed below are links to weblogs that reference Indiscretions Vol. 1 - Info, Excerpt, And Win A Free Book!:
Comments
Post a comment