« Alien Lover Dildo - Review | Main | Trailer For Indiscretions Vol. 2 »
December 23, 2010
Geeky Christmas Gifts
Not sure what to get for the geek who has everything? How about one of these delightful presents? There's everything from Star Trek gack to strange sex toys. Yours for the having!
Star Trek Pizza Cutter - for the Trekkie with everything.
Star Trek Bottle Opener - for the Trekkie with everything plus the Star Trek Pizza Cutter but without the Bottle Opener.
Harry Potter - Hermione's Time Turner - sadly, it doesn't actually work so you can't go back in time and fix things you've royally screwed up.
The 11 Doctors Complete Set Of Action Figures - who are your favorite Doctors? I like Eccleston, Tennant, and Pertwee. And this set of action figures rocks!
Tardis wardrobe Go to the link to see a picture. It's beyond tacky but fun. I've also seen a Tardis CD/DVD case but I can't find that one anywhere.
Bottled True Blood Tasty Drink - The Sookie Stackhouse Southern Vampire Series - True Blood (HBO) - would go nicely with the bloody syringe pens I saw at a science fiction convention once, but I can't find them anymore. I also wonder how badly this stuff tastes.
Rex plush toy, from the UK series "Primeval" - there's another one that's remote controlled that flies. Plus, "Primeval" is coming back for another season of fun. I'm looking forward to it.
Then there are the strange sex toys, like the incubus dildo. Very strange-looking thing that looks like a creature from the nightmares of M. C. Escher and H. R. Giger.
Speaking of H. R. Giger, how about the alien lover dildo? This baby also glows in the dark. I own this one and reviewed it. Read my review here.
Not to be outdone, there's the Area 51 Love Doll, complete with three tits.
G. I. Jock Army Kit: I swear I'm not making this up. From the description: "A sexy playful collection of toys and accessories with a military theme. Includes a camouflage jackstrap, a multi-speed vibrating camo egg, a grenade textured jelly sleeve, and a large missile shaped jelly plug that can be used with or without vibrations. Collection includes a large pillow of Powerman Lube. 2 AA batteries."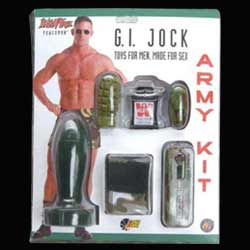 So there you have it. All the geeky stuff you could possibly want to round out your Christmas gifts you didn't get from your friends and family. And who wouldn't want to wow people with a Star Trek pizza cutter and bottle opener? LOL
Posted on December 23, 2010 at 07:20 AM | Permalink
TrackBack
TrackBack URL for this entry:
https://www.typepad.com/services/trackback/6a00d834528c2e69e20148c6b33067970c
Listed below are links to weblogs that reference Geeky Christmas Gifts:
Comments
cool idea I like it.
Posted by: Legendary Porn Stars at Dec 11, 2011 8:11:44 PM