« Hahahaha!! | Main | Gymnopedie No. 1 by Erik Satie »
December 19, 2010
Eggnog Recipes By Famous TV Chefs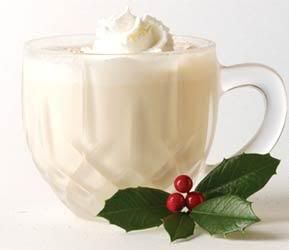 I saw this joke by Prank Call of Cthulhu on FARK and I had to share it with everyone. It's eggnog recipes by famous TV chefs. Perfect for the holiday season! Enjoy!
Famous TV Chef Eggnog Recipes
Bobby Flay eggnog: mix eggs, cream, sugar, and rum, then throw it on the grill and garnish with mango chutney.
Sandra Lee eggnog: Pour one tablespoon of store-bought eggnog into an 8-oz glass. Swish it around to coat the glass, pour out excess. Fill the remainder of the glass with vodka and serve.
Alton Brown eggnog: Build a ridiculously complicated frothing machine out of dry ice, twenty feet of rubber tubing, a colander, and a garden hose nozzle, then follow a twenty-step process and deliver a five minute rant about why an egg separator is a useless "unitasker."
Rachel Ray eggnog: The addition of a little EVOO to a traditional eggnog recipe is YUM-O!!!
Gordon Ramsay eggnog: IS THAT HOW YOU BEAT A F*****G EGG? I CANNOT BELIEVE THIS! WHAT IS WRONG WITH YOU, YOU F*****G DONKEY? GET OUT!!! GET THE F**K OUT OF MY KITCHEN YOU F*****G C**T!!!!
Paula Dean eggnog: Combine eggs, butter, whole cream, butter, sugar, butter, rum, butter, and more butter. Whip. Serve with a side of defibrillator.

Posted on December 19, 2010 at 02:37 PM | Permalink
TrackBack
TrackBack URL for this entry:
https://www.typepad.com/services/trackback/6a00d834528c2e69e20148c6e29cbc970c
Listed below are links to weblogs that reference Eggnog Recipes By Famous TV Chefs:
Comments
Glad you enjoyed!
Posted by: Prank Call of Cthulhu at Dec 19, 2010 8:58:17 PM
It's sheer genius, PCoC. Glad to share it and credit you.
Posted by: The Countess at Dec 20, 2010 12:09:28 AM
What a riot! This was a treat....but not quite as good as eggnog.
Posted by: pam at Jul 10, 2012 4:29:46 PM