« I Now Write For Good Vibrations Magazine | Main | Celebrate Star Wars Day With Star Wars Porn »
May 04, 2010
Celery Is An Aphrodisiac?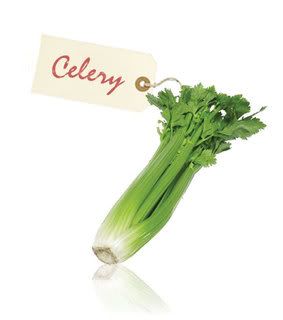 Celery as an aphrodisiac is new to me. I can't stand celery. I do like it in soups, but only if it's wrapped in cheesecloth and removed once cooked. When it's cooked in soup and not removed, it's gooey and gross. I like the taste, but not the vegetable.
Apparently, celery is an aphrodisiac, according to this article. The article stated that "a cluster of celery stems was traditionally hung above the bed of newlyweds on the first marital night. The plant was believed to act as a powerful erotic stimulant."
Learn something new every day.
It named different foods, many of which I expected to see, such as chocolate and ginseng. Some essential oils that enhance an erotic mood were also mentioned. Those oils include bergamot, rose, and sandlewood. Sandlewood has long been known as an oil of love and lust. Bergamot is in one of my favorite teas, Earl Grey. Does that make Earl Grey tea an aphrodisiac?
I never was one to get into sandlewood because that was a '70s pot-smoking scent for me. Voudou practitioners like it because it arouses lust. So, I bought some sandlewood oil from a voudou shop, and lo and behold! I've been getting more backrubs and French kisses lately.
I used to drink powdered ginseng root tea when I was a kid. It was strange, but I liked it. I was not a horny teenager, either. I just liked trying newfangled things that weren't the kind of thing you'd normally see in my conservative Catholic neighborhood. My parents never knew what to make of me.
As far as I'm concerned, a good shellfish dinner and a great mood are the best aphrodisiacs. You have to watch the alcohol. While it does reduce inhibitions, when you overimbibe, you may lessen your sex drive because alcohol deadens it. Stick to good food and tasty, delectible snacks. Cheese is mentioned as an aphrodisiac, and I can appreciate a great cheese. Pate served with good cheese in my mind is very sexy. A duck pate with truffles served with a heady Gorgonzola cheese sounds like Heaven to me! It's not just the taste - it's the smell. I love the smell of cheeses like Gorgonzola and Stilton. Serve them with a good port (not too much though), or a few glasses of iced Earl Grey tea, and I'm ready for some hot sexy action!
How about you? What food and drink turn you on in bed? Strawberries and cream? Cheese and pate? Do tell!
Posted on May 4, 2010 at 10:21 AM | Permalink
TrackBack
TrackBack URL for this entry:
https://www.typepad.com/services/trackback/6a00d834528c2e69e201347fe498fd970c
Listed below are links to weblogs that reference Celery Is An Aphrodisiac?:
Comments