« Happy Saint Patrick's Day | Main | Cool Commercial »
April 01, 2010
Happy April Fool's Day!!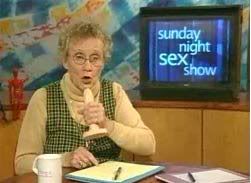 Great April Fool's Day joke? The American Meat Institute is suing sexpert Dr. Sue Johanson for saying that vegan semen tastes better than carnivore semen. I wrote much the same thing in an article for Sex Is Magazine. Read about the lawsuit (prank?) here: American Meat Institute Sues Sexpert Who Says Vegan Semen Tastes Better.
The interesting thing about the AMI lawsuit/prank(?) is that vegan semen does taste better than carnivore semen. So does vegan pussy. I wrote about it in an article for Sex Is Magazine: You Are What You Eat – Foods That Improve Your Sex Life
Did you know that the food you eat affects not only your sexual desire and stamina; it also affects the taste of your semen and pussy? Regardless of your sexual orientation and gender, you will only benefit from eating and drinking the kinds of foods that will give you the sexual pep you desire. ...
The AMI Lawsuit/Prank(?) had me going until I got to the part about PETA urging vegan men to participate in a semen taste-off in support of Dr. Johanson. That's when I suspected the story was a prank.
Posted on April 1, 2010 at 12:35 PM | Permalink
TrackBack
TrackBack URL for this entry:
https://www.typepad.com/services/trackback/6a00d834528c2e69e20133ec625d12970b
Listed below are links to weblogs that reference Happy April Fool's Day!!:
Comments
hot damn! you got me! i was like, why would they do that? Sue Johanson rocks! it's like the beef industry suing Oprah lol
Posted by: Yolanda at Apr 1, 2010 1:27:41 PM