« Just In Time For Caturday! And Christmas, To Boot. | Main | The Eddie Blodgett Toyota Commercial »
December 28, 2009
X Excerpt From "Neighbors", a lesbian contemporary tale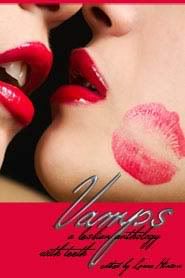 Title: Vamps
Includes short story "Neighbors" by Elizabeth Black
Publisher: Torquere Press
Release Date: December 23, 2009
Format: E-book and print book
Type: Anthology
Authors: Shanna Germain, Tracey Shellito, Teresa Noelle Roerts, Penelope Friday, JT Langdon, Erin O'Riordan, Mercy Loomis, Kate Cotoner, and Elizabeth Black
Genre: Erotic lesbian romance and erotica
Category: "Neighbors" - contemporary lesbian
(total anthology categories include lesbian, contemporary, paranormal, and vampire)
Buy link: http://www.torquerebooks.com/index.php?main_page=product_info&products_id=2412
Starting at: $5.95
Edited by Lorna Hinson with stories by Shanna Germain, Tracey Shellito, Teresa Noelle Roberts, Penelope Friday, JT Langdon, Erin O'Riordan, Mercy Loomis, Kate Cotoner, and Elizabeth Black
BLURB FOR "VAMPS"
Seductive. Dangerous. Sexy. Girls with fangs, women who hunt vampires, lovers who only come in the dark of the night. Vamps are not just female vampires; they're femmes fatales. They're the women your mother warned you about, and the things that go bump in the night. They're beautiful and terrible, loving and disdainful.
Nine stories that range from historical to modern and from hard-boiled mystery to fantasy explore the world of the female vampire. They're strippers and goddesses, bluestockings and hippies, but they all have one thing in common. Lust. Lust for blood, and lust for life, or maybe unlife. All of the night stalkers in Vamps are ready and willing to find a good time.
Some of the best authors in lesbian erotica and romance are here, spinning tales about the dark world of creatures of the night, and about the women who love them, women who are drawn to the power and freedom that the vampire embodies. Vamps features stories from: Shanna Germain, Tracey Shellito, Teresa Noelle Roberts, Penelope Friday, JT Langdon, Erin O'Riordan, Mercy Loomis, Kate Cotoner, and Elizabeth Black. Vamp up your life a little today!
BLURB FOR "NEIGHBORS"
Conservative, staid Annie expected peace and quiet when she moved into the Calvert Street Apartments. Hoping to get some work done, since she worked from home, she set up her flat and her daily routine in her usual, boring, unsurprising way. Little did she know that her new neighbors, Angelina and Charlotte, would give her a run for her money in the excitement department. Angelina and Charlotte awakened Annie'smost secret lusts as they lured her out of her safety zone and into their fevered way of living.
EXCERPT FROM "NEIGHBORS"
It was dark when she heard clattering next door, and awakened on a couch. She couldn't remember where she was. Once she caught her equilibrium, she recalled watching sitcoms on television while lying on the couch in the living room and falling asleep during a blue jeans commercial. She thought of Lina's swinging legs encased in that napkin-sized remnant of denim, and felt her pussy go into melt-down.

She listened to the rustling in the next apartment. Charlotte and Lina had arrived home at nearly 3:30 am.

It appeared that her new neighbors had a guest. A male guest, judging from the baritone mingling with the familiar giggles.

They didn't waste any time. The noises quickly moved from the living room to the bedroom adjacent to Annie's bedroom.

She rose from the couch and stripped off her T-shirt, shorts, and underwear, dropping them in a heap on the floor as she walked into her bedroom. Nude, she lifted her nightgown from the end of the bed, and froze.

The bed in the apartment next door creaked. Baritone was fucking either Lina or Charlotte or both of them within a few feet from where Annie stood. Judging from the sound, that bed was positioned with one long side against the wall, just like Annie's bed. If that wall wasn't there, it would look like one, huge, king-sized bed.

She knelt on her mattress and touched the wall. It throbbed in time with the movement next door. Faint moaning drifted through the fake wood paneling. She pressed her torso against the wall. The throbbing pulsed through her breasts, coursed down her belly, and slammed into her groin. I'm getting warm just thinking about what they're doing. Could the mere sound of their sex turn me on? She felt her pussy heat up and swell, moist and tender. Her nipples hardened as she rubbed them against the rough wood. Knowing that this one thin wall separated them by mere inches excited her even more. I have to be very quiet. If I make any noise, they'll hear me through these thin walls. Her pussy pulsed in time with the thumping those hot bodies made as they pumped into each other. It tightened and cramped in search for anything big and thick to wrap itself around. She arched her back, feeling the thumping against the wall pound into her skin, through her belly, and into her warm pussy. She was so turned on she dug her fingernails into the paneling. Warm cream dribbled across her swollen lips, and slid down her right leg. She rubbed her nipples into the rough fake wood, and moaned. Soon, the creaking of the bedsprings increased to a crescendo. After a few deep and shrill ecstatic moans, all was still.

Annie hugged the wall in silence. Waves crashed against the beach outside her balcony, in time with her throbbing pussy. Sweat plastered her hair to her forehead. The strong pulse between her legs begged for relief. She lay on her back atop her sheets and blankets. Her fingers found the moist lips. She rubbed her juices on her thighs and belly. The smell was musky. Delicious. Her fingers parted her lips, and massaged until they reached her swollen clit. The slightest touch was like an electric shock. Her legs bucked with each wave of pleasure. Her breath caught in her lungs, which were so full they threatened to burst. Her heart banged against her ribs, begging to be set free. She pulled at her nipples until they hardened to the size of purple gum drops. She wished her neck was long enough that she could lower her head and suck on them.
Posted on December 28, 2009 at 11:11 AM | Permalink
TrackBack
TrackBack URL for this entry:
https://www.typepad.com/services/trackback/6a00d834528c2e69e20120a785cfc5970b
Listed below are links to weblogs that reference X Excerpt From "Neighbors", a lesbian contemporary tale:
Comments