« Pleasurists #45 | Main | Sex Toy Review: Femblossom »
September 08, 2009
The Haunting Of The Sandpiper Inn (Paranormal Erotic Romance)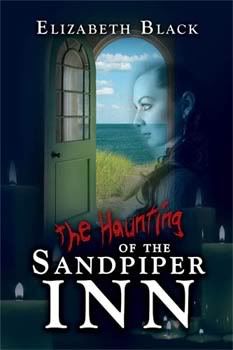 THE HAUNTING OF THE SANDPIPER INN by Elizabeth Black
Starting at: $5.99
THE HAUNTING OF THE SANDPIPER INN by Elizabeth Black
Genre: Torrid Romance Paranormal
EBook formats ISBN: 978-1-60313-620-4
Rating: Erotic Romance - Explicit
Buy it at Torrid:
http://tinyurl.com/m3sa85
Buy it at Fictionwise:
http://www.fictionwise.com/ebooks/b91993/?si=0
Buy it at All Romance Ebooks:
http://tinyurl.com/mewcyq
BLURB
While psychic Martha Ellis McKay may have the Gift, a skeptic's heart beats in her breast. She has seen her share of fakes, and she does not take kindly to them. Even worse is when she is accused of being one. So imagine her chagrin when she expects to spend a quiet weekend at the Sandpiper Inn working on a book about haunted houses only to meet a ghost hunting team with its own skeptic, who greets Ellis with a jaundiced eye.
She has met her match in both getting to the bottom of the haunting of the Sandpiper Inn and proving to skeptic John "Beck" Becker that she is the real deal. The problem is that Beck and Ellis have more serious worries. The Sandpiper Inn holds a dark secret that threatens to destroy them both. What awaits them as they delve into the history of the Sandpiper Inn? And will their investigations bring them closer together or drive them further apart?
REVIEWS
"This is a rather gripping read...The relationship between the characters builds up quickly, culminating in some heavy sex scenes. I did enjoy this book and felt like I was on one of those ghost investigation programmes...This book is definitely worth a read if you like hot and steamy mixed with horror and hauntings."
You Gotta Read Reviews
http://tinyurl.com/pmggtx
I loved this story by Ms. Black. I am a huge fan of her writing and I thoroughly enjoy her haunting storylines and characters. She developed a fun storyline that immediately pulled me in from the very first page and entertained me until the very last sentence. I felt as if I was walking along with Ellis and the GHOST team trying to debunk the hauntings that The Sandpiper Inn seemed to be experiencing. This is a great story that doesn't just have to be read at Halloween. If you love ghost stories and love to read about haunted places, this is definitely one you must add to your library. Ms. Black did a wonderful job with this story and I can't wait to read her next one. You're definitely going to enjoy this story. Don't pass this one up!
Diana Coyle, Night Owl Romance
Five out of five hearts!
http://tinyurl.com/ne6bwf
THE HAUNTING OF THE SANDPIPER INN is an attention-grabbing read that is well laid out and moves along quickly. It has a great paranormal edge to it with plenty of psychic phenomenon occurring and the start of a heady relationship between Ellis and Beck. Elizabeth Black's tale makes you feel like you are part of the investigation team and I appreciated the realism of things. It is laced with a bit of humor and the steaminess it contained had me distracted just enough to almost ignore the goose bumps I got when reading through parts of the scenes. If you enjoy supernatural mysteries mixed with hot romance, then this book is for you.
Pamela Denise
Romance Junkies
http://romancejunkiesreviews.com/artman/publish/paranormal/The_Haunting_of_the_Sandpiper_Inn.shtml
The lively characters in The Haunting of the Sandpiper Inn are remarkably refreshing. I love the vibrant glow they bring into the story. The moment I started reading about Ellis and Beck, I wanted them to connect in so many ways. The story kept me on the edge, even giving me little goose bumps on occasion. I already love anything that has to do with the paranormal in these type stories or events, and this one is remarkably written by Elizabeth Black. Once I started it, I couldn't put the book down. The strong attraction she gives to Ellis and Beck is magnificent. I adore the way Ellis and the other GHOST investigators interacted together. This engaging read is one that left a great impression with this reader.
Reviewed by Linda L. at Fallen Angel Reviews
http://fallenangelreviews.com/2009/August/lindal-thehauntingofthesandpiperinn.htm
EXCERPT
"I've heard of the Sandpiper Inn, but I've never been to it before," Jim said. "Beck has been with us for four investigations so far, and he's been invaluable. It's good to have a skeptic on the team because he keeps us honest."
"I suppose he also helps you find everyday explanations for what you might mistake as phenomenon."
"Yes, he has. He's a professional photographer, and he's debunked quite a few photos fans had mailed to us."
He Who Must Boast About Himself spoke up again.
"He does good work, but he's a little too skeptical of psychics for my taste. I've contacted a large number of entities, yet Beck has his doubts. It would be interesting if he suddenly believes in psychics because of you. I've bent over backward trying to convince him we are for real, but he has his doubts."
Could be because you're such a pompous ass.
"For instance, I sense… What was that, White Feather? A fisherman?" He closed his eyes and held his hands out in front of him as if he expected to poke a ghost in the chest with his fingers. Ellis had to give him credit for putting on a good performance. His eyes burst open, and his gaze panned around everyone at the table.
"There is the spirit of a fisherman in this building! This was not always a restaurant!"
My, but he looked very satisfied with himself. Ellis wanted to burst his bubble so badly she couldn't resist putting him in his place.
"Of course it wasn't always a restaurant," Ellis said. "If you read the sign on the street, you'd know this cottage used to be temporary housing for fishermen who cleaned their catch when they returned from sea. It was not originally built as a restaurant, although I'm looking forward to the food."
She felt a hand brush her leg. Beck held his hand in front of his mouth, trying his best to stifle a laugh. He clearly enjoyed Ellis ribbing Alan Horner.
"Are you mocking me, Miss McKay?" Horner sounded miffed since she took the wind out of his sails by telling him any idiot could have ascertained the building was originally a fisherman's hut.
"Not at all. I'm just saying the information you have could have been found elsewhere. Any skeptic would point those facts out."
"You beat me to it, Ms. McKay," Beck said with a grin so wide it threatened to split his head in half. To her relief, Beck saw she had a level head on her shoulders. She wasn't one of those wispy psychics who saw spirits roaming in every corner. She wanted to convince him not only was she the Real Deal, she had a skeptical mind of her own.
She also would do anything to prevent Beck from lumping her in with the likes of Alan Horner.
"So you doubt the spirit of a fisherman roams this building?" Horner sniffed.
"I honestly don't know if one does. I didn't come here to contact spirits. I came to get a big bowl of clam chowder and a gin and tonic."
Beck laughed. He leaned toward Ellis and spoke in a quiet voice, obviously so Mr. Famous Psychic wouldn't hear him.
"Well, it looks like you put Alan Horner in his place. That doesn't happen often enough, in my opinion."
"I don't want to get off on the wrong foot. I'm just starving. I also don't like to make myself available to spirits on an empty stomach. I usually get headaches if I go hungry."
"Plus Alan Horner is a pompous ass."
Is he reading my mind?
"I never said a word."
"You don't have to. You don't like him. It's all over your body language."
"So I'm an open book. He grates on my nerves, and I don't even know him. Ghost sightings and contact are not nearly as common and exciting as television psychics make them out to be. Alan Horner included."
"I agree with you. I also find it interesting you would make such a comment since you claim you are psychic yourself."
"Being psychic is not very glamorous. Have you ever talked to dead people? They're boring. And the intelligence quotient could use improvement."
Beck laughed. "Now I have never heard anything of the sort before. You definitely have my interest, Ms. Martha Ellis McKay. Ghosts are boring? I had no idea."
"You truly don't. I hope deep down my stay is worth the effort, but I can get by with the chapter in my book. Legends are legends, after all. People want to believe, and I feel fine letting them know what the legends are."
"Even if you never experience manifestations."
"I never said I don't experience manifestations. I do, mostly when someone has something important to say to me."
"Do you think someone at the Sandpiper Inn has something important to say to you?"
"I honestly don't know. I hope so. It would be more than welcome."
"I'll admit I want the same thing. I may be a skeptic, but deep down I want to believe." He made a point of staring into her eyes. "If you actually contact someone I will be your biggest fan."
At his last words, her heart skipped a few beats. She was determined to win him over. Those hazel eyes looked very inviting. She could get lost in them. When she realized she stared into his eyes a little too long, she glanced away, feeling suddenly shy.
"Let me contact someone first. Okay?"
"You have a deal. Now let's enjoy the delicious clam chowder. I'm starving."
Posted on September 8, 2009 at 06:18 PM | Permalink
TrackBack
TrackBack URL for this entry:
https://www.typepad.com/services/trackback/6a00d834528c2e69e20120a5adf680970c
Listed below are links to weblogs that reference The Haunting Of The Sandpiper Inn (Paranormal Erotic Romance):
Comments