« Just Got A New Batch Of Sex Toys In The Mail | Main | Pleasurists #21 »
March 22, 2009
Sex Toy Review: Power Probe Butt Plug
The Power Probe butt plug is a very versatile sex toy. As soon as I saw it, I knew I was going to love it. It's made of my favourite material - jelly. I love soft and supple jelly sex toys because they give and the are so very soft. The The Power Probe butt plug is a pretty purple. It also comes in blue, but I like purple.
I like to play with my sex toys whilst I write, so since I had plenty of sex toys articles to work on, I decided to make my work time much more enjoyable. After slathering on some lubricant, the The Power Probe butt plug slid right in. Slowly and ever so delicately, I let my rectum adjust to its size. It's a thick little thing, but it didn't hurt at all. I clenched on it, and it felt incredibly good. So here I saw on my couch, editing my sex toys articles and reading about bondage toys, and I could feel my arousal starting up, yet I hadn't even turned on the vibrations yet!
I turned on the vibrations, and they jammed away inside of me. I rocked back and forth as I sat on the couch, and I felt oh so good. My work time went by
very
quickly. I liked the varied speeds and intensities of the vibrations, but the one I preferred the most was the steady vibration at the highest speed.
The thing I liked best about the The Power Probe butt plug is that I think outside the box. This is a thick little vibrator that is curved at the tip, so when I got my period, I got curious as to how it would feel inside my vagina. So, I wore it today whilst watching "The Prestige", starring Hugh Jackman. If you read my recent post about the
LELO Liv
, you know I have a mad crush on Hugh Jackman. In keeping with the spirit of that post, here is a pic of Hugh Jackman in "The Prestige".
And here is a shot of Hugh Jackman just looking as sexy as all get-out.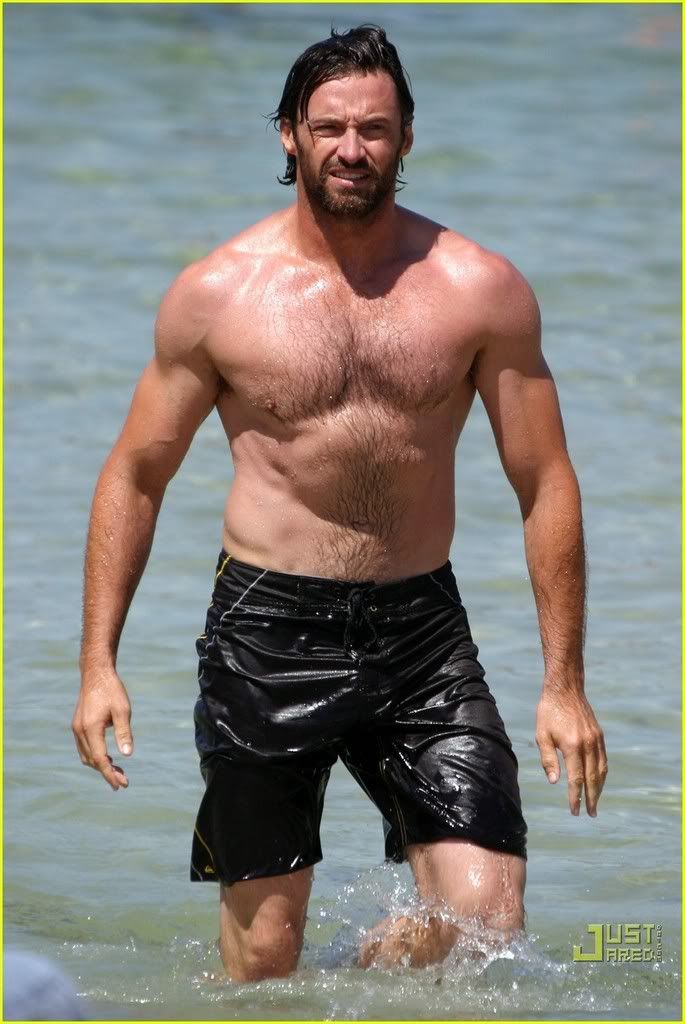 So, whilst watching "The Prestige", I wore the The Power Probe butt plug up my pussy, and it didn't hurt because the The Power Probe butt plug is short and thick. The vibrations sure helped the cramps! I rocked back and forth, the whole time enjoying the movie, wondering when the next ball was going to drop with these magicians competing with each other over their acts and the same woman. Watching Hugh Jackman whilst wearing the The Power Probe butt plug also made the movie much more enjoyable. I rocked and rocked, feeling the vibrations do their work as the walls of my vagina relaxed and contracted, since I have my period right now. The vibrations work wonders, and they feel incredibly good. I set them to the highest and most steady speed, and they did their magic. I melted into the couch, feeling wave after wave of bliss as I relaxed and watched Hugh Jackman work his magic on the screen. And on me.
I like the The Power Probe butt plug very much, and I will use it in so many different ways. We provide guaranteed pass
646-578
exam with online
ccnp certification
training and
pass4sure 70-294
. You can also get best quality
650-393
dumps along with
testking 70-662
for your guaranteed success. Whilst it is made to be used as a butt plug, I like to use it in my pussy, too. It works well both ways, but it is a wonderful butt plug. Soft and pliant, and it purrs like you wouldn't believe. And of course I have another excuse to post sexy pictures of Hugh Jackman.

Posted on March 22, 2009 at 03:55 PM | Permalink
TrackBack
TrackBack URL for this entry:
https://www.typepad.com/services/trackback/6a00d834528c2e69e201156e3c0c45970c
Listed below are links to weblogs that reference Sex Toy Review: Power Probe Butt Plug:
Comments
Peace yo
just watching this randy arse Shaking vid on youtube...
check it out!
http://www.youtube.com/watch?v=BsoHCukkeUo
May you can share something similar.
happy watching
mastablubba
Posted by: Mastablubba at May 21, 2009 4:44:41 PM
Thinking about this baby up your pussy or ass made my day... Would love to see pics! :)
Posted by: Adult Toys at Sep 5, 2010 3:02:40 PM
Nice Sex Toy Review on The Power Probe butt plug.
Posted by: Linn at Oct 9, 2010 7:26:43 PM