« Things That Turn Women Off | Main | More P&E Awards »
February 03, 2009
I Won The Preditors And Editors Award For "Best Short Horror Story"!!!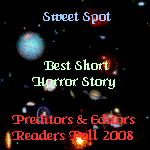 Wow! I am so psyched! I won the
Preditors and Editors Poll Award for "Best Short Horror Story"
for my erotic horror short "Sweet Spot", which appears in the "Monster Mash" Halloween anthology published in October, 2008 by Whiskey Creek Press Torrid. Above is the chip I got for winning the category. Boo-yah!!
I am very happy to win that award. I placed very well in the other categories, but this is the first time I've ever won a writing award. Here is an excerpt from "Sweet Spot", plus a link for you to go to WCPT to buy the book.
"Sweet Spot", one of my stories in "Monster Mash", is based on a real Irish legend called "The Fatal Phantom of Eringle Traugh". I've known about this legend since I was a kid, and it scared the hell out of me. I have turned it on its face in this story, and I know you will like it.

-----

Sweet Spot

Elizabeth Black

Whiskey Creek Press Torrid

Monster Mash Anthology

Word Count: 5,789

Genre: Erotic Horror

Buy it now!

Monster Mash Anthology: WCPT

BLURB:

"The Sweet Spot" is erotic horror. That is my second erotic horror story ever published!! I based it on an Irish ghost legend.

Derek was warned to leave the cemetery after the funeral. The Hag haunted the graves, preying on grieving men and women. But all Derek could think of was revenge ... he should have left with the mourners.

EXCERPT:

"Are you coming to the house after the burial?"

"I might. I should get home, though. There's a storm brewing, and I don't want to get caught in it. I have a long drive ahead of me."

"I'm really glad you came, although I wish it wasn't for a funeral. We've been out of touch for too long. A phone call a few times per year just doesn't cut it."

Of course they'd been out of touch. After his disastrous relationship with Amelia, Derek couldn't create enough space between himself and Ipswich. Jason's frequent phone calls and invitations to hang out on their boat on the Essex River couldn't budge Jason from his apartment in Manchester.

The problem was how could he convey his disinterest in his old friends and family while dropping in on Ipswich unannounced? He was only here to check up on Amelia. After his wife left him because of his affairs, Amelia monopolized his obsessions. Could he have one fling with her before returning to Manchester? Could he fuck the hell out of her the way she liked it, and then dump her without so much as a goodbye the way she had dumped him? The bitch wasn't above a quickie. After all, that's what he was to her the year they dated, if you could call quick fucks in her car dating. She liked to be tied up, bound, and gagged. Derek was surprised she was submissive. He thought for sure she'd prefer to be dominant and in control, but he realized soon enough that being submissive put her in control. She refused to use a safe word, but he insisted on it. He ended up using their safe word much more than she did. He was always surprised by how far she wanted to go—gagged with a ball in her mouth; spanked until her ass was cherry pink, nipple clamps yanked on while she came hard on his dick. She liked it rough—the rougher the better. Their affair barely lasted twelve months, until she found better fresh meat to tear into. She had the typical bitch's excuse—he was too clingy. Figures. A woman's excuse got latched onto him. He was as clingy as anyone would be after being dumped with no explanation and being replaced by a silicone god wannabe with synthetic man boobs.

Was she still married? Her husband had to know she was as horny as a cat in heat, and she liked to satisfy her cravings with the hot bodies that gravitated to the town over the summer for vacation. Why did he care if she was married or not?

Somehow, Amelia managed to get under his skin again, and she hadn't even said two words to him.He would never admit to Jason that Amelia was the reason he returned to Ipswich; not his friends, not his family, and certainly not Jason. Still, he had to make up excuses before Jason grew suspicious.

"I'm glad I came, too. I wish it didn't have to be for Jim's funeral. How did we grow so far apart? We were tight when we were in college."

"Twenty years is a long time. We got married. Had kids. Started working. Moved. I guess all of us just drifted apart."

"I don't want to let that go on. You want to keep in touch more?"

"You bet I do. It's too bad it took Jim's funeral to bring us together again. We were inseparable all those years ago."

"Let's be inseparable again."

"Sounds good to me. The after-funeral get-together is at my house."

"Amelia isn't going to be here, is she?"

"Are you kidding, bro? That's not funny. Don't joke about that here, now. Just come to my house after we wrap up here. Don't spend any more time alone in this place than you need to."

"You think I'll see the hag or something?"

"You know the story. It appears to you in the form of what attracts you. A sexy woman if you're a guy, and a hot dude if you're a woman. You make a date to come back to her here at the graveyard, and you seal it with a kiss. You do return on the appointed date—in a coffin."

"What if you're gay?"

"Stop being facetious. You obviously still have it bad for Amelia. Why, I have no idea. The woman is poison. Come to my house for a late lunch. Don't you linger around here longer than you have to. No one does."

Amelia was his weak point, as Jason figured out. She was his Sweet Spot, that spot just below his collarbone where a quick thumb jab would render him stupid.

Derek never believed in the hag, but he thought it would be exciting to actually run across the old witch. That the hag would appear as Amelia didn't surprise him. The woman was a nightmare gone mad.

How could she be called a hag if she was a hot little number as he expected she would be? That's how she'd appear to him—as some luscious babe. He saw no reason to complain about that.
Posted on February 3, 2009 at 05:26 PM | Permalink
Comments
Fantastic! Congrats Countess! Sounds like an amazing story :)
Posted by: DominaDoll at Feb 4, 2009 9:18:59 AM
Very nice. Congratulations. :)
Posted by: Rob Graham at Feb 4, 2009 10:00:15 AM
Congratulations! It is really good to see your writing get some recognition.
Very good!
`x~adam.
Posted by: adam at Feb 8, 2009 6:18:15 AM