« October 2008 | Main | December 2008 »
November 08, 2008
Need A Junk Food Fix... Caramel Corn!
I'm almost in a baking mood. Just want to watch some silliness on TV first, specifically "Ghost Adventures". This show is such a train wreck, but it gives me great ideas for paranormal erotic romance stories with ghosts as the paranormal creature.
Here is my recipe for caramel corn. We are out of snack food, and I prefer to make my own rather than buy an inferior product. I have store brand popcorn rather than the gourmet popcorn I usually use, but this popcorn will do just fine.
Caramel Corn
1 1/2 cup Brown Sugar
1/2 cup butter
1/4 cup Corn Syrup
1/4 cup Molasses
1/2 teaspoon Salt
1 teaspoon Maple Syrup
1/3 teaspoon Cream of Tartar
1/2 teaspoon Baking Soda
4 Quarts Popped Corn
1 1/2 cup Mixed Nuts or Spanish Peanuts
Directions
In saucepan, combine brown sugar, butter, corn syrup, molasses, and salt.
Boil for 6 minutes, stirring constantly.
Add flavorings, cream of tartar, and baking soda.
Stir in nuts and cover the nuts completely with the mixture.
Stir in popcorn a bit at a time and coat completely. Make sure to mix the nuts well with the popcorn. Bake in 200 degree oven for one hour. Don't eat it all at one time!!
Posted on November 8, 2008 at 12:24 PM | Permalink | Comments (0)
Cute Cat Picture For Caturday And Other News
Isn't that the best picture of Oreo and Lucky? Oreo, who died last week, is the one yawning. Lucky loved his mommy. He's napping next to me on the couch right now.
Not much to do this weekend except some light article work and ghost shows to watch. I'm getting ready to watch (get this!) "Most Haunted" in a few minutes. That show is such a guilty pleasure. I used the riff exposing "psychic" Derek Acorah in my newly accepted book "The Haunting Of The Sandpiper Inn". I had lots of fun writing that book. I expose psychics in it with my grouchy main character, psychic and skeptic Martha Ellis McKay. She's a lot like me, which may be why I like her so much.
I may bake caramel corn today. Not sure yet. I do want to make some English toffee so that we have snack food. Once I get a little TV watching done, maybe I'll cook today.
Posted on November 8, 2008 at 09:42 AM | Permalink | Comments (0)
How Much Worse It Could Have Been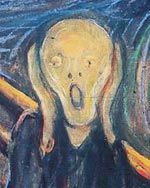 While I'm not thrilled with Obama's possible cabinet picks, McCain's would have been much worse.
Mike Huckabee running Health and Human Services???
Whew, what we just missed!
Here is a list of McCain's possible cabinet picks, had he won the Presidency:
* Sen. Joe Lieberman, I-Conn., in a prominent job, possibly even secretary of state. (I'm watching Lieberman's shaky position now. No telling where that's going to go.)

* Former Sen. Fred Thompson, R-Tenn., as attorney general. (He played a judge on Law and Order, so we know he could have done this job.)

* Former New York Mayor Rudy Giuliani as homeland security secretary. (9/11, all the time!!)

* Former Sen. Phil Gramm of Texas as treasury secretary. (Ick...)

* Former Arkansas Gov. Mike Huckabee as health and human services secretary. (Yikes!!!)


I guess as far as Obama's cabinet goes, it's just wait-and-see...
Posted on November 8, 2008 at 09:35 AM | Permalink | Comments (0)
Say NO To Lawrence Summers
The Washington Post has stated that Obama has tapped Lawrence Summers as the frontrunner for the Secretary of the Treasury, but he is definitely NOT the right person for the job. When President of Harvard, Summers dismissed women's "innate ability" to handle math and science compared to men, saying that was why so few women held elite science positions. He also supported deregulation when he was the Treasury Secretary during the Clinton administration.
This petition below, which I signed, is available for those who want to protest his consideration for the Treasury slot. It's time to let Obama know that Summers is not the right person for the job.
Dear Friend,

I just signed this petition asking that Obama appoint a Treasury Secretary who can clean up Wall Street, not one who helped deregulate it. Right now, the leading candidate for the post is Clinton administration official Larry Summers, who had a hand in reducing regulations on banks in 1999.

We can't fix this mess by handing control to the people who made it.

Read the petition and sign up here:

http://action.openleft.com/page/petition/nosummers

Thanks!
Posted on November 8, 2008 at 08:56 AM | Permalink | Comments (1)
November 06, 2008
Chocolate Dick-Shaped Muffins! Yum!
I like the
Penis Cupcake Pan
I got from Babeland so much that I used it today to make more muffins. A couple of days ago, I used it to make chocolate muffins. Today, I used it to make more banana nut muffins because we ran out. Good thing I did that this morning, since the bananas were over-ripe.
I already posted the recipe for the banana nut muffins. Here's the recipe for the chocolate muffins.
2 c. flour
3/4 c. cocoa powder
1 c. sugar
1 tbsp. baking powder
1 lg. egg
1 c. milk
1/2 c. butter
1 1/2 c. mini chocolate chips (optional)
Preheat oven to 400. In large bowl combine flour, sugar, cocoa and baking powder. In medium bowl whisk egg, milk and melted spread. Pour liquid ingredients into dry. Add chocolate chips, stirring until mixed. Grease the muffin tins with shortening. Spoon batter evenly into the muffin tins. Bake for 40 to 45 minutes. Let cool on a rack, and then eat and enjoy!
Here is a picture of my vintage 1950s amberina cake plate with banana nut and chocolate penis-shaped muffins on it. They look so festive and delicious!
Posted on November 6, 2008 at 02:25 PM | Permalink | Comments (0)
November 05, 2008
I Got Me A Contract!!!!
I'm so psyched! Whiskey Creek Press Torrid just accepted my paranormal erotic romance novel, "The Haunting Of The Sandpiper Inn", for publication. W00T!!!!! I love ghosts, and this is a haunted house romance novel set in the fictitious town of Norwich, on the northeast coast of Massachusetts, where I just happen to live.
I've relied on my love of a good ghost story and my penchant for bringing unusual characters together when penning this fun little tale. My main character, Martha Ellis McKay, is a psychic who is writing a book called "Haunted Cape Ann", so that she can pay her electric bill, rent, and World of Warcraft habit. However, deep down she is a skeptic who doesn't take kindly to the fake mediums out there. Ellis is a grouch who has most of my good - and bad - qualities. I like this character very much. She meets her match in John "Beck" Becker, the resident skeptic of a ghost hunting team who is also on hand to investigate the Sandpiper Inn.
I'll update here and on my other sites as I get more information. I already handed in my contract. This is my first full-length book published, and I'm very excited about it. Yahoo!!!!
Posted on November 5, 2008 at 05:22 PM | Permalink | Comments (3)
November 04, 2008
Obama Won!!!!!
Barack Obama is our new U. S. President! He's our first African American President, too. I'm so relieved and happy!
Now, go click on the Obama sticker in my sidebar, and pick up some sex toys at a discounted price. My blog is a sex blog, after all. That's what the sticker is for.
Now I can sleep easily at night. I was so afraid that that train wreck McCain/Palin would end up winning that I ate my stomach lining. It's such good news that Obama won. Plus, he took Florida and Virginia.
McCain is about to give his concession speech. Oh, happy times. And the South Dakota abortion ban has failed. Yay!
I voted for "that one". Now let the
schadenfreude
happiness and cheer take over.
The neocons, Religious Wrong, and other throwbacks have been told by voters to Get The F*** Out! And I'm happy to see that.
Posted on November 4, 2008 at 11:18 PM | Permalink | Comments (2)
November 01, 2008
Babeland - Penis Cupcake Pan
I review sex toys for Babeland, and when I saw that the store carried
Penis Cupcake Pan
, I had to have it. I love to bake, so I decided I was going to have some fun with this pan. Oh, the possibilities! Banana nut dicks. Pumpkin dicks. Spice dicks. Yummy!
I was so excited about this pan that I told all my writer/reader friends about it on Yahoo groups. I know I sold one or two of the pans just from my raving about it.
I was very impressed when the pan arrived. It's very sturdy, and the penis-shaped muffin molds are the perfect size for a muffin to go with your morning coffee. I checked the price out of curiosity, and it's comparable to ordinary muffin pans. I couldn't decide between pumpkin muffins or banana nut muffins, but I was in a banana mood, so I went with banana nut.
These muffins are delicious! And so kinky looking. I thought they would look perfect on my vintage 1950s amberina cake plate. Aren't they yummy?
You can buy the penis cupcake pan at Babeland
, and make your own dick-shaped delights. Here's the recipe I used to make banana nut muffins. Those muffins are perfect for the fall. Spread on a little soft butter, and you have a perfect complement to your morning cup of Guatemala Antigua.
Banana Nut Muffins
2 c. flour
2 tsp. baking powder
1 tsp. baking soda
3/4 tsp. salt
1/2 c. vegetable oil
1 c. white sugar
2 lg. eggs, well beaten
1 1/2 c. mashed ripe bananas (3 bananas)
1 c. chopped walnuts
1 tsp. vanilla
Sift together flour, baking powder, baking soda and salt. Mix well. Cream together oil, sugar, eggs. Add mashed bananas to creamed mixture. Add vanilla. Mix flour and banana mixture together. Stir in walnuts. Pour into greased penis tins. Spread the batter around with a spatula, and/or gently slam the pan onto the counter to move the batter around. Bake at 350 degrees for about 45 minutes.
Eat and enjoy!
Posted on November 1, 2008 at 10:14 AM | Permalink | Comments (4)