« October 2008 | Main | December 2008 »
November 27, 2008
Happy Spanks-Giving!!!
It's that time of year in the States again. On Friday, the holiday shopping rush starts. We're having turkey, sweet potatoes, stuffing, gravy, corn, biscuits, and cranberry sauce. I doubt either of us will be in the mood for a little hanky panky as the day wears on, but I have my dreams. I'd like to use the massage oil on my husband's hands, since he said they hurt again. Maybe I'll get lucky! I massaged his hands with Tiger Balm last night, but the power of that stuff has worn off since the bottle is very old. I must admit that Tiger Balm on my pussy lips sure felt burning good. Heh heh. So, we will spend our day watching "MI-5", a Brit crime show. We saw some of it on BBC about a year ago, and we liked it so much I rented the first season. Next in line: "Wire In The Blood", another Brit series. So, aside of eating and loafing, our day isn't going to be much different than it usually is. I just work less today. Listening to Peter Gabriel right now, which always puts me in a good mood.
Everyone out there in the Blogosphere, have a happy holiday! Here's a fitting photo for the season:
HAPPY SPANKS-GIVING
Posted on November 27, 2008 at 09:34 AM | Permalink | Comments (1)
November 21, 2008
Lesbians Vote Rachel Weisz Hottest Woman
A Brit survey of lesbians listed the hottest women, with Rachel Weisz coming in at number one. I do agree that
Rachel Weisz is indeed hot
. She tends to play brainy and gorgeous women, if you have seen her movies.
Here are other women that made the list:
1. Nicole Kidman
2. Minnie Driver
3. Kate Winslet
5. Naomi Watts
6. Keira Knightly
7. Thandie Newton
8. Emily Blunt
9. Catherine Zeta Jones
10. Cate Blanchett
What, no Angelina Jolie?
Here are some women I think are sexy: Jennifer Beals, Emily Proctor, Demi Moore, Jodie Foster, Rachel Shelley, and Karina Lombard. Yes, if you are paying attention, I'm a fan of "The L Word", that TV show about lesbians that airs on Showtime. I'm hooked.
So, what women do you think are sexy?
Posted on November 21, 2008 at 08:42 AM | Permalink | Comments (1)
November 20, 2008
Kiss And Tell?

Should I kiss and tell? That question plagues me every time I update my blog or write my Nuts4chic column. I am a very private person – almost reclusive – so sex blogging is a rather foreign concept for me because of its public nature.

I read a column at the sex blog
Secondhand Rose
, and she reminded me about how safe is it for sex bloggers to blather the way they do. Rose enjoys being a "phone companion and conversationalist." She wrote the following on her blog which really struck home for me:
"As pros we recognize that we've been given not just the power to grant fantasies but that we've been given access to the inner most thoughts and desires which form those fantasies. The closer our direct workings with those whose fantasies we create, the more we are aware of this. We are more aware of what we hold and touch (not just as body parts) because we are present to each person whose fantasy we fulfill."
I grant fantasies in that I expose my private, sexual self to you, my readers, to read. I write erotic fiction in which I engage in some fantasies, in particular some fetishes, that I don't engage in in real life. I can express myself to you, my reader, so that you may open up your own sexuality through my writing. I fulfill your fantasies related to MFF relationships, kinky sex play, how to perform a blow job properly (especially with Altoids mints), enjoying cybersex, and how to explore polyamory while sating my own interest in those subjects.
Rose also wrote the following, which struck home for me:
"Each time we give we are aware that we are similarly there for the taking. Just as cock cannot experience my cunt without penetrating my body, neither can I really deliver a fantasy without participating in the touching of our minds, souls, emotions etc. In order to make a fantasy work -- really work past simple friction -- I must assume emotional positions. This, of course, is even more true in the case of stories where my words and voice are all I have to use. If I don't evoke the proper mood, setting -- the mind fuck -- then where's the heat and friction coming from? (And if I'm really not understanding such subtleties, my literature rubs the wrong way!)"
I am sharing my mind, soul, and emotions with you. In a way, I am making myself vulnerable to my readers. I hope that you are making yourselves vulnerable to me. I'm going to share even more with you very soon. A. J. Llewellyn, who is a real fun character known for his hot M/M stories, is interviewing me Dark Divas. He has asked lots of very personal and sexy questions of me, and I will answer in my usual frank fashion. Get ready to learn much more about me!
What do you, as a reader, get out of reading my sexy articles and blog posts? Hopefully, you get something to think about as well as ideas on how to explore your own sexuality. In each article, I am opening up more to you, which hopefully makes my articles more interesting to you. We share, in a way. Would you like to share more with me? Please feel free to do so in comments.
Posted on November 20, 2008 at 09:34 AM | Permalink | Comments (2)
November 19, 2008
Chocolate Sex Spread Pulled From Shelves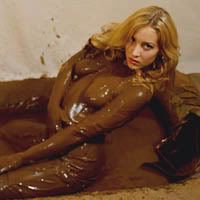 I freaked when I first saw this article, since one of my favorite sex toys of ours is the
Kama Sutra Chocolate Lover's Paintbox
, which has a place of honor in our refrigerator. Apparently, another chocolate body spread has been pulled from shelves at Ann Summers stores because it contains an industrial chemical harmful to humans. According to an article on the subject, the chemical melamine caused a "massive scare in China after four babies died and 54,000 children under two fell ill from drinking milk products adulterated with it."
I'm happy to report that my chocolate body paint is not affected. The chocolate sex spreads pulled from the stores are "Chocolate Flavored Willy Spread" (love the name) and a pack that contains a chocolate flavored "body pen". Both products are made from a company called Le Bang, from China.
So, I'm off the hook. That
Kama Sutra Chocolate Lover's Paintbox
tastes delish, too. We have milk chocolate, dark chocolate, and white chocolate. I reviewed the product for VibeReview.
Read my review here
.
Posted on November 19, 2008 at 07:22 AM | Permalink | Comments (1)
November 18, 2008
Have You Ever Faked An Orgasm?
I published this article originally with Nuts4chic. Here's a repost, for your reading pleasure.
---
Faking It
by Elizabeth Black
When Meg Ryan threw back her head and faked an orgasm in front of Billy Crystal in the movie When Harry Met Sally, men and women asked themselves how often they faked it. While it's difficult for a man to fake an orgasm, for women, it's an entirely different matter.
Have I ever faked an orgasm? A couple of times, yes. Most of the time, no. I feel no strong need to fake it when I can't come. I just say it's not in me that night. My decent partners have never felt as if they weren't man enough to bring me to orgasm. When I've had trouble coming, it was usually because I was extremely nervous. I had affairs with several married men when I was younger and stupid, and the sound of a car backfiring a couple of blocks away would make me think I was about to be discovered.
So… I faked it.
Throwing my head back and moaning while I writhed on the bed even though the idea of having an orgasm at that moment was as appealing as watching paint dry was my way to get the act over with as soon as possible.
Thankfully, I came to my senses and soon ditched those two jerks.
What other reasons do women give for faking orgasms? Aside of the reason I gave, both partners may fake an orgasm because they don't want to hurt their partner's feelings. How many men think that they are inadequate lovers if they can't get the woman they are with to see fireworks?
Some are unable to have orgasms, and they fake them for the same reason. Sometimes the person is too tired for sex but decided to have it anyway, and that person fakes the orgasm so they can get some much-needed sleep. Some – like me as I have described above – fake it because the sex sucks and they just want to get it over with as quickly as possible.
Alcohol and drugs can affect your ability to have an orgasm. Getting a bit too tipsy can keep you from coming. As far as I'm concerned, if I've had a bit too much port and I can't come, I just say so. An orgasm isn't the Be All And End All of sex, and the ride is just as much if not more fun.
However, not all people feel comfortable admitting that they can't come for whatever reason. So, rather than risk hurting their partner's feelings or risk exposing their own lack of confidence in their sexual prowess, they fake it.
Not having an orgasm doesn't mean the end of the world. In my opinion, if you can't come, just say so. Sometimes your body just doesn't feel up to fireworks. Not coming doesn't mean that there is something wrong with you or your partner. Just enjoy the ride and stop worrying about the climax.
Posted on November 18, 2008 at 08:11 AM | Permalink | Comments (4)
November 17, 2008
Who Need Latex Fetish Briefs When You Can Get These?
Aren't these briefs just a gorgeous thing to behold?
And you get a BIG picture!! We are big movie fans, and I have bought stuff from
Museum Replicas
before, but these briefs are beyond sexy. At $95.00 they're a bit out of my price range, but they look so
nice
. I'm really tempted to get them for The Count, and see his reaction. They're made of leather, and it looks like they really set off The Package very well.
I have bought Riven artifacts from Museum Replicas before. This company also sells some very nice daggers and swords. The thing is those briefs are to die for. Why buy latex fetish briefs when you can get a leather pair based on the movie "300"? We saw that movie, but it really didn't do much for us.
True confessions time here - we don't wear underwear. I'll sometimes wear black panties, but I don't really care that much for them. Bras feel like elastic bandages, and I hate them. We prefer to sit around the house naked, which amuses the people living nearby who know us.
I do like some loungewear, though. I wouldn't turn down a sexy lace teddy with straps for stockings. I usually wear long, paisley satin shirts with black stretch pants if I absolutely must wear clothing. Still, some lingerie is very sexy. La Perla is way out of my price range, but it looks gorgeous. I've seen plenty of sexy lingerie on sale at sex toys sites. Talk about variety! Babydolls and corsets, oh my! I would like babydolls because they are so loose. I don't like tight clothing. Heck, I don't like clothing at all. So there's something new for you. I sit around the house naked. Ha!

My husband nixed the hot leather "300" briefs, but he told me he prefers
the King Leonidas helmet
. I can't blame him. It's a work of art.
Posted on November 17, 2008 at 08:11 AM | Permalink | Comments (8)
November 11, 2008
Homophobia Is Alive And Well In The U. S.
This story is infuriating. I know Terry Pray. She's one of the Midnight Seductions authors, and I'm part of that networking group. This really sucks.
What happened to her and her husband reminds me of an incident I encountered with a feminist when I was working on family law issues a couple of years ago. This woman contacted me wanting to benefit from my expertise, but (1) she couldn't pay me, and (2) she told me that since I now write erotica, she can't let her colleagues know that the valuable information I gave her
for free
came from me. Since I'm a smut peddlar. Not only am I a smut peddlar who writes straight erotica and erotic romance, I also write f/f and I've tried my hand at m/m. The kind of treatment I received from that woman - and similar treatment in that particular field over a decade - is one reason I gave up that line of work. No appreciation and no money equals No Help From The Countess.
I really hope Terry and her husband get through this mess soon. It's a good thing they didn't move into that backwards town because she'd have to put up with ugly, bigoted neighbors.
Town Needs To Get A Clue

I'm seeing red, with good reason. Why?

One of the best selling subgenres of erotic romance is M/M. At least three erotic romance publishers have reiterated to me in the last few days that M/M is their #1 bestselling subgenre, bar none. People are buying. A large portion of the erotic romance market is accepting of M/M.

In addition, we've had laws against hate crimes for a couple of decades. We've had (supposedly) tolerance taught in the schools. You'd think the majority of thinking adults would be properly taught to simply walk away from what they don't "approve of" or "want to try."

So, what did I wake up and find this morning?

Terri Pray and her husband Sam are part owners of Under The Moon/Final Sword Productions Terri and Sam were set to buy a house in Greene, Iowa. They had their loan approved, the bid on the house accepted, but Greene has a requirement that they have to have the final sale approved by the town. They weren't approved.

Now, why were they turned down? Terri and Sam, as I noted, are part owners of UTM/FSP. A portion of the business is run out of their home and a part out of the office, as it is with many indie presses. Between the two sides of the company, they have dozens of books out and contracted, everything from straight genre military fiction, horror, and fantasy to erotic romance of all sorts. To be honest, the lion's share of their books aren't even erotic. They have several major gaming franchises, including Honor Harrington gaming. They sell t-shirts and even audio CDs.

What does this have to do with the price of beer? It's simple.

ONE book, out of their entire stock, is a M/M erotic romance anthology, titled SACRED BANDS. While the townspeople of Greene, Iowa found the M/F erotic romance perfectly acceptable, they called the M/M erotic romance "gay porn." Some of them further stated (now, mind you...these aren't older people...these are 30-45-year-old people, which makes it all the more deplorable, in my mind) that publishing SACRED BANDS was "morally corrupt" and that choosing to publish the anthology demonstrated "questionable business practices."

In short, Terri and Sam lost their house, because the people who live in Greene, Iowa are a bunch of backward, homophobic dinosaurs. They lost their house, because (out of hundreds of items available from their business) one book is M/M erotic romance. The deliberations ended with the comment that Greene, Iowa didn't want to be "known for harboring a publisher of gay porn." KUDOS to Greene! You're now exposed for being a bigoted backwoods bunch of rednecks.
Posted on November 11, 2008 at 05:35 PM | Permalink | Comments (5)
Banging Head On Keyboard...
You've gotta be fucking kidding me...
Alaska Governor Sarah Palin has received her first job offer since failing in her bid to become vice-president of the United States, and it comes with a large cash offer.

Florida-based porn director Cezar Capone has offered to pay Palin $2 million to appear in an adult film production.

Capone, who calls himself "the king of all MILF films," promises in an open letter on his website that the film would be distributed internationally, shot in high definition, and feature a "beautiful mother recognized by all of America ... as the most desirable woman over 40."

To prove he's serious about the offer, Capone says he's prepared to hold the money in escrow immediately.

To sweeten the deal, Palin's husband Todd has been offered a co-starring role in the production, for which Capone would be "prepared to kick in an extra $100,000," and a new Arctic Cat snowmobile.

Palin hasn't publicly responded to the offer, which was sent to her administration office in Juneau, Alaska on Nov. 6.


She ran for Vice President, for God's sake!!!
It's insulting to offer her a job as a porn star! It's bad enough that "Who's Nailin' Paylin" is coming out, and that there is a Sarah Palin blow-up doll for men who want that MILFy action. Now, this.
And I don't even like Palin's politics. Still, this really blows chunks. [via
Echidne of the Snakes
.]
Posted on November 11, 2008 at 05:20 PM | Permalink | Comments (0)
November 09, 2008
And The Sexist Crap Continues... "Who's Nailin Paylin"
I had heard about this movie. I mean, I figured it was only a matter of time before someone made a porno about VPILF (as she was referred to by both conservative and liberal men) Sarah Palin. Well, guess what! Here's the dirt from BoingBoing:
According to Hustler, "Nailin' Paylin"

is a "naughty adventure to the wild side of that sexy Alaska governor," featuring "girl-on-girl lovin'," "nailing the Russians, who come knocking on her back-door," and a younger Palin getting seduced by her college creationist professor who "will explain a 'big bang' theory even she can't deny!" Also included: a three-way hardcore sex scene starring Palin/Paylin, Hillary Clinton, and Condoleeza Rice.
I actually saw some of this porno, and it's exactly what I expected. I saw the portion about the Russians stopping by her house asking to be let in because they blew a tire. All they can focus on are her big boobs and her tight ass. The woman playing Paylin really does look like Sarah Palin, minus the accent. Of course, the real Palin is not built like a porn star, but there ya go. There were the usual cock sucking, fluffing, and pussy fucking, with the prerequisite money shot in the end, with both "Russians" squirting their jizz all over her face. Shooting your wad onto a woman's face always struck me as very disrespectful.
That segment ended with a shot of a newspaper headline: "Paylin Approves Russian Penetration", or something like that.
Yeah, lots of warmth and sensitivity there. I read the Puma blogs with interest because they act as if only the Obama camp was sexist and misogynistic. Nope, folks, the sexism and misogyny came from everywhere - liberal and conservative alike. This movie, as well as the
Sarah Palin Blow Up Doll
prove just how far women have really come in the U. S.
And now for a touch of cognitive dissonance, while writing this post I am watching Herschel Gordon Lewis's "Blood Feast". I own "2,000 Maniacs", and that movie is just surreal. It's "Brigadoon" for the gore flick set.
Posted on November 9, 2008 at 01:28 PM | Permalink | Comments (2)
November 08, 2008
Vibrator.com - Pocket Fingers Pocket Rocket
I love Pocket Rockets, so when Vibrator.com sent me a Pocket Fingers Pocket Rocket to review, I knew immediately that I would love it. There are so many wonderful things about Pocket Rockets. They're powerful. They're quiet. They're discreet. They're fun. The Pocket Fingers Pocket Rocket is no exception.
I've never used a Pocket Rocket with fingers on the sleeve like this one has. Those fingers are very soft and flexible, since they are made of my favorite material ñ jelly. Plus the sleeve and Pocket Rocket itself are a very pleasant pink color. I've used the Pocket Fingers Pocket Rocket with the sleeve on and off. Both ways feel great, but I prefer to use it with the sleeve on.
The fingers give a little more sensation than most Pocket Rockets because they extend the pleasant vibrations to the area around my clit. I enjoyed rubbing it around my vaginal lips as well as my clit, and the fingers allow me to do that. So, the Pocket Fingers Pocket Rocket actually gives more erotic sensation than the average Pocket Rocket.
I prefer using this specific sex toy at night right before I go to sleep, and my husband likes to use it on me. If I wake up in the middle of the night horny, but I don't want to disturb my husband, out comes the Pocket Fingers!. It's so quiet that it doesn't wake him up. Then again, fire engine sirens can't wake him up. I can hear our upstairs neighbor snoring, so I'm grateful that it is so quiet, since we have paper-thin walls.
The Pocket Fingers Pocket Rocket uses one AA battery, and that battery lasts a good long time. The vibrations are fast and intense, just the way I like them. I have very intense orgasms when I use clitoral stimulators like Pocket Rockets.
I like to speak at conventions around the east coast, so the Pocket Fingers Pocket Rocket will likely go with me when I travel. I'm set to speak about erotic writing and movies at a science fiction convention in January, and I plan to pack this little wonder in my luggage. My husband and I are taking the train and subway, but the fact that the Pocket Fingers Pocket Rocket is so small and portable is very important to me. It won't take up a lot of room in the backpack, as would more traditional, dick-shaped, sex toys. I can even sit it on the headboard, and visitors to our room might not know what it is at first glance. Once they figure it out, there will be lots of laughs all around.
The Pocket Fingers Pocket Rocket cleans up easily. I just remove the sleeve and wash it with warm, soapy water. I then dry it on a clean towel or air dry it. It sits on top of one of my books on my bed's headboard so that I can grab it when the mood strikes. I use one sex toy or another at least every other night, with or without my husband, and lately I've been using this one almost exclusively. Thank God the batteries don't run down quickly!
I like this vibrator very much. It keeps me happy in the sack, and it's such a classy sex toy. Those fingers work wonders on my clit and vaginal lips. I even use it in the living room when I'm enjoying a movie. While the arousal is usually intense, it's sometimes very soothing. The Pocket Fingers Pocket Rocket is definitely a winner in my home.
Posted on November 8, 2008 at 12:58 PM | Permalink | Comments (2)