« September 2008 | Main | November 2008 »
October 28, 2008
Oreo Just Died
Oreo died about twenty minutes ago. We buried her outside. She was squirming a bit, so I held her, petted her, and talked to her for about ten minutes. She always liked it when I did that. She loved to sit on my chest and shoulder. After ten minutes I put her back down on the couch and covered her with her towel. She died five minutes later.
It's a relief now, because she isn't suffering. And she's still nearby. It's odd, the other cats knew something was up because they avoided the living room all day long. As soon as Oreo died, they all came out, slowly.
I miss her already. Here's another picture of her:
Posted on October 28, 2008 at 07:25 PM | Permalink | Comments (7)
I'm Depressed. My Favorite Cat Is Dying.
I'm very upset. My favorite cat, Oreo, is dying. I don't expect her to make it through the night. She got sick with a cold two days ago, and she took a quick turn for the worse last night. She's on the couch next to me now, covered with a plush towel to keep her warm. My husband turned the heat up so she wouldn't be too cold. I thought she just had a mild cold, but I guess it's much worse than that.
She is the mommy cat of the other four in our brood. She's been an indoor cat for the past two years, but for the eight before that she was an outdoor cat, and not because I wanted her to be. She would find any way to sneak outside, even if it meant clawing through the window screen to get out. She
loved
to play "chase me around the yard", "chase me up the tree", and "chase me on the roof". I drew the line at the last two. I don't do trees or roofs.
She is a little, tiny black and white long-haired cat who reminds us a lot of Sylvester from the old classic cartoons. Plus she's the scruffiest cat we've ever seen. No matter how often she groomed herself, she looked like a mess.
I have an erotic folklore story to finish by Friday, and I'm too upset to write it. I started it yesterday, and I really like my idea, but I"m too depressed right now. I do have some sex toys articles to write, so I'll work on them instead. Need to get them done anyway. I can handle that. I'll just watch more horror movies, and take it easy today.
Here's a picture of Oreo when she was a lot healthier. The kitten is our oldest of Oreo's kittens, Domino, when she was a day old.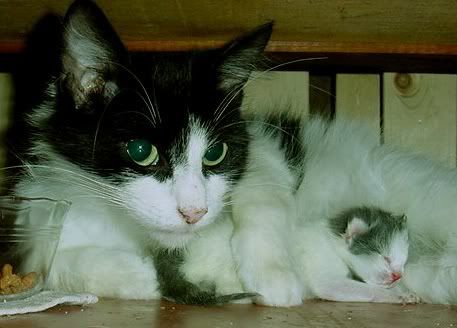 Posted on October 28, 2008 at 02:39 PM | Permalink | Comments (0)
TypePad Has A New Posting Method...
... and I HATE it! The spacing screws up and I can't get the text to stay to a smaller size. I really hate the changes TypePad is making. They are aggravating.
Okay, rant over. Back to coffee drinking...
Posted on October 28, 2008 at 08:32 AM | Permalink | Comments (0)
Not Getting Much Writing Done Today
I have to be away from my computer for a good chunk of the day, so I won't get much writing done. I started my short erotic story "Lust and Red Velvet", but I don't know what to do with it now. I'll figure it out. I have until Friday to finish it. Plenty of time.
We watched "Indiana Jones and the Kingdom of the Crystal Skull" last night. I still think Harrison Ford is too old to play the part, but it was fun watching Indy get himself into trouble again. I even heard a Wilhelm Scream in the movie. How cool is that?
The Count bought most of the food we need for the month yesterday, but he forgot the butter. I need butter to do my baking. Plus mussels are on sale, and we
love
 mussels. I can't wait to make pumpkin muffins with my new penis-shaped muffin pan. I'll probably get to those tomorrow. Such fun!
And we finally have coffee. I like tea, but there is nothing quite like a good cup of coffee in the morning to jump start me. Yum!
Posted on October 28, 2008 at 08:30 AM | Permalink | Comments (0)
The Palin Hate Is Coming From Everywhere
I'm taking a brief break from my blog to blog about politics. Now don't run away! I'll get back to the ever vital sex stuff and erotic writing in a moment. I just had to say something about American politics as of late.

Hillary Clinton put up with a lot of hate and vitriol, and quite a bit of it came from other Dems and progressives. I saw the Hillary Clinton nutcracker and watched the YouTube of those idiots shouting at her to "iron my shirt!" It didn't help that she not only did not get the Dem nomination for President (with 14 million popular votes), she wasn't even vetted for Vice President. Joe Biden - who trashed Anita Hill and whose brother has hedge fund "problems" - got the nod. Yes, I know that Clinton has urged her supporters to support the Obama/Biden ticket because the last thing we need is a McCain/Palin presidency/VP. While I agree with her that McCain would be a disaster and more of The Same (Read "Bush, Chapter 3"), I'm not thrilled with Obama/Biden. I do have an Obama '08 graphic on my sidebar so that anyone who clicks on it can get a percentage off for sex toys. Now there is a great use for a presidential election!



The hate continues, this time against Sarah Palin. I'm not a Palin supporter. I can't stand her politics, and I don't think she should be one heartbeat away from the Presidency. That doesn't mean that I can't speak out against the misogyny directed towards her. I recently learned of the "Sarah Palin Is A C***" t-shirts worn by some Democrats. Those shirts are sickening. The hate is coming from everywhere, though. I just learned that some conservatives are trashing her by calling her by that age-old slur - "diva". As in she's a prima donna Queen Bee who wrecks havoc wherever she goes.

Here is the page about the "diva" business - from the conservative American Spectator:




Former Mitt Romney presidential campaign staffers, some of whom are currently working for Sen. John McCain and Gov. Sarah Palin's bid for the White House, have been involved in spreading anti-Palin spin to reporters, seeking to diminish her standing after the election. "Sarah Palin is a lightweight, she won't be the first, not even the third, person people will think of when it comes to 2012," says one former Romney aide, now working for McCain-Palin. "The only serious candidate ready to challenge to lead the Republican Party is Mitt Romney. He's in charge on November 5th."

Romney has kept a low profile nationally since being denied the vice presidential nomination. He is currently traveling for the National Republican Congressional Committee in support of some House members, and has attended events for a handful of other House members who have sought his support, but he has traveled little for the McCain-Palin ticket. "He said the only time he'd travel for us is if we assured him that national cameras would be there," says a McCain campaign communications aide. "He's traveled to Nevada and a couple other states for us. That's about it."

Should McCain-Palin not win next week, Romney is expected to mount another presidential run, though it isn't clear that he has handled himself particularly well since losing the nomination. He failed to support or espouse conservative positions on the economic bailout bill in an effective or meaningful way, and he has turned down opportunities to endorse and work for conservative candidates in House or Senate seats unless they were assured of winning.

The most glaring oversight was Romney's refusal to do a phone recording for Massachusetts Republican Jeff Beatty, who is challenging Sen. John Kerry. "Mitt supposedly cares about Massachusetts, but won't even return phone calls asking for help," says a conservative working for Beatty in Boston. "It's a tough race, but the least he could do is help. He's showing his true colors."

Some former Romney aides were behind the recent leaks to media, including CNN, that Governor Sarah Palin was a "diva" and was going off message intentionally. The former and current Romney supporters further are pushing Romney supporters for key Republican jobs, including head of the Republican National Committee.



I do not want to see McCain/Palin get elected to President/Vice President because I think that would be an unmitigated disaster. While I'm no fan of Sarah Palin, I can condemn the misogyny and sexism directed at her. But she (and McCain) do nothing for me. I'm not thrilled with Obama/Biden, either. Yes, there has been lots of racism directed towards Obama, but the overt sexism has not gotten the attention it deserves, especially from the feminist establishment. Third parties are out for me because they are a waste of time. I do plan to vote for Obama/Biden in November, though. The neo-con gravy train of the past eight years has got to stop.
Posted on October 28, 2008 at 08:20 AM | Permalink | Comments (0)
October 25, 2008
Books To Review And Other Stuff
I am reviewing two new books. One is "Naughty Paris", about... well... Paris for women who like the good life. The other book is "Still Doing It", a celebration of women over 60. Both sounded good to me. I'll start reading them very shortly, and then review them here on my LiveJournal. Today I have five sex toys reviews to write, and I'll do that while watching movies. I love this time of year because my favorite horror films are on TV. Yesterday I watched the original "Cat People". The day before I watched "Eyes Without A Face" (Les Yeux Sans Visage), a French classic. Today, I watch "Night of the Living Dead" "Son of Frankenstein", and several others that are actually forgettable but great as background noise. I'm even going to watch "Saw", which does nothing for me, but it's great as background noise. Yeah, it'll be cut to shreds because it aired on TV, but I saw it already and I know what happens. I already saw "Most Haunted" today. That show is ridiculous, but it's fun for a good laugh. So, back to my Halloween shows and some light writing.
Posted on October 25, 2008 at 10:55 AM | Permalink | Comments (0)
Dracula's Castle For Sale In Romania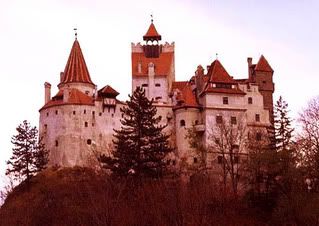 Looking for some prime real estate with a bit of history? How about buying
Dracula's Castle
? According to news reports, "Bran Castle, perched on a cliff near Brasov in mountainous central Romania, is a top tourist attraction because of its ties to Prince Vlad the Impaler, the warlord whose cruelty inspired Bram Stoker's 1897 novel, "Dracula."
Archduke Dominic Habsburg is hoping to get about $135 million for the castle, and he wants to sell it to someone (or a corporate someone) who will respect the castle's heritage and take good care of it. He will keep the castle open as a museum until 2009.
Posted on October 25, 2008 at 10:45 AM | Permalink | Comments (0)
October 22, 2008
I Found A Great Herb Site
I'm into Red Zinger iced tea lately. I was drinking regular iced tea made from black tea bags, but I want to cut down on my caffeine during the day. I drink A LOT during the day. I learned to use Red Zinger tea with a little sugar about fifteen years ago from a woman I knew who drank it. I normally don't like Red Zinger. I drank it hot, and I didn't care for it. However, on ice it's delicious! I use Splenda when I make a glass for myself. I normally don't like sugar substitutes, but Splenda tastes good with Red Zinger.
I am also now out of Red Zinger, but I have another tea made of hibiscus leaves and rose hips, which are the two main ingredients in Red Zinger tea. The boxes don't have many tea bags in them, though, so I thought that buying the herbs individually in bulk might be cheaper. I normally buy my herbs at a Wiccan shop in Salem, Massachusetts, but without a car I have to take the train. I really don't feel like schlepping all the way to Salem to pick up some herbs. Being lazy, I figured why not try to find herbs online? This shop in Salem doesn't have an online shop, so I searched until I found what I wanted.
I found this site:
It carries every herb I've ever wanted, and they're CHEAP!! The handling fee is about the same as what I'd pay to take the train to Salem, so I'm not losing any money.
Here are herbs I want to buy that this site carries:
Hoodia (I need to investigate before I use this to lose weight.)
Hibiscus leaves
Rose hips
Licorice root
Star Anise
Damiana
Spearmint leaves
Raspberry leaf
Lemongrass
Bergamot leaves (I was thrilled to see this. I can now make my own Earl Grey tea!)
Rose petals
Black tea
And then there are the cooking herbs I can buy for us. This site even has rubbed sage, my favorite type of sage.
I'm so going shopping once my paycheck comes in next month.
Posted on October 22, 2008 at 08:22 PM | Permalink | Comments (0)
October 21, 2008
Halloween Display: The Ring
A few years ago I made a display of Sadako, the "ghost" from the Japanese movie "The Ring", coming out of the well. I can't make the display this year because we live in an apartment complex. Still, I wanted to show everyone my "The Ring" display just for kicks.
I got all kinds of thumbs-up for my first Sadako display. One little girl who came to the house with her mom trick-or-treating asked me, "Is that lady going to eat me?" I wanted to say, "No, she'll just climb out of your TV set, and chase you around the room until you die." I knew better than that. Maybe I should have said it. What a great way to scare kids out of watching too much television.
Here's an old blog picture of my first Sadako display. She is very scary, isn't she? I love it!
Posted on October 21, 2008 at 05:59 PM | Permalink | Comments (0)
Read My Flasher And Leave Comments For Me!

I have entered my flash short fiction story "Demon Lust" in the Seven Wicked Writers Halloween contest. Head on over there, and read it! The writer who gets the most positive comments wins a prize, so please leave some good comments for me.
http://sevenwickedwriters.com/2008/10/entry-14-demon-lust-by-elizabeth-black/
(Scroll down to read the story and leave comments.)
This story is yet another spooky erotic tale from me. It's hot and dangerous, a lethal and sexy combination. It's a m/m paranormal story with a Halloween theme. I hope you like it.
Help me win! Leave lots of positive comments for me. Comments may be left at the bottom of the post.
Posted on October 21, 2008 at 05:08 PM | Permalink | Comments (0)