« Hollywood Is Officially Out Of Ideas: Horror Movie Remakes | Main | Nuts4chic: Why I Wish Porn Movies Were More Fun »
September 10, 2008
Women Against Sarah Palin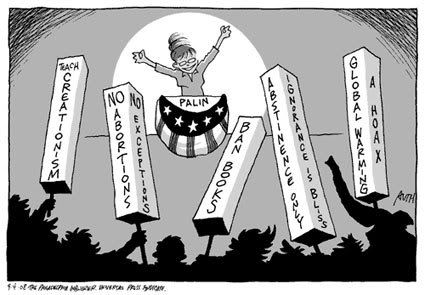 If you go by media reports, it sound like women are flocking in droves to support John McCain because of Sarah Palin. Not all women out there are infatuated with Sarah Palin, and I am one of them. While I've seen the PUMA sites and a site called The New Agenda, I think those women are severely misguided. I wanted Hillary Clinton to get the Democratic nod, and I was just as angry as lots of women were to see how piss poorly she was treated by the media, the Republicans, and especially the Democrats and allegedly enlightened liberal (male) bloggers. However, I don't think that voting for McCain/Palin is the answer. McCain, especially, will only continue the disastrous last eight years we've suffered under. I agree with those who refer to a McCain/Palin win in November as "Bush's Third Term".
I'm happy to find this new site, Women Against Sarah Palin. Too much of the press coverage praising Palin presents her as a down-home Soccer Mom type, without talking about her positions on the environment, global warming, abstinence-only education, creationism, and choice. The political cartoon above gives you an idea of what she stands for. Not only does she not stand for the best interests of the United States, she does not stand for issues important to most women. A vote for McCain because you like Sarah Palin will only continue the past eight years of disastrous domestic policy and war.
So, if you are a woman like me who is fed up with the McCain/Palin love fest in the media, go to this site and read comments from other women who believe the way you do.
"Come, come, my conservative friend, wipe the dew off your spectacles, and see that the world is moving." —Elizabeth Cady Stanton
ON WEDNESDAY, SEPTEMBER 3, WE SENT OUT AN EMAIL TO 40 FRIENDS AND COLLEAGUES ASKING THEM TO RESPOND TO SARAH PALIN'S CANDIDACY AS VICE PRESIDENT OF THE UNITED STATES. THEY FORWARDED THE LETTER TO THEIR FRIENDS ACROSS AMERICA. TO DATE, WE HAVE RECEIVED MORE THAN 55,000 RESPONSES FROM WOMEN OF ALL AGES AND BACKGROUNDS. BELOW ARE THEIR VOICES.
SATURDAY, SEPTEMBER 6, 2008
OUR ORIGINAL CALL TO ACTION
Friends and compatriots,
We are writing to you because of the fury and dread we have felt since the announcement of Sarah Palin as the Vice-Presidential candidate for the Republican Party. We believe that this terrible decision has surpassed mere partisanship, and that it is a dangerous farce-on the part of a pandering and rudderless Presidential candidate-that has a real possibility of becoming fact.
Perhaps like us, as American women, you share the fear of what Ms. Palin and her professed beliefs and proven record could lead to for ourselves and for our present or future daughters. To date, she is against sex education, the pro-choice platform, environmental protection, alternative energy development, freedom of speech (as mayor she wanted to ban books and attempted to fire the librarian who stood against her), gun control, the separation of church and state, and polar bears. To say nothing of her complete lack of real preparation to become the second-most-powerful person on the planet.
We want to clarify that we are not against Sarah Palin as a woman, a mother, or, for that matter, a parent of a pregnant teenager, but solely as a rash, incompetent, and all together devastating choice for Vice President. Ms. Palin's political views are in every way a slap in the face to the accomplishments that our mothers and grandmothers so fiercely fought for, and that we've so demonstrably benefited from.
First and foremost, Ms. Palin does not represent us. She does not demonstrate or uphold our interests as American women. It is presumed that the inclusion of a woman on the Republican ticket could win over women voters. We want to disagree, publicly.
Therefore, we invite you to reply here with a short, succinct message about why you, as a woman living in this country, do not support this candidate as second-in-command for our nation.
Please include your name (last initial is fine), age, and place of residence.
We will post your responses on a blog called "Women Against Sarah
Palin," which we intend to publicize as widely as possible. Please
send us your reply at your earliest convenience-the greater the volume of responses we receive, the stronger our message will be.
Thank you for your time and action.
VIVA!
Sincerely,
Quinn L. and Lyra K.
New York, NY
womensaynopalin@gmail.com
**PLEASE FORWARD WIDELY! If you send this to 20 women in the next hour, you could be blessed with a country that takes your concerns seriously. Stranger things have happened.
POSTED BY WOMENAGAINSTSARAHPALIN AT 10:58 AM
WOMENAGAINSTSARAHPALIN
We are not in the habit of criticizing women in the public sphere, as we usually feel we should support our female compatriots with as much encouragement as we can. However, Sarah Palin's record is anti-woman. Feminism is not simply about achieving the power and status typically held by men. It's about protecting and supporting the rights of women of all classes, races, cultures, and beliefs. Palin's record and beliefs do not align with this. She was chosen by John McCain specifically because he believes that American women will vote for any female candidate regardless of their qualifications. He is wrong.
Posted on September 10, 2008 at 04:20 PM | Permalink
Comments
I fear that we will be deja vu-ing back to values of the 50's should Palin take a seat in the white house. She is a pretty plastic wrapper for a very dangerous toy. And the marketing team that uses her for packaging is not holding our best interests in mind.
Those who think that women are only capable of voting by gender, sorely underestimate us. We are left to pick up the pieces of our family and community lives, which are frequently shattered by failed public policies. There is no clearer analysis than from the trenches. We have dug ourselves into a financially indentured relationship with other world powers. Our national war debt is happily financed by the Chinese and others. Oil is finite. Palin may only see the profit not the true toll of using fossil fuels. She does not represent me.
Posted by: Doe Stahr at Sep 10, 2008 8:32:26 PM
I see Sarah Palin more as McCain pandering to what I've taken to calling 'Frontier America'. This is the portion of the American electorate that has never left the 19th Century American West in their minds.
She appeals to the 'rugged individuals', the 'God fearing' and the people who love their guns. They still regard America as 'the indispensable nation'.
McCain was not always popular with these people and needed them to have even a hope of winning.
Garnering the 'woman's vote' was a secondary effect but not an important one.
Personally, if I was American Palin's selection as VP would put me firmly in Obama's camp. I find her rather frightening.
I'm also disgusted with McCain, He was, once, a honest and forthright man. I rarely agreed with him but I admired his honor. Now he's just another panderer.
Posted by: Rob Graham at Sep 10, 2008 10:24:34 PM
That's a great blog! I want to take this a step further though. I want to urge ALL women who feel as we do to take it to YouTube! Take a few minutes and film yourselves, speaking out about this horrendous candidate, why you don't support her, and the kind of leader you want for your country and for your children's future.
If they received 90,000 comments in a WEEK, think of how many videos we could put on YouTube, ordinary women speaking OUT with their points of view.
Please feel free to spread this idea. Let's not sit on our hands any longer! Let's DO something.
Posted by: Sally at Sep 12, 2008 10:47:58 AM
I think that it is looking back to values of the past that should Palin be in the white house or not.
It is not right to consider that women can only vote but not govern.
Posted by: Breast Enlargement Pills at Feb 8, 2009 1:04:38 PM