« Nuts4chic - Custody Cases Involving Pets | Main | Nuts4chic - Sex On The Internet: Sex Blogging »
June 18, 2008
Nuts4chic - Figging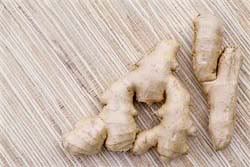 Figging
Do It, Lizzie! Do It!
by Elizabeth Black
I sit here, on my comfy couch, tingling all over to tell you about figging for my second article in my series called "Do It, Lizzie! Do It!"
I had heard about figging a few months ago, when I stumbled upon a web site that described it. Figging is a practice popular with the S&M crowd. It is inserting a piece of fresh, cut ginger into the rectum. The burning sensation is supposed to enhance sexual pleasure. I read stories of people trying figging, and then getting spanked.
I had to try this for myself, and tell all my readers how much fun it was.
I kept the ginger in the freezer. Freezing ginger makes the ginger juice stronger. I cut three slices of ginger from the main ginger root. I then cut the rest of the ginger root into a short, finger-sized plug. I made sure there was a huge bulb at the end so that I didn't lose the ginger in my rectum. Every bad Richard Gere and gerbil joke came into my head while I made sure the bulb was big enough. I then set the ginger into a pan of cold water for about half an hour.
My partner and I played in bed. It snowed last night, so it was cold. I couldn't stop giggling. I was cold and excited because I was going to do something kinky.
He first rubbed the ginger slices over my nipples. That ginger was cold from being in the cold water. My nipples were as hard as pencil erasers. He then rubbed the ginger slice all over my intimate parts. The juice from the ginger made me very sensitive.
At first, I felt nothing but cold. Within about five minutes, I felt a tingling and burning sensation that was very arousing and pleasant. My partner had me turn over onto my stomach. I felt the ginger plug at my anus. It was cold. It inserted with no problem. At first I felt only cold and the pleasant sensation of something being up my ass.
In about five minutes, I felt a tingling sensation. I clenched on the ginger finger, and the tingling sensation intensified. I was very turned on. The tingling changed to a very pleasant warm sensation. It didn't burn at all.
I must give figging a high five. I highly recommend it. It's fun. It's an unusual sensation. It's easy to do. All you need is fresh ginger root from your grocery store.
I'm going to go back to bed now and do figging again.
Posted on June 18, 2008 at 11:09 AM | Permalink
Comments