« VibeReview - The Hitachi Magic Wand | Main | The Countess Reviews "Swingtown" »
June 20, 2008
Nuts4chic - Cybersex: Is It Cheating?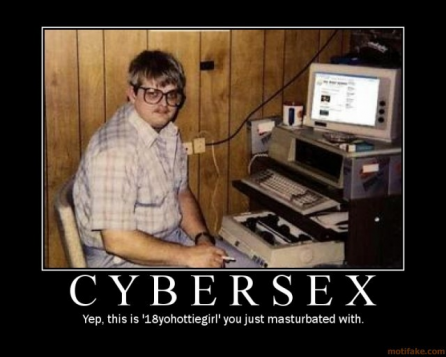 The World Of Cyber Affairs
Are you cheating when you send steamy emails to someone who isn't your spouse?
by Elizabeth Black
When Tim's wife opened the Valentine's Day gift he had mailed to her, he knew he was in trouble when she pulled an eight-inch purple butt plug out of the box.
That gift was meant for his cyber playmate. The company had shipped it to the wrong address.
He stammered, telling her it was really for him. He's into bondage and sadistic play. She's not.
He likes cybersex. He likes kinky web sites, in particular BDSM web sites. He said that he had done it "often when I had a day job that allowed unfiltered access to the Internet."
He doesn't consider his cyber-relationships affairs.
"They're flirtations," he said. "There's no face-to-face."
Infidelity expert Ruth Houston warns that partners should take cyber affairs seriously. She quoted two studies that found that one third of cyber affairs eventually lead to personal contact. " Cyber affairs are actually a form of emotional infidelity," Houston wrote on her web site. "Although in the early stages, there's no sex involved, most emotional infidelity eventually leads to sexual infidelity if left unchecked."
Houston said that most men don't consider cybersex cheating, but most women do. One woman who wrote to me anonymously is married to a man who had cyber affairs. As far as she was concerned, he had cheated on her. She called her husband's paramour a "cyber slut".
Could honesty be the key to a successful cyber relationship? Greg is polyamorous. "For those of us who are polyamorous, email and web communication has been an excellent way to keep in touch with lovers, flirt with and court potential lovers, and exchange sexually explicit writing, photos, etc for our mutual pleasure and edification," Greg says. "Of course our other partners know all about it and participate as much as they want."
Greg agrees that cybersex establishes an emotional connection between two people. " Two people who stimulate each other verbally to orgasm don't need to be in the same room to do it," Greg says. "I have definitely had "steamy" email exchanges that resulted in sexual, loving relationships. I see cyber communication as just one more way one can learn about partners and become more intimate with them."
Not everyone is happy with cyber-relationships. Chantal considers her cyber-relationship an affair. She's very torn over it. She loves the guy. Chantal has a hotmail account. She changes the password on her computer once per month. She won't check her e-mail when her husband is around.
She had a real-life affair with this same guy in 2000. It lasted about six months. Six months later, she was bored. She e-mailed him. He wrote back. They picked up where they left off, but online. He's married with several children. He's keeping his relationship with her a secret, as is she.
Her lover doesn't consider it an affair. Chantal would like to know if he sees other women on the Internet the same way he sees her, but she hasn't asked.
Her husband knew about the first affair, but he doesn't know about the current one. She knows that if he found out, it would destroy both her husband and her marriage.
The key to enjoying cybersex seems to be avoiding secrecy. If you can respect your partner, and help him or her not feel threatened by your desire for cyber affairs, it might work out. The polyamory community has a good grasp on cyber relationships. Openness and honesty are important in maintaining several relationships at one time. Not everyone may agree with that assessment, but it is worth considering.
Posted on June 20, 2008 at 12:54 PM | Permalink
Comments