« November 2010 | Main | January 2011 »
December 24, 2010
Merry Christmas!
Posted on December 24, 2010 at 02:44 PM | Permalink | Comments (2) | TrackBack
Trailer For Indiscretions Vol. 2
Posted on December 24, 2010 at 08:09 AM | Permalink | Comments (0) | TrackBack
December 23, 2010
Geeky Christmas Gifts
Not sure what to get for the geek who has everything? How about one of these delightful presents? There's everything from Star Trek gack to strange sex toys. Yours for the having!
Star Trek Pizza Cutter - for the Trekkie with everything.
Star Trek Bottle Opener - for the Trekkie with everything plus the Star Trek Pizza Cutter but without the Bottle Opener.
Harry Potter - Hermione's Time Turner - sadly, it doesn't actually work so you can't go back in time and fix things you've royally screwed up.
The 11 Doctors Complete Set Of Action Figures - who are your favorite Doctors? I like Eccleston, Tennant, and Pertwee. And this set of action figures rocks!
Tardis wardrobe Go to the link to see a picture. It's beyond tacky but fun. I've also seen a Tardis CD/DVD case but I can't find that one anywhere.
Bottled True Blood Tasty Drink - The Sookie Stackhouse Southern Vampire Series - True Blood (HBO) - would go nicely with the bloody syringe pens I saw at a science fiction convention once, but I can't find them anymore. I also wonder how badly this stuff tastes.
Rex plush toy, from the UK series "Primeval" - there's another one that's remote controlled that flies. Plus, "Primeval" is coming back for another season of fun. I'm looking forward to it.
Then there are the strange sex toys, like the incubus dildo. Very strange-looking thing that looks like a creature from the nightmares of M. C. Escher and H. R. Giger.
Speaking of H. R. Giger, how about the alien lover dildo? This baby also glows in the dark. I own this one and reviewed it. Read my review here.
Not to be outdone, there's the Area 51 Love Doll, complete with three tits.
G. I. Jock Army Kit: I swear I'm not making this up. From the description: "A sexy playful collection of toys and accessories with a military theme. Includes a camouflage jackstrap, a multi-speed vibrating camo egg, a grenade textured jelly sleeve, and a large missile shaped jelly plug that can be used with or without vibrations. Collection includes a large pillow of Powerman Lube. 2 AA batteries."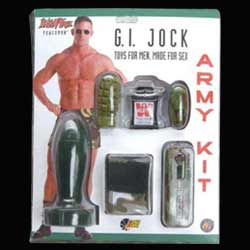 So there you have it. All the geeky stuff you could possibly want to round out your Christmas gifts you didn't get from your friends and family. And who wouldn't want to wow people with a Star Trek pizza cutter and bottle opener? LOL
Posted on December 23, 2010 at 07:20 AM | Permalink | Comments (1) | TrackBack
Alien Lover Dildo - Review
I love having a six-inch silicone dildo called the Alien Lover, which is perfect to use while watching really bad movies on the Sci Fi Channel. I've seen "Dark Breed", "The Arrival", and "Infected", all of which are awful alien movies. Isabella Rossellini stars in the last one, which is a step down for her. Then again, it also stars Judd Nelson, and that's a step up for him. So watching really bad alien movies while playing with the Alien Lover dildo is a perfect combination.
The Alien Lover looks like it was designed by H. R. Giger, the Swiss artist who designed the alien and set for the movie "Alien". This dildo has ribs that look like gills on each side of the shaft. It also has four nubs in the shape of a face that just so happen to rub just the right way on my clit. Curious, I pulled out the Alien Lover, turned it around, and reinserted it. I loved the way it felt as the nubs on the "face" rubbed the back of my vagina. It felt best if I kept it close to the edge and pulled it out a little bit. My inner lips are very sensitive, and the Alien Lover satisfied me in all sorts of positions. Made of silicone, this dildo is very flexible while being tough and sturdy at the same time. It can take a beating, although I promise to be gentle with it.
Here is the best part of all - it glows in the dark!!!!
I love glow in the dark stuff! I have an alien head candle around here somewhere that glows in the dark. I used to wear glow in the dark nail polish until I wore it once to a movie theater, and you could see my fingers moving when I ate the popcorn. That was amusing.
I used some lube on the dildo to make sure it went in smoothly. It sure feels good! If you hold it up to the light and then insert it, but no one is inside your pussy to see your Alien Lover, does it still glow in the dark?
I clenched around it and I felt it give but it was solid at the same time. My two favorite materials are silicone and jelly, so my Alien Lover felt just right. I especially liked pulling it forward so that it rubbed against my G-spot. That felt like Heaven.
The Alien Lover is flared at the base, so it can be used for anal sex, but I prefer it for vaginal use. I like to use more slender dildos and vibrators for anal sex, and the Alien Lover struck me as a bit too thick for my personal taste. I bet it would make an anal sex lover very happy though!
So my husband now has competition. I have an Alien Lover. Ha! At least I know this Alien Lover won't impregnate me with hundreds of maggoty alien spawn like I see in these really awful movies. This Alien Lover treats me very well. Plus there's the added benefit that I won't lose it in the dark.
Posted on December 23, 2010 at 07:14 AM | Permalink | Comments (0) | TrackBack
Join My Yahoo Group And Win One Of My Books - And WIPs For 2011
Want to win one of my books? I'm revamping my Yahoo group so I'm hosting a contest! Join my group if you haven't already, post a comment leaving your e-mail address between now and December 31. I'm also opening up the contest to people already subscribed to my group. I'll announce the winner of the free book on January 1, 2011.
Here's the link to my group:
http://groups.yahoo.com/group/elizabeth_black/
The winner gets their choice of any of my books.
-------------------------
NEW IN 2011
Coming January 14, 2011: INDISCRETIONS VOL. 2 - THE MILE HIGH CLUB and ROOM SERVICE. Published by Romance Divine. This book and all my Romance Divine books will be 20% off at Rainbow EBooks from January 14 - 16, 2011.
http://www.rainbowebooks.com/store/
Works In Progress:
CLIMBING HER TOWER - erotic riff on Rapunzel. Novella
LOVER'S MOON - sequel to FERAL HEAT. m/m, menage, werewolf
LUST AND RED VELVET - m/m/f menage, eroticism, food - novella
SHARON BLAKE HAS A THREESOME - m/m/f menage, fantasy, sex dolls - novella
INDISCRETIONS VOL. 3 - continuing at The Del where INDISCRETIONS VOL. 2 left off.
AROUSING SYDNEY - m/f, menage serial about a sex therapist and her sexy clientele
THE CHRISTMAS ARMISTICE - historical m/m novella based on the 1914 Christmas armistice during WWI.
UNTITLED - f/f erotic science fiction short story set on a space station.
I will also write a couple of new FREE short stories for you reading pleasure!
It's time to enjoy 2011. :)
Posted on December 23, 2010 at 06:59 AM | Permalink | Comments (0) | TrackBack
December 21, 2010
OMG So Cute!
Posted on December 21, 2010 at 05:08 AM | Permalink | Comments (0) | TrackBack
December 20, 2010
Gymnopedie No. 1 by Erik Satie
I heard this on PBS and finally learned who the artist is! I've always loved this song. It's Gymnopedie No. 1 by Erik Satie. Enjoy!
Posted on December 20, 2010 at 12:51 PM | Permalink | Comments (0) | TrackBack
December 19, 2010
Eggnog Recipes By Famous TV Chefs
I saw this joke by Prank Call of Cthulhu on FARK and I had to share it with everyone. It's eggnog recipes by famous TV chefs. Perfect for the holiday season! Enjoy!
Famous TV Chef Eggnog Recipes
Bobby Flay eggnog: mix eggs, cream, sugar, and rum, then throw it on the grill and garnish with mango chutney.
Sandra Lee eggnog: Pour one tablespoon of store-bought eggnog into an 8-oz glass. Swish it around to coat the glass, pour out excess. Fill the remainder of the glass with vodka and serve.
Alton Brown eggnog: Build a ridiculously complicated frothing machine out of dry ice, twenty feet of rubber tubing, a colander, and a garden hose nozzle, then follow a twenty-step process and deliver a five minute rant about why an egg separator is a useless "unitasker."
Rachel Ray eggnog: The addition of a little EVOO to a traditional eggnog recipe is YUM-O!!!
Gordon Ramsay eggnog: IS THAT HOW YOU BEAT A F*****G EGG? I CANNOT BELIEVE THIS! WHAT IS WRONG WITH YOU, YOU F*****G DONKEY? GET OUT!!! GET THE F**K OUT OF MY KITCHEN YOU F*****G C**T!!!!
Paula Dean eggnog: Combine eggs, butter, whole cream, butter, sugar, butter, rum, butter, and more butter. Whip. Serve with a side of defibrillator.

Posted on December 19, 2010 at 02:37 PM | Permalink | Comments (3) | TrackBack
December 17, 2010
Hahahaha!!
What's in the box? What's in the box? This news report is pretty standard and dull, but check out the box behind the reporter. That thing is HUGE!!!
Posted on December 17, 2010 at 01:05 PM | Permalink | Comments (2) | TrackBack
December 10, 2010
Bah! Humbug!
I hate Christmas, with all the good cheer, mawkish and overly sentimental holiday movies, the Lifetime channel, the higher electric bill from putting up all the lights, having to spend time with dysfunctional family members, and fruitcake. The same fruitcake that has been circulating for the past twenty years. It's a doorstop, not a fruitcake.
Okay, I lie. I like some of those movies, mostly "A Charlie Brown Christmas" and "A Christmas Story". I might even break down, make some spiked egg nog, and watch Santa Claus Conquers The Martians. It has Santa, martians, and Pia Zadora. What's not to love? And of course there's Dead End, which is about a cranky, dysfunctional family taking the scenic route to Grandmas for Christmas dinner. Hey, it stars Ray Wise, so you know it's gonna be good. Even the Tomato Meter gave it a good rating. We watch this one every year as our traditional Christmas movie.
I like decorating the house, although I've been so sick this fall I still have yet to remove the Halloween decorations. And now that we have a free fake tree, no more fricking pine needles!!! I even liked the house in the south covered with so many Christmas light the birds were fooled into thinking we had Thirty Days Of Light.
This brings me to one of my favorite memories when I was a kid in the 1960s. Thanksgiving and Christmas dinners were always amusing. One year at my aunt's, my cousin and I were playing on the floor in the living room while the men watched football. My uncle had just bought a brand new, state of the art remote controlled Zenith. This was the 1960s so such a TV was a sign you made it in the world, at least in my family's circle. My uncle showed off his new TV, turning channels and turning the thing on and off with the remote. Wow, you didn't need to get off the couch to change the channel! The first generation of couch potatoes were born. I wore a charm bracelet that we figured out pretty quick was turning off the TV - right during the kick off! I couldn't have timed it better. Turned out the frequency of my charm bracelet matched the frequency of the brand new remote controlled Zenith my uncle had recently bought, and whenever I shook the bracelet hard enough, the TV would turn off. So my cousin and I kept waiting for the most important moment in the game and I'd shake my charm bracelet. The men were getting very mad and I thought my uncle was going to toss a brick through the TV. He pounded on its side and got very frustrated. Finally, my aunt figured out what we were doing and she took my charm bracelet - after we gave the men a demonstration. Everyone was impressed. Everyone wanted to kill me.
I include a version of that true story in my erotic Christmas short story "Tinsel Temptations'. This story is based on my fondest childhood Christmas and Thanksgiving memories when I was a kid in the 1960s. I didn't live in a "Mad Men" world in that era, since I grew up in a working class neighborhood. "Tinsel Temptations" takes my own holiday memories and adds some very hot sex to them. John Jones and his "not really his cousin" Jessica are 21 and 19 respectively, yet they are still stuck at the kid's table for Christmas dinner. Remember the kid's table? If you want a laugh out loud, sexy read, check out my Christmas story, "Tinsel Temptations".
And now it's time for "Santa Claus Conquers The Martians". We have the MST3K version. Good times!
Title: Tinsel Temptations
Release Date: 08 October 2010
ISBN: 978-1-935757-00-9
Author: Elizabeth Black
Format: E-Book
Length: 3,445 words 21 pp (PDF)
Genre: Holiday Romance
Category: Holiday, Humor, Nostalgic, Erotic
Price: $2.99
BUY IT NOW:
Tinsel Temptations - AllRomanceEBooks
Tinsel Temptations - Bookstrand
Tinsel Temptations - Amazon Kindle
NEWLY RELEASED! INDISCRETIONS VOL. 1 - View The Trailer
TINSEL TEMPTATIONS - BLURB:
It was another Christmas for John Jones, with his parents, family and friends. The highlight of such gatherings was always the visit of his 'I'm-not-really-your-cousin' Jessica and their bedroom frolics while the family were otherwise occupied. This year, Jessica bought something new—the girls! Over the last year Jessica had filled out—and out. Her new shape had John mesmerized, and decorating the tree took on a whole 'nuther meaning when the holidays bring their Tinsel Temptations.
Posted on December 10, 2010 at 12:50 PM | Permalink | Comments (2) | TrackBack