« September 2010 | Main | November 2010 »
October 29, 2010
My Diorama From "The Ring"
I made this diorama of Sadako coming out of the well in "The Ring" a few years ago in front of my old house, which was 200 years old. You should have seen the reactions from the little kids who came to the door! One little girl, who was really scared, wanted to know if "the lady was going to eat her". I wanted to say, "No. She'll just come out of your TV in the middle of the night and follow you around your living room until you die of fright." I was such a bad girl.
So, what do you think? I love the way the photograph catches the wind running through her hair.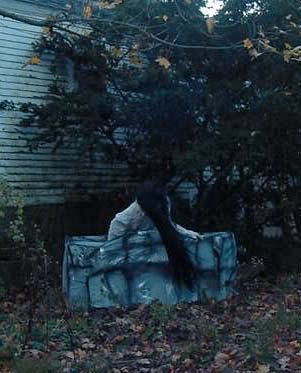 Posted on October 29, 2010 at 12:03 PM | Permalink | Comments (4) | TrackBack
Just In Time For Halloween: THE FACE IN THE MIRROR
On Halloween, so if you are a single woman, try out the old wives tale I mention in my story "The Face In The Mirror", for "Monster Mash" by Whiskey Creek Press Torrid. This is a real old wives tale, and I can vouch for it working. I tried it when I was in college, and I saw nothing in the mirror, but the next morning I learned that my clock had stopped - at midnight! I took it as an omen, because my first marriage was a disaster. I'm happily married nowfor the second and last time.
This excerpt describes the old wives tale and what you need to do to try it. I've known about this legend since I was a kid. Give it a try at the stroke of midnight this Halloween!




The Face In The Mirror
By Elizabeth Black
Monster Mash Anthology
Whiskey Creek Press Torrid
Word Count: 6,790
Genre: Paranormal Romance
Buy it now!
http://tinyurl.com/647zoz
Buy it at Fictionwise
http://www.fictionwise.com/ebooks/b78819/?si=0
Buy Amazon Kindle
http://tinyurl.com/32lq5am

BLURB
"The Face In The Mirror" is a contemporary erotic paranormal romance based on an old Halloween-related urban legend. The legend goes that if you are an unmarried woman, to find out who your future husband is, you eat an apple and brush your hair in front of a mirror by candlelight at the stroke of midnight on Halloween. You'll see the face of your future husband in the mirror. I love basing stories on legends.
The urban legend says that if an unmarried woman eats an apple and brushes her hair by candlelight, while staring at her reflection in a mirror on Halloween, she will see the face of her future husband. Linda can't resist, so she heads for the nearest mirror.
EXCERPT:
"I have a surprise for you," Melanie held up the candle, apple, and brush. "There is a legend that if an unmarried woman eats an apple and brushes her hair by candlelight while staring at her reflection in a mirror on Halloween, she will see the face of her future husband."
"You've got to be kidding me."
"Don't you want to see what Jim will look like when he's old and bald?"
"I already know. Have you seen his father lately?"
"Hey, no fair. No picking on my dad."
"I can think of lots of better things to do than seeing Jim's mug in a mirror. Like getting drunk."
"You've hurt my feelings." Jim pouted, but he wasn't serious. He liked to tease Linda.
"We'll spend the rest of the night getting you good and drunk. Your head will be spinning so much you won't feel any pain."
"That sounds like a plan."
"So, come on?" Melanie shoved the goodies into Linda's arms. "You know where the bathroom is. Use the mirror over the sink."
"I feel very stupid."
"Good! That means you don't feel miserable. A step up, as far as I'm concerned."
"I must admit I'm curious, even though I'm a skeptic."
"I'm curious, too," Jim said. "I wonder what I'll look like to you. As devilishly handsome as ever?"
"Don't think much of yourself, do you?"
"Hey, everybody!" Melanie announced. Heads turned in her direction. "Linda's going to do the Halloween trick now. I have to see if this works."
As the crowd stared at her and snickered, she felt very self-conscious. What on earth was she going to see in that mirror? What if Melanie was playing a prank on her, something that wouldn't surprise her in the least? Some drunken asshole was hiding in the shower and would jump out and yell "Boo!!" while she choked on a piece of apple and died from asphyxiation. That would show them.
Linda walked to the bathroom, and closed the door. After a pause, she turned the lock. She didn't want anyone getting in who didn't belong there. She was determined to control as much of this little prank as possible.
The first thing she did was check behind the shower curtain. No one was there. Good. She checked the linen closet. No one was in there, either.
She placed the candle on top of the toilet, and lit it with matches she kept in the bathroom. She set the apple and brush on the sink.
This is ridiculous. She knew she wasn't going to see anything.
But what if she did? What would she see? She hoped Jim wouldn't be as fat and bald as his dad when he was sixty. Then again, she wondered what she would look like at that age. Probably like some shock-haired harridan with fifty cats who yelled at those damned kids to get off her lawn.
Linda knew she would make a great curmudgeon, and she wasn't even thirty-one yet.
Posted on October 29, 2010 at 11:58 AM | Permalink | Comments (1) | TrackBack
October 27, 2010
e[lust] 21

Photo courtesy of Evocative Abyss
Welcome to e[lust] - Your source for sexual intelligence and inspirations of lust from the smartest & sexiest bloggers! Whether youíre looking for hot steamy smut, thought-provoking opinions or expert information, youíre going to find it here. Want to be included in e[lust] #22? Start with the rules, check out the schedule and subscribe to the RSS feed for updates!
Important e[lust] update: e[lust] will be going on hiatus for the holidays. The editions for November and December would both occur around the holidays and I know I'll be short on both submissions and judges as well as personal time. e[lust] #22 will return in January, with ample advance warning, so please make sure you're subscribed for updates!

~ Featured Post (Lillyís Pick) ~
D/s Without the D/s? - This is one of those situations in a real time D/s relationship where much of the ìfunî aspects of the D/s needs to be stuffed in the closet for a bit. And for us, itís not a great time to be either a masochist or a sadist. We can deal with that.
~ e[lust] Editress ~
Yes, Jelly Sex Toys Can be Dangerous - Even if a jelly rubber toy says ìphthalate-freeî, it still can contain toxic chemicals that can cause skin reactions in some people. These toys are still non-porous and can harbor dirt and bacteria because they cannot be sanitized.
~ This Weekís Top Three Posts ~
Unfortunately, this edition has no Top Three picks as I didn't have enough volunteer judges. If you'd like to volunteer to help, visit this page to find out more info and ensure that the Top Three picks continue.

See also: Pleasurists #101 and #100 for all your sex toy review needs.

All blogs that have a submission in this edition must re-post this digest from tip-to-toe on their blogs within 7 days. Re-posting the photo is optional and the use of the ìread moreÖî tag is allowable after this point. Thank you, and enjoy!
Sex News, Interviews, Politics & Humor
All Painted Up...
A Modest Proposal: Should Ginger & Cooper Fuck?
Happy Sexual Freedom Day
How Do You Explain
Life in spanking after 30: part 2

Erotic Writing
blindfold
Fantasy: Movie Night
Feeling Helpless
Gabrielle, Guest Star
Happy Anniversary...
History Lesson
I Still Don't Know How You Taste
Monday Morning 2am
Metallic Seduction
Need
New Erotic Story For The Holidays - Tinsel Temptations
Putting the car into park
The Ordeal (Part Four)
The Sweetest Violation
The Young Mom
The Moment
The Soccer Mom
Timeless in a Window's Light
Kink & Fetish
A space to hate and rage and be angry (photo story)
Beyond the Bedroom
Does liking Helmut Newton equal a fetish?
Happy Halloween: Light Me Up
I am all pins and needles
Kink and Fibromyalgia
Ownership and Monogamy
Punishing the servants
Pi
Switching It Up
The Cage
The Sacred Swinger Holiday: Halloween!
the most amazing night with HIM
The Pedicure
The Right Question
Wax on, wax off!
Thoughts & Advice on Sex & Relationships
All Roads Lead to Acceptance... I hope!
Crisis Averted
Dear boyfriend, I love you. And your cock.
Having Great Goddamned Expectations
If You Google it, I will Answer #9
I Don't Know If I've Ever Been Really Loved By a Hand That's Touched Me
How to Massage Manís G-spot
My Coming Out Story
National Coming Out Day
Recovering From Anorexia
Role Reversal
Sadie's Condom PSA
Posted on October 27, 2010 at 02:40 PM | Permalink | Comments (1) | TrackBack
October 23, 2010
Maroon 5: Hands All Over
I heard this catchy tune on "Medium" on the episode about Alison's skin graft that has a mind of its own. This is also the episode about illegal organ harvesting. The song is "Hands All Over" by Maroon 5.
Posted on October 23, 2010 at 07:47 PM | Permalink | Comments (0) | TrackBack
Should Epic Boobage Go To Jail?
I caught this story of Winter Pierzina after her Youtube videos went viral. She's best known (only known) for being a young and pretty woman with a huge set of knockers from which she dragged objects such as her car keys and a cell phone. I'm surprised she didn't pull a vibrator out of her massive bra. The Youtube videos, including one called something like "Jingle Bell Boobs", which I didn't see, have been taken down due to violating Youtube's standards for not allowing sexual or lewd conduct in their videos. I found the entire business to be rather silly and figured, hey, she has it, might as well flaunt it and become a Fark and 4Chan meme in no time at all.
Well, things have taken a nasty turn for Winter. She made the colossal mistake of texting while driving and wrecked her car. She lives in California which takes great and righteous glee out of fining and jailing people who do stupid things like text while driving, and Winter is caught in a winter of her own discontent. She's been fined $2,500 dollars, has to go to many hours of community service, and will go to jail, go directly to jail, do not pass "GO", do not collect $200.00 if she doesn't pony up the fine.
She took a creative turn to get out of the jam she's in. Gotta give her credit for that. Turns out she she doesn't have the $2,500 for the fine so she created a web site called Keep Winter Out Of Jail, where she's asking for donations. I personally have no problem with this because I figure there's a sucker born every minute. Someone will toss her money, and several someones already have. Mostly tens and twenties but one guy ponied up $150.00. Winter's web site reminds me of Save Karyn back in 2002 where a young woman (Karyn) with massive credit card debt asked people on her web site to donate money to her so she could pay off her whopping $20,000 worth of credit card bills. Here's a mirror of her original site. She was chastised of course - and rightly so - for being such a careless spender but believe it or not people donated enough money to get her out of debt. She has since become a fiscally responsible woman who talks frequently about her previous debt problems and gives tips on staying out of debt. A book depicting her story has been published and there is talk of a movie.
While I have no problem with cyber-begging (Confession time - I did it a few years ago when my husband and I were out of work and in danger of being evicted. Bloggers came through for us and we are doing reasonably well now.), I do have a problem with the commenters at Winter's site and what she's offering for the donations. Basically, she's prostituting herself. Here's what she offers men (of course it's men into this) who donate money to her:
* $1.00 - $25.00 will get you a brief video in which I will state your names and how much you donated and a big fat "Thaaaank youuuu!" These names will all be massed into 1 video.
* $26.00 - $50.00 will get you a personal video. You will not be massed into a video with all of the other people who have donated.
* $51.00 - $100.00 will get you a slightly more "risque" video and a small photoset.
* $101+ will get you all of the above and a private chat with me on a messenger of your choosing...
What's she going to do if you give her a hundred bucks? Flash her boobs at you? That's what it sounds like and that's what several guys expect and want. Here are a few of the more disturbing comments from her fans:
One hour fucking with me = 2.500$
will there be naked camchat?
This one is especially disturbing:
OK, i'll make you a deal.

I'll fly down to Stockton, pay all of your 15,000 debt, and give you and extra 5,000. But i have one condition.

I get to have sex with you, no condom. and for each 1,000 i give you, i get to ejaculate inside of you. You are welcome to join me at a clinic to view my HIV/VD results. you will see i am perfectly clean. i will buy you birth control pills and make sure you are taking them before we engage in intercourse. After i have ejaculated inside of your vagina, anus or mouth i am also allowed to record the sessions on video. Where i will keep them for either my own enjoyment, or upload them to a popular pornography site.

$20,000 can be yours if you agree to this, you will have your car paid off, and enough to put a down payment on a used car. When i fly down, we may spend as much or as little time getting to know each other before we have sex. However, i will not being flying down if you are unwilling, or unable to commit. I'm sure you have Sex with people you don't know very well often. So this shouldn't technically be that big of deal. You will engage in consensual intercourse with a clean person, who is willing to assist you with your needs. And you will never see again after we have had sex twenty times over a span of as long as a week, or as little as three days.

You are welcome to have a witness for your own protection, though i have no intent of hurting you.

I feel this is a beneficial off for the both of us.
So he just wants to fuck her numerous times, using no condoms, and she gets nothing out of it but her fine paid in full and a lot of money on top of that. He could be as rough with her as he likes and she can't protest because she is accepting the money. He will take pictures and post them on online porn sites. He assumes she's a slut because he says she must have sex with people she doesn't know well very often. It's a bad deal and self-serving on his part all around.
Like I said, I have no problem with her cyber-begging. Even I have done it. However, Winter is setting herself up for some real problems with these guys who expect to fuck her for money, a little or a lot. It's sleazy and leaves a bad taste in my mouth. I also don't have a problem with women acting in porn or being on a porn crew, but this business strikes me as very unsafe and dangerous. She is putting up with a lot of abuse on her web site in the comments from men who have probably already ogled her in her Youtube videos and now they like to call her a slut and not in a good way. Same old double standard again.
I hope she is able to pay that fine and stay out of jail. Just don't text and drive anymore. What a stupid thing to do, but no matter how stupid, she doesn't deserve the rotten treatment she's getting on her web site.

Posted on October 23, 2010 at 03:08 PM | Permalink | Comments (2) | TrackBack
October 18, 2010
Trailer For "Indiscretions Vol. 1" By Elizabeth Black
"Indiscretions Vol. 1" with my stories "Caught" and "Wild Child" comes out November 12.
Posted on October 18, 2010 at 11:35 AM | Permalink | Comments (1) | TrackBack
October 13, 2010
Pleasurists #99
rainbow by bootlog
Welcome to Pleasurists, a round-up of the adult product and sex toy reviews that came out in the last seven days. For updates and information follow our RSS Feed and Twitter.
Did you miss Pleasurists #98? Read it all here. Do you have a review for Pleasurists #100? Be sure to read the submission guidelines and then use the submission form and submit it before Sunday October 17th at 11:59pm PDT. Also, keep a look out this week for our 100th Edition Giveaway Celebration!
Want to win some swag? All you've got to do is enter.
Looking for sexy posts other than reviews?
e[lust] #20
Editor
Scarlet Lotus St. Syr
On to the reviews…
Vibrators
Dildos
Anal Toys
Toys for Cocks
Lube, Massage Oil, Bath Stuff, & etc.
BDSM/Fetish
Adult Books/Games
Adult DVDs & Porn
Sex Furniture
Lingerie
Miscellaneous
Posted on October 13, 2010 at 04:36 PM | Permalink | Comments (1) | TrackBack
October 10, 2010
Babeland Review: Chippendales Diva Sensual Massager
Chippendales Diva Sensual Massager is a delightful elite massager ideal for couples. It's described as follows: "Get closer than ever before with the couple-friendly, splash-proof Chippendales Diva vibrator. The curve, broad reach, and thin profile of the Chippendales Diva make it ideal for nestling between two bodies during sex — give it a try, and you'll soon realize why so many couples have been happily adding vibrators to their bedroom fun. Of course, the Chippendales Diva is perfect for solo use, as well: the contour allows you to cup the clit and vulva for a fully satisfying sensation. A locking mechanism makes for easy travel (no accidental switching-on in the security line!), and the elegant appearance makes it an ideal gift."
I chose this massager because my husband has erectile dysfunction and I wanted to use a massager we would both enjoy that didn't rely on an erect penis to give us both satisfaction. We like to lie in bed at night and massage each other's feet so sitting this massager between our legs right at groin level gave us both intense and pleasant vibrations while we went about the joy of playing with each other's toes. I like the way this massager caresses my vulva and clit simultaneously, giving me endless hours of erotic pleasure. Plus it just feels so damned good! I also like elegant and elite massagers that don't look like sex toys so this one by Chippendales was just the type of massager that appeals to me very much. I can also use this massager solo, which I like to do. I like clit stimulators very much and this one vibrates around my clit and vulva to give me the thrill of stimulation and pleasant vibrations from a gentle purr to a ramping like an earthquake. Best of all is using it with my husband when we relax in bed for the night. While he doesn't come the vibrations feel very good especially when I'm rubbing massage oil all over his feet like he does to me. I usually come by grinding my hips into the massager and getting off on the foot massage.
This massager cleans up easily with soap and water. It's splashproof so getting it a little wet won't hurt it although I don't drown it in water. The black case is very classy and I can leave it on my nightstand without embarrassment. It's not like it's a two foot long purple rubber dick-shaped double dildo, you know. LOL! This is a massager I'm proud to show off.
If you're looking for a very nice couples massager, especially if you need to think outside the box when it comes to sex, the Chippendales Diva Sensual Massager is a great one to own. You'll enjoy closeness with your partner and intense orgasms.
Posted on October 10, 2010 at 12:41 PM | Permalink | Comments (1) | TrackBack
October 09, 2010
New Erotic Story For The Holidays: Tinsel Temptations
Title: Tinsel Temptations
Release Date: 08 October 2010
ISBN: 978-1-935757-00-9
Author: Elizabeth Black
Format: E-Book
Length: 3,445 words 21 pp (PDF)
Genre: Holiday Romance
Category: Holiday, Humor, Nostalgic, Erotic
Price: $2.99
BUY IT NOW:
AllRomanceEBooks
http://www.allromanceebooks.com/product-tinseltemptations-469798-149.html
Bookstrand
http://www.bookstrand.com/search/node/tinsel+temptations
Amazon Kindle
BLURB:
It was another Christmas for John Jones, with his parents, family and friends. The highlight of such gatherings was always the visit of his 'I'm-not-really-your-cousin' Jessica and their bedroom frolics while the family were otherwise occupied. This year, Jessica bought something new—the girls! Over the last year Jessica had filled out—and out. Her new shape had John mesmerized, and decorating the tree took on a whole 'nuther meaning when the holidays bring their Tinsel Temptations.
EXCERPT 1:

The last time I saw Jessica was last year, in 1966, and she was as flat as a board. Now standing at the Christmas tree next to me, I couldn't keep my eyes off her tits. They blew up like water balloons over the past twelve months! Her bra barely contained them, and her cleavage cried out for my face to bob between those melons and give them a good, loud brrrrrrttttthhhhh!!!

She wasn't really my cousin although my parents called her such. My mom and my "Aunt" had been best friends since childhood so since they were practically sisters, making her Aunt Hortense and Jessica my fake cousin, although there was nothing familial about her. She was now nineteen to my twenty-one and we were eager to find some time alone again to feel each other up—just like last year. And the year before that. And so on.

This year was different, though. I wanted to change our relationship, so I had a big surprise for her.

And now for introductions. My name is John Jones. Really. That's my name although no one ever believes it at first. When I went to military school (that lasted only a year before they kicked me out for being an obnoxious little snotstain) the Staff Sergeant thought I was sassing him when I told him my name was John Jones. I had to do thirty push ups because he thought I was lying. He finally believed me when I showed him my application form. I was allowed home for the summer and major holidays, including Christmas. Every year I looked forward to seeing Jess again so we could sneak a few gropes in my bedroom while our families cleaned up the dinner table. We lived in L. A. so Christmas never included snow, but we had snow in our hearts for the holidays.

EXCERPT 2:

By the time Christmas dinner was ready my stomach was rumbling in starvation, and I wondered why I wasn't sitting at the adult's table. "Why am I still at the kid's table?" I whined. "I'm twenty-one, for God's sake! Why'd you stick me with the five year olds?"

"Watch your mouth," my mom said. "There's no room here at the adult table so be grateful you're getting fed at all."

"Me too," Jess said. "I'm nineteen. I even have a job. Why am I still sitting here?"

The adult table was the Holy Grail and I feared I'd never reach it. So Jess and I were stuck babysitting the preschoolers, wiping noses and mouths, and keeping the little ankle biters from throwing the buttered peas across the room with their spoons. At least the mothers were at the adult table tending to the babies. Thank God for small favors.

Bent on revenge for sticking me with the rug rats for yet another year, I grabbed the crescent rolls when they came to our table, but I didn't let them go back to the adult table. The grownups could have the buttered peas, but no way were they getting their mitts on the crescent rolls until Jess and I had our fill. As I passed Jess the rolls she brushed her hand against my thigh and I felt my cock grow so hard it threatened to sing out a song of Christmas cheer right out of its little blowhole. She teased my thigh for a second or two and then grabbed a roll. I watched her as she buttered it and then drew it slowly towards her mouth. She took the end in her teeth and tore the roll, releasing steam and melting butter that dripped down her chin. It took all my will power to keep my hands in my lap so that I didn't remove that butter with my finger and lick it off. Oh my — did I want to lick her off!
Posted on October 9, 2010 at 08:11 PM | Permalink | Comments (1) | TrackBack
Sex Toy Review: Magic Stick Glass Dildo
If you're looking for high quality sex toys, TheirToys.com Sex Toys is a good place to start. I was fortunate enough to get a Magic Stick by DJ Glass Dreams for review and I loved it! I love glass dildos and vibrators because they are so classy, so beautiful, and such fun to use. I have a collection of glass dildos that I keep in my crystal cabinet with my 1950s vintage china and my aqua and amberina glass collection. The light in the cabinet sets off these dildos very nicely. My new Magic Stick by DJ Glass Dreams is my second nicest glass dildo, next to the one that lights up.
This glass dildo, made by the venerable Doc Johnson, is described on the TheirToys.com web site in this fashion: "Doc Johnson's line of glass products is an outstandingly beautiful, sleek and sensual line of body safe products that are sanitary and easy to clean. This product, the Magic Stick is in their Glass Dreams collection. This is a great glass piece with red bumps to create friction and sensation and a cool swirled design inside with blue and white contrast. The ringed handle end is in blue glass. Insertable length is 7" long and the shaft tapers between 1.25" at the head, to 1" down by the handle." This accurate description doesn't begin to describe the joys of this wonderful glass dildo.
Since it was chilly up here I put the dildo in a pan of warm water so it would be warm when I used it. Wow, what a feeling! The shaft is thicker than some dildos I've used and I like that feeling of being completely filled up. The nubs on the shaft also gave me added stimulation both internally and directly on my clit. I pulled the dildo over my clit to get the best effect. I used a little lube although I really didn't need it. This dildo is easy to manipulate because of the ring at the base. It keeps it from getting lost inside me. If I were really adventurous I could use this dildo for anal sex but it feels much too thick for me. It's perfect for vaginal penetration, though, and those nubs feel great on my clit.
This glass dildo is also very easy to clean. I wash it with soap and water or toss it in the dishwasher to really clean it thoroughly. Then I put it in my crystal cabinet with my collection of glass sex toys. Pass your 1Y0-A24 exams in first try by using our guaranteed ccip & pass4sure 70-681 tutorials and best quality E20-322 dumps along with testking 646-205. These glass dildos are so classy I want to show them off for the works of art they really are and I'm not embarrassed about it in the least. It's amusing getting a load of the both shocked and interested expressions I see from people seeing those dildos next to my vintage ice cream dishes. Ha ha!
Look to TheirToys.com for Pyrex Toys and Glass Pieces.
Posted on October 9, 2010 at 12:59 PM | Permalink | Comments (3) | TrackBack