« May 2010 | Main | July 2010 »
June 30, 2010
Micro-Kitty - A Really Cool Vibrator
There's a green movement afoot in the world of sex toys, with stuff like phthalates-free vibrators and sex toys made of materials like silicone and even wood. I have few glass dildos that are fun to use hot or cold.
What caught my attention with this particular sex toy, Micro-Kitty, is that it's solar powered. Such an innovative use for a sex toy! Micro-Kitty is pretty much the same as other strap on clit vibes like the strap-on butterfly I like to wear under my clothes. The difference is that Micro-Kitty is solar-powered. I just might have to find one of these for myself. I like the purple color of the silicone. Silicone toys tend to be more expensive than jelly but I like the feel of it. I wouldn't mind paying extra for an environmentally-sound sex toy.
Here's a picture for the curious:
Posted on June 30, 2010 at 11:30 AM | Permalink | Comments (0) | TrackBack
June 29, 2010
FOUNTAIN OF YOUTH #10 at AllRomanceEBooks!!!
I'm so psyched! My m/m erotic fantasy short story "Fountain Of Youth" just made the Top Ten list at AllRomanceEBooks! It's currently at #10. W00T!!
Here's the dirt to buy the story. I've also included a blurb and an excerpt.
After I finish the happy dance I'll go back to my sex toys work.
Title: Fountain of Youth

Release Date: 11 June 2010
Currently #10 at AllRomanceEBooks for Romance Divine LLC!!

ISBN: 978-1-934446-88-1

Author: Elizabeth Black

Format: E-Book

Length: 5,197 words 28 pp (PDF)

Genre: Romance

Category: Erotic, Paranormal, Fantasy, Gay, Male-Male

Price: $2.99

Buy this story starting June 11, 2010.
Romance Divine
(Coming Soon)
http://www.romancedivine.com/
Bookstrand:
http://www.bookstrand.com/fountain-of-youth
Amazon Kindle:
http://tinyurl.com/39mygop
AllRomanceE-Books:
Currently #10 at AllRomanceEBooks for Romance Divine LLC!!
http://www.allromanceebooks.com/product-fountainofyouth-440436-144.html

Blurb:

What if you could have a do-over; a second chance at love and romance with the object of your heart's desire? Sixty-eight year old housewife Syd eyes her strapping young gardener, Evan, and dreams of… What would "you" wish for? Careful, sometimes wishes do come true, but it might not always be exactly what you want. Syd finds romance, and changes, when she discovers a secret Fountain of Youth.

Excerpt:

Sydney stood in her kitchen, eyeing up Evan's strong form as he drank a glass of water. Sweat rolled down his neck onto his broad chest. Sleek yet muscular, Sydney could not help but admire the strong yet subdued beauty of the man who stood so close—yet so far. Years of tending to her garden formed those muscular biceps and flat stomach. If only I were young and pretty again, young enough and pretty enough to attract a beautiful man like Evan.
"Thanks for the water, Syd. Working in your garden always makes me break out in a sweat."
"How long do you think you'll be today?" She didn't want him to leave; she could watch his lovely body at work all day long. What would his arms feel like wrapped around me as we lay in my bed? Stop daydreaming, Syd. You're too old for daydreams.
"Probably another four or five hours. I'm planting fresh irises and feeding the Yoshino cherry trees. You'll love the irises. I found delicate blue ones that were forced only a couple of weeks ago."
"Don't overwork yourself."
"You're so kind to me. No danger of overwork, Syd, I like to tend your garden. It's very relaxing, but I need to get back to work now. Is there anything in particular you'd like me to do?"
Yes, I want you to make love to me. But she couldn't dare ask him to do such a thing. Watching Evan at work made every nerve in her body tingle with arousal, but there was little release unless she took care of herself. Her husband Walt lost interest in sex several years ago, leaving Sydney a very frustrated woman. In turn, she lost interest in him, and had grown accustomed to her passionless marriage, leaving her to fantasize about other men for many years. I'm only sixty-eight; too young to give up on sex. If only Evan could sweep her up in his arms for real as often as he did in her fantasies.

Posted on June 29, 2010 at 01:12 PM | Permalink | Comments (0) | TrackBack
June 25, 2010
Joseph LoDuca - The Theme To "The Messengers"
I saw the horror movie "The Messengers" again not long ago and I loved this theme song so much I had to find it on Youtube. So here it is. I've been playing it over and over while working on my new steampunk, time travel, alternate universe short story "A Quandry In Time". It's set in Victorian London and there are some very familiar faces in it from literature and history. I even touch on the history of vibrators in this story. So while I'm working on it I'm enjoying this haunting song. Take a listen:
Here's the same theme; different cover.
Posted on June 25, 2010 at 07:41 AM | Permalink | Comments (0) | TrackBack
June 24, 2010
X Excerpt From AN UNEXPECTED GUEST - Sex On Kitchen Table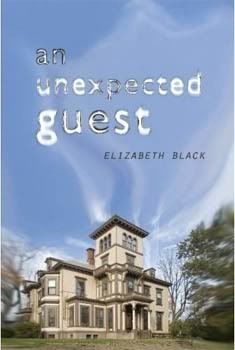 My book "An Unexpected Guest" has been released by Brown Paper Bag Books/Fanny Press. This book is a very hot paranormal erotic romance. If you liked "The Haunting Of The Sandpiper Inn", you will love "An Unexpected Guest". I happen to love ghost stories, and both books are full of scares, thrills, excitement, lust, and ghosts. As you can see, I do much more than write about sex toys. I also write paranormal erotic romance novels.
AN UNEXPECTED GUEST
By Elizabeth Black
Release Date: November 23, 2009
Format: Paperback
Length: 202 pages
Publisher: Fanny Press
Genre: Paranormal Erotic Romance
Heat Level: Scorching
ISBN-10: 1603814272
ISBN-13 978-1603814270
Price: $14.95 (Paperback)
Price: $9.95 (Kindle)
Buy Links:
BLURB
Annie's life is in crisis, and it's time for her to change things. She is determined to be controlled no longer by her arrogant boyfriend and overbearing mother: for the first time in her life, she is going to follow her dreams and do something she truly wants for herself. Her dreams lead her to a picturesque Bed and Breakfast by the ocean that is rumored to be haunted. As she throws fear to the wind and opens up to life's new possibilities she meets Jason, whose long blonde hair and cheeky attitude she cannot resist. Little does she know that there is more—or less—to Jason than meets the eye. Why does he seem so familiar? Has she met him in her past—or in her dreams? Why does he always seem to vanish when others appear? Can a man so perfect really exist, or is his existence all in her head and heart? Can the dead impersonate the living?
EXCERPT
"You have a sexy way of eating. You should have seen your tongue, the way you licked the mousse off of that spoon." She watched the corners of his lips turn upwards. His teeth were white and perfectly straight. Every nerve ending in her body was alert at his closeness. A blush crept up her cheeks as she tried to keep her breathing under control. She was certain he could hear her heart pounding.
"You drove Frank wild, but I don't think you were aware of what you were doing."
"You certainly were aware of it." Annie croaked. She was so excited she held her breath. His lips were close enough to kiss.
"Of course I was. I always appreciate a woman with a talented tongue." He placed one hand on Annie's shoulder. She thought he was going to pull her towards him, but he only tapped her with his fingers. "Your milk is almost ready. Hurry and pour before it boils. There is nothing more nauseating than scalded milk."
"The milk can wait." She murmured, rubbing her hands along the taut muscles of his waist. His breath hitched at her touch. Her yearning for him was as strong as her desire to own the house. She decided it was about time she went after what she wanted and not waited for it to come to her. She brushed her lips against his, cool and sweet in the night. His next movement surprised her. Strong hands slid through her hair, gliding and stroking her in a gentle dance of his fingers. She wasn't expecting such gentleness from a man who seemed ready to burst out of his own skin. Long fingers glided through her hair, pulling at her scalp in a flurry of wicked excitement. With one deft movement she untied the black ribbon that held his ponytail. It fell to the floor. She ran her fingers through his soft, long hair, massaging the pliable scalp behind his ears, and he groaned with pleasure. His tongue lapped at the inside of her mouth, seeking out every open space, tasting her deeply, leaving a tang of sweet champagne in his wake. She shuddered, and his body answered in kind. She tossed back her head and took in a few deep breaths. The kitchen spun around her. Heat surged in her groin, and her legs felt as if they melted under her. She did not know how long they could hold her weight. His warm lips grazed along the pulse that trip-hammered in her throat. She ground one hip into his growing erection. He lowered his head to her shoulder and groaned.
She wanted him and she wanted him now, against her better judgment. She couldn't remember the last time Frank had kissed her like that, if he ever had. Her lovemaking with Frank had grown dry and rote, the initial spark, what little there was, having died out in recent weeks. This man, whose strong fingers rippled across her back, made her blood rush like it had never rushed before. When would she ever see him again? Chances were she never would.

Posted on June 24, 2010 at 10:36 AM | Permalink | Comments (0) | TrackBack
June 21, 2010
Idlewild - Take Me Back In Time
What a wonderful song! I heard Idlewild's "Take Me Back In Time" on the "Three Rivers" episode about the firefighters. Sadly, "Three Rivers" was cancelled. I love this show! A good thing is that Alex O'Loughlin will soon star with Daniel Dae Kim in "Hawaii 5-0". I'll watch it because I like those two.
Anyway, enjoy the song!
Posted on June 21, 2010 at 06:42 PM | Permalink | Comments (0) | TrackBack
June 20, 2010
Stay-At-Home-Dads On The Rise? Not So Fast...
[This post was originally posted on the Ms. Magazine blog.]
Stay-At-Home-Dads On The Rise? Not So Fast…
June 20, 2010 by Elizabeth Black
Stay-at-home dads are all the rage in the media since this rotten economy has forced many unemployed men back in the ranks of the homestead. Judging from the plethora of Father's Day articles celebrating stay-at-home-dads, you would think that dads across the United States are turning into Mr. Mom at an unprecedented rate.
From a profile in Michigan's Lansing State Journal:
[For Chris Singer], raising Tessa–who has huge, Gerber-baby blue eyes, adorably chubby legs and a smile that could melt the hardest of hearts–is mission one. That means nights without sleep, trips to the library and zoo, loads of diapers, bottles, burp cloths and the conviction that he's doing the right thing right now.

From columnist Jeff Gillenkirk in the San Francisco Chronicle:
The number of stay-at-home dads rose nearly 60 percent between 2003 and 2008 and is expected to keep rising as the economy and family roles continue to change.

Don't be fooled. These feel-good stories are trotted out for Father's Day, but the reality is not so rosy. It's true enough that the tide of layoffs has hit men harder than women. But bona fide primary caregiving fathers are still rare, and a man doesn't automatically become a primary caregiver of the children simply because he's unemployed or underemployed. The horrid worldwide economy has simply created a larger number of unemployed/underemployed men who aren't picking up the slack at home.
In The New York Times, author Catherine Rampell describes the more complex reality:
On average, employed women devote much more time to child care and housework than employed men do, according to recent data from the government's American Time Use Survey analyzed by two economists, Alan B. Krueger and Andreas Mueller.

When women are unemployed and looking for a job, the time they spend daily taking care of children nearly doubles. Unemployed men's child care duties, by contrast, are virtually identical to those of their working counterparts, and they instead spend more time sleeping, watching TV and looking for a job, along with other domestic activities.
So despite media fantasies, men getting laid off means that many moms are now acting as both the primary caregiver and primary wage earner. Slacker dads, get up off your duffs and do the right thing by supporting the mothers of your children both financially and in the homestead.
Posted on June 20, 2010 at 11:28 AM | Permalink | Comments (2) | TrackBack
Want To Be A Good Dad? Support Mom And Avoid Father's Rights Groups
Over the past decade, fatherhood has been all the rage and dads are naturally the talk of pundits on Father's Day. So let's say you're a divorcing dad and you're having trouble coping. You look for help on the internet and discover the father's rights movement.
Be warned – avoid father's rights groups like the plague. According to the pro-feminist men's group The National Organization For Men Against Sexism (NOMAS), "male supremacist groups ("Father's Rights") have caused unspeakable harm to our country and to our children by encouraging abusive fathers, often with little past involvement with their children, to seek custody as a tactic to pressure a mother to return or to punish her for leaving. "Shared parenting", "friendly parent", involvement of both parents and other concepts that seem fair and benevolent have instead been used to manipulate courts and legislatures to help abusive fathers. For instance, women are routinely denied custody of their children after being classified as "unfriendly" for asserting that the husband has abused them or their children." Father's rights groups prey on confused men angry and sad over the break-up of their relationships by stoking their rage and insecurities. In addition, father's rights groups encourage men to fight for custody of their children by using harmful tactics that further erode their relationships with their ex's – and by extension their children.
How can a dad – unemployed or working outside the home – be a good father? Not by fighting for custody or demanding "shared parenting" after divorce or breakup. The best way a dad can be a good father is by providing support to the mother of his children, including both financial and emotional support. According to Florida attorney Elizabeth Kates, "a father's most important role, and the one common "father factor" in all research that indicates any correlation between father involvement or presence and positive effect on child well-being is: a father who emotionally cares for, financially supports, respects, is involved with, takes some of the work load off of, and generally makes life easier, happier and less stressful for. . . his children's mother."
If dad wants to make sure his children thrive he must do whatever he can to ensure that their mother is thriving. Stop fighting for "shared parenting" or sole custody if you are in court. Don't badmouth their mother. Stop hiring paid mouthpieces that tout the latest psychological theory to show that the children are best off with a dad who had never acted as their primary caregiver. I know this will piss off lots of men but it is the truth.
Don't believe me? How about the research?
A seven-year study by Dallas's Timberlawn Psychiatric Institute found the one factor that was the most important in helping children become healthy, happy adults, was the quality of the relationship between their parents. This one factor was more important than giving kids hugs, providing good discipline, building their self esteem, or any other aspect of what is traditionally considered 'good parenting'." Other studies found that "the strongest single factor associated with resiliency in early years is social attachment to a primary caregiver. There is considerable evidence linking secure attachment to social and academic competence and positive developmental outcomes, such as improved communication, problem-solving, social relationships and grades" and "the single most important determinant of child well-being after divorce is living in a household with adequate income."
Even the National Fatherhood Initiative agreed with the mother-needs-support assessment when it found that "the best thing a dad can do for his children is love their mother." Researcher Michael Lamb, known for his studies of fatherhood, noted that "...the warmer, the richer, the more supportive the relationship he has with the mother, the better he is able to be a supportive and loving father for the child."
So dads, the message is clear. If you want your children to grow up to be happy and healthy adults, the best thing you can do for them is to make sure that their mother is comfortable, healthy, and happy. When primary caregiving moms thrive, children thrive. And happy children enjoy their fathers more.
Happy Father's Day.

Posted on June 20, 2010 at 11:22 AM | Permalink | Comments (0) | TrackBack
June 18, 2010
Headlights, Nips, And Milk Missiles - Are Fake Nipples In?
I am amused by this set of fake nipples sold by Selfridges, since the last thing I need are silicone nubs on my perky ones. My nipples are huge even when they're not erect. Set your tongue to them and they'll soon get as thick as pencil erasers and turn a deep maroon. They are very noticeable when I wear a t-shirt or especially a tank top since I don't encase my C cups in a bra.
According the Selfridges' web site, "It's official – the natural look is back and nipples are in." I wasn't aware that nipples went out of style. They always get their share of lip-smacking attention. Apparently, Samantha in "Sex And The City" invested in a set of fake nipples so the manufacturers hope the show inspires women to buy them the same way they bought Rabbit vibrators in droves.
I know I'm one to talk about how most women probably don't need fake nipples - or should I call them "nipple enhancers" as the ad does? Women can easily treat their nipples with the reverence they deserve by having a partner suck on them, pinch them, tweak them, and lick them until they stand at attention. It also helps to go braless until your nipples have toughened after weeks (or months) of rubbing against shirt fabric. Slather nipple balm on them if they crack or feel sore. I can attest to how easily this works since I started going braless when I was in college and my nipples have thanked me.
Rather than buy fake nips, show off your Perky Little Puppies in a tight shirt no matter how large or small they prove to be. Many men and women are turned on by the site of a pair of melons (or apples, if that's your size) jiggling to and fro as you walk with that sexy bounce in your step. When those boobs are capped by a perky set of nips, you'll have to mop up the drool from your admirers. Whether you call 'em headlights, nips, titty toppers, acorns, love buttons, tuning knobs, milk missiles, high beams -- I could go on forever -- when they're toughened and erect, poking at flimsy fabric, they're a beauty to behold.
Posted on June 18, 2010 at 01:35 PM | Permalink | Comments (1) | TrackBack
June 16, 2010
Pleasurists #82
Pleasurists is the go-to site for vibrators, dildos, and sex toy reviews.
via Viviennui
Welcome to Pleasurists, a round-up of the adult product and sex toy reviews that came out in the last seven days. For updates and information follow our RSS Feed and Twitter.
Did you miss Pleasurists #81? Read it all here. Do you have a review for Pleasurists #83? Be sure to read our submission guidelines and then use our submission form and submit it before Sunday June 20th at 11:59pm PDT.
Want to win some swag? All you've got to do is enter.
Editor's Pick
I was skeptical. I like my bullet vibes, but rarely happen upon an occasion in which it would be helpful to have one disguised as jewelry. I had a lipstick vibe once in college. I left it in my boyfriend's dorm and one of his unsuspecting housemates wanted to see what color lipstick I wore. Long story short, we had trouble making eye contact with each other for a while.

Note: I read enough (read: so many) reviews every week to know it's the little things that really make a review, add that little something extra and it will make your review stand out, and that's how this one is. What really tipped me over the edge was the corny joke embedded in the image captions and a link to the Top 10 Pirate Pick-up Lines. You know you want to go look.
Editor
Scarlet Lotus St. Syr
Looking for sexy posts other than reviews?
e[lust] #15
On to the reviews…
Vibrators
Dildos
Anal Toys
Toys for Cocks
Lube, Massage Oil, Bath Stuff, & etc.
BDSM/Fetish
Adult Books/Games
Adult DVDs & Porn
Storage
Miscellaneous
Posted on June 16, 2010 at 02:27 PM | Permalink | Comments (0) | TrackBack
News Flash! Women Make Noise During Sex To Manipulate Men!
Well, heck, I could have told you that women make noises during sex not so much because they feel aroused or are coming but to manipulate the guys having sex with them. According to the lucky scientists saddled with studying this issue, women most frequently reported having orgasms when masturbating. Next in line is when the guy masturbates her. Third is oral sex. A distant last is vaginal intercourse.
I am a silent as a tomb when I masturbate alone with my dildos, and when I come I am also so quiet you can hear a pin drop. However, when I come and my husband holds me, I moan mainly for his pleasure. I could live without it. Frankly, I think all the moaning and dirty talk is ridiculous. Saying crap like "Oh, baby, that's so good! Mmmmmm!! Fuck me gooood, baby! Oooohhh... Oh, yeah. Oh, YEAH!!!" makes me feel like I'm acting in a bad porn flick - and that's where I think the idea that you have to make noise and talk like a cougar in an Axe commercial comes from: porn.
In my past when I had multiple sex partners I tended to be quiet because I was concentrating on my arousal. Noise distracted me. I might grunt or moan involuntarily and very briefly, but I preferred to be quiet. I'm sure lots of women are like that. He, on the other hand, would pant like the dog in heat that he was. The time I was most likely to make noise was when he was having his orgasm. I liked having enough power over a man to make him come inside me. When I came with a man inside me I moaned and groaned but when I was alone I was quiet. I made much more noise with a partner because I figured he would like it and he expected it (porn culture again) - and it would get me what I wanted in and out of bed.
I can't say much about oral sex aside of I agree with the study that masturbation (whether I did it or he did it) gave me orgasms much quicker than oral sex. Sadly, when I was younger most of the men I saw didn't want to go down on me although they sure expected me to suck them off. So, it took me forever to come because since the penis really doesn't come into much direct contact with the clitoris unless you're into certain sex positions, I wouldn't come for at least a half hour whereas when I masturbated I saw fireworks within ten minutes.
As to why women vocalize during sex, here's what the scientists had to say: "With regard to the reasons females gave for making copulatory vocalization, 66% reported using these to speed up their partner's ejaculation. This was done to relieve discomfort/pain, boredom, and fatigue in equal proportion, as well as because of time limitations." It makes sense. Frankly, too many men don't know or care about how to please a woman sexually so she can get tired and bored waiting for him to shoot his wad. Hence the noises to speed him up. When intercourse began to hurt because he rubbed me raw inside I wanted it to end but not before he came so I moaned in his ear a lot. Worked like a charm. His orgasm improved his self esteem and made him feel like a real man for making both of us come.
And then there is this: "Importantly, 92% of participants felt very strongly that these vocalizations boosted their partner's self-esteem and 87% reported using them for this purpose... One of the effects of female copulatory vocalizations may be to promote male self-esteem, which may strengthen the pairbond, decreases the risk of emotional infidelity and abandonment, resulting in continued access to resources and protection." I vocalized because I thought he liked the sounds I made and because the noise really turned him on. This was especially the case for the men I felt a greater bond to and I wanted to strengthen that bond. Sometimes I moaned and talked when the sex was lackluster but I wanted to make him think it was better than it really was.
I bet lots of women will agree with this study. I also bet that there is a connection between women moaning, grunting, and talking dirty in bed and the very same in porn. I don't think a woman has to vocalize like Jenna Jameson in order to show she's enjoying sex. Maybe hold him tighter or make eye contact. Tell him when you're coming. You don't have to sound like a bow-chica-bow-bow soundtrack to enjoy good sex.
Posted on June 16, 2010 at 02:05 PM | Permalink | Comments (2) | TrackBack