« March 2010 | Main | May 2010 »
April 30, 2010
Being Rich Gets You A Better Sex Life
I'm not surprised that wealth leads to a better sex life. When you're wealthy, you aren't worried about mundane things like making sure the rent or mortgage is paid, having enough food to eat, making sure the electricity doesn't get turned off when it's 20 degrees outside, and other unimportant distractions.
A survey by Prince & Associates found that "70% of today's multimillionaires said being wealthy gave them "better sex." A majority also said wealth gave them "more adventurous and exotic" sex lives." The findings for women were interesting: "The survey's most-surprising findings relate to the impact that money has on the sex lives of women. More than 80% of both the men and women surveyed were married, although the women's wealth was independent of their husbands'. Among the respondents, nearly three-quarters of the women surveyed (about 150) said they'd had affairs, compared to about 50% of the men. While the male numbers are in keeping with findings for the broader American population, the figure for women is almost twice as high as the national average, according to sex researchers. (More than half of all the men and women surveyed had been divorced at least once.)"
"Better sex" meant different things to men and women. For men, "better sex" meant more frequent sex with more partners. For women, "better sex" meant "higher quality" sex.
Women were also more likely than men to be members of the "Mile High Club", referring to having sex on an airplane.
Wealth does away with many of life's stressors, in particular financial stressors, so it's not surprising that wealth may lead to a better sex life. Correlation does not equal causation, though. How you manage your wealth matters a great deal. I suppose it's all relative in the end. However, having the money to live comfortably does go a long way to improving your mood for sex.
Posted on April 30, 2010 at 02:37 PM | Permalink | Comments (0) | TrackBack
April 28, 2010
The Power Of A Good Kiss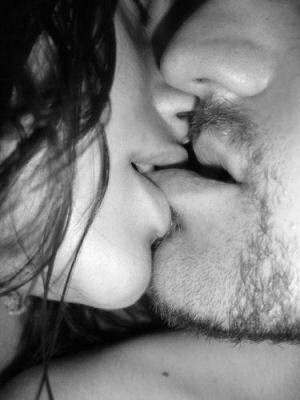 I love a good kiss. I don't like it when a guy tries to bathe me with his tongue, though. I met a few of that type when I was in college. One guy who was a real loser had a very wet, disgusting kiss that was made worse by his stomach growling the whole time he slathered his tongue all over me. Talk about gross! I prefer a good, sexy kiss to being slathered by a damned Saint Bernard.
A New York State University study of 1,000 college students found that women place a high premium on kisses. Women kissed to determine the appropriateness of a partner, and to establish intimacy. Men, on the other hand, used kisses to determine the likelyhood of sex. Yup, there are men again, thinking with their dicks.
I good French kiss can curl my toes. I've met men who could give a French kiss that the Goddesses would like. I've also met men whose French kisses were drooly and gross. That kind of kiss always turned me off, plus the guy was sometimes really getting into wiping me down with his tongue, and he wanted much more than a wet, sloppy kiss. That turned me off even more. The guy whose stomach growled while he kissed me was probably the grossest of all. He was later fired from his job for sexual harassment. When I read about that in the newspaper, I wasn't surprised in the least.
My husband gives great kisses, but not nearly enough in my opinion. I want more! I've had my share of guys who were great kisses. I love it when a man holds me gently in his arms, tilts my head back, runs his lips and the tip of his tongue along my throat, and then gently presses his lips to mine. My lips part. So do his. His tongue slides in, softly, not like gangbusters. No drool, thank you. When I feel lightheaded and my heart is pounding in my chest from his erotic kiss, I'm putty in his hands. I also like to be kissed around my face, cheeks, and eyelids, with his kiss ending at my mouth. A good kiss can nearly make me pass out. I haven't had a kiss like that in a long time. It's time to surprise my husband.
Posted on April 28, 2010 at 02:30 AM | Permalink | Comments (1) | TrackBack
April 27, 2010
More On Cougars - Older Men, Younger Women, Mistresses and Married Men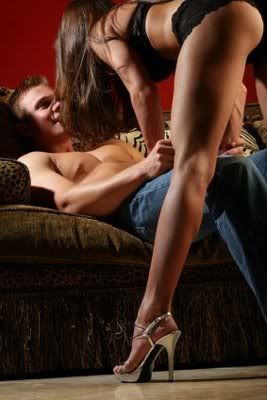 I read the book "Cougar : A Guide For Older Women Dating Younger Men", and it's quite fascinating. I get the impression that many cougars are divorced, middle-aged women who are still, to put it in the words of the author, hot chili peppers. That brings me to older men, in particular married older men who seek mistresses who are much younger than they are.
Most often people hear about the stereotype of the older man dating very young women rather than the other way around. You know the joke - if she were any younger she'd be sperm. I was that very young woman when I was younger, and I today I still attract men who are my age or older. I'm happily married, so I'm not looking for anyone. I can relax, and look at the whole picture.
When I worked as a gaffer (lighting), makeup artist, and scenic artist, I attracted both younger and older men because my job brought me in contact with them, but I preferred the older men. There were three who were younger than me that caught my eye, but I was already getting seriously involved with my eventual husband. If I weren't with my eventual husband, I would have hooked up with one of these guys in particular. He was a few years younger than me, and he was a dead ringer for Legolas in the "Lord of the Rings" movies. Long blonde hair and all. He was also a very good friend.
Onto the older men. Some of the older men were decent sorts, but others were mainly interested in me because of my youth and sexiness. Some were married to women their own age. I was a mistress when I was in college, and I know first-hand some of the unsavory reasons some men prefer women young enough to be their daughters and granddaughters. Due to that experience, I can advise women why they should avoid affairs. I highly recommend not dating a married man. Very bad for you, and for much more than the usual reasons, such as you never get to see him on holidays and you have to meet in secret. These are the same married guys who later divorce and exclusively date women who don't remember the Vietnam War. Granted, not all older men who date younger women are like this, including the ones who are married, but quite a few of them are. I also heard similar stories from my friends who dated older men who acted like this.
Here are a few of the reasons these particular older guys date younger women. Applies whether he is married or unmarried.
* Mid-life crisis
* Thinks his wife doesn't understand him. (She understands him all too well, which is part of his problem.)
* Says his wife won't have sex with him anymore or that sex is lackluster. (Ladies, if you choose to not heed my words aim to be a mistress anyway, don't believe a word of that nonsense. Of course he's screwing his wife. That's a classic line from married men.)
* Likes the competition he purposefully creates between his wife and his mistress or mistresses. Catfights turn him on.
* Loves blow jobs, but refuses to go down on a woman. Cunnilingus is Teh Icky.
* Wants a woman who will hang on his every word, admire him with no strings attached, and tell him what a sexy buck he is even though he's old enough to be her father.
* Wants to impress other people who see this Gorgeous Young Thang hanging on his arm. He wants envious stares from the older men and Church Lady pursed lips from older women, especially older women he wouldn't consider for a second as a dating partner.
*Likes the lack of commitment, but doesn't like it when the same young woman who doesn't want to commit to him openly dates other men - especially men her own age. A married man who thinks this way is full of chutzpah.
* Wants a bevy of young women at his beck and call. Doesn't like it when she wants a bevy of guys at her beck and call. See previous comment.
* Knows damned well that an older, more experienced woman (like a cougar) won't put up with his bullshit, so he seeks a more pliable woman who would be more likely to want to impress him as his fuck buddy.
My relationships with these particular kinds of older men did not last long because I quickly grew weary of the poor treatment. Older women who date younger men are well aware of this kind of treatment they may have received from a man their own age.
I found what Valerie Gibson had to say about why cougars are better off with younger men than they would be with older men amusing, considering my experience with some older men when I dated them while in college. Check out what Gibson had to say about it:
WHAT A COUGAR WON'T GET WITH A YOUNGER MAN
*mid-life crisis
*erectile dysfunction
*a beer belly (The Countess's note: she forgot man boobs and comb-over)
*excuses or "headaches"
*an ex-wife and kids (okay, maybe one) (The Countess's note: watch how he treats his ex-wife. If he treats her like shit or complains about her endlessly, be careful. Should the two of you split, it's likely he will give you the same treatment. I have said this numerous times to second wives who end up getting divorced, and they know I'm right.)
*Viagra (unless it's for fun and extra stimulation)
*objections to condoms
*hair dye (if there's any, change your stylist)
*snoring (if he does you're too exhausted to notice)
*use of toothpicks
*a two-minute "wham-bam-was-it-good-for-you" sexual yawn every Saturday morning
*personal laundry (you send it home with him)
More from Gibson:
WHAT A COUGAR WILL GET WITH A YOUNGER MAN
*enthusiastic oral sex
*multiple orgasms
*public affection
*a flat stomach
*a firm butt
*always-ready sexual equipment
*spontaneity
*stamina
*adoration and appreciation
*admiration (from other cougars)
*someone who looks good every morning (no matter what he did the night before)
*did I mention multiple orgasms?
Notice that these lists tend to be about sex? I noticed. Cougars according to the book are especially interested in the sexual aspect of the relationship, but some cougars I've heard from hooked up with their younger man because they were compatible in many ways. I think that being a cougar is about much more than having hot monkey sex with younger men. At least two I heard from married their younger man. It goes back to what I had first said about cougars - these are older women who are confident, attractive, sexy, intelligent, and comfortable in their own skins. All of those qualities are great to aim for. If you get an attractive, attentive man in the process, regardless of his age, that's icing on the cake.

Posted on April 27, 2010 at 08:59 AM | Permalink | Comments (7) | TrackBack
Pleasurists #75
A Captive Fairy by HobbleSkirt
Welcome to Pleasurists, a round-up of the adult product and sex toy reviews that came out in the last seven days. For updates and information follow our RSS Feed and Twitter.
Did you miss Pleasurists #74? Read it all here. Do you have a review for Pleasurists #76? Be sure to read our submission guidelines and then use our submission form and submit it before Sunday May 2nd at 11:59pm PDT.
Want to win some swag? All you've got to do is enter.
Looking for sexy posts other than reviews?
e[lust] #11
Editor's Pick
With a name like that, you'd think that www.free-hardcore.com would be one of those dreadful porn aggregators, showing nothing more than row upon row of vacant-eyed, silicone-titted 'teens' engaged in the most banal of sexual acts. But it's not.

Note: A wonderful review of kink.com's free content site, for those of us who love kink.com but don't have a subscription. Maybe you already knew about this, but I, for one, was in the dark, and thought everyone should know. Not to mention I adore the beginning of the review.
Editor
Scarlet Lotus St. Syr
On to the reviews…
Vibrators
Dildos
Anal Toys
Toys for Cocks
Lube, Massage Oil, Bath Stuff, & etc.
BDSM/Fetish
Adult Books/Games
Adult Movies & Porn
Lingerie
Miscellaneous
Posted on April 27, 2010 at 08:49 AM | Permalink | Comments (1) | TrackBack
April 26, 2010
Ladies, It's Time To Start A Boobquake!
So ladies, are you going to dress immodestly today and start a massive, global earthquake? In case you don't know, today is the day that women worldwide are urged to bare their boobs, their ankles, and anything else that suits them to start a Boobquake. [For more info on Boobquake, go to Blag Hag.]
The whole business started as a result of Iran's acting Friday prayer leader, Hojatoleslam Kazem Sedighi, stating the following:
"Many women who do not dress modestly ... lead young men astray, corrupt their chastity and spread adultery in society, which (consequently) increases earthquakes."
Technically, it's really men being lured into adultery by hot women that supposedly increases earthquake activity, so if you like to show 'em off and seduce married men, go for it today. When I was in college I had several affairs with married men and I'm not aware of any earthquakes occurring in my college town, so Sedighi is flat out wrong. However, in 1981 at the beginning of one affair there were two earthquakes: Dawu (China - a 6.8) and Irian Jaya (Indonesia, 6.8). In 1982 when I was actively involved with two married men there was a magnitude 6.0 earthquake in North Yeman. According to Wikipedia, "It was the first instrumentally recorded earthquake in the Dhamar region.[2] As many as 2,800 people were killed and 1,500 injured." Wow, in 1983 at the end of my most intense affair there were three earthquakes: Borah Peak (Idaho, 6.9), Coalinga (California, 6.5), and Kopaonik (Serbia, 5.3).
My infidelity reached across the U. S. and across the globe! I am woman! I have boobs! I am powerful!

So, ladies, bare your breasts and dress otherwise immodestly today, lure a married man into your trap, and let's start some tremors. I want to see some high scale Richter action by midnight tonight. I'm not wearing any underwear and I'm going to walk around the apartment naked. Let the fun begin! Remember that according to throwbacks like Sedighi, married men are not responsible for their own behavior. It's those loose whores showing off their ankles and long sexy necks that lure those poor dudes into cheating on their long-suffering wives.
Posted on April 26, 2010 at 08:29 AM | Permalink | Comments (3) | TrackBack
April 23, 2010
Caught In The Act
I never had sex at home when I lived with my parents. My most memorable time of nearly getting caught was when I was in college. I was with a professor (not from my college) in his car while we were parked at a secluded place in the woods. We had just finished doing the nasty. You could smell sex in the car. It was hot, and he had taken off his shirt and draped it over the steering wheel. I had put my clothes back on. We sat there, in the setting sun, talking about this and that. I turned to look out my window, and saw a man leaning in, staring at me. I screamed.
It was a cop.
David hurriedly put his shirt back on. The cop told us that it wasn't safe for us to be alone in the woods close to dark the way were were. After all, he was able to quietly walk up to the car and peer in at me from the passenger side window, which was rolled down because it was hot. We took the hint - David drove away a few minutes later. I just knew that cop knew what we had been doing. We thought the cop had been watching us fuck from a distance, and waited for us to finish what we were doing before sneaking over to scare me out of my wits. I was completely weirded out.
It was actually fun to fuck this guy and then head for dinner with the rest of the crew. We worked together for a summer job. David was in charge of the crew. I chose the alpha male, as usual. Everyone wondered if David and I were getting it on. Both of us denied it, but the attraction and the heat between us was very obvious. We couldn't hide it no matter how hard we tried. That was exciting for me - having all those people wonder about my sex life.
But wait, there's more!
David and I did it everywhere. In his car. Under bridges. In his room in our temporary housing. In out-of-the-way wooded areas, when cops weren't watching (or were but wouldn't tell us). At drive-in movie theatres, and he was pissed about having to spend the entry fee. After all, we weren't watching the movie.
The most fun I had with my little tryst with David was when he held a party for his co-workers at his house by a river. I was already dating a married man at the time, and I invited Pete to come to the party. The other co-workers gave me stares because they suspected that David and I were getting it on. Plus, he was married. His wife was at the party, hosting it. Pete was also married. The co-workers didn't know what to make of me by this point. David and Pete were both considerably older than me, and both were professors, but at different colleges. I caught both of them grinning and standing in a corner, talking, and looking at me. I had to wander over to find out what all that was about. They were both talking about how interesting and wonderful I was. Neither knew that I had regularly fucked the other. I got off on that like you wouldn't believe.
What made it even more fun was that both of David's teenaged sons had HUGE crushes on me. Part of my summer job included working with kids. David had told me earlier that every boy at that camp had a crush on me. So, I had attention from his two kids, him, and my other professorial lover. I went home happy and hyper that night.
I was so despicable when I was younger.
Posted on April 23, 2010 at 09:50 AM | Permalink | Comments (0) | TrackBack
April 22, 2010
Sex Scene Or Murder Scene
In light of the fad for "torture porn", this quiz is fun to play. In case you've been living in a cave, "torture porn" (also known as "gordo", a portmanteau of "gore" and "porno") is horror movies that exist only to show young, nubile women being tortured and murdered. I can't stand "torture porn" because it gets boring really fast. I think the movie that started the fad was "Saw". I saw a scene for this movie online, and it was touted as being the scariest movie in decades. The scene was the one of the woman with the trap on her head that would break her jaw when it opened. The Count and I saw "Saw" when it finally came out, and we weren't impressed. "Torture porn" is only about finding more disgusting and "creative" ways to kill people, especially sexy women in various stages of undress. Give me "The Haunting", "Ringu", "The Devil's Backbone", and "The Changeling" any day over "torture porn".
Judging by the expressions on the women's faces, can you tell if these photos from movies are murder scenes or sex scenes? I scored 7 out of 10 correct.
Posted on April 22, 2010 at 10:14 AM | Permalink | Comments (0) | TrackBack
April 21, 2010
Zinskaro - Georgian Folk Song
Just goofing off online listening to Kate Bush, and I heard "Hello Earth" again, one of my favorite songs of hers. That song includes portions of the eerie Georgian folk song "Zinskaro", as does Werner Herzog's film "Nosferatu". Love that creepy movie. (That's Georgia in Eastern Europe for the brain dead amongst us. Not Georgia in the southern U. S.) So, here are two versions of "Zinskaro" - one mostly in full and one from "Hello Earth". And since it's almost Earth Day I figured "Hello Earth" was a good song to start the day.
Posted on April 21, 2010 at 11:14 PM | Permalink | Comments (0) | TrackBack
Mother Nature Gets Naughty: Eco-Friendly Sex Toys For Earth Day
So you use bio-degradable cleaning materials, recycle your trash, drive a hybrid, eat organic food and cook everything from scratch. I'm fairly green. We don't recycle but I make my own soaps, body lotions, shampoos, and even cleaning solutions from generic bases meant for people suffering from chemical sensitivity. I like them because they're cheap and I get to make any scent I like. Plus the shea butter base is much better for my skin than lye-based soap. My husband cooks our food from scratch and I grow my own herbs and vegetables. My indoor space for planting now includes basil, thyme, sage, a leek and some scallions. I cut the ends off of the leek and scallions and planted them. I used to do that when I lived in a house with a garden and it's wonderful. The greens just take off and even bloom! I don't even own a car. We use the local public transportation system. Now that's green! There are many ways to go green.
Since you live a green life, why not buy eco-friendly sex toys, especially on Earth Day? Consumers have led the drive towards urging manufacturers to make sex toys from healthier materials. Many sex toys are made from a "jelly" material from a family of compounds called phthalates. It's a type of plastic and everyone knows plastic does not decompose. Once it's in a landfill it's there for thousands of years. Scientists are uncertain regarding the effects of exposure to phthalates by humans but consumers aren't taking any chances. Recycling has led them to be more aware of materials in many things they take for granted every day, including their sex toys.
So some sex toys manufacturers have taken to using materials that are safer for human consumption, such as silicone, glass, elastomer rubber, and even wood. While some sex toys companies are going completely phthalate-free, others offer sex toys made of those other materials in addition to the jelly ones because those jelly sex toys remain popular. A benefit of the other materials is that they are better for the environment and they are skin-safe. A disadvantage is that they tend to make the sex toys more expensive, but over the past few years with women and couples monopolizing sex toys sales, consumers are more willing to pay more money for a higher-quality, better made sex toy. Sales of sex toys from manufacturers such as Lelo and Jimmy Jane show how true that really is.
So now your curiosity is piqued and you want to try an eco-friendly sex toy? Well, guess what? You're in luck! Adult Sex Toys is hosting an Earth Day contest and you stand a chance to win some wonderful prizes. All you have to do is any of the five following things:
* Fan Adult Sex Toys on Facebook
* Share Adult Sex Toys on Facebook
* Follow Adult Sex Toys on Facebook
* Blog about Adult Sex Toys
* Post one of their banners on your web site
Easy as pie! And look at what you get a chance to win:
* Lelo Lily Pink
* Silicone Rabbit Pearl
* Treeze Wooden Vibrator
* Don Wands Helix Dildo (glass)
* The We-Vibe
* Micro Kitty Hands Free Clit Vibe
* Intimate Package (package of different sex toys)
These are high quality sex toys that you will love. Go to Adult Sex Toys and look over their entire selection of eco-friendly sex toys. Run searches for glass and silicone to find some of them. And don't forget to enter the contest! And don't forget to enjoy Earth Day.
Posted on April 21, 2010 at 03:35 PM | Permalink | Comments (1) | TrackBack
April 20, 2010
Infidelity - A National Pastime
I have long been fascinated with affairs, ever since I was in college and I realized that some married men would screw anything female with legs, as long as the woman presented herself to him in an appealing manner. I was occasionally that woman. It wasn't just men who cheated on their spouses. Women have cheated countless times throughout history.
Is it really cheating if you never meet in person, leaving your sweaty paw prints all over the computer screen when interacting with your honey? I recall an article about a guy who was addicted to the online role playing game "Second Life", and his real life wife was not happy that he had cheated on her with a woman he had "married" in the game. I found the real life wife posting on the Yahoo group EverQuest Widows, and she was so pissed about the article and all the new things she learned about her husband's cyber affair that she had decided to divorce his ass.
Get a load of this near-miss one man had with his wife:
When Tim's wife opened the Valentine's Day gift he had mailed to her, he knew he was in trouble when she pulled an eight-inch purple butt plug out of the box.
That gift was meant for his cyber playmate. The company had shipped it to the wrong address.
He stammered, telling her it was really for him. He's into bondage and sadistic play. She's not.
He likes cybersex. He likes kinky web sites, in particular BDSM web sites. He said that he had done it "often when I had a day job that allowed unfiltered access to the Internet."
He doesn't consider his cyber-relationships affairs.
"They're flirtations," he said. "There's no face-to-face.
Is it really an affair if it's only on the Internet? What about hot, steamy e-mail exchanges? The concensus from my research into that article was that, yes, indeed, a married person who has cybersex is having an affair. Energy, attention, and sometimes even money are paid to the person who is not the adulterer's spouse.
Here are some movies and books that address the time-honored practice of infidelity:
Anna Karenina
Double Indemnity
Casablanca
The Scarlet Letter
Body Heat
Same Time, Next Year
The Bridges Of Madison County
Indecent Proposal
Brief Encounter
The Postman Always Rings Twice
52 Pick Up
Affairs figure prominently amongst political scandals. Former President Bill Clinton is better known today for Monica Lewinsky's blow jobs than for much of his public policy. Ministers such as Jim Bakker and Jimmy Swaggart have seen their empires fall due to their inability to keep it in their pants. Former New York Governor Eliot Spitzer saw his power crumble after the public got wind of his own carryings on with a prostitution ring.
Actors are also well known for their affairs. Katherine Hepburn has long been known to be Spencer Tracy's lover, but his wife would not give him a divorce because they were Catholic. Elizabeth Taylor cheated on Eddie Fisher with Richard Burton, and later married Burton. Twice. When Billy Bob Thornton met Angelina Jolie, he was living with Laura Dern. Dern had once stated that "I left home to work on a movie, and while I was away, my boyfriend got married, and I've never heard from him again." Angelina Jolie made the news again when she was linked with a very married Brad Pitt. As anyone with a pulse knows by now, Pitt left wife Jennifer Aniston and hooked up with Jolie. They are still together, and Jolie's pregnancies and adopted children have made gossip columnists very happy.
Tiger Woods and John Edwards show that no matter how horrid they are affairs never go out of style. My work in progress "Dangerous Curves" (also might be titled "Don't Call Me 'Baby'") includes lots of thought and action about affairs. My main character is a single young woman who has sex with lots of men including a few married ones. Her views of affairs change as she progresses through the book. One thing she notices is that the married man she is seeing gets incredibly jealous whenever she has a date with someone else. As if he has a right to complain about her seeing other men when he has a wife at home. It's rather ironic that some married men demand exclusivity from their mistresses when they aren't exclusive themselves.
Posted on April 20, 2010 at 09:36 AM | Permalink | Comments (1) | TrackBack