« November 2009 | Main | January 2010 »
December 28, 2009
X Excerpt From "Neighbors", a lesbian contemporary tale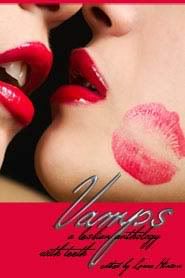 Title: Vamps
Includes short story "Neighbors" by Elizabeth Black
Publisher: Torquere Press
Release Date: December 23, 2009
Format: E-book and print book
Type: Anthology
Authors: Shanna Germain, Tracey Shellito, Teresa Noelle Roerts, Penelope Friday, JT Langdon, Erin O'Riordan, Mercy Loomis, Kate Cotoner, and Elizabeth Black
Genre: Erotic lesbian romance and erotica
Category: "Neighbors" - contemporary lesbian
(total anthology categories include lesbian, contemporary, paranormal, and vampire)
Buy link: http://www.torquerebooks.com/index.php?main_page=product_info&products_id=2412
Starting at: $5.95
Edited by Lorna Hinson with stories by Shanna Germain, Tracey Shellito, Teresa Noelle Roberts, Penelope Friday, JT Langdon, Erin O'Riordan, Mercy Loomis, Kate Cotoner, and Elizabeth Black
BLURB FOR "VAMPS"
Seductive. Dangerous. Sexy. Girls with fangs, women who hunt vampires, lovers who only come in the dark of the night. Vamps are not just female vampires; they're femmes fatales. They're the women your mother warned you about, and the things that go bump in the night. They're beautiful and terrible, loving and disdainful.
Nine stories that range from historical to modern and from hard-boiled mystery to fantasy explore the world of the female vampire. They're strippers and goddesses, bluestockings and hippies, but they all have one thing in common. Lust. Lust for blood, and lust for life, or maybe unlife. All of the night stalkers in Vamps are ready and willing to find a good time.
Some of the best authors in lesbian erotica and romance are here, spinning tales about the dark world of creatures of the night, and about the women who love them, women who are drawn to the power and freedom that the vampire embodies. Vamps features stories from: Shanna Germain, Tracey Shellito, Teresa Noelle Roberts, Penelope Friday, JT Langdon, Erin O'Riordan, Mercy Loomis, Kate Cotoner, and Elizabeth Black. Vamp up your life a little today!
BLURB FOR "NEIGHBORS"
Conservative, staid Annie expected peace and quiet when she moved into the Calvert Street Apartments. Hoping to get some work done, since she worked from home, she set up her flat and her daily routine in her usual, boring, unsurprising way. Little did she know that her new neighbors, Angelina and Charlotte, would give her a run for her money in the excitement department. Angelina and Charlotte awakened Annie'smost secret lusts as they lured her out of her safety zone and into their fevered way of living.
EXCERPT FROM "NEIGHBORS"
It was dark when she heard clattering next door, and awakened on a couch. She couldn't remember where she was. Once she caught her equilibrium, she recalled watching sitcoms on television while lying on the couch in the living room and falling asleep during a blue jeans commercial. She thought of Lina's swinging legs encased in that napkin-sized remnant of denim, and felt her pussy go into melt-down.

She listened to the rustling in the next apartment. Charlotte and Lina had arrived home at nearly 3:30 am.

It appeared that her new neighbors had a guest. A male guest, judging from the baritone mingling with the familiar giggles.

They didn't waste any time. The noises quickly moved from the living room to the bedroom adjacent to Annie's bedroom.

She rose from the couch and stripped off her T-shirt, shorts, and underwear, dropping them in a heap on the floor as she walked into her bedroom. Nude, she lifted her nightgown from the end of the bed, and froze.

The bed in the apartment next door creaked. Baritone was fucking either Lina or Charlotte or both of them within a few feet from where Annie stood. Judging from the sound, that bed was positioned with one long side against the wall, just like Annie's bed. If that wall wasn't there, it would look like one, huge, king-sized bed.

She knelt on her mattress and touched the wall. It throbbed in time with the movement next door. Faint moaning drifted through the fake wood paneling. She pressed her torso against the wall. The throbbing pulsed through her breasts, coursed down her belly, and slammed into her groin. I'm getting warm just thinking about what they're doing. Could the mere sound of their sex turn me on? She felt her pussy heat up and swell, moist and tender. Her nipples hardened as she rubbed them against the rough wood. Knowing that this one thin wall separated them by mere inches excited her even more. I have to be very quiet. If I make any noise, they'll hear me through these thin walls. Her pussy pulsed in time with the thumping those hot bodies made as they pumped into each other. It tightened and cramped in search for anything big and thick to wrap itself around. She arched her back, feeling the thumping against the wall pound into her skin, through her belly, and into her warm pussy. She was so turned on she dug her fingernails into the paneling. Warm cream dribbled across her swollen lips, and slid down her right leg. She rubbed her nipples into the rough fake wood, and moaned. Soon, the creaking of the bedsprings increased to a crescendo. After a few deep and shrill ecstatic moans, all was still.

Annie hugged the wall in silence. Waves crashed against the beach outside her balcony, in time with her throbbing pussy. Sweat plastered her hair to her forehead. The strong pulse between her legs begged for relief. She lay on her back atop her sheets and blankets. Her fingers found the moist lips. She rubbed her juices on her thighs and belly. The smell was musky. Delicious. Her fingers parted her lips, and massaged until they reached her swollen clit. The slightest touch was like an electric shock. Her legs bucked with each wave of pleasure. Her breath caught in her lungs, which were so full they threatened to burst. Her heart banged against her ribs, begging to be set free. She pulled at her nipples until they hardened to the size of purple gum drops. She wished her neck was long enough that she could lower her head and suck on them.
Posted on December 28, 2009 at 11:11 AM | Permalink | Comments (0) | TrackBack
December 25, 2009
Just In Time For Caturday! And Christmas, To Boot.
Bobo the cat. I see this kind of thing in circuses.
Posted on December 25, 2009 at 09:07 AM | Permalink | Comments (0) | TrackBack
December 23, 2009
New At Alternet: Why Men Fake Orgasms
My new article about why men fake orgasms is up at Alternet. Here's the link and a blurb:
Why Men Fake Orgasms
http://www.alternet.org/sex/144729/why_men_fake_orgasms
Many women would be surprised to learn that men often fake orgasms. But why? Our limited, patriarchal view of sexuality, of course.
If you thought that only women faked orgasms, you'd be wrong. Plenty of men fake their way out of the sack. How on earth can a guy even fake an orgasm? What is he going to do, spray dish detergent and try to pass it off as semen? More importantly, why would a man want to pull off this kind of bluff?
Posted on December 23, 2009 at 11:01 AM | Permalink | Comments (0) | TrackBack
Another Funny Video - Beach Disaster
Posted on December 23, 2009 at 07:52 AM | Permalink | Comments (0) | TrackBack
December 21, 2009
Alright! Some Hot Eddie Izzard Comedy For The Holiday Season
Gotta get me some sexy Eddie Izzard comedy for the holidays. Need to kick start myself after listening to Windham Hill and Charlie Brown Christmas all week. Izzard will do just fine.
Here are some telling quotes by Izzard. First, from Transgenderzone:
"His manner is more masculine still. If you suspected he might make John Inman look butch there is no trace of campness. He has a girlfriend, which I guess qualifies him as straight — or, as he would have it, "straight lesbian", since his fantasy is to be a woman making love to another woman. "I'm in a blokey phase, but I still want to give myself room for manoeuvre. Directors have said to me: 'Yes, your stuff's great, but I'm not going to use you'. They think, 'Oh, he's a transvestite, what am I going to do with that?'" Ah, the T-word already. I feared raising this might be tricky; instead, it's hard to get Izzard off the subject. Being the second transvestite to become famous (he says he was preceded by a well-known cross-dresser in New Zealand) lent him a unique laughter point when he started. Now it is a distraction."
And another typical Izzard quip: "Puberty is the sickest joke God plays on us. So you're just noticing members of the sex: "Girls girls, ooo". Naturally you want to look your best, and God says "No! You will look the worst you've ever looked in your life!"

Posted on December 21, 2009 at 06:06 PM | Permalink | Comments (0) | TrackBack
A Little k.d. lang
I loved k.d. lang from the first time I heard her. I'm watching "Anywhere But Here" now and she sings the title song. Here are three of my favorite k.d. lang songs, including "Anywhere But Here". I'd add "Busy Being Blue" but there's no Youtube for that song.
"Anywhere But Here" is not available as a Youtube embed, but you can hear the song here.
Posted on December 21, 2009 at 01:45 PM | Permalink | Comments (0) | TrackBack
December 17, 2009
LEGO Has Always Been Cool
My son liked LEGO when he was a boy, and this cute commercial shows how versatile LEGO is.
Posted on December 17, 2009 at 10:53 AM | Permalink | Comments (0) | TrackBack
December 16, 2009
New At Sex Is Magazine - Erotic Shaving (Pubescaping)
And you thought I only wrote erotic romance? Not a chance! I write for Sex Is Magazine, a magazine published by the sex toys company EdenFantasys.
My latest article is about erotic shaving, entitled "Pubescaping".
http://www.edenfantasys.com/sexis/body/pubescaping-121492/
Here's an excerpt:
To shave or not to shave—that is the question. I've always sported hair in my southern hemisphere, so when I saw porn where the models are bare except for a landing strip, I wondered what it would be like to be clean-shaven. I trim during the summer to keep my little curls from saying "boo!" when I wear a swimsuit, so when my husband begged me to let him shave me, I figured it might be fun...
COMING SOON BY ELIZABETH BLACK FOR SEX IS MAGAZINE
"Figging" - how to enjoy the bondage practice of sticking a carved plug of fresh ginger root up your bum to give anal sex a literally hot and sexy twist!
PREVIOUS SEX IS ARTICLES BY ELIZABETH BLACK
Why Do Women Fake Orgasms?
http://www.edenfantasys.com/sexis/sex/faking-orgasms-102292/
"Hotel Sex: A Short Guide To Getting It On Away From Home".
http://www.edenfantasys.com/sexis/sex/hotel-sex-90392
"Sexercise Your Way To Ecstasy"
http://www.edenfantasys.com/sexis/sex/sexercise-93092/
"You Are What You Eat: Foods That Improve Your Sex Life".
http://www.edenfantasys.com/sexis/sexual-health/food-sex-pyramid-62392/
"When Erectile Dysfunction Hits Home: Or How NOT To Turn Your Man Into A Meat Dildo". Sex Is Magazine described my article as "a fantastic and compassionate read".
http://www.edenfantasys.com/sexis/sex/erectile-dysfunction-60192/
Posted on December 16, 2009 at 11:56 AM | Permalink | Comments (3) | TrackBack
December 14, 2009
Cool Commercials
What a great commercial for Finnair that so fits this snowy holiday season. Check it out!
While you're at it, watch the video for Philips Personal Massagers that is in my sidebar. It's rather funny. I've known about Philips for their lightbulbs and such, but it's news to me that they make personal massagers (read: sex toys). The perfect gift for someone you love for Christmas!
Posted on December 14, 2009 at 12:39 PM | Permalink | Comments (0) | TrackBack
December 13, 2009
Solo Sex In The Bath - AN UNEXPECTED GUEST - X Excerpt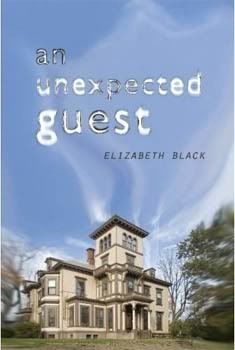 My book "An Unexpected Guest" has recently been released by Brown Paper Bag Books/Fanny Press. This book is a very hot paranormal erotic romance. If you liked "The Haunting Of The Sandpiper Inn", you will love "An Unexpected Guest". I happen to love ghost stories, and both books are full of scares, thrills, excitement, lust, and ghosts.
AN UNEXPECTED GUEST
By Elizabeth Black
Release Date: November 23, 2009
Format: Paperback
Length: 202 pages
Publisher: Fanny Press
Genre: Paranormal Erotic Romance
Heat Level: Scorching
ISBN-10: 1603814272
ISBN-13 978-1603814270
Price: $14.95
Buy Link:
Fanny Press
http://fannypress.com/2009/12/12/an-unexpected-guest/
Amazon
http://tinyurl.com/yb9ya5t
BLURB
Annie's life is in crisis, and it's time for her to change things. She is determined to be controlled no longer by her arrogant boyfriend and overbearing mother: for the first time in her life, she is going to follow her dreams and do something she truly wants for herself. Her dreams lead her to a picturesque Bed and Breakfast by the ocean that is rumored to be haunted. As she throws fear to the wind and opens up to life's new possibilities she meets Jason, whose long blonde hair and cheeky attitude she cannot resist.

EXCERPT
Jason's face nudged its way into her mind as she soaked. She could not concentrate on her novel or her family memories because her thoughts drifted back to him and his engaging smile. Who was he? Why had he had such an effect on her? What did he mean that it was very important that she buy this house? She thought of his broad shoulders and wondered what it would be like to rest her head on them. Frank was a remnant of her past now, and she needed to move on. Who would take over her passion and love for life? Would it be Jason? Although she barely knew him, she felt as if she has known him all her life. Why was that?. What did he mean to her? His long hair, blonde – so unlike the brunettes she normally preferred – fell down his back, begging for the touch of her hands.
As she soaked in the tub, she ran her hands over her breasts and belly, feeling a stirring in her pussy as she thought about Jason. Should she have accepted his invitation to get a room together? Did she miss a chance to have a hot and sexy night with a new man? While her trysts with Frank were hot and steamy, she felt no emotion, no attachment with him. Her tenderness towards Jason aroused her like no man had ever before. As she thought about Jason's aroused stare, her hands traveled down her breasts, past her belly, and into her bush.
Her fingers found a very wet pussy as they circled her erect clit, bringing forth bursts of pleasure as Jason's handsome face emerged in her mind's eye. What would it be like to kiss him, to taste him? As she slid her fingers inside, she clenched hard with arousal, wanting to feel Jason deep inside her. Her fingers felt slick with her juices as she moved her fingers in and out, quickly and then slowly, rubbing inside and then against her clit as her arousal increased. She slipped further into the warm, bubbly water as she fingered herself, bringing out one hand and sliding her moistened fingers into her mouth, tasting her musk.

Posted on December 13, 2009 at 03:14 PM | Permalink | Comments (0) | TrackBack