« September 2009 | Main | November 2009 »
October 27, 2009
Midnight Seductions Spooktakular Shindig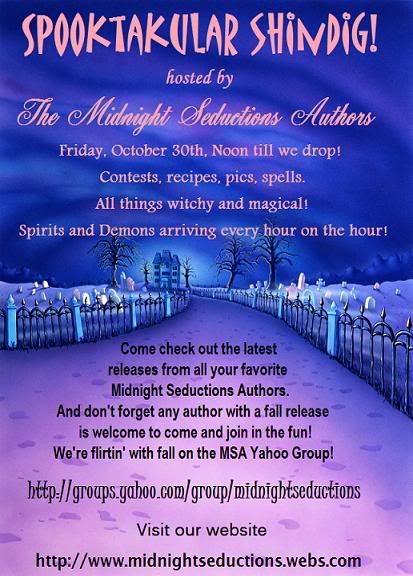 Posted on October 27, 2009 at 09:09 AM | Permalink | Comments (0) | TrackBack
October 20, 2009
Greg Laswell - What A Day
I heard this wonderful song on "CSI: Miami". It was at the end of the episode about the "organic" farming, e-coli, and botulism. The song is "What A Day", by Greg Laswell.
Posted on October 20, 2009 at 07:40 PM | Permalink | Comments (0) | TrackBack
October 10, 2009
SWEET SPOT - FREE WHISKEY And 15% Off Books
FREE WHISKEY! is an absolutely FREE short story from one of your favorite Whiskey Creek Press authors, from our published collection of terrific short stories! There's a new short story the first of each month, and you can order it through the shopping cart absolutely FREE!
FREE WHISKEY SHORT STORY!
"Sweet Spot" by Elizabeth Black - Erotic Horror (from Monster Mash A Halloween Anthology, Best Horror Short Story, 2008 Preditors and Editors Reader's Poll)
"Sweet Spot"
Derek was warned to leave the cemetery after the funeral. The Hag haunted the graves, preying on grieving men and women. But all Derek could think of was revenge...he should have left with the mourners.
Available as a free download: October 1 - 31, 2009
http://tinyurl.com/cpn2mu
ABOUT AUTHOR ELIZABETH BLACK:
At home in New England for nearly a decade, she lives with her husband and four cats a few blocks from the Atlantic ocean.
On a fun note, she has worked as a gaffer (lighting), scenic artist, and make-up artist (including prosthetics) for movies, television, stage, and concerts. She worked as a gaffer for "Die Hard With A Vengeance" and "12 Monkeys". She did make-up, including prosthetics, for "Homicide: Life On The Street". She is especially proud of the gunshot wound to the head she had created with makeup for that particular episode. She also worked as a prosthetic makeup artist specializing in cyanotic blue, bruises, and buckets of blood for a test of Maryland's fire departments at the Baltimore/Washington International Airport plane crash simulation test.
Her Whiskey Creek Press titles include MONSTER MASH, THE HAUNTING OF THE SANDPIPER INN, and her latest, TALES OF LUST AND LONGING, all on sale this month at 15% off!

MONSTER MASH
http://tinyurl.com/647zoz
THE HAUNTING OF THE SANDPIPER INN
http://tinyurl.com/m3sa85
TALES OF LUST AND LONGING
http://tinyurl.com/mab9sb
Posted on October 10, 2009 at 01:16 PM | Permalink | Comments (0) | TrackBack
October 09, 2009
Going Down, Anyone? Giving A Proper Blow Job
Here is another reprint of one of my Nuts4chic articles. In order to tone down the article, I left out the part about giving a woman a "pearl necklace", because it was probably a bit too over the top, and I realized at the last minute that women don't get "pearl necklaces" from giving head. If anyone reading has no clue what I'm talking about and wants to know what a pearl necklace is, just ask me and I'll post the def in comments.
-----
As the old saying goes "candy is dandy and liquor is quicker, but sex won't rot your teeth."
Thanks to one of my erotic romance colleagues, Jade, this week I talk about how to go down on a guy that will have him begging for more.
First, have fun! You know how to use Altoids mints when giving a BJ, per one of my previous articles, but so much more fun is to be had! As Jade said, if you don't want to give 100%, don't do it. Don't pound up and down on him as if you are a piston engine. Vary your technique, and listen to him for your cues.
Don't limit yourself to your mouth. Jade reminds us that we can use our lips, mouth, hands, and even our breasts. Above all, be gentle. Don't leave teeth marks on him. He's sensitive, and when it hurts it's no fun. My husband likes to brag that, in the early days of our relationship, I broke him. Twice. I was a little rough on him, and it complained by steering clear of me for awhile. He told one of his co-workers about what I had done, and every time I saw that guy, he gave me the warmest, most welcoming grin. I bet he fantasized about me more than a few times. I love having that kind of power over men.
Here are a few time-honored BJ techniques. Alternate them in as many ways as you and your man like. Don't neglect his balls while you play with his dick. Roll his balls between your fingers for a five-alarm scorching BJ.
THE TONGUE TWISTER: Flick your tongue back and forth as you go up and down. The more he moans, the faster you flick.
THE HUMMER: Jade mentioned this one. When he is in your mouth as far as you can get him without choking, hum a song. Preferably one in the lower register because the feeling is more intense. He will love the vibrating sensation. Hum something suitable for a BJ, like Wagner's "Ride of the Valkyries". You can play "Guess This Song", but it's doubtful he'll be alert enough to pay attention to what you hum.
TEA-BAGGING: This is lying on your back while he lowers his package into your mouth. Gently suck on his balls and use your lubed-up hands on him. This action is called "tea-bagging" because what the two of you are doing looks like a teabag dipping into a tea cup.
THE TIP-TAPPER: Suck only on his head while your lubed hands and fingers work his shaft. The head is a man's most sensitive part and he will groan under your expert technique.
Posted on October 9, 2009 at 03:04 PM | Permalink | Comments (5) | TrackBack
October 05, 2009
Queensryche - Silent Lucidity
I have long liked this song but when my iTunes died on my old computer I lost it. Here it is, in Youtube.
Posted on October 5, 2009 at 07:47 PM | Permalink | Comments (0) | TrackBack
Smashing Pumpkins - Disarm
I heard this song on the episode of "Cold Case" about the skateboarders. I've long liked Smashing Pumpkins and this is my favorite song of theirs.
Posted on October 5, 2009 at 07:39 PM | Permalink | Comments (2) | TrackBack
Want To Get Kinky? How About Cuckoldry?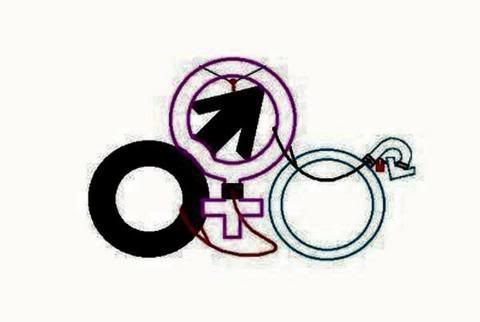 So you're looking to put a little oomph in your sex life? How about trying cuckoldry, which is a kinky bondage practice of having a man wear a chastity belt while he watches his woman have sex with another man. He gets off on the humiliation, and she enjoys two men competing for her attention.
If you think your sex life is a little too vanilla, then cuckoldry is definitely something that could add some spice to your sex life, especially if you are into multiple partners.
This article originally appeared at Nuts4chic. Here it in its entirety:
How daring are you? Is your man willing to wear a chastity belt, just to please you, while you have sex with another man right in front of him?
That's called cuckoldry, and it's a very kinky BDSM practice. BDSM stands for Bondage and Discipline, Dominance and Submission, and Sadomasochism.
Ewww!!!!, you say! Bondage is icky! Well, it floats some people's boats, but not others. Do you like to be tied down with silk scarves while your honey slides an ice cube across your bare skin? If so, you like sensation play, which is a form of BDSM. While cuckoldry might be a bit much for lots of people, it just might appeal to you to some extent, especially if you like introducing new partners into your sex play. Polyamorous couples and swingers sometimes like this form of BDSM.
Some cuckolding FemDom scenarios involve the man being restrained in a chastity belt while he watches his woman having sex with another man. The humiliation of being unable to satisfy her especially while another man is able to do so is sexually arousing to him. While he is aroused, he is not permitted to come. There is an untold competition between the two men; mostly being that the man having sex with the woman is viewed as superior physically and sexually to the man being cuckolded. The chastity of the cuckold is important to the cuckolding FemDom scenario.
The Dominant woman is referred to as the "hotwife". She enjoys that sensation of being filled by another man, especially if her Sub is unable to please her because he is shackled and belted. She gravitates towards an Alpha Male "bull" or "stud" who is physically and sexually more potent than the cuckolded Sub, according to the rules of cuckoldry play.
Humiliation speech is very important to the cuckolding FemDom scenario because everyone involved gets off on the heightened sex play and terminology. The Dom woman refers to her cuckolded Sub as a "loser", "pathetic little boy", and other epithets that downgrade his sexuality, but he is not turned off by the put-downs. Not at all. She gets off on the power she has over him, while he is aroused by his humiliation.
The chastity belt is a very important sex implement used in cuckoldry. The chastity belt holds the penis, allowing it to become erect but forbidding any manual stimulation. The purpose of wearing the chastity belt is so that the man may be aroused but not permitted to come to orgasm. Humiliation is what matters. In cuckoldry, pleasing the Dom woman sexually is of utmost importance.
While cuckoldry is not for everyone, for those who enjoy it, there are many quality leather chastity belts to choose from. If you want to add a little edginess to your sex life, try cuckoldry.
Posted on October 5, 2009 at 01:32 PM | Permalink | Comments (2) | TrackBack
Review: Lingerie Specialists
It's that time of year - the time for fall and winter weddings, Halloween, and Christmas, Hanukkah, and New Year's. And that means sexy lingerie and costumes. The problem is where can you find them? One place is
Lingerie Specialists
, which is exactly what the name implies; a site that specializes in high quality lingerie and exotic costumes.
The site has a cute devil/angel motif which shows how much fun it is. The pictures of their top products - wedding lingerie and costumes - are fitting for this season. Categories include swim wear, lingerie, plus sized goodies, costumes, sexy clothes, and bridal lingerie. I'm very happy to see the plus sized category because too many plus sized women feel left out of sites that sell lingerie.
The models on the site are very fetching and really set off each piece of lingerie, making you want to purchase what you see (the lingerie, not the model. Heh.) Everyone looks so fit and sexy, no matter his or her size. What better way to illustrate your wares by having them worn by hot and sexy men and women?
The categories are varied enough to appeal to anyone, and it's very easy to find what you are looking for at
Lingerie Specialists
. Whether you want to choose lingerie by price, by brand, by category, or by search engine,
Lingerie Specialists
is set up to suit your needs. Prices range from under $80.00 to $360.00 and up, so everyone will be satisfied. Cheap lingerie includes garters, stockings, and gloves; all of which make great gifts for birthdays, holidays, and weddings. Expensive lingerie includes mouth-watering tops made of crystal and rhinestone. Talk about turning heads! Of course, there is leather gear for that extra sexy look.
After playing with the searches for awhile, I learned that I must click away any arrows, otherwise my search is affected. No wonder I kept coming up with blank pages! Just remember that once you look at a page to make that page's checkmark go away or you won't find other lingerie you are looking for.
I was very impressed with the range of brand names, including Kama Sutra, Hustler, Elegant Moments, and Body Zone. There was a wide range of products available for most pages, although a few carried nothing. I hope that those pages will restock soon since the holidays are around the corner.
Categories include lingerie, swim wear, clothes, legwear, plus size, costumes, men's wear, and accessories. The lingerie category included babydolls, chemises, stockings and hose, and many other delightful bits. Bestsellers are listed up front, immediately attracting my attention. The pictures on the pages also make the lingerie look very enticing. Worn by fetching models, it's easy to want to buy lingerie that makes the models look so good whether the model is male or female.
I looked over the bridal wear section because that seems to be
Lingerie Specialists
forte. The bridal lingerie comes in black, white, and even red. I have a weakness for red lingerie for bridal wear. You can choose fancy lace and ruffles or a more plain and simple, classic look. Prices are wide-ranging and very reasonable, able to satisfy every pocket out there.
Since Halloween is right around the corner, I had to look over the costumes. The graphic for costumes is front-and-center on the main page, right next to the graphic for bridal lingerie. There are all sorts of sexy costumes to choose from, running from nurses, schoolgirls, and even bugs to bunnies, angels, devils, and cowgirls. Want something simple? How about a pastie? How about something a little different? A sexy costume based on a fairy tale, perhaps? Red Riding Hood never looked so sexy! And there are pirates, flappers, gangsters, harem girls and genies, and even geishas. Can't decide? Buy several for several parties because these costumes are very reasonably priced. It was lots of fun checking out all the different costumes, and you will enjoy looking, too.
Lingerie Specialists
is a fun and very varied lingerie shop that specializes in wedding lingerie, sexy lingerie, and even costumes. Buying is easy and shipping is discreet. You can also check the status of your purchase on the site. You'll enjoy shopping at
Lingerie Specialists
as much as I enjoyed checking it out.
Posted on October 5, 2009 at 01:27 PM | Permalink | Comments (0) | TrackBack
Review: Wicked Temptations
Now that October is here, what are you going to do about Halloween, the Christmas holidays, fall and winter weddings, and gifts?
Wicked Temptations
has everything you need in lingerie and costumes to keep you happy for the next few months.
Since Halloween is right around the corner, I had to check the stock available at
Wicked Temptations
. There is a huge window with a fetching man and woman dressed in doctor and nurse costumes, eyeing up the camera and begging you to click on costumes, so I did. Wow, all sorts of great costumes for very good prices. There is quite a variety. I saw sexy robbers, a sexy, short-skirted Marie Antoinette, nurses, prisoners, pirates, geishas, serving wenches, and many other fun and sexy costumes. Buy one to wear on Halloween and another one (or two, or more) for upcoming holiday parties. All are high quality and most are under $100.00 each.
The main page is also highlighting leather and vinyl clothing by Allure, so I had to see what was available. Allure is a very nice line of high-quality lingerie made of both leather and vinyl.
Wicked Temptations
has 152 Allure products on its web site, including sexy peasant tops, camisettes, teddies, and other alluring (!) and sexy lingerie for very reasonable prices. The Allure line is definitely worth a look.
Now, onto navigating the rest of
Wicked Temptations
. Getting around and finding what interests me was very easy. The sidebar lists all the categories, and my mouth watered at seeing all the lovely lingerie available. There is even a section for plus sizes, which is important because heavier women want to look sexy, too. There is everything from leather and vinyl to sexy shoes, swimwear, men's wear, and clubwear. Lingerie includes a high quality and stocked selection of babydolls, chemises, corsets, red lingerie, bridal, panties, and bras. I especially liked the variety available. In addition to the usual skimpy bikinis in the swimwear section, there were also gold and silver bikinis ("Goldfinger", anyone?) and monokinis. I haven't seen monokinis since the 1980s and I'm glad to see they are back in fashion. If you're more on the shy side, there are some very nice tank-styled swimsuits that are both sexy and reasonably priced. Do you want ot go all-out? How about a jewel-encrusted swim suit?
Wicked Temptations
carries them, too.
In addition to lingerie and costumes,
Wicked Temptations
also sell sex toys and DVDs. There is a very nice selection of sex toys, including dildos, vibrators, anal beads and other anal toys, furniture, restraints, glass sex toys, and wireless remotes. Considering that
Wicked Temptations
is primarily a lingerie and costume store, the selection of sex toys is quite nice, reasonably priced, and in stock. DVDs include instructional and sexy music DVDs.
Do you want accessories? How about some sexy fuck-me shoes?
Wicked Temptations
carries it all! You can choose stilettos, themed shoes and boots, thigh-high boots in many varieties, and other types of shoes. Other available accessories include chokers, exotic false eyelashes, gloves, wigs (great for costumes), belts, and rhinestone accessories.
Why shop at
Wicked Temptations
? Because you get discreet delivery, great prices, a secure checkout process, a wonderful selection of goodies, 100% privacy guaranteed, and happy customers.
Wicked Temptations
also holds contests in which you can win free lingerie. All in all
Wicked Temptations
is a very good web site. It's easy to navigate, the stock is lovely and high-quality, your privacy is protected, and the prices are reasonable.
Posted on October 5, 2009 at 01:26 PM | Permalink | Comments (2) | TrackBack
October 04, 2009
Sex Toy Review: Ice Rack Ice Lugez
My husband and I wanted to have a private party celebrating my book releases. We love to party alone with each other. He bought wine and sherry for the two of us and cooked a delicious dinner. I wanted to take the party to the next level and bring out the Ice Rack, pictured above. What better way to cool our drinks than to pour them through a nice set of boobs?
While the end result was fantastic and loads of fun, the Ice Rack isn't just a sex toy you take out of the box and it's ready to use. It takes some planning and some work. It took a bit of time to free up our freezer since we stock up on food. Once I had room in the freezer for the Ice Rack, I filled the mold half way with water and set it in the freezer so that the water would take a day to freeze. You have to fill it halfway first so that while it's freezing the Ice Rack can expand and adjust to the water. Once the first half is frozen, I filled up the rest of the Ice Rack so that it was completely filled. A day later, the Ice Rack was completely frozen and ready to use.
Removing the ice from the Ice Rack took a bit of effort. First, wait about ten minutes to give the Ice Rack a chance to melt a bit. This will make it easier to remove the ice from the mold. It's easiest to cut the Ice Rack with a box cutter. My husband used an Xacto knife and cut away from himself so that he wouldn't stab himself. When cutting the Ice Rack be very careful that you don't harm yourself in the process. The rubber tubes that lead to the nipples are easy to remove with a little effort. Pull on the rubber at the nipples so that the tubes stretch and loosen. After that, they come out very easily. I think it's best to keep the Ice Rack in a baking pan so that as it melts, the water stays in the pan.Ice Rack comes with two LED lights; one green and one blue. They're very festive looking, but they didn't look particularly waterproof. To keep them safe and working, I put each light in a sealed sandwich bag. They fit easily under the Ice Rack and when turned on, they made the ice sculpture glow an iridescent purple. The lights also reflected about the kitchen, putting us in a partying mood.
The Ice Rack really did chill out drinks, and it was a blast to use. The holes at the top of the ice sculpture were a bit small, so we first poured our drinks into a measuring cup and then poured them into the Ice Rack. My wine was red and it was fun to see the red liquid running through the sculpture. It poured easily into my glass and when I drank it it was nice and cool. I also drank some red iced tea that I made and the red liquid looked great pouring through the Ice Rack. In fact, here's a recipe for my iced tea:
2 tablespoons hibiscus leaves
1 tablespoon rose hips
1 tablespoon peppermint
Sugar to taste
Put tea into a teaball and drop into a gallon of boiling water. Let the teaball steep for a few hours. I let it sit in the tea overnight. I like this tea much better than regular iced tea. It's very tasty.
The Ice Rack is a fun contraption that's perfect for a party. Party season is about to start with Halloween, Thanksgiving, Christmas, and New Year's coming up, so pick up an Ice Rack today.
Posted on October 4, 2009 at 01:29 PM | Permalink | Comments (6) | TrackBack