« August 2009 | Main | October 2009 »
September 28, 2009
16 Tones - Tennessee Ernie Ford
I have loved this song since I was kid. Check it out. "16 Tons" by Tennessee Ernie Ford.
Posted on September 28, 2009 at 07:08 PM | Permalink | Comments (0) | TrackBack
September 27, 2009
Abstinence-Only Education Lies
Here's a time capsule for you. I originally wrote this post in 2004, when Wade Horn was running the Dept. of Health and Human Services. Now that everyone knows what a colossal failure abstinence-only education is, hindsight is a good thing.
About Abstinence-Only Education
A November, 2004,
Washington Times
article noted that the Bush administration "included more than $131 million for abstinence programs in its $388 billion spending bill. This represents an increase of $30 million for programs that teach middle- and high-school youths that sexual abstinence until marriage is the best choice. The new funding is far less than the $100 million Mr. Bush requested, but it marks a "record level of funding," said leaders of the National Abstinence Clearinghouse in Sioux Falls, S.D."
According to the Working For Change article, "in late December, the Sun Myung Moon Unification Church-owned Washington Times reported that "the nation's two largest abstinence-grant programs [were moved] to a new -- and friendlier -- agency within the Department of Health and Human Services." The ACF, run by Horn, "recently received oversight of the $50 million Title V and $104 million community-based abstinence-education grant programs. Wade Horn's leadership and commitment to abstinence will be a tremendous benefit to abstinence education," said Bruce Cook, founder of Choosing the Best abstinence program. He "will do a wonderful job of promoting the [abstinence] message with the passion and commitment it deserves," said Libby Gray, director of the Project Reality abstinence group in Glenview, Ill.
Abstinence-only education has already been criticized for spreading misconceptions and outright lies. A Congressional staff analysis led by Rep. Henry A. Waxman (D-Calif.) addressed some of these
serious problems
:
"Many American youngers participating in federally funded abstinence-only programs have been taught over the past three years that abortion can lead to sterility and suicide, that half the gay male teenagers in the United States have tested positive for the AIDS virus, and that touching a person's genitals "can result in pregnancy, a congressional staff analysis has found.
Those and other assertions are examples of the "false, misleading, or distorted information" in the programs' teaching materials, said the analysis, released yesterday, which reviewed the cirricula of more than a dozen projects aimed at preventing teenage pregnancy and sexually transmitted disease."
Here are some of the fallacies children are being taught with abstinence-only education:
* A 43-day-old fetus is a "thinking person."
* HIV, the virus that causes AIDS, can be spread via sweat and tears.
* Condoms fail to prevent HIV transmission as often as 31 percent of the time in heterosexual intercourse.
* One curriculum, called "Me, My World, My Future," teaches that women who have an abortion "are more prone to suicide" and that as many as 10 percent of them become sterile. This contradicts the 2001 edition of a standard obstetrics textbook that says fertility is not affected by elective abortion, the Waxman report said.
[From 2007] Washington State had experienced a serious problem in sex education related to the conservative, religious push for abstinence-only education. A third of Washington schools are not teaching young people about condoms or other forms of contraception. The only contraceptiong being taught is abstinence. An eight-year study found that teens who take abstinence pledges "are almost as likely to be infected with a sexually transmitted disease as those who never made the pledge." We need good sex education in schools and at home, not a lot of misconstrued garbage that appeals to religious conservative
Marriage initiatives have not been shown to work, and they should not be hoisted on the poor by Wade Horn and DHHS. Abstinence-only education does not belong in our children's classrooms, and Wade Horn should not be funding lies and misconceptions that would appeal to a "faith-based" contingency. The time for social experimentation on the backs of the poor and on our children must stop.
Posted on September 27, 2009 at 06:00 PM | Permalink | Comments (2) | TrackBack
The Perfect Song To Begin A New Week
This song is
"Brand New Day" by Tim Myers (featuring Lindsey Ray)
. Such a catchy, happy tune, isn't it?
Posted on September 27, 2009 at 03:37 PM | Permalink | Comments (2) | TrackBack
Sex Toy Review: G-Spot Lust Fingers (Glow In The Dark)
I've seen glow in the dark sex toys before, so I've stocked up a bit. I love G-Spot Lust Fingers for several reasons. One, they glow in the dark. The glow even leaves a sheen around anything the G-Spot Lust Fingers are close to. G-Spot Lust Fingers are perfect for Halloween.
I have trouble reaching my G-spot, and the G-Spot Lust Fingers add about a half inch to a full inch of extra length making it easier for me to manipulate my G-spot. My husband has used the G-Spot Lust Fingers on me, and he says the same thing about the extra length.
G-Spot Lust Fingers have two different types of texture: nubs and ribs. I like both, and both feel very different. The ribs are a bit more intense than the nubs, and I like the ribbed G-Spot Lust Fingers when I want intense vaginal massage on top of G-spot stimulation. The nubs feel great on my clit when I pull the G-Spot Lust Fingers in and out of my pussy. It depends what kind of stimulation I want. If I want intense vaginal stimulation, I use the ribbed G-Spot Lust Fingers. If I want clit stimulation and direct G-spot stim, I use the nubbed G-Spot Lust Fingers.
G-Spot Lust Fingers are made of jelly and they are very firm but flexible. They insert best with a little lubricant. The G-Spot Lust Fingers stay on my finger without falling off or getting twisted. G-Spot Lust Fingers would make a great stocking stuffer for Christmas if you're looking for an unusual and fun gift. They also make great birthday presents for someone you love. I like my G-Spot Lust Fingers very much. They add a little glow in the dark oomph to my sex play.
Posted on September 27, 2009 at 11:04 AM | Permalink | Comments (0) | TrackBack
September 26, 2009
Sex Toy Review: Mighty Mite Massager (Glow In The Dark/Waterproof)
I have a weakness for pocket rockets, and when I saw the Mighty-Mite Massager, I had to get one because (1) it glows in the dark, and (2) it's waterproof. The Mighty-Mite Massager is longer than other pocket rocket's I've used, but I like having that extra length, which makes it easier to hold.
The Mighty-Mite Massager has four different head attachments: joints, muscles, scalp, and body. All of them, of course, are great to use on my pussy, but I used the scalp attachment so that I could use the Mighty-Mite Massager on my head. I love scalp massages, so it was only natural I would enjoy using the vibrator in that fashion. The vibrations are intense and very soothing on my head. I turned into a puddle of goo using the Mighty-Mite Massager on my head while watching TV.
I also liked the joint head attachment as my husband used it to massage my feet. I love foot massages, and the Mighty-Mite Massager was perfect to use in that fashion. What I like about the Mighty-Mite Massager is that it is so versatile. It isn't limited to use only on my pussy or other erogenous zones. It's a great little massage tool that is even waterproof.
My other pocket rockets aren't waterproof, so it was very nice finally having one that is. I used the Mighty-Mite Massager on my scalp again as I washed my hair. Talk about feeling incredibly good! The Mighty-Mite Massager scratched an itch my fingers couldn't even touch.
Finally, there's the glow in the dark thing. I love kitchy stuff, and this vibrator is fun to use in bed in the dark after I hold it up to a lamp for a few minutes. The eerie green glow made me laugh as I used it. All in all, the Mighty-Mite Massager is a fun little vibrator that is very versatile. It's waterproof, it glows in the dark, and it can be used as a body, joint, scalp, and muscle massager. Whilst I used it to masturbate, I prefer to use the Mighty-Mite Massager as a muscle massager in and out of the shower.
Posted on September 26, 2009 at 06:51 PM | Permalink | Comments (2) | TrackBack
Sex Toy Review: Hannah Harper's Slender Turbo G
I love rabbit-styled vibrators, so I had to try Hannah Harper's Slender Turbo G. I also love G-spot play, but I can never reach my G-spot with my fingers, so Hannah Harper's Slender Turbo G< did the job for me. This vibrator not only has rotating pearls that feel great on my pussy lips, it has that great bullet clit stimulator. On top of it all, there's the curved tip of the shaft that homes right in on my G-spot. Hannah Harper's Slender Turbo G is a small, easy to hold vibrator that gave me three great sensations - clit stimulation, pussy massage, and G-spot tweaking.
I like the variety of pulsation and vibration patterns. My two favorites are my mainstay, a steady stream of vibration, and the short, quick pulses. As usual, I get so tight when using a sex toy that the shaft's movement slows down. But it didn't stop. I love being so tight that I can stop a vibrator in its tracks.
Hannah Harper's Slender Turbo G is lightweight and easy to hold. The controls are easy to use, too. It's a good thing I had batteries handy because Hannah Harper's Slender Turbo G take four of them. The jelly shaft and jelly clit stimulator are soft and very flexible. Jelly is my favorite sex toy material.
Finally, Hannah Harper's Slender Turbo G is a very pretty vibrator. It's a sweet pink and clear on the shaft. I like that I can see the interior of the vibrator. That way, I can see how its innards works. Hannah Harper's Slender Turbo G is a fine vibrator that gave me very intense orgasms, both G-spot and clitoral. I can play with this vibrator all night long.
Posted on September 26, 2009 at 06:36 PM | Permalink | Comments (2) | TrackBack
Midnight Seductions Spooktacular Shindig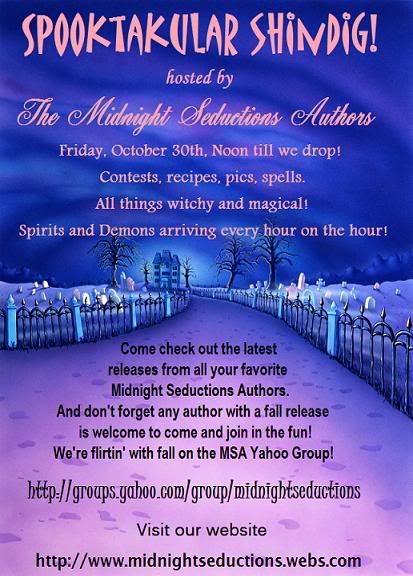 Posted on September 26, 2009 at 01:14 PM | Permalink | Comments (0) | TrackBack
September 22, 2009
This List Is So Me...
My husband found this hilarious list on the atheist blog "God Is A Dick", and I had to post it here. It's so true, especially the groceries part.
You know you're living in 2005
when:
1. You accidentally enter your password on the microwave.
2. You haven't played solitaire with real cards in years.
3. You have a list of 15 phone numbers to reach your family of three.
4. You e-mail the person who works at the desk next to you.
5. Your reason for not staying in touch with friends and family is that they don't have e-mail addresses.
6. You pull up in your own driveway and use your cell phone to see if anyone is home to help you carry in the groceries.
All of these except the solitaire one describe me to a T. The solitaire one is my husband. Ha!
Posted on September 22, 2009 at 11:26 AM | Permalink | Comments (0) | TrackBack
September 19, 2009
Speaking of Goofiness on "Hee Haw"...
I'm in a goofy music mood. First, it was bluegrass. Then, it was "I'm The Scatman" and "Frenzy". Now, I'm back to "Hee Haw". One of my commenters reminded me of "Where Oh Where Are You Tonight..." and I had to post this video. Nearly everyone who was a guest on "Hee Haw" had to sing this goofy song. I'm talking Jerry Reed, Loretta Lynn, Ernest Borgnine, Tammy Wynette, Tennessee Ernie Ford, Lorne Greene, John Ritter, Ruth Buzzi, even Billy Carter, but none could top Johnny Cash. Enjoy the video!
Posted on September 19, 2009 at 07:04 PM | Permalink | Comments (0) | TrackBack
September 18, 2009
Two Bizarre Songs For Friday
I'm watching the episode "Humbug" on "The X Files", and this goofy song plays during the show. It's "Frenzy" by Screamin' Jay Hawkins. It will turn your brain to goo.
The perfect accompaniment to this song is "I'm The Scatman". Now you too can enjoy goofy music for a lazy weekend.
Posted on September 18, 2009 at 05:19 PM | Permalink | Comments (0) | TrackBack