« July 2009 | Main | September 2009 »
August 24, 2009
Roy Clark And Buck Owens "Pickin and Grinnin"
When I was a kid, the whole family used to sit down every week to watch "Hee Haw". Yeah, I admit I am from a conservative household. My favorite part of the show was when Roy Clark and Buck Owens would do "Pickin and Grinnin". Those two would tell the corniest jokes in between some really kick-ass bluegrass music. And it always ended with Roy Clark messing up the end of the song or ending on a sour note on purpose. "Pickin and Grinnin" always made me laugh and I still love it. Here's a sample. Get a load of that great bluegrass music!
Posted on August 24, 2009 at 10:12 PM | Permalink | Comments (7) | TrackBack
I'm In A Bluegrass Kinda Mood
I've been listening to Lester Flatt And Earl Scruggs all evening, and I rediscovered Roy Clark. Here's Clark on "The Muppet Show" doing "Rocky Top".
Posted on August 24, 2009 at 10:05 PM | Permalink | Comments (0) | TrackBack
Pleasurists #43
via sexy_photo
Pleasurists is a round-up of the adult product and sex toy reviews that came out in the last seven days from bloggers all around the sex blogosphere. Did you miss Pleasurists #42? Read it all here. Do you have a review for Pleasurists #44? Submit it here before Sunday August 30th at 11:59pm PDT. Please re-post this list on your own blog if listed.
Note: No Editor's Pick again this week, instead enter one of the many many contests that are going on!
Want to win some free swag? All you've got to do is enter.
Madame Editrix
Scarlet Lotus St. Syr
On to the reviews…
Vibrators
Dildos
Anal Toys
Toys for Cocks
Lube, Massage Oil, Bath Stuff, & etc.
BDSM/Fetish
Adult Books
Adult Movies/Porn
Sex Furniture
Miscellaneous
Posted on August 24, 2009 at 09:08 PM | Permalink | Comments (0) | TrackBack
Foggy Mountain Breakdown
I'm watching "Bonnie and Clyde", and I had to add this song that plays during the movie. I have loved bluegrass since I was a kid, and this song is one of the best. It's "Foggy Mountain Breakdown" by Lester Flatt and Earl Scruggs, with the Foggy Mountain Boys. Enjoy!!
UPDATE: Here's the same song done by Roy Clark. I loved Roy Clark when I was a kid.
Posted on August 24, 2009 at 12:00 PM | Permalink | Comments (0) | TrackBack
August 20, 2009
Sugasm 171
The best of this week's blogs by the bloggers who blog them. Highlighting the top 3 posts as chosen by Sugasm participants. Want in Sugasm #172? Submit a link to your best post of the week using this form. Participants, repost the link list within a week and you're all set.
This Week's Picks
Kiss Me If You Can
"I love the buildup, the discovery."
Back To School
"Back at school a stolen glance across the corridor shows me you haven't forgotten either."
On Critics and Criticism
"But is it fair? Is it right?"
Sugasm Editor
Review: Babeland's Under The Bed Restraints
Editor's Choice
Building
(Sugasm participants should re-post all the links above within a week. The following links may be excluded as long as you include all the above links.)
Thoughts on Sex and Relationships
Big, Beautiful Women
The Ghost of Sex Toys Future (Part Three of Three)
Play with Gigi and Iris
Sex Advice
How to Properly Finger a Woman
BDSM & Fetish
And It Rained
A bedtime story
Caning Galleries
Forgiven
Inspiration, pain, subspace and bliss in the afternoon
The Spanking TOP 5 – Delivery #4
Time for a Shower
Tongue & Cheek–Medical Fetish Photo Story
Sex Humor
How Much Dick Would A Dick Cock Cock if A Dick Cock Could Suck Cock?
Out With The Old
News, Reviews & Interviews
Aural Sex Contest
Electrogasm coolness!
Flexi Felix
Jimmyjane Form 6 review
Top Five Tuesday - Judging a Porn By Its Cover
NSFW Pics, Videos & Audio
5 schoolgirls spanked and caned
HNT ~ Dana Lends a Hand. Or Two.
HNT: Strawberry Season - Part 2
Jenny McClain
Kim Kardashian Fucking Sexy Wallpapers
La Petite Mort
Salacious ~HNT
Sex Poetry
Late In The Game
Erotic Writing & Experiences
Cock Love
Confessional: Her Husband
Friday Night Plans: Faith
Fuck
A Hot Summer's Night Dream
Looks So Nasty in Those Khakis
The Package
The Tale of the Hot Blond Sex Machine (real story)
Wet Dream
Posted on August 20, 2009 at 11:56 AM | Permalink | Comments (0) | TrackBack
August 19, 2009
Spice Up Your Love Life – Move It Out Of The Bedroom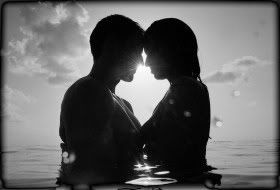 Sometimes, to spice up your sex life, all you need do is change the location. Get out of the bed, and get outside!
Half the fun of having sex in a different location is the fear of getting caught. When I was in college, I was seeing one of many men when I was a camp counselor over the summer. One man in particular caught my attention because he was the director of one camp that visited campus. That's me, always aiming for the Alpha Male. One time, we were parked in a secluded location in a state park. We just finished doing it in his car, and we sat back in our afterglow and talked about the camp. I had my arm around him, and I leaned towards him. For some reason, something told me to look to my right. I did, and leaning in the car only a foot or two away from me was a cop! I screamed. My lover screamed. The cop laughed.
This cop told us that he had been watching us "for quite some time", and that if he were a bad person he could have hurt both of us. We agreed, and took his hint to get out of the park. On the way back to campus, we said we knew that cop had watched us have sex in the car. It was creepy – but exciting - getting caught having sex – by a cop!
Jill's sexiest location for having sex was with her husband – in a deer stand! Now that's unusual. A deer stand is a sturdy enclosure where hunters may hide while hunting for animals, including and especially deer. Having sex in a deer stand, with all of God's Wildlife – and possibly other hunters – watching sounds like a sexy albeit freezing cold thing to do in the fall, when the leaves are changing color and dropping from the trees. Jill and her husband were caught fooling around in that deer stand. Another couple heard all the grunting, and knew it wasn't bears.
Ruby and her husband first did it in the woods behind her house. She was eighteen and scared to death that she'd get caught. I swear, that fear of getting caught is what makes this kind of sex so exciting! She was wearing white shorts, and they were covered with dirt. Her excuse when asked why she was so dirty was that she fell.
Stasia did one over on me – she was in a state trooper's car during his break. Men in uniform are so sexy! Stasia had only praise for him: " It was fun...memorable...and goooooood!" So both Stasia and I have cop stories.
So, tired of a quick and boring hump session on your tried and true mattress? Head for the woods! Sex on the beach! Watch out for deer stands, though, because they might already be occupied.
Posted on August 19, 2009 at 11:52 AM | Permalink | Comments (8) | TrackBack
August 18, 2009
Questions To Ask Teachers In Texas Now That The Bible Is Required Reading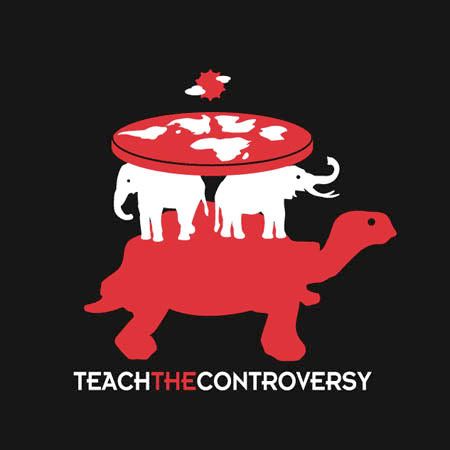 So public schools in Texas may now teach the Bible to students? Good! I encourage students to ask as many relevant and timely questions as they can. This post is inspired by an old Internet meme, and I have added some of my own questions.
Here are the questions from the Internet meme:
When I burn a bull on the altar as a sacrifice, I know it creates a pleasing odor for the Lord (Lev. 1:9). The problem is my neighbors. They claim the odor is not pleasing to them. How should I deal with this?

I would like to sell my daughter into slavery, as it suggests in Exodus 21:7. In this day and age, what do you think would be a fair price for her?

I know that I am allowed no contact with a woman while she is in her period of menstrual uncleanliness (Lev. 15:19-24). The problem is, how do I tell? I have tried asking, but most women take offense.

Lev. 25:44 states that I may buy slaves from the nations that are around us. A friend of mine claims that this applies to Mexicans but not Canadians. Can you clarify?

I have a neighbor who insists on working on the Sabbath. Exodus 35:2 clearly states he should be put to death. Am I morally obligated to kill him myself?

A friend of mine feels that even though eating shellfish is an abomination (Lev. 10:10), it is a lesser abomination than homosexuality. I don't agree. Can you settle this?

Lev. 20:20 states that I may not approach the altar of God if I have a defect in my sight. I have to admit that I wear prescription glasses. Does my vision have to be 20/20, or is there some wiggle room here?


Here are some of my own questions:
My brother's pregnant wife was attacked in the city a few nights ago, and she miscarried. She herself was not seriously harmed. According to Exodus 21:22-25, how much money should my brother demand in compensation for her unintended abortion? If she had died, would my brother be in the right to demand her attacker be put to death, re: an eye for an eye, a tooth for a tooth? I know that the Bible does not see her miscarriage as an abortion, but I don't agree that her fetus was not a child and worth only the cost of her hospital bills. What do you say about this?
My neighbor ran over my brother in a car accident and broke my brother's leg, and the Bible calls for an eye for an eye for such an injury. (Leviticus 24:17-21) Would I be in the right to demand that his leg be broken in payment for the damage he caused my brother?
My servants do not obey me with respect and fear, as they are instructed to do in Ephesians (Ephesians 6:5-8). What is the appropriate inspiration and punishment to inspire them to treat me with the proper deferential respect?
My wife is not sensible, pure, and obedient as is required in the Bible. (Titus 2:5) What can I do to rein her in?
The Lord God likes sacrifices of turtledoves (Levi.01:14), but they are unavailable where I live. Are pigeons I find pooping all over statues in the park an adequate substitute for turtledoves?
Since the second commandment says "Thou shalt not make unto thee a graven image, nor any manner of likeness, of any thing that is in heaven above", am I wrong in having a figurine of the Virgin Mary on my car's dashboard?
My wife wears stretch pants when the Bible says she must wear dresses (Deuteronomy 22:5 ). Since women are not permitted to wear pants, should I just toss her clothes in the trash?
A Christian co-worker of mine recently died after slamming into a tree while skiing. He and his hot wife had no children. Does her dead husband's oldest brother have dibs on marrying her (Matthew 22:23-33, Luke 20:27-40, Mark 12:18-2), or can I make a play?
My wife is expecting twin girls. Would she be considered unclean for a month instead of just two weeks once she gives birth? (Levi.12:5)
My son wants to date a black woman, but we are white. How can I tell him that we cannot intermingle with other races without getting a "Free At Last" lecture? (Deuteronomy 7:3, Exodus 34:15, Exodus 34:16, Joshua 23:12)
Since going to the salon every month to dye her gray hair violates God's law on wifely modesty and submission (1 Timothy 2:9 - 15), can I just cut up her credit card to keep her from going?
My wife controls the remote. How may I force her to submit to my wishes in a Godly fashion when I want to watch The Military Channel instead of another episode of "Bridezillas"? (1 Timothy 2:9 - 15)
Posted on August 18, 2009 at 02:20 PM | Permalink | Comments (0) | TrackBack
August 17, 2009
Let's Hear It For Sexy Baldies!
When it comes to hair on men, I am an extremist. I like men with either a long mane of hair on one hand and bald on the other. My husband is bald and I'm constantly rubbing his dome as if I can make a wish on it and it will come true.
I have a weakness for bald actors, starting with the one I noticed first – Patrick Stewart. My husband is a huge Trek fan so we watched Stewart as Captain Jean-Luc Picard every week. That booming, Shakespearean voice, that physique, and that bald head! Make me melt!
I used to have the hots for David Duchovny on "The X Files" until I laid eyes on Mitch Pileggi. Not only does he have muscles to die for, he has that wonderful chrome dome. I was an active member of the Mitch Pileggi Estrogen Brigade when the show was in its prime.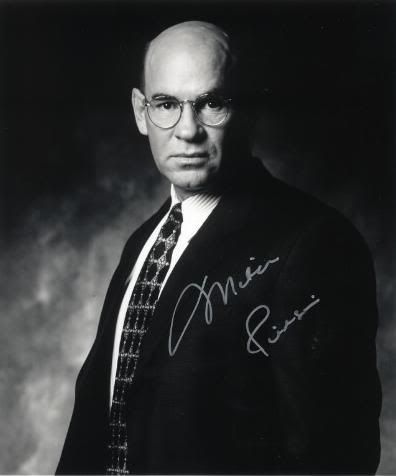 The one name I see come up regularly when it comes to sexy bald men is Bruce Willis. What's funny is that his ex-wife, Demi Moore, is known for her bald stint on "G. I. Jane". I love that movie.
I live in a beach resort and one day while I was working downtown, Michael Ironside walked into the store. He was in town filming "The Perfect Storm". At first glance I thought he was my husband, and I almost followed him to the back of the store to ask why he was off work early. I and one of my friends always thought my husband resembles Michael Ironside and having seen the actor in town I realize the resemblance is spot on. My husband isn't a bad-ass, though. The only thing I could think of to say to Ironside was to tell him I liked him in "Starship Troopers". Gad! I picked one of his worst movies! Should have mentioned "Scanners" instead. Yet another sexy bald man.
Here is a list of bald men whom I find sexy as hell. I've included a short list of bald women I find sexy, since I'm bi and I can enjoy everyone. I notice lots of bald folk are action heroes. Maybe being bald goes well with car chases, fisticuffs, and opening a can of whoop-ass on aliens.
Bruce Willis
Vin Diesel
Jason Statham
Vinnie Jones
Patrick Stewart
The Rock
Billy Zane
Dominic Purcell
Yul Brynner
Cal Ripkin
Ed Harris
Ving Rhames
Arnold Vosloo
Mitch Pileggi
Michael Clark Duncan
Sean Connery
Samuel L. Jackson
Michael Chiklis
Telly Savalas
Michael Ironside
Even Mr. Clean is sexy!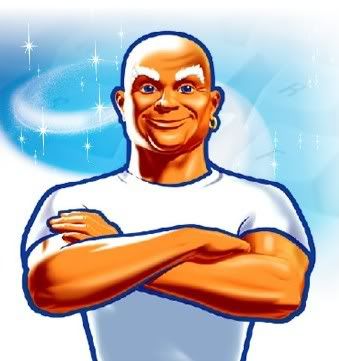 Some sexy bald women
Demi Moore
Sigourney Weaver
Sinead O'Connor
Natalie Portman
The one who started it all: Persis Khambatta in "Star Trek: The Motion Picture"
Anyone I listed that you'd like to second? Anyone I left out (I know I left out quite a few.) Let's hear it for the baldies!
Posted on August 17, 2009 at 12:18 PM | Permalink | Comments (3) | TrackBack
August 16, 2009
Sex Toy Review: Cyberskin X-tasy Vibe (Black)
I have long wanted to try one of the soft skin-type materials I've read about. There is cyberskin, real skin, loveskin, and many others. Supposedly, they feel incredibly realistic. I wanted to try the Cyberskin X-tasy Vibe (Black) partly because it is long and thick - perfect to suit me - and especially because it is made of cyberskin. Cyberskin
does
feel very realistic. It feels like penis skin. I know because I rubbed my hand up and down the vibrator and then rubbed my husband's dick. Yup, very similar.
Cyberskin does not feel like belly or leg skin. It feels quite a bit like penile tissue. Very soft and velvety. The vibrator's cyberskin is supple and flexible while the interior of the vibrator is solid. It really does feel like an erect penis. I held up the Cyberskin X-tasy Vibe (Black) and told my husband that it really did remind me of him. When erect he is the same length and width as the Cyberskin X-tasy Vibe, only he's not black.
The shaft of the vibrator is realistic, with a soft and realistic shaped head and thickly veined shaft. I like to use this Cyberskin X-tasy Vibe (Black) with a clit toy like my Pocket Rocket Booster. Together, working as a team, those two sex toys deliver the orgasms by the ton!
I like the realistic feel of this vibrator. The batteries last a long time so I can go on all night long if I like - unlike most men I know. Ha ha!

It's good to have a vibrator that can pull its own weight, and this one can take heavy use. Add my Pocket Rocket Booster and I'm a very satisfied girl.
Cyberskin X-tasy Vibe (Black) is a very fine Cyberskin vibrator that works well with clit vibes like the Pocket Rocket Booster. Of course, you may use it alone and it works perfectly fine by itself. I like to slide it in and out and against my clit while lying on my back. We offer best quality
000-106
test papers and
ccie
materials. You can get our 100% guaranteed
pass4sure 70-513
questions &
642-583
to help you in passing the real exam of
testking 642-813
. The only bad thing about the Cyberskin X-tasy Vibe (Black) is that it made me come really fast, but that was okay since I just kept on going and I gave myself multiple orgasms.
If you like a realistic feel to your vibrators, and if you like those soft materials that feel like real human skin, you'll love the Cyberskin X-tasy Vibe (Black).
Posted on August 16, 2009 at 02:37 PM | Permalink | Comments (6) | TrackBack
August 14, 2009
Lamb - Gorecki
Here is another beautiful song by Lamb. I love "Gorecki". Puts me in a mellow, loving mood.
Posted on August 14, 2009 at 09:58 PM | Permalink | Comments (0) | TrackBack