« I'm On Radio Dentata In Less Than One Hour | Main | The Haunting Of The Sandpiper Inn - Release Party June 1 »
May 24, 2009
Free Story - Maneater (Erotic Horror)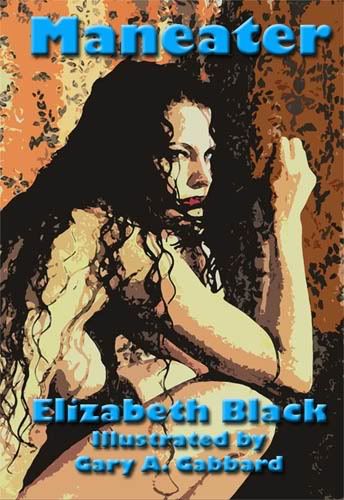 This is my first free read short story, and I dedicate it to readers of the blog
Pharyngula and its host/owner, PZ Myers
. They helped me out with the Preditor and Editors poll awards.
This story is entitled "Maneater", and it's erotic horror. This story also includes illustrations done by Gary A. Gabbard. I'm very happy with the story and the illustrations. So, enjoy my very first free read! You may find it at this link:
http://home.comcast.net/~enitria/stuff/maneater.pdf
Here's a mirror site in case you can't download the PDF from the Comcast site. I might have exceeded bandwidth at Comcast. Thanks to Pharyngula reader Mike Young for helping me with this.
http://slcgeek.org/files/Maneater.zip
Here's a brief excerpt. Just go to either link above to read the whole thing. I had an absolute blast writing this story.
He stared at the way the dress hugged her form, and because he couldn't help himself, he lifted the spaghetti strap with two fingers and slid it back into place on her shoulder. Instead of removing his hand, he let it rest on her warm skin. The nerve endings in his palm jumped at the touch, tingling as he let his hand run down the length of her arm. Eyeing up her body he raised his other hand to rest his palm against her other shoulder. She's not resisting. Good. I know what I want, and she knows why I'm here. I'll probably find out what she knows about Olly, too. Her skin felt warm and moist, sweaty and slick from the heat. Inhaling deeply he took in her musky scent. His palms itched from merely touching her skin but he didn't care. He wanted to feel her, to get inside her, and he knew it was only a matter of minutes until he got her where he wanted her.
She drew closer to him and whispered in his ear. "First, let's get you out of these wet clothes. I have a clean towel and I will dry you off."
One by one, she undid the buttons on his shirt until she was able to slide it down his shoulders. Although he didn't want to stop caressing her arms, he let go, and the moment he did he saw the red rash on his palms Where did that come from? As the shirt fell to the floor she squeezed his biceps, taking his mind off his hands. Her long fingers dug into his taut muscles, arousing him further with her touch. In the bright light of the bathroom the welts on his arms looked ugly and raw. He itched as if tiny little bugs crawled beneath the surface of his skin, begging to be dug out.
"What happened to your arms?" He had forgotten Haseena stood next to him.
"The knotweed vines," Darya said as she squeezed ointment onto her palm. The ointment smelled like wintergreen and lavender. Very pleasant. "Sap got on him."
She rubbed the ointment onto his forearms, and immediately the itching stopped. Feeling immense relief with the itch subsiding, he relaxed as her hands rubbed ointment onto his arms while Haseena massaged the tight muscles in his back. He melted into her embrace as she pressed her full lips against his shoulder. Her tongue working his skin, leaving a trail of saliva along his neck. His skin tingled, much the same way his mouth tingled when he had licked Darya's fingers at the Barima. Although he wasn't sure where the sensation came from – or why it came – he enjoyed it. He didn't care, he didn't want an explanation. He just wanted to lose himself in the sensation of it all, especially as they wasted no time getting down to business, which was what he wanted from them in the first place.
Posted on May 24, 2009 at 01:10 PM | Permalink
TrackBack
TrackBack URL for this entry:
http://www.typepad.com/services/trackback/6a00d834528c2e69e2011570a32600970b
Listed below are links to weblogs that reference Free Story - Maneater (Erotic Horror):
Comments
The file is zipped but nothing else was changed.
Posted by: komokda at May 24, 2009 6:12:30 PM
Thanks so much for the mirror site. I really appreciate it.
Posted by: The Countess at May 24, 2009 6:24:11 PM
The terrorists lose every time someone does anything involving the word "erotic." You are a true patriot. Thank you.
Posted by: Lycosid at May 24, 2009 7:01:31 PM
Thanks. As a Pharygula Reader I always know When something is going to be good. And this is wicked! Wicked is very good!
Posted by: Chris at May 24, 2009 7:18:06 PM
Glad you liked it, Chris. Keep an eye on my blog for future stories. I have a book, a short story, and an anthology of shorts coming out between June 1 and the end of the year.
Posted by: The Countess at May 24, 2009 7:41:46 PM
This story moves too fast. The appreciation of nature aspect of Ben's character clashes with everything else in his character. The beating of the dead horse of Olly's fear of water went on for far too long. The warnings from the locals are too heavy-hitting. The 'creepiness' and 'freakiness' of the vegetation in Jaguar Cove is overdone.
On page 24 you wrote:


Yanking on his wrist, she pulled until his arm had stretched its full length and she restrained it in a shackle. While the restraints were tight over his wrists, they felt comfortable. She did the same to his left wrist.

(Emphasis mine.) The chronology of the two bits I have italicized seems backward; she must restrain both his right and left wrists before the restraints can be 'tight over his wrists' .
Ben's rescue by the waitress is not credible. It's hard to believe she would risk her life for what is probably a very small chance she could save an unlikable foreigner. He should go into the curry.
The theme of this story and its other aspects are well done. Thank you for writing it.
Posted by: llewelly at May 24, 2009 9:19:07 PM
Thank You! I'll be looking forward to more of your work.
Posted by: Jorge at May 24, 2009 10:00:17 PM
I agree that the waitress-rescue wasn't credible; it would make more sense for him to be rescued by a character with something to lose-- for instance, someone affected if the resort project were stopped due to all the deaths. Also, if the whole idea was that the "women" collected him for a monster meal, why did all the other men just turn up dead? And how did Olly get back in his own bed?
Posted by: Susan at May 24, 2009 11:18:52 PM
Thank you! A nice treat to read some fresh Seafood Erotica at breakfast time! (Shame he was rescued, though. Cthulhu should have had some fun with him!)
Posted by: Happy Tentacles at May 25, 2009 4:09:52 AM
Great erotic horror tale, but felt the ending was a bit contrived - as though you'd 'run out of steam'! (Maybe the waitress on her 'white charger' motor cycle could have turned up and given him the real best shag of his life - without any 'strings' attached?)
Posted by: Karl at Oct 8, 2009 8:30:51 AM
You're right in that popular culture - whether movies, TV, or music, seem to be getting "louder" and more extreme in order to gain attention. I think another part of the decreasing empathy in popular culture is that the audience aimed at is increasingly the sort of audience that is not at an empathetic stage of life, but which has disposable income and less restraint in using it.
Posted by: viagra online at Sep 9, 2010 12:00:28 PM
Never heard of the 'erotic horror' genre before...but I have to say I read a few pages and I'm impressed. I will get back with a full review. Thanks for sharing!
Posted by: Elanor Broswitt at Oct 17, 2010 6:55:08 AM
It's indeed something great. Thanks very much for this great share...I've just found myself a new passion!
Posted by: plus size lingerie at Oct 17, 2010 6:56:27 AM
Forgot to ask...do you recommend any good books like this?
Posted by: plus size lingerie at Oct 17, 2010 6:57:37 AM
I like it, it was really good, maybe i will try other erotic horror books. Thank you
Posted by: shereifa at Nov 22, 2011 6:21:01 AM
Post a comment