« February 2009 | Main | April 2009 »
March 30, 2009
Sugasm #161
The best of this week's blogs by the bloggers who blog them. Highlighting the top 3 posts as chosen by Sugasm participants. Want in Sugasm #162? Submit a link to your best post of the week by emailing me directly at radicalvixenatgmaildotcom Participants, repost the link list within a week and you're all set.
This Week's Picks
The Balance of Power
"A wave of lust coursed through her body at his words"
Betrayal
"What's this? Evidence of pleasure?"
Secret signals
"I will adore him for it"
Sugasm Editor
Not An Overnight
Editor's Choice
The Ghost of Abuse
See also: Fleshbot's Sex Blog Roundup each Tuesday and Friday.
(Sugasm participants should re-post all the links above within a week. The following links may be excluded as long as you include all the above links.)
Thoughts on Sex and Relationships
The Ass
I forgot
Let the Catfighting Begin
Question #5
My Heart is my Strongest Muscle
No Woman
Owning Slut. Confession #239
Want
Sex Advice
Improving Male Orgasm
NSFW Pics, Videos & Audio
Betty in white stockings
The Blue
Delicate Curves -HNT
Sex News, Reviews, and Interviews
20 Questions with Jiz Lee
Blowjob FAIL - the Blowguard
Hysteria and the Hitachi Magic Wand
Industrial Pleasures - the Hitachi Wand
Interview with Daniel Bergner, author of "The Other Side of Desire"
LELO Liv (And Hot Hunk Hugh Jackman Pix)
Sex Toy Review: Go Ringo Cock Ring
Erotic Writing and Experiences
Blindfolded, in a dark forest
Crowded Elevator
How I Became One Groupie's Real-Life Guitar Hero
Instant Messaging Fun! #1
Oxygen
The Scent Of A Woman
She almost killed me
Sick Day, Part 2
A Sweet and Dirty Love Fuck Story or The Librarian and the Writer
Video Nasty
Watching Girls III, Strike a Pose
What we did on Valentine's Day
BDSM & Fetish
Diary of a Futa (part 6)
Dream (100 words)
An Enigmatic Angel Returns
On display - Moroccan fantasy 2
Passion
So where's the missus?
To be or not to be
A weekend with Miss Susan - My version
Posted on March 30, 2009 at 12:30 PM | Permalink | Comments (0) | TrackBack
March 27, 2009
How Far Is Too Far? Taboos In Erotic Stories
My new article: "How Far Is Too Far"? Taboos in erotica and sex writing.
Check it out:
http://tinyurl.com/d3vsbx
Excerpt:
The main point here is how much is too much? I remember a writer saying that a few years ago you wouldn't have read an anal sex scene in a story. I'm not sure how accurate that was, but I understood the point. These days, anal sex scenes are commonplace. Menage wasn't also as popular years ago as it is now. It's actually growing into a rather hot genre. I really don't see a problem with any sex act as long as it is between consenting adults. As I said, the only ones I have problems with are child rape, incest, and paedophilia. I really don't have a problem with forced rape fantasies because I understand the difference between actual rape and the rape fantasy.
There's a great discussion starting. Head on over and join in!
Posted on March 27, 2009 at 04:21 PM | Permalink | Comments (0) | TrackBack
March 23, 2009
Bondage, The Daniel Craig Variety
I'm on a James Bond kick, so it's a good thing that BBC American has been showing Bond movies for the past month or so. I have always thought that the best Bond was Sean Connery, and the others simply couldn't hold a candle to him.
Then, I saw Daniel Craig as Bond in "Casino Royale", and I realized he is the second best of the Bonds. Connery is still the Gold Standard, but Craig can hold his own. I first saw Daniel Craig and his luscious bod in "Lara Croft: Tomb Raider". When Angelina Jolie as Lara Croft looked him up and down and gave a moan of approval, I could see why.
Since it's Monday, and I need to kick start my week with some pictures of hot men, I figured Daniel Craig fit the bill. Here are some hot Daniel Craig pix.
I like my men shaken, not stirred.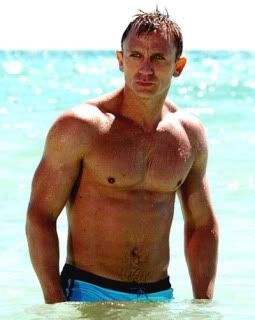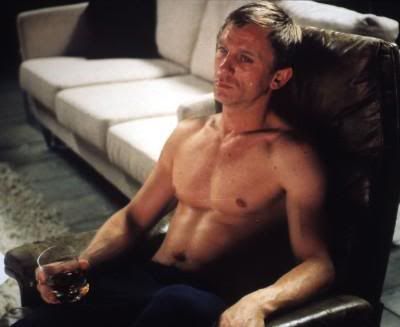 Posted on March 23, 2009 at 06:31 PM | Permalink | Comments (1) | TrackBack
Pleasurists #21
Unknown found via Art or Porn
Pleasurists is your round-up of the adult product reviews that came out in the last seven days from bloggers all around the sex blogosphere. Did you miss Pleasurists #20? Read it all here. Do you have a review for Pleasurists #22? Submit it here before Sunday March 29th at 11:59pm PST. Please re-post this list on your own blog if listed.
Note: Since there are SO MANY contests this week the Editor's Pick is all of the contests. Enter and win something!
Want to win some free swag? All you've got to do is enter.
Madame Editrix
Scarlet Lotus Sexgeek
On to the reviews…
Vibrators
Dildos
Anal Toys
Toys for Cocks
Lube/Massage Oil/Bath Stuff
BDSM/Fetish
Adult Books
Adult Movies/Porn
Storage
Miscellaneous
Posted on March 23, 2009 at 05:10 PM | Permalink | Comments (0) | TrackBack
March 22, 2009
Sex Toy Review: Power Probe Butt Plug
The Power Probe butt plug is a very versatile sex toy. As soon as I saw it, I knew I was going to love it. It's made of my favourite material - jelly. I love soft and supple jelly sex toys because they give and the are so very soft. The The Power Probe butt plug is a pretty purple. It also comes in blue, but I like purple.
I like to play with my sex toys whilst I write, so since I had plenty of sex toys articles to work on, I decided to make my work time much more enjoyable. After slathering on some lubricant, the The Power Probe butt plug slid right in. Slowly and ever so delicately, I let my rectum adjust to its size. It's a thick little thing, but it didn't hurt at all. I clenched on it, and it felt incredibly good. So here I saw on my couch, editing my sex toys articles and reading about bondage toys, and I could feel my arousal starting up, yet I hadn't even turned on the vibrations yet!
I turned on the vibrations, and they jammed away inside of me. I rocked back and forth as I sat on the couch, and I felt oh so good. My work time went by
very
quickly. I liked the varied speeds and intensities of the vibrations, but the one I preferred the most was the steady vibration at the highest speed.
The thing I liked best about the The Power Probe butt plug is that I think outside the box. This is a thick little vibrator that is curved at the tip, so when I got my period, I got curious as to how it would feel inside my vagina. So, I wore it today whilst watching "The Prestige", starring Hugh Jackman. If you read my recent post about the
LELO Liv
, you know I have a mad crush on Hugh Jackman. In keeping with the spirit of that post, here is a pic of Hugh Jackman in "The Prestige".
And here is a shot of Hugh Jackman just looking as sexy as all get-out.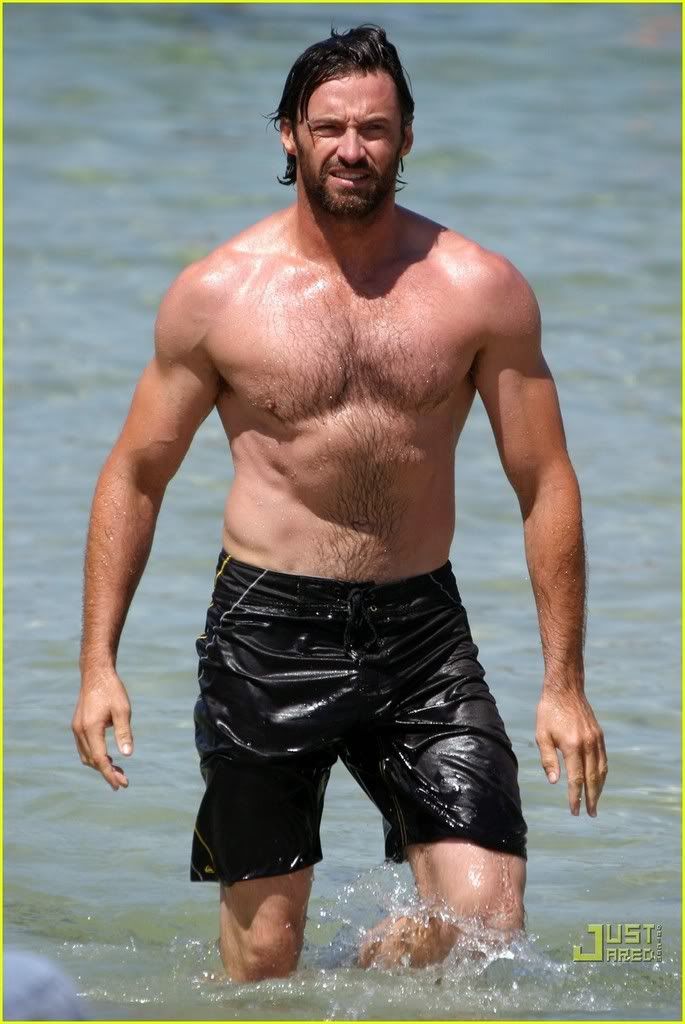 So, whilst watching "The Prestige", I wore the The Power Probe butt plug up my pussy, and it didn't hurt because the The Power Probe butt plug is short and thick. The vibrations sure helped the cramps! I rocked back and forth, the whole time enjoying the movie, wondering when the next ball was going to drop with these magicians competing with each other over their acts and the same woman. Watching Hugh Jackman whilst wearing the The Power Probe butt plug also made the movie much more enjoyable. I rocked and rocked, feeling the vibrations do their work as the walls of my vagina relaxed and contracted, since I have my period right now. The vibrations work wonders, and they feel incredibly good. I set them to the highest and most steady speed, and they did their magic. I melted into the couch, feeling wave after wave of bliss as I relaxed and watched Hugh Jackman work his magic on the screen. And on me.
I like the The Power Probe butt plug very much, and I will use it in so many different ways. We provide guaranteed pass
646-578
exam with online
ccnp certification
training and
pass4sure 70-294
. You can also get best quality
650-393
dumps along with
testking 70-662
for your guaranteed success. Whilst it is made to be used as a butt plug, I like to use it in my pussy, too. It works well both ways, but it is a wonderful butt plug. Soft and pliant, and it purrs like you wouldn't believe. And of course I have another excuse to post sexy pictures of Hugh Jackman.
Posted on March 22, 2009 at 03:55 PM | Permalink | Comments (3) | TrackBack
March 19, 2009
Just Got A New Batch Of Sex Toys In The Mail
Oh boy am I going to have fun this weekend!
I just got a nice batch of sex toys in the mail, including a NaughtyNano, and I will try them out this weekend. Will write the reviews next week. I plan to work on my fiction this weekend, including finishing a free story for some buds of mine and putting a huge dent in "Dangerous Curves", my erotic novella. That one is a contemporary set in the U. S. in the 1980s. I'm having a blast writing it.
Anyway, back to relaxing for the evening and watching some TV.
Posted on March 19, 2009 at 06:50 PM | Permalink | Comments (4) | TrackBack
Franz Ferdinand "No You Girls"
Heard this on a commercial recently. I liked it until I got to the end, but it's still a catchy tune.
Posted on March 19, 2009 at 04:54 PM | Permalink | Comments (0) | TrackBack
March 18, 2009
Sex Toy Review: Ruby Nipple Dangles
I love my little nipple dangles jewellery. I love to play with sex toys, and nipple jewellery is so much fun to have. I have another set of nipple jewellery, but I like these nipple dangles jewellery much better. If I were into pain, I'd get my nipples pierced. I found the loveliest set of Celtic nipple rings that would look so wonderful on my nipples, but I need to get them pierced first. I'm not into pain, though, so that's out.
But I love nipple jewellery, so when I saw these ruby nipple dangles jewellery, I had to have them. They're sterling silver, so they aren't going to turn my boobs green. The red Austrian crystal may be detached, but I like to keep it on. Since I have very prominent nipples, these nipple dangles jewellery are perfect for me. They stay on very easily, and they don't fall off.
They are also very pretty, unlike some nipple jewellery I've seen. I wanted something that looked classy, and these nipple dangles are delicate and pretty. They go well with sterling silver chains.
The question is, do they stay on? They stay on my nipples well enough, although they won't stay on for long. As long as my nipples are erect, they stay put. The long term answer would be for me to get my nipples pierced, but that is unlikely to happen. So, I sit still, and don't move around much while wearing these very pretty nipple dangles. Our
640-864
prep course &
ccie wireless
include the latest set of
pass4sure 70-620
practice questions and
70-643
dumps with 100% guarantee for victory in
testking 640-822
. They are very comfortable, and they don't pinch or twist at all. Best of all, they are so pretty and delicate. I definitely like them. You'll like it very much.
Posted on March 18, 2009 at 06:12 PM | Permalink | Comments (2) | TrackBack
March 17, 2009
Blogger Guest Linda Mooney: From Taboo To Typical
Today's guest blogger is Linda Mooney. Go to her web site:
Sensuous Romance with a Sci-Fi or Fantasy Flair!
-----
From Taboo to Typical: How e-publishing has allowed writers to push the proverbial envelope.
There used to be big a list of no-nos in the publishing business. Topics that were considered taboo and too risque for writers to tackle, much less print.
In e-publishing, the boundaries are not as narrow as they are in traditional publishing houses. Which is one reason why e-pubs are seeing huge spikes in sales and profit—they offer books which used to be rejected because of content.
Unfortunately, what used to thrill us then is now passé. Readers have grown bored of seeing the same thing over and over, and are seeking racier, raunchier, and more titillating fare.
In the few years since I've been reading erotica, the wall between acceptable and not acceptable has been inching steadily backwards. I remember reading my first anal sex story. It was shocking back then, but nowadays it's pretty commonplace to find it in a book. The same goes for certain verbiage, bondage, S&M, oral stimulation, and menages.
A quick glance over at Fictionwise shows that nearly half of the top selling books in erotica are now about gay lovers. Two years ago such a thing wouldn't have been possible.
All publishers still refuse the most base and de-humanistic forms of sex play. Most have these no-nos are mentioned by name in the publisher's submissions guidelines. Still, authors are looking for that one bubble they can burst to make readers buy their books. It's no longer good enough to come up with a compelling story—many believe they have to shock the reading public in order to make a name for themselves.
I'm left to wonder where this will all lead. What topics which were once considered taboo will become typical, commonplace, and eventually redundant? How much rope are authors willing to take, and how much rope will e-publishers give them, simply because of the almighty dollar?
Posted on March 17, 2009 at 10:52 AM | Permalink | Comments (2) | TrackBack
Pleasurists #20
via therealkatewest
Pleasurists is your round-up of the adult product reviews that came out in the last seven days from bloggers all around the sex blogosphere. Did you miss Pleasurists #19? Read it all here. Do you have a review for Pleasurists #21? Submit it here before Sunday March 15th at 11:59pm PST. Please re-post this list on your own blog if listed.
Want to win some free swag? All you've got to do is enter.
Madame Editrix
Scarlet Lotus Sexgeek
On to the reviews…
Vibrators
LELO
Dildos
Anal Toys
Toys for Cocks
Packing Cocks
Lube/Massage Oil/Bath Stuff
BDSM/Fetish
Adult Books
Adult Movies/Porn
Storage
Miscellaneous
Posted on March 17, 2009 at 09:52 AM | Permalink | Comments (0) | TrackBack