« November 2008 | Main | January 2009 »
December 30, 2008
Like A Myth, By Circlet Press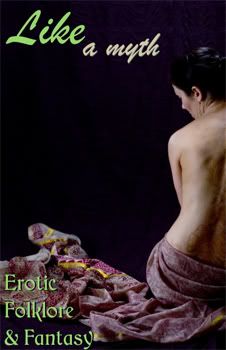 I just added an image of this cover of the book "Like A Myth", published by Circlet Press, to my sidebar. My story "Mud Licker" appears in the book. The sidebar image links to the PDF version of the book. There is also an E-reader version, which is linked in my old post. Here's the link to the post to save you the time and trouble of finding it. Check out that post for an excerpt and links to both ways to buy and read the book.
I'm Posting At Deadly Vixens Today/Circlet Press/Mud Licker
Posted on December 30, 2008 at 10:26 PM | Permalink | Comments (0)
Meet Me At Arisia In January
If you are going to Arisia, the largest science fiction and fantasy convention in New England, meet me there! I will be on several panels. Here is all the information, including dates, times, and room locations at the hotel.
FRIDAY, JANUARY 16, 2009
The Modern Burlesque Revival
(Paul Revere A) Fri 9:00 PM
SATURDAY, JANUARY 17, 2009
Book Signing
(#2 Crow's Nest - 1B) Sat 11:00 AM
Beloved Ghosts vs. Evil Dead (I'm moderator)
(William Dawes B) Sat 6:00 PM
Writing Sex Magic
(William Dawes A) Sat 10:00 PM
SUNDAY, JANUARY 18, 2009
Poly 175: Is This For Me?
(William Dawes B) Sun 8:00 PM
Sexy or Sexist
(BU Suite - Regency Club) Sun 9:00 PM
Posted on December 30, 2008 at 01:01 PM | Permalink | Comments (0)
December 21, 2008
Happy Yule, Everyone!
Posted on December 21, 2008 at 03:46 PM | Permalink | Comments (1)
December 18, 2008
Beam Her Up, Scotty
Majel Barrett Roddenberry, the "First Lady Of Star Trek", has died
. If I have time, I'll write more about this later. I'm a purist when it comes to Trek. My most favorite Trek series has always been Classic Trek.
Posted on December 18, 2008 at 06:16 PM | Permalink | Comments (0)
Nuts4chic: Sex And Pets
This article first appeared at Nuts4chic. Link below.
Does Your Pet Watch You While You Have Sex?
by Elizabeth Black
Two nights ago, one of my cats chewed through the cord of my favorite vibrator. I am not pleased!
I was in bed, unable to sleep, and my husband was snoring next to me. What I needed was my Rabbit Pearl vibrator to play with and then I could finally fall asleep.
I reached into the little drawer on my headboard to get the vibrator, but it wasn't there. That was when I saw the chewed wire. I reached up onto the headboard, and there was the vibrator, now in two pieces thanks to Lucky, The Cat Who Can Do No Wrong.
Until Now!
I showed the vibrator to my husband the next day, and he said he can fix it for me. I hope he does that soon since my vibrator is my friend. This incident made me think about other incidents involving pets giving their opinion of your sex life. Don't you just hate the scrutiny?
I had one cat named Koala (the Siamese pictured above, with black and white Oreo) who liked to watch me in the act. Smartest cat I have ever seen, and very opinionated. So my husband and I would be going at it in bed, and I'm lying there with my legs around his hips, eyes closed, really getting into it, and I open my eyes.
Staring at me from a spot directly over my head from his spot on the headboard is Koala, his head bobbing up and down as he watches us have sex. It is not easy to concentrate on having an orgasm when a cat is staring you down while you go at it.
Pets that get involved in your sex life aren't always amusing. I read an article about a London woman who learned the hard way. Her boyfriend's African grey parrot squawked "I love you, Gary" while she sat on the couch with him.
There was one big problem. Her boyfriend's name was Chris.
That was the moment Chris found out his girlfriend had been cheating on him with a bloke named Gary. She had moaned Gary's name so often while shagging him that the bird picked up on the cue, and announced his name for all to hear. The bird even mimicked her voice. Sadly, Chris had to let the bird go because hearing it call for his girlfriend's lover in her voice was very painful, especially after they broke up.
I've heard of people who get their pets involved in "child" custody disputes, and I've written about those kinds of incidents n my column before, but having pets watch you while you do The Nasty is a bit more disconcerting.
Still, I think it's a great ice breaker when you discover your cat scrutinizing your sex play as if it's about to hold up a card giving you a rating of 9 (or 6, if the cat is a Russian Blue).
Posted on December 18, 2008 at 01:11 PM | Permalink | Comments (1)
I'm Posting At Deadly Vixens Today!
Update December 19, 2008
: Welcome again Pharyngulites and other guests! The contest to win a copy of the book of erotic short stories "Monster Mash" is now closed, and a winner was selected last night. If you'd like to buy "Monster Mash", please go to this link and pick up your copy. I wrote "Sweet Spot" (erotic horror) and "The Face In The Mirror" (paranormal erotic romance) for "Monster Mash".
Monster Mash - Whiskey Creek Press Torrid
If you are interested in the book of unusual mythology, called "Like A Myth", in which my short story "Mud Licker" appears, it is now available for sale at Circlet Press. Here are links for you to purchase the book:
Like A Myth (Palm/ereader format)
Like A Myth (PDF format)
Once again, thank you so much for visiting my blog, the Deadly Vixens blog, and entering my contest. Feel free to read the rest of my blog for sexy articles and sex toy reviews. Sex toys make wonderful holiday gifts, too.
-----
Update
: Welcome Pharyngulites and other guests! Thanks for visiting my blog today. Please feel free to read as much as you like, including my "do your pets watch you while you have sex" post, my newest blog post for today. Also, if you're looking for the perfect gift for someone you love, check out my
sex toys reviews category
. I review sex toys, and I have found lots of good ones. Perfect holiday gifts.
Once again, welcome!!
-----
I'm at the Deadly Vixens Blog today, talking about my love for unusual paranormal creatures. There is a very unusual one in my short story "Mud Licker", and I include an excerpt that has not been posted elsewhere. "Mud Licker" will appear in the Circlet Press anthology "Like A Myth", to be released in 2009.
Leave a comment and get a chance to win a copy of "Monster Mash", an anthology of short erotic stories published by Whiskey Creek Press Torrid. My stories "Sweet Spot" and "The Face In The Mirror" appear in that book.
YOU MUST LEAVE YOUR COMMENT AT THE DEADLY VIXENS BLOG TODAY, DECEMBER 18, 2008, TO BE ELIGIBLE.
Here's the linky goodness:
http://www.thedeadlyvixens.com/2008/12/please-welcome-authorelizabeth-black.html
-----
Update December 19, 2008
: Here's an excerpt from "Mud Licker", which is a paranormal erotica tale based on Japanese folklore. The creature in question is a squat red thing that cleans bathrooms with its two foot long tongue. Imagine what else that tongue is good for, and you have my story.
I found many paranormal creatures from folklore that were much more interesting than the usual vamps and werewolves. Asian creatures (esp. Japanese) really caught my attention. I will definitely look more into unusual folklore for story ideas in the future.
Here is an excerpt from "Mud Licker", which is now available for sale. Buy links are at the top of this post.
Breathing slow and steady, she dozed off. The warm water made her feel drowsy. As she rested, she felt something soft like a finger between her big and middle toes. The finger moved in between each of her toes, massaging gently with slow, fluid movements. Nanako moaned at the delightful touch. She hadn't had a dream like this in a long time, and it was nice to have a pleasant dream rather than a stressful nightmare for a change. The finger pressed against her arches in a back and forth motion, making her skin tingle. Ah, you found one of my erogenous zones. I love to have my arches massaged. Eyes closed, she enjoyed the gentle touch.

The finger slid down from her toes and wrapped around her ankle, using that slow, back and forth, very gentle motion. There was something strange about the massage that at first she couldn't put her finger on because it felt so good, but she soon realized that she felt as if something licked her feet! Curious, she pulled away the washcloth, and opened her eyes.

Crouched at the foot of the tub was a small, misshapen creature, the color of brick, with long, spindly arms, legs that stuck out like tree limbs, and a thick tongue stretched out nearly two feet. That tongue wrapped around her left ankle.

Nanako screamed. The creature shrieked, leaped high into the air, and crashed against the ceiling.

"Get away from me, you pervert! Sick, toe sucking pervert!" What the hell is that thing?

It knocked the feng shui plaque onto the floor. The basket of soaps flew across the room as the creature crashed against the walls. Surprisingly, the lit candles stayed in place, casting the creature's shadow around the room. Flaying her arms around her body to keep it at a distance, Nanako slid about the tub trying to gain some traction. The creature banged the lid of the toilet open against the tank, and jumped into the blue water. Nanako leaped from the tub, and slammed the lid down. The creature banged against the lid, trying to get out. Terrified, Nanako sat on the lid to keep the thing safely inside the toilet. Her body jumped each time the thing slammed against the lid. In retaliation, and also overcome by fear and disgust, she flushed the toilet.

Wary that if she stood too soon the creature would emerge from the toilet and bounce around her bathroom again, she sat still and tensed, holding her hands against the lid to prevent it from coming up. Her heart thumped hard in her chest. Now I know why the rent is so cheap.


Posted on December 18, 2008 at 11:15 AM | Permalink | Comments (12)
December 13, 2008
Sugasm #154
The best of this week's blogs by the bloggers who blog them. Highlighting the top 3 posts as chosen by Sugasm participants. Want in Sugasm #155? Submit a link to your best post of the week by emailing me directly at radicalvixenatgmaildotcom Participants, repost the link list within a week and you're all set.
This Week's Picks
Watching
"My heart raced as I watched him stare at me, wondering if he knew I was awake. "
Hot and Handy Part 2: Handjobs for the Ladies in Our Lives
"Getting her wet has two big benefits when it comes to getting her off."
Sales Report
"I'm the only woman in the room."
Sugasm Editor
Sex Work And Compassion: Death In A Client's Family
Editor's Choice
Crying
See also: Fleshbot's Sex Blog Roundup each Tuesday and Friday.
(Sugasm participants should re-post all the links above within a week. The following links may be excluded as long as you include all the above links.)
Sex News, Reviews, & Interviews
Does Legislation affect Porn Fetishes?
Kinklab Vampire Gloves
Lusty Lady Seattle
On The 1st Day of Christmas: Tracey Cox Supersex Bullet Vibrator
Pleasurists #6
Review: Mo's Sexy Black & Pink Box!
Sex Tips for Husbands and Wives from 1894: Another Internet Hoax?
Sex Advice
Advice: I Fucked His Best Friend
Q&A: Humiliation
What Should a Girl with a Boyfriend Do About Her Lesbo Longings? You Decide.
Erotic Writing and Experiences
Appetizer
AudioErotic – It Never Hurts to Ask
Back to basics
Brush Strokes
Camera Shy, Part 1
Chapter 2
Condom-less
Dreamweaver
Not a real lap dance
Police Officer Fantasy
Razorblade Dreams
Salty sweet
A Welcome Home
Sex Work
A Picture of a Caller in Pantyhose
Another Cockteasing HHNT
Humiliation From My Cell Phone
BDSM & Fetish
Breaking you
Latest Gifts from brock
Limits
More on Baltimore
Rough Beating
Teased and Tortured
Thoughts on Sex and Relationships
Ask Miss Bliss
Better Barebacking for Bloggers
Melt
An Oral Confession
Poly Perfect. Confession #186
Untitled
What's it Really Like To Work for FetLife
Who Need Latex Fetish Briefs When You Can Get These?
NSFW Pics, Videos & Audio
Andie Valentino removes her pink top to reveal her lovely naturals
Catalina loves Sunday Sin
Femme Fatale (part III)
Just a Little Something
Red Rose of love
Posted on December 13, 2008 at 01:17 PM | Permalink | Comments (0)
December 12, 2008
Babeland - Afterglow Candle


I love massage oils, and I've heard of massage candles, but I have never used one before. So when I had a chance to review Babeland's Afterglow Candle, I couldn't resist. It goes well with the rest of my candle collection. I have candles of voudou goddesses I call my Santeria candles, and I light them all the time. They came in very handy when the power went out during a storm recently.

The Afterglow Candle is a nice votive-sized candle, and it comes with its own very classy box of black matches with white tips, and a fab brush for spreading the oil on yourself or your partner. The candle lit without a problem, and it burned very evenly, which is important when you are talking about candles.

You get four scents: Fig Leaf, Bourbon, Pink Lotus, and Black Currant. I received Pink Lotus, and I love it! It's so delicate and subtle. Black Currant was out of stock, and that one would have been my second choice. I love Asian scents. Pink Lotus reminds me of the Japanese stick incense that I burn on occasion. My two favorites are White Cloud and Kyoto Cherry Blossom. They are as delicate and subtle as Pink Lotus.

I was happy to see that I didn't have to use a lot of the massage oil to do the job properly. My husband and I like to watch movies and TV while giving each other hand and foot massages. After typing and writing articles all day, my shoulders hurt. I also love foot rubs. My husband has arthritis in his hands, which is why I wanted this Afterglow Candle in the first place. The oil was not greasy, and it absorbed into the skin very easily. We didn't feel like we needed a shower after using it. And it glided on oh so well! I massaged away the ache in his hands, and he rubbed my arches until I was putty in his hands. God, I love a good foot rub!

The warm oil in this candle lasts for a very long time, and it smells divine. I love the delicate scent of the Pink Lotus. Plus the glass candle holder works for votive lights once the massage candle is used up. I will definitely get more of these massage candles once the oil runs out. Plus they make great gifts for the holidays.
Posted on December 12, 2008 at 11:18 AM | Permalink | Comments (0)
Midnight Seductions Anniversary Party!
Posted on December 12, 2008 at 10:13 AM | Permalink | Comments (0)
December 11, 2008
Visit My New Forum At Coffee Time Romance And More!
I have just opened my new discussion forum about my erotic romance and sex writing at the Coffee Time Romance And More web site. I've included excerpts and buy links for my latest stories and books, so head on over and hang out with me! Here's the link:
Coffee Time Romance And More - Elizabeth Black
I will add new discussions frequently, so make sure you join, and hang out with me and other erotic romance writers. I talk about all sorts of things, including erotic romance, erotica, sex writing, and even sex toys. I'm still building this discussion forum, so make sure you stop by frequently for updates.
Posted on December 11, 2008 at 02:51 PM | Permalink | Comments (0)