« July 2008 | Main | September 2008 »
August 22, 2008
Cover Art For "The Storm"
How do you like this cover? It's for my upcoming short sweet paranormal romance "The Storm", which will be released by Forbidden Publications.
"The Storm" is a poignant sweet paranormal/dark fiction romance. And it's got PIRATES!! I based my pirate character on Samuel Bellamy, a notorious pirate.
I'm not sure when it will be released. Once I know, I'll post about it.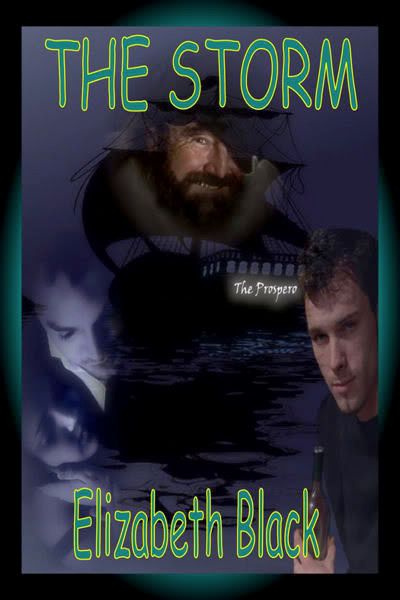 Posted on August 22, 2008 at 01:40 PM | Permalink | Comments (1)
VibeReview - Naughty Secrets Flavored and Scented Lube
The first thing that struck me about Naughty Secrets Personal Lubricant was that the bottle looked like old fashioned tonic. I like that bygone era appeal. The coy little devil on the front of the bottle was also a nice and playful touch. She reminded me of the devils on the cover of one of my Lords of Acid CDs. So, off the bat, the first thing that attracted me to Naughty Secrets Personal Lubricant was the delightful packaging.
Scent is as important to me as taste when it comes to lubricants, and Naughty Secrets Personal Lubricant has a very pleasant scent reminiscent of strawberry jam, but it's not too obvious. It just smells sweet and good. I don't like very sticky lubes, so I was happy to see that this one not only is not very sticky, it also doesn't stain my sheets. The lube itself is a bright strawberry red, and it would be embarrassing to see bright red stains on my sheets and pillow cases that won't wash out. While I don't spend a fortune on sheets, waterbed sheets aren't cheap, so I don't want to ruin them with a lube that stains them bright red. This lube doesn't stain. Good!
Now, the flavor. Very nice. Like strawberry jam, but not overpowering. It's subtle and pleasant. I don't particularly like extremely sweet lubes (or extremely sweet anything), but I do like flavor. This strawberry flavor is very pleasant, and it makes oral sex more enjoyable for me. As I have said in a previous post, I don't care much for the taste of dick and jizz. I also have a very strong taste and smell myself, so my husband benefits from using a good, flavored and scented lube.
I probably could use this lube on my sex toys, but I'd rather use it only for oral sex. I have other lubes that work well with sex toys, and I want to save this one for more intimate acts. I like Naughty Secrets Personal Lubricant very much. You can choose between strawberry flavor or cherry vanilla. I'm sure cherry vanilla is a tasty and aromatic lube, judging from how good strawberry is. The packaging is cute and sexy, and the bottle has that bygone era image going. It's best to keep the cap on it when not using it because the lube could drip out, but that really isn't much of a problem. Keep this lube on the dresser next to your bed, and use it every night. It's perfect for hot, sexy fun!
Posted on August 22, 2008 at 09:23 AM | Permalink | Comments (0)
VibeReview - ID Juicy Lube
More flavored lube! I love flavored lube!! There are so many unusual flavors that it's hard to pick just one, plus the different brands have different positives. ID Juicy comes in a compact container that is easy to fit in a purse or suitcase for traveling. I can see tossing this in my luggage with my favorite vibrator and heading to the airport for a long trip. The container is unlikely to spill, since it's a pump with both a plug and a cap. It's important to not get flavored lube on your business suits when traveling around the country.
As is the case with most flavored lubes, there were many different flavors available. I chose bubblegum because that was so different. I love bubblegum, especially Bazooka (my age is showing), so I was psyched to try ID Juicy bubblegum flavored lube. Other flavors include watermelon, pina colada, peach, passion fruit, mint, kiwi strawberry, cherry, and banana. I can imagine trying more than one of these, and matching the flavor to your mood or even your bath products.
The lube itself is a clear gel that is a bit thicker than personal lubricants. I didn't have to use much of this lube for it to do its job. And, most important, it tasted exactly like bubblegum! When I was a kid, I liked my bubblegum so hard that I could break my teeth chewing on it. That was Bazooka bubble gum. This almost tasted like that, but not quite. Still, the flavor was pleasant and made me giggle, since I wanted to blow bubbles as well as blow some dick.
ID Juicy's flavor lasted much longer than any bubblegum I have chewed. There's nothing worse than chewing on gum after the flavor ran out, and you don't have a tissue handy. It's rude to roll down the car window, and spit the wad into the street. ID Juicy bubblegum flavor lasted a very long time, and it made oral sex much more fun and exciting. That pleasant taste also helped to improve my performance. It's easier to get into oral sex when you get a pleasant taste sensation out of it.
ID Juicy also works well as a lube for sex toys, although I'd prefer to just use it for oral sex. The lube is nice and thick, and the taste lasts a long time. You don't need to use much of it to get the maximum benefit. I'm sure the other flavors taste just as great. A pleasant pink, the container brings to mind bubblegum. This lube is perfect to take on trips because of the way the container is made. I definitely like ID Juicy bubblegum lube.
Posted on August 22, 2008 at 09:23 AM | Permalink | Comments (0)
August 21, 2008
VibeReview - O'My Flavored Lubricant
There were so many different flavors of O'My Flavored Lubricant that I couldn't decide which one to try, but I settled on Passion Fruit. Other flavors are Strawberry Cheesecake, Blueberry Cheesecake, Pina Colada, Cappuccino, Melon, Kiwi Strawberry, and Cherry. All sounded delicious!! I wasn't disappointed.
I like water-based lubes, and I wanted a good, slick one that wasn't too sticky that also tasted great. I found what I was looking for in O'My Flavored Lubricant. The taste is very pleasant without being too sticky sweet or cloying. Only a few drops are perfect for lubricating my sex toys. One squirt is perfect for fellatio. A little O'My Flavored Lubricant goes a long way.
O'My Flavored Lubricant makes oral sex so much more enjoyable. I, like some women, don't like the taste of penis all that much, and tasting jizz doesn't thrill me much either. I'm also rather... er ... strong myself, so a flavored lubricant like O'My Flavored Lubricant goes a long way to make oral sex pleasurable for both of us.
What I liked best about O'My Flavored Lubricant, aside of the delicious taste, was that I did not need to use a lot of it to get the maximum benefit. I sometimes use it with my sex toys when I'm too impatient to wait until I am properly and naturally lubed up, which is all the time. Sometimes I just want that vibrator in there now, and I don't feel like waiting until I'm warmed up. While the lube does help with penetration, it isn't so slippery that I lose sensation. Believe me, I can feel penetration just fine. The lube makes the sliding in and out even more enjoyable.
I also don't need to use a lot of the lubricant for oral sex. A little goes a long way, and it lasts a long time. I did not have to give my husband's dick another squirt after five minutes. O'My Flavored Lubricant lasts a long time, is not too slippery, and it tastes great.
I like the packaging. The box was clear and orange plastic, showing off the tear-shaped bottle on the inside. The packaging screamed "good, sexy fun". The bottle was not heavy, and it is a colorful clear and orange, like the box. It took me a minute or two to figure out how to open the bottle, but the cap is actually very easy to use. Twist it one way to open, and twist it the other way to lock. None of the lube is going to spill, even if I drop the bottle.
All in all, O'My Flavored Lubricant is a very pleasant and tasty lubricant that made my sex play all the more fun. Fun is important to me. If it ain't fun, I won't do it. This lube is fun and delicious. I'll definitely make a habit of using it.
Posted on August 21, 2008 at 02:09 PM | Permalink | Comments (0)
VibeReview - Fizz Flavored Lube
When I got my sample package of Fizz Flavored Lube, I couldn't wait to try it. I'm not a big soda drinker, mainly because I can't stand the sticky-sweet high-fructose corn syrup in most sodas. However, a local soda company (Mercury Bottling Company) makes old fashioned sodas using cane sugar instead of corn syrup. If you have never had a cane sugar soda, you have no idea what joyous taste you're missing. I buy those sodas every once in awhile from a small grocer downtown. They're hard to find, and they aren't usually sold in supermarkets. I guess that makes me a purist as far as sodas go.
So, knowing how much I like that kind of taste, I had to try Fizz Flavored Lube. The flavors available made my mouth water, and I loved the playful names: Poppin' Cherry Cola, Kissin' Cola, Gropin' Grape, Lickin' Lemon Lime, Screamin' Orange, and Rockin' Root Beer. My three favorite soda flavors are cola, root beer, and orange. I also like sarsaparilla, birch beer, and (when I can find a good one) ginger ale, but those flavors aren't available. Note to the makers of Fizz Flavored Lube - if you need more flavors, those are good ones.
Kissin' Cola tastes like the cola Slurpees I get at 7-Eleven. I love cola Slurpees! I like to drink them so fast that I get brain freeze. Tasting cola while giving my husband a blow job was great fun. I'm used to lubes with flavors like chocolate, passion fruit, and strawberry. Cola is a new and fun one that I liked very much.
Rockin' Root Beer didn't really taste like root beer to me, but it was close enough. It was pleasant enough to spread all over my husband while he just lay back and enjoy the fun. The taste was a little too cloying sweet for me. Syrupy, and I don't like syrup. So far, I like Kissin' Cola best, with Rockin' Root Beer a distant second.
I didn't like Screamin' Orange at all. I'm not sure what it was supposed to taste like, but it wasn't orange. I didn't like the after-taste very much. I think that's one I probably won't use.
Curious now as to how the others tasted, I tried Gropin' Grape, Poppin' Cherry Cola, and Lickin' Lemon Lime. (I'm still giggling at these names. Love them!) I liked the taste of Gropin' Grape, which is rather amusing since I don't like grape soda. Ick! I liked the grape-flavored lube, though, so at this point Gropin' Grape is my favorite, with Kissin' Cola a close second. Lickin' Lemon Lime is also very good, and I love lemon lime sugar cane colas, although I'm more likely to buy a cola or birch beer when I am in the mood for one. Seven Up was my favorite soft drink when I was a kid, and this one is a bit on the sweet side but enjoyable. When I want a Seven Up type soft drink these days, I drink Schweppes tonic water. I can never get enough tonic water. I love the quinine. It's great with a twist of lime. Poppin' Cherry Cola was a little too sour for me. I didn't think it tasted like cherry cola at all. It actually tasted a bit medicinal, so I don't think I'll be using that one, either.
So, here are my favorites:
Gropin' Grape
Lickin' Lemon Lime
Kissin' Cola
Rockin' Root Beer
Screamin' Orange
Poppin' Cherry Cola
I've tried many flavored lubes, and to be honest I prefer some of the other ones to the Fizz Flavored Lube. My favorite so far is the Kama Sutra Lover's Paintbox. I have a weakness for chocolate flavored anything, and the chocolate flavors in the Lover's Paintbox are thick and delicious. Still, Fizz Flavored Lube would be a great, fun gift to give to someone you love because the flavors are fun. Just don't expect a Coke, Pepsi, or A&W Root Beer. These lubes are thick and full of flavor, so you'll enjoy oral sex or sensation play with them.
Posted on August 21, 2008 at 11:17 AM | Permalink | Comments (0)
August 20, 2008
VibeReview - Sweet G
The Sweet G is my new favorite sex toy. I've never before used a vibrator that rotated as much as this one does. The clit stimulator also covers my entire vaginal lip area, which feels very good for me. I like to feel my entire lip area get stimulated, not just my clitoris. Sometimes direct clitoral stimulation is too sensitive, so I prefer to move a vibrator around my clit rather than focus directly on it.
This vibrator homed right in on my G-spot, and it aroused me so much that I clenched down very hard on the shaft, making it stop its rotations. I relaxed my Kegel muscles, and the rotations began anew, feeling very good. I pushed the controls to the max so that I would get the full power of those rotations. Of course, the more aroused I became, the harder I clenched the shaft, and the rotations would stop. So, I alternated between relaxing and clenching, which felt incredibly good.
Jelly is one of my favorite materials. I like it because it's soft, it holds translucent colour very well, and it gives as I press on it, whether with my fingers or with my vagina. The shaft of the Sweet G is only about four inches long, which is fine because it is primarily a G-spot vibrator, and a wonderful one at that. I like the simultaneous G-spot and clitoral/vaginal lips vibrations. The clit stimulator is larger than what you find on rabbit vibrators, and I like the one on this Sweet G much better than a rabbit's ears. The clit stimulator looks like a bug with antennae and wings. There are also eight little nubs on the belly of the "bug". These nubs and antennae are very soft and pliable, and they feel great when I set the vibrations about halfway.
What I liked best was that I learned a new way to masturbate. Relax and clench, and then repeat. Those movements intensify my sex play, and they also made my orgasm much stronger. The only drawback I could see for the Sweet G is that the battery case is a bit hard to deal with. It took me a few minutes to properly insert the batteries, and then insert the battery case back into the Sweet G in the proper way. After a few missed tries I got it right, and the vibrator buzzed at me.
It's fairly noisy, which really doesn't bother me any, but I would have to have the TV on in the other room if I planned to use it late at night. Still, this is my favorite vibrator to date. It gives me great orgasms, and I love the wide rotations of the shaft and that huge clit/vaginal lips stimulator. The Sweet G gives me the sex play that I crave every night.
Posted on August 20, 2008 at 11:16 AM | Permalink | Comments (2)
August 19, 2008
Ultimate Burlesque - Coming In October
I'm one of the contributors to this worthy cause, writing with my pseudonym, Elizabeth Black. My short erotic story "Callipa The Stripper" is included in this book, of which part of the proceeds will go to benefit breast cancer research.
-----
New anthology created to raise money for Macmillan through
Burlesque Against Breast Cancer and Xcite Books
The rise of the burlesque movement has brought glamour back into women's lives and now a new anthology looks set to use that glamour to help people with cancer get practical, medical, emotional and financial support.
Created as part of the Burlesque Against Breast Cancer campaign, Ultimate Burlesque is an anthology of 30 erotic stories with a burlesque theme from best-selling authors including Katie Fforde, Jo Rees, Kristina Lloyd, Maxim Jakubowski and Olivia Darling. They range from sweet stories of couples revitalising their relationship with a hint of glitter and flash of feathers to torrid tales of group sex, domination, bondage and more.
Co-edited by Scarlet Founding Editor Emily Dubberley and Scarlet Cliterature Editor Alyson Fixter, and introduced by best-selling author Chris Manby, all writers donated their stories free of charge, and a minimum of 15% of the cover price of the book goes to Macmillan.
Chris Manby says, "I lost my cousin Clare to breast cancer when she was just 35. In our conversations as she neared the end of her brave fight she reminded me how important it is to enjoy life to its fullest. Don't worry about having an extra inch on your bottom. Just stick on your high heels and wiggle it! That's why I've jumped at the chance to be involved with Burlesque Against Breast Cancer."
Ultimate Burlesque is released on October 1st Priced £7.99 from Xcite Books.
For interviews, extracts, review copies, book jacket, and details of the regional tour, please contact emilyd@BurlesqueABC.com or Alison Stokes on 01443 800353 or alison@accentpress.com
Acclaim for the book:
"A worthy charity, and filthy, perverse, sexually aberrant writing. Nope - this really doesn't have a down side, does it?"
Mil Millington, author of Things My Girlfriend and I Have Argued About
Editor's notes:
Ultimate Burlesque is introduced by Chris Manby and features stories from Katie Fforde, Jo Rees, Olivia Darling, Nikki Magennis, Maxim Jakubowski, Kristina Lloyd, Alison Tyler, Siobhan Kelly, Monmouth, Portia da Costa, Mark Farley, Richard Bardsley, Mat Fraser, Jeremy Edwards, Donna George Storey, Elizabeth Black, Wanda von Mittens, Carmen Ali, Katie Crawley, Sarah Berry, Elizabeth K Payne, Aimee DeLong, Carmel Lockyer, Alcamia, Claire Wordley and Lauren Wissot. For full author biographies see www.UltimateBurlesque.com
Breast cancer is the most common cancer in the UK. It affects 44,000 women - and 300 men - per year. That means that by the end of today, over 100 women - and probably one man - will have found out that they have the disease.
Burlesque Against Breast Cancer comprises a series of events across the UK, US and Europe. Ultimate Burlesque is also being supported by a comprehensive book tour. For more details about Burlesque Against Breast Cancer, and the latest information on regional events see www.BurlesqueABC.com
About the Authors
All the authors in this book donated their stories free of charge to help Burlesque Against Breast Cancer raise money for cancer charities.
Alcamia was an award-winning child essayist who started writing seriously in her teens within a number of genres. Over the past 10 years she has been devoted to her favourite genre, erotica. She has written copious short stories and novellas and is working on two cross-genre novels that marry erotica with psychology, the paranormal and supernatural.
Carmen Ali is a freelance writer and performs burlesque under the name 'Miss Aurelia Dare'. Carmen writes poetry, stories and articles and has been published by Leaf Books and Scarlet.
Richard Bardsley's first collection of short stories, Body Parts: The Anatomy of Love, was recently published by Salt and longlisted for the 2008 Frank O'Connor International Short Story Award. Richard's next project is a satirical novel, currently entitled This Is How I Will Destroy You, mainly because he likes how it sounds.
Sarah Berry is staff writer for Penthouse Forum and Desire magazines and makes the occasional appearance in Scarlet. She's also a reluctant burlesque dancer: after training at the London School of Striptease, she now dons a habit and whip to save the souls of her audiences.
Daphne Bing is the pseudonym of a writer whose erotic fiction has until now only been available on the internet, although under other names she is a published author and occasional journalist. In her spare time she has run multi-million pound projects and dated inappropriate men.
Elizabeth Black's erotic fiction has been published by Excessica, Scarlet, Tit-Elation, For The Girls and Xodtica. She also writes for sex toy companies and works for a website devoted to former porn star Traci Lords. She lives with her husband and five cats a few blocks from the Atlantic Ocean.
Katie Crawley takes her name from a beloved family pet who also spent most of her time on her back. She has been published in Scarlet and works in politics, hence the pseudonym.
Portia Da Costa is author of more than 20 novels and almost 100 shorter fiction items. Her recent titles include Gothic Heat, In Too Deep and a paranormal novella, Ill Met By Moonlight. Discover more about Portia's books at www.portiadacosta.com and more about her at http://wendyportia.blogspot.com .
Olivia Darling is the author of Vintage, a racy novel set in the world of winemaking, featuring lust, murder and lots of champagne. She is closely related to Chris Manby.
Emily Dubberley founded www.cliterati.co.uk and was founding editor of Scarlet magazine. She script-writes for the Lovers' Guide, writes for magazines including Look, More, Elle and Glamour, and has been syndicated worldwide. She's written 17 books, and created Burlesque Against Breast Cancer with her partner Sam Eddison and a team of incredible volunteers to whom she is eternally grateful.
Aimee DeLong's writing has appeared in such places as Hotel St George Press, Cherry Bleeds and Lit Chaos. Check out her website at www.aimeedelong.com .
Jeremy Edwards' greatest goal in life is to be sexy and witty at the same moment – ideally in lighting that flatters his profile. Drop in on him unannounced (and thereby catch him in his underwear) at http://jerotic.blogspot.com .
Mark Farley spends far too much time obsessing about the book trade and celebrities. He has contributed to Scarlet magazine, The Idler and other books from Xcite. He has a cat and a girlfriend and lives in London.
Alyson Fixter is a freelance journalist and writer. She has been editing Cliterature, Scarlet's free erotic fiction magazine, for two years, but still can't get over the fact she gets paid to read porn all day. She was approached to be co-editor of Ultimate Burlesque and used her contacts to help collect some of the world's best erotica writers together in one anthology.
Katie Fforde lives in Gloucestershire with her husband and some of her three children. She is the author of fourteen novels and is working on her fifteenth which will probably be called Book Fifteen as she can't think of a title for it. It took her a long time to become published as she foolishly thought writing for Mills and Boon would be easier than for the mainstream market. However, she learnt so much about her craft through trying she doesn't consider those years as a waste of time. And nor is playing Spider Patience on the computer...
Mat Fraser is a disabled actor, writer and cabaret performer, who is known for his irreverent disability comedy. Having just finished his third play, his contribution to this book was inspired by an unforgettable night in New York's infamous Slipper Room burlesque bar.
Maxim Jakubowski has written or edited over 100 books (novels, story collections and anthologies). He is best known for the Mammoth Erotica series. His last novel was Confessions of a Romantic Pornographer and the next one, if the gods of Eros permit, will be I Was Waiting For You. He lives in London.
Siobhan Kelly is a journalist and author who's written four short story collections, two novellas for Ann Summers' erotic fiction imprint and six non-fiction guides to sex and relationships. Currently suffering from RSI, she dictated most of her contribution to Ultimate Burlesque using voice recognition software, much to the delight of the builders working on her neighbour's loft conversion.
Chris Manby is the author of thirteen bestselling romantic comedy novels including Running Away From Richard and Spa Wars. She lives in London.
Nikki Magennis is a Scottish author of erotica and erotic romance who writes for Cleis Press, Virgin Black Lace and others. Find out more at http://nikkimagennis.blogspot.com .
MonMouth is a part-time blogger and full-time pervert. His blog can be found at http://monmouth.blogspot.com. He welcomes email at mouth.mail@gmail.com .
Kristina Lloyd is the author of three best-selling erotic novels, including the controversial Asking for Trouble, a dark psychosexual thriller set in Brighton, where she lives. She has been described as a 'fresh literary talent' who 'writes sex with a formidable force'.
Carmel Lockyer writes and edits erotic fiction. She used to be a model and spent three years as an agony aunt for nudists.
Elizabeth K Payne is an erotica writer based in London. Her short stories have appeared in the award-winning Agent Provocateur anthology Secrets: A Collection of Erotic Fiction and in Dark Desires: A Collection of Erotic Short Stories.
Marcelle Perks is a journalist and the author of Incredible Orgasms, The User's Guide to the Rabbit and Secrets of Porn Star Sex. Her fiction covers all the most important aspects of life: love, sex and death.
Jo Rees had her first novel, It Could Be You, published in 1997 under her other pen name, Josie Lloyd. She then met Emlyn Rees, and together they wrote seven internationally-acclaimed books. Recently Jo has started writing contemporary racy bonkbusters. Platinum was published in hardback in May 2008 by Bantam Press and will be published in paperback in May 2009.
Christiana Spens is the author of the novel The Wrecking Ball (published May 2008) and her second book, The Socialite Manifesto, will be published in February 2009. She has written for Studio International, Rockfeedback, Notion and Scarlet and is at Cambridge University. She's 21 and loves dancing, men and music.
Donna George Storey's erotic fiction has appeared in more than 80 journals and anthologies. Her first novel, Amorous Woman, a semi-autobiographical tale of an American's steamy love affair with Japan, was published by Orion/Neon. Read more of her work at www.donnageorgestorey.com.
Wanda Von Mittens was born several decades later than intended, but makes up for it by being first at all the best parties. Convinced of the superiority of the female sex she spends her time trying to convince other women of the same. She takes her pen to paper to write shopping lists, schemes for female world domination and the odd short story. For more information see www.wandavonmittens.com
Alison Tyler's short stories have appeared in more than 80 anthologies including Rubber Sex, Dirty Girls, and Sex for America. She is the author of more than 25 erotic novels, most recently Melt With You, and the editor of more than 45 explicit anthologies, including J Is for Jealousy, Naughty Fairy Tales from A to Z, and Naked Erotica. Visit www.alisontyler.com for more information or www.myspace.com/alisontyler if you want to be her friend.
Lauren Wissot is a gay boy born into female form. Currently working as a critic and columnist, Lauren is also an award-winning filmmaker bent on bringing an S&M flavor to the big screen. Under My Master's Wings, a sexual memoir about her time spent as the slave to a gay-for-pay stripper, is available from Nexus Books. For more information see www.laurenwissot.com.
Claire Wordley started erotic fiction writing when at university after a night earning drinks by telling raunchy stories, and has had several stories in Scarlet magazine so far. She is currently studying for her Masters in Zoology.
Posted on August 19, 2008 at 03:30 PM | Permalink | Comments (0)
August 18, 2008
Nuts4chic - The Penis Olympics
This article originally appeared in Nuts4chic.
-----
The Penis Olympics – Does Size Matter?
by Elizabeth Black
Sadly, most men think they are lacking in the penis Olympics.
If there is one thing that makes far too many men feel insecure, it's that they think their dicks are too small. Did you know that penis size was such an important subject to men that a very lengthy British study was done to look into penis myths? The study found that ninty percent of women preferred a wide penis to a long one. The study also discovered that eighty-five percent of women thought that their man's dick size was just fine. Only fifty-five percent of men had the same thought. That's a huge difference. According to the study's findings, the average penis is about five to six inches long.
Gracie at Sex-Kitten.net had asked the age-old question: does penis size matter? She says yes, but not in the way you think. She says " It's about fit. The good news is that most of these issues can be addressed by positions, so a long schlong or slender scepter need not be a huge problem. And here I must say to men who are in fact well-endowed, "Stop considering 'large' to be such a gift that you think all you need to bring to the party is your penis."
I agree with her. Width and fit matter, not length. I have had many sexual partners over the years, and these men came in a wide variety of sizes. Long and short. Thick and thin. Circumsized and sporting a foreskin. For me, a man's girth rather than his length made all the difference in the world for when it came to a good fuck. Many women say the same thing. A thick dick feels very full in your vagina, and when sex is done in the right position, that dick can tickle the clitoris and press against the G-spot. What mattered the most for me was how they used their dicks, not the length. You know the old saying: "It's not the size of the pencil. It's how you write your name."
When men focus too much on the lengths of their dicks, they ignore other, important body parts that play a big part in pleasuring a woman, like the tongue and the fingers. Without sufficient blood flow, a woman will not become hot and wet. Even an average dick can chafe a dry pussy. Sticking a dick into a woman, thinking that dick size is what is important in fucking does not do her any good. Use your hands, your fingers, and your tongue. Use sex toys and lubricants. Get her rocks off first, and then she will be able to enjoy your dick.
Too many guys refuse to give up their obsession with every inch they have. Have heart, guys. The woman you love knows that you are sexy even if you don't have a ten inch rod that is as thick as a cop's nightstick. What you do with that rod is what matters the most.
Posted on August 18, 2008 at 09:53 AM | Permalink | Comments (0) | TrackBack
August 13, 2008
My New RomanceWiki Page
I recently found out about RomanceWiki from the authors at Whiskey Creek Press Torrid, so I created my own author page. Come check it out! I think I did a nice job:
I included all my eXcessica books, Scarlet stories, and Tit-Elation stories with genre descriptions, my Nuts4chic links and stuff, upcoming books, and graphics. Everything you need to know to read my works, join my groups, and buy stuff is on this RomanceWiki site.
Posted on August 13, 2008 at 03:10 PM | Permalink | Comments (0)
VibeReview: Sweet Magic
The Sweet Magic vibrator looked really impressive, which is why I had to have it. What I love best about it is that the silicone material feels incredibly soft, the softest I've ever felt. I can squeeze the shaft of the Sweet Magic between my finger and thumb, and it gives in just the right way. I like this very soft silicone even better than jelly. This has to be the softest vibrator I've ever used.
The row of rotating beads run clockwise, or alternating between clockwise and counterclockwise. They are in the perfect position - near my G-spot. I love the way the head of this very soft vibrator rotates right on my G-spot. I used a a little strawberry Astroglide, and the vibrator slid right in. I like all three pulsations, but my favorites are the second, slightly faster pulsation, and the third steady stream of pulsations and vibrations. My Kegel muscles are so strong that I can clench the Sweet Magic so tightly that it almost stops pulsating. I slow the beads down, which feels very good. Then, I pull the vibrator out so it runs at maximum power. I like to pull the vibrator in and out of me as I use it so that I get the full benefit of the vibrations and pulsations.
The nubby clitoral vibrator is much more than just a clit vibe. My entire labia are sensitive, and I like to rub the whole area, not just my clit. My clit can be very sensitive, too, so sometimes direct stimulation is much too powerful for me. I like it better when the sensitive skin around my clit is also stimulated. That is so much sexier for me. When I slide the vibrator all the way in, the clitoral vibrator hits my clit and lips in just the right spot. I also like to pull the vibrator all the way out, and move the shaft along my clit and lips. The rotating beads feel very good on my lips when I'm very aroused, and they are sensitive and full of blood. My clit was so sensitive to this vibrator that it went numb. The feeling was pleasant all over, and very arousing. When I came, I came hard and for a very long time. I came so hard and so tightly that I nearly stopped the rotating beads from rotating. That's how tight I became right before I came and let loose.
I like colourful vibrators, and this one is a very pretty orange. I have never owned an orange vibrator before. I like the lights on the controls. They are fun to watch at night in the dark. It's like having my own private light show. The controls are also easy to use. I did accidentally push the buttons while using the vibrator, and I changed the pulsations by accident, but once I got used to holding the vibrator, everything was fine.
The Sweet Magic is a high-quality rabbit vibrator that really packs a wallop. I love how soft the silicone feels, and I especially love the way the shaft gives when I squeeze it, whether with my fingers or with my pussy. This vibrator gave me hard and long orgasms, which is all I ask for in a vibrator. I give the Sweet Magic an A++++ rating all around.
Posted on August 13, 2008 at 09:50 AM | Permalink | Comments (0)