« March 2008 | Main | May 2008 »
April 29, 2008
Join Midnight Seductions For Odyssey In Reading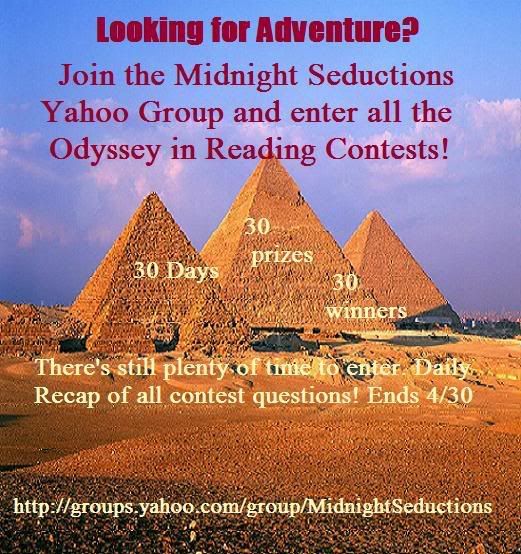 http://groups. yahoo. com/group/MidnightSeductions
There is still time to enter all 30 contests.


Daily recap of all
questions. You have until Midnight April 30 to get your entry in! Lots of great prizes. And a fabulous bunch of authors to chat with.



Our members are the best!
Posted on April 29, 2008 at 10:13 AM | Permalink | Comments (0)
April 11, 2008
Join Midnight Seductions, Read, And Win Prizes
Join the Midnight Seductions group this month and have a chance to win prizes! Today is my day on the group for the Odyssey In Reading contest, and I'm giving away three of my lovely cameo shaped goat's milk soaps. They are shaped like women, and they are very nice. Here they are:
Join the Midnight Seductions reader's group and read excerpts, hang out, and even win prizes! The Odyssey in Reading contest goes on all through April.
http://groups.yahoo.com/group/MidnightSeductions
Posted on April 11, 2008 at 11:28 AM | Permalink | Comments (0)
April 10, 2008
Hot, Screeching, Monkey Sex!! Cougars
I was cruising the Interwebs yesterday when I saw that Vir Magazine, a new men's magazine, is looking mighty fine! It isn't ready to launch yet, but it's getting there. I hadn't heard from the owners in awhile, so I wrote to them yesterday. Things are looking great, and I expect to be writing for Vir again soon. I am Vir's sex columnist, and I expect to have out one article per month, as far as I know.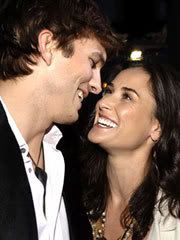 I already have an article up at Vir, and it's so popular that Google picked it up. It's about the lure of those sexy older women - cougars. The most famous cougar at the moment is Demi Moore. She married her younger man, Ashton Kutcher. Other famous cougars include Susan Sarandon (and Tim Robbins) and Naomi Watts (and the late Heath Ledger). The cougar who seemed to have started it all was Anne Bancroft as Mrs. Robinson in "The Graduate". However, cougars aren't viewed in such a negative manner any more. The television show "Medium" even covered cougars, with Rosanna Arquette as a cougar who wrote a best-selling book about how older women can find those hot younger men.
Here is the link to my article about cougars at Vir Magazine - Today's Exciting Older Woman - The Lure Of The Cougar. Head on over, read it, and make comments! There are already five comments over there, including mine.
Being a cougar is all about enjoying your age and not being ashamed of it. Sexy older women have rejected men their own age who have tossed them aside for younger women. Since cougars invade older men's "I will date younger people" territory, that makes the older men feel a bit slow and old. Here's an excerpt from my cougar article at Vir that looks into cougars:
Valerie Gibson's book, "Cougar: A Guide For Older Women Dating Younger Men", lays out the cougar in all her juicy splendor. You know what you are getting with this book because of the luscious tongue licking a pair of bright red female lips on the book's cover. Cougars loathe commitment, and according to Gibson they view their men as "prey".

When most people think of May-December romances, they think of a silver-haired older man with a young, lovely creature hanging on his arm. These men reject women their age for younger women. Older women today have fired back at men their age who overlook them in favor of dating nubile young women. Some older men feel threatened by cougars, since cougars make them feel slow and old. Cougars invade the "I will date younger people" territory that has been held by older men for aeons. Gibson wrote that separated and divorced older men "are a major source of hostility when it comes to older women dating younger men." The cougar merely turns her head away from these older men, and gives them the brush-off that they have been giving to older women for years.
Being a cougar is a fun thing for the women who like it. I personally gravitate to older men, and I have as long as I've been interested in men. Still, I wouldn't turn down a younger man. Some have been interested in me, and I liked the thrill of being viewed as sexy by a man ten years younger than me.
Here are some good things I've noticed about younger men, when I was in the dating scene. I'm married now, but I can still look.
Keep in mind that these observations are coming from a woman who has normally gravitated towards much older men. I guess I like men of all ages.
* Younger guys like the same type of music I like.
* Younger guys are more likely to like the quirky films I like, especially horror movies and cult films. Every time I raved about how much I love those gory Dario Argento Italian horror flicks, it's been a younger guy who raved with me.
* Younger guys lavish attention on sexy older women who are with them.
* Younger guys don't treat their cougar like a child. However, they do like to be spoiled.
* Younger guys tend to not have ex-wife and kids baggage. There's nothing like a bitter, divorced, middle-aged man to put a damper on the sexy fun.
While the sexual "prey" aspect of the cougar is attractive, I think that there is much more to being a cougar than dating younger men. Cougars are not afraid of disagreeing with anyone or stating their opinion without feeling that they have to have approval, especially male approval. They are financially independent, or at the very least they are earning money doing something they love. They enjoy sex, and they like to experiment. They are intelligent, and they enjoy learning more about life. Cougars are in control. Poor self-esteem is not one of their problems. Cougars are comfortable being themselves, no matter what anyone else thinks.
So, head on over to Vir Magazine and read my article. Once Vir is definitely up and running, and I have new articles up, I will post here giving you directions to read and leave comments.
Posted on April 10, 2008 at 10:52 AM | Permalink | Comments (2)
April 02, 2008
Sex Toys Site Review - Sex Toys Sex Movies
The first thing I saw that impressed me about the Sex Toys Sex Movies web site was the disclaimer page. I'm so used to viewing sex sites that I forget that you have to be over 18 to look at them. The disclaimer page has several links into the web site, so if you want to see sex toys, you go to the first link (that also has an image of the web page). If you want movies, you go to the second link. There are also links for DVD rentals and Video On Demand. The site is not only easy to navigate, you are directed easily to where you want to go.
The Sex Toys area is full of great looking graphics and it's easy to navigate. You know what you are getting because of the clear pictures and easy to read descriptions. This site carries everything from name brand sex toys to luscious lubricants. Not only are the categories listed to the left so that you may browse easily; there is even a sidebar listing brand names available. So, if I wanted a Doc Johnson vibrating cock ring, I don't have to run a search to find it. Plus, there are ten pages worth of Doc Johnson toys alone, so I would be in Doc Johnson heaven on the Sex Toys Sex Movies web site.
There is a sex toy for everyone on the Sex Toys Sex Movies web site, including anal toys, dildos and dongs, glass dildos, love kits, lubes, masturbators, penis pumps, rings and annals beads, and vibrators. There are lots of toys to choose from as well. There are ten pages of anal toys alone! That includes butt plugs, water toys, anal beads, and prostate massagers. On each page for each toy the company that makes it is listed so you know which name brand you are looking at.
The Sex Toys Sex Movies toy section carries some of my personal favorites, including the Hitachi Magic Wand, the Fukuoku Power Pack, Kama Sutra Massage Oils, and the Rock Chick g-spot vibe.
In addition to the great prices, the site lets you know how long of a wait you have. For instance, there is a short wait for some of the Fukuoku products. Checkout looks easy and inviting.
Apparel has its own category. You can choose dresses, hot pants, jewelry like nipple rings, lingerie, and even swimwear. There is even a unisex category for those who like to gender bend. Prices are very reasonable and there are many sizes to choose from. There are mesh halters, lovely bras and G-string panties, and even Hustler hoodies. If you are into a little role-playing, why not buy the Gangster Girl Costume or – for the winter season – Santa's Little Helper outfit. You can even buy a red velvet holiday hat to complete the costume. Never before has an elf looked so sexy!
There is a great selection of DVDs for the discerning shopper. The category list helps you narrow down exactly what kind of DVD you'd like, whether it is fetish, Asian Girls, or even Blu-Ray. A sidebar list of DVD studios is included, and some of the studios listed are Wicked Pictures, Club Jenna, and Penthouse. As is the case with the sex toys, the studio is listed along with each DVD so you know what you are buying. You can watch amateur videos as well as videos starring well-known porn stars such as Tera Patrick and Jenna Jameson. There are even the spoofs of known television shows and movies, such as Sasha Grey's Anatomy, obviously a take-off on the American television show, "Grey's Anatomy". The DVD is even done in a medical and mental health-theme, like the TV show. If you are in more of a classic mood, you can buy some of the Classic DVDs such as "Ginger Lynn's Bedtime Tales".
Not only does the DVD site let you know the availability of each DVD, it also lists several suggested videos to go with your selection. So, if you are in the mood for a particular theme, Sex Toys Sex Movies helps you find what you need.
Adult DVD rentals are a reasonable $21.95 per month. So you can try before you buy! There are no late fees, and packaging is fast and discreet. The DVD rental store runs much the way other rental stores run. You pay a monthly fee, and your movies arrive in the mail. Once you have watched them and are satisfied, you return them by mail in an envelope provided by Sex Toys Sex Movies. Then, the next movies on your queue are mailed to you. You can watch the same movies you can buy on the site, so you are never disappointed.
There is also a Video On Demand section. It is reasonably priced per minute, so if you prefer to watch movies in this format rather than renting DVDs, you are set. The same movies are available via Video On Demand as are available for rent. You can even view a sample to test it out. You are bound to be very satisfied.
All in all, Sex Toys Sex Movies is a great site. It's easy to navigate and perfect for beginners who need a little hand-holding to get through a sex toys and sex movies web site.
Posted on April 2, 2008 at 09:40 AM | Permalink | Comments (0)