« December 2004 | Main | February 2005 »
January 31, 2005
Quiz: What Breed Of Cat Are You?
This couldn't wait until Friday Cat Blogging. I'm exactly what I had hoped I'd be - a Siamese.

You are a Siamese! You are fun-loving, playful,
energetic, talkative, and exotic. You are the
center of attention and you love every minute
of it.


What breed of cat are you?
brought to you by Quizilla

Posted on January 31, 2005 at 11:33 AM | Permalink | Comments (5)
Ha! Ha! Ha!
Yeah. Right.
How To Make Money From Your Blog.
Includes recommending those annoying PayPal begging "donations" requests seen on some blogs.
Posted on January 31, 2005 at 10:28 AM | Permalink | Comments (6)
Sweet Revenge: Woman Sells Ex-Husband's Sports Memorabilia Collection on eBay
Kim Dryden is angry that her husband neglected her, and spent their entire life savings on his sports memorabilia collection. Bills went unpaid because of his obsession. She got the collection in their divorce. Now, Dryden is selling the collection on eBay. She's going to send her ex-husband the receipts when the sale is over. "It's all worth it," said Dryden. "I just sit here and giggle through the whole thing going, 'I'm going to so send this link to him and he's going to scream!' And there's nothing he can do about it."
Posted on January 31, 2005 at 10:21 AM | Permalink | Comments (0)
Fathers With Limited Access To Children To Be Denied School Information
This article makes it sound as if fathers in the U. K. will be "frozen out" of their children's education. A new rule will change how teachers should consult with divorced fathers, including denying some fathers "the right to be informed of key areas of their children's learning, such as school trips." Glossed over in the article is the fact that this new rule applies to divorced fathers "who have only limited rights of access to their children." These are abusive and controlling dads that the schools should not have to deal with. Schools are within their right to deal directly only with custodial mothers without having to put up with meddling from abusive and controlling noncustodial dads. In no way does this new rule "freeze out" all fathers, but the article sure pretends that's what it's about.
Fathers' rights activist Tony Coe, president of the Equal Parenting Council, is not happy with this new rule. In a submission to a Parliamentary inquiry on fathers' rights, he singles out Ms Kelly's deputy, Children Minister Margaret Hodge, for criticism. Kelly is the person overseeing the new rule. Coe says Hodge is biased towards mothers. "The Department is now watering down the guidance that requires schools to involve both parents," he said. "But it is this guidance that has helped excluded parents maintain some involvement in children's lives. In some cases it has led to a reestablishment, where the family court system has failed. While the Minister seeks to give the impression she wants to improve the vital relationship between children and their non-resident parents, her actions show she is working behind the scenes to do the opposite."
Those dads are "excluded" for good reason. Coe conveniently leaves out the types of fathers affected by this rule. It's the usual fathers' rights stance, any father, even abusive and controlling fathers, deserve unimpeded access to their children.
Posted on January 31, 2005 at 10:01 AM | Permalink | Comments (8)
Electronic Tagging
It looks like Lord Falconer will "reject the idea of electronically tagging parents who fail to co-operate with family court orders." However, the U. K. is considering the implantation of "surgically electronic tags in convicted paedophiles amid fears that the extent of the abuse of children has been massively underestimated." The same is being proposed in Ireland and Australia.

Posted on January 31, 2005 at 09:46 AM | Permalink | Comments (3)
January 29, 2005
Well This Is Pretty Cool
One of my colleagues wrote to tell me that she heard a person being interviewed on PBS news this morning who had recommended my blog. I'm going to try to find out what show it was, and post about it later, if I find out.
That made my day.
Posted on January 29, 2005 at 04:47 PM | Permalink | Comments (2)
Ha! Figures...
I had a feeling I'd end up with this one... I've always been mostly a loner, so when I take these silly personality tests I always come out schizoid.
Take the quiz: "Your Psych-Ward diagnosis"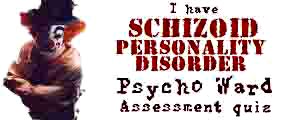 Schizoid Personality Disorder
Diagnosis: Schizoid Personality Disorder. A pervasive pattern of detachment from social relationships and a restricted range of expression of emotions in interpersonal settings, beginning by early adulthood and present in a variety of contexts, as indicated by (some of the following) neither desiring nor enjoying close relationships, preference for solitary activities, little interest in sexual relationships, lacking close friendships, and shows emotional coldness, detachment, or flattened affectivity.
Posted on January 29, 2005 at 01:04 PM | Permalink | Comments (14)
Inanna In The Underworld
Hey, Flea, I found another fun site for you. Give it time to load in, or all the pix won't come up. Click on the center arrow to see thumbnails.
Inanna In The Underworld. [via Sappho's Breathing.]
Barbie's revenge, indeed.
Posted on January 29, 2005 at 12:59 PM | Permalink | Comments (0)
Interesting Quotes From Maggie Gallagher
I found some interesting quotes from Maggie Gallagher, courtesy of Echidne:
Maggie Gallagher: "I was twenty-two and unmarried when my son was born, just a few months after I had graduated from Yale University."
Maggie Gallagher: "It had nothing to do with marriage. I was a single mother for 10 years. You're pretty conscious about trying to make a decent living and take care of your kids. This is not time for gabbing about."
So is that why she has expended so much energy promoting policies and propaganda that demonize single moms? Talk about a case of cognitive dissonance...
Posted on January 29, 2005 at 12:47 PM | Permalink | Comments (2)
My Profile Is Up At "What She Said!"
I added my profile to the blog What She Said! yesterday. Go check it out.
Posted on January 29, 2005 at 12:35 PM | Permalink | Comments (0)